There I was, a glass of icy pilsner to the side, and a paper basket of fried wings glowing with a deep red hue. I was tempted to test the relationship this wing and my tastebuds were about to embark on, thinking of sliding my fingertip across its spice-laden crust to see if we'd be cool.
But this wasn't a first date, this was love—albeit a toxic form of it—and I owed it, and myself, to take a full-on bite.
It was a relationship I had been in before. Kim Prince, niece to the matriarch that runs the Nashville hot chicken shack that birthed the style that made its way from Tennessee to Los Angeles, had let me dive head-first into a bite of fried fowl whose fiery spiciness caused me so much good pain that, when the heat managed to subside slightly, my greedy little fingers were at it again, lifting the chicken to my mouth for another bite.
And it was a relationship I knew I wanted to be in again, my heart fighting against all red flags. Amid my hopes that Prince, while doing a handful of popups in Long Beach, would make our city her home, she rightfully took on a space in Crenshaw where the neighborhood (and nation) have welcomed her with open arms.
And surely, Long Beach was getting its influx of Nashville hot chicken spaces and plenty of items labeled "Nashville hot" that were, well, anything but Nashville hot. The name was there, but little else. In the words of Prince, you're welcomed to slap "Nashville hot" on your menu but it better bring the heat, and my addiction to that heat even caused me to defend it and call some folks out who were using the term while not really getting it.
I was left to make a trek to either Crenshaw for Prince's Hotville or Chinatown for Howlin' Ray where I would have to sit patiently in line for an hour on a good day and three hours on a regular one.
I was heartbroken. "When would my lips be poisoned again with that sweet, sweet Nashville heat?"
As it turns out, I would have that battle of love again inside a brewery in the Long Beach neighborhood of Bixby Knolls.
****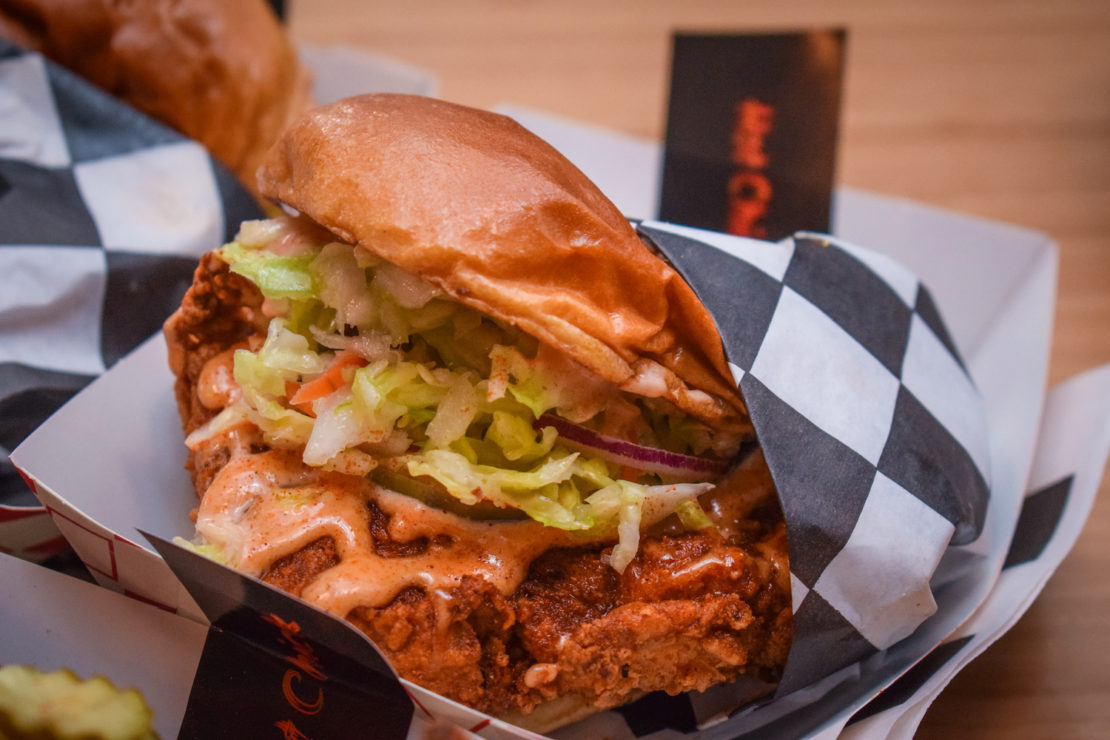 Tucked into the back of Liberation Brewing Co., Thyda and Chet Sieng play a masterful ballet of taking orders and frying up some fowl under their brand Fire Bird—and with it, offers Long Beach a chicken shack that truly honors the roots and heat of the cooking style birthed in Nashville.
This is the best version of the style you're going to find without having to venture far.
Like many people who discover Howlin' Ray's or Hotville, Thyda and Chet were immediately drawn to the ecstasy of Nashville hot chicken, where layers of saltiness and sweetness seamlessly blend with smokey notes and heat that causes a sublime mixture of suffering and deliciousness for its consumers. They, like me, became immediate and devout believers.
Across the span of nearly a year, Thyda worked on perfecting her style, from the way the bird is brined to the thickness of the coating to the levels of heat that would define her menu.
That first menu included the story of the Prince family on the back, something Thyda and Chet say is essential in honoring the food's history: Thornton Prince, the man behind the original shack, once tried to play a lady in Tennessee. Scorned, the woman dumped tons of cayenne into his chicken seasoning in the hopes he would suffer. He did suffer but loved the pain and with it, Nashville hot chicken was born.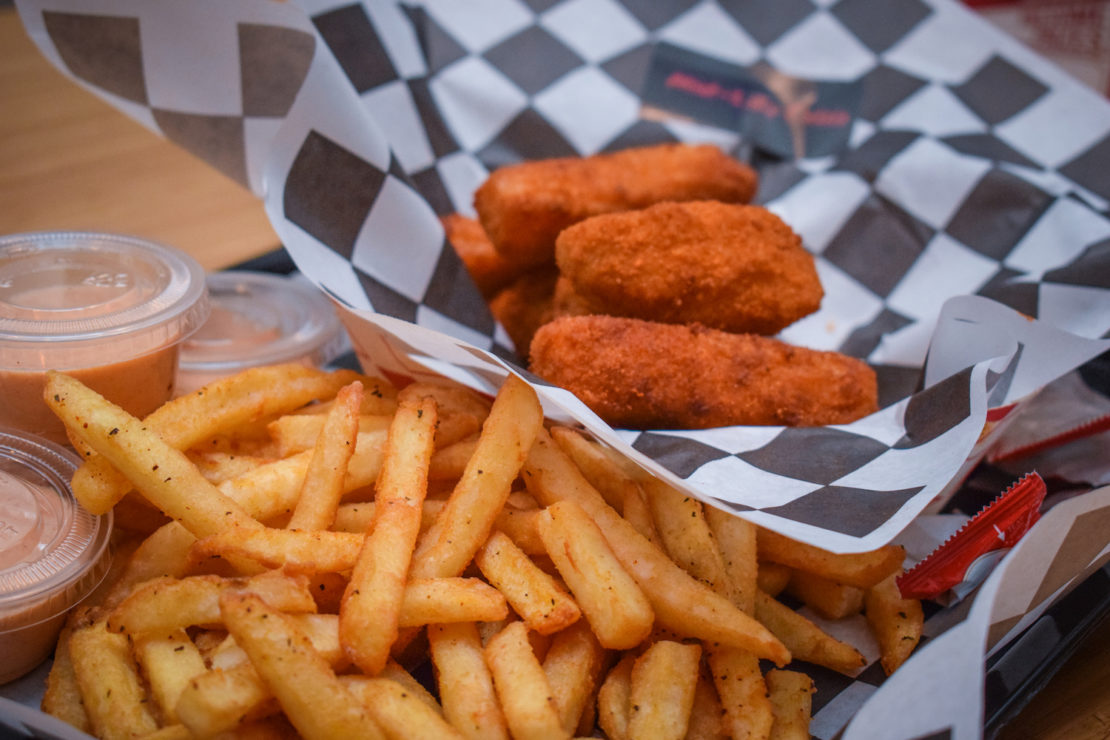 Even more, Fire Bird exemplifies Long Beach in a truly beautiful way. Not only does its location inside Liberation Brewing Co. provide mutual benefits to each business—come for the beer and the chicken—there's a triad of connections that exemplify the charm of our culture: a Cambodian-American couple, training themselves in a food tradition that is not only deeply tied to those Cambodian roots—after escaping the Khmer Rouge and planting roots here, many Cambodians who started businesses went down one of two roads: they fried donuts or they fried chicken in spaces like Louisiana Fried Chicken on Seventh Street—but cooked in a style birthed by the black community of Nashville.
"I've always said I'm a California girl—most of my life has been here in Long Beach—but I have a Southern soul," Thyda said. "Perfecting that chicken, day after day, reminded me so much of what I love about the South, my home in Texas, and food in general… There was a black couple from the South that stepped in, hearing I was from Houston and they ordered the plain fried chicken. No heat. And my anxiety just skyrocketed because I knew they were testing me. They wanted to know if I could simply just fry a bird. They took a bite, paused and then asked me to come over. Leaning in, they said, 'Girl, how do you make this chicken taste so good?' That seal of approval was all I needed."
The wonder of that bite is a real fact.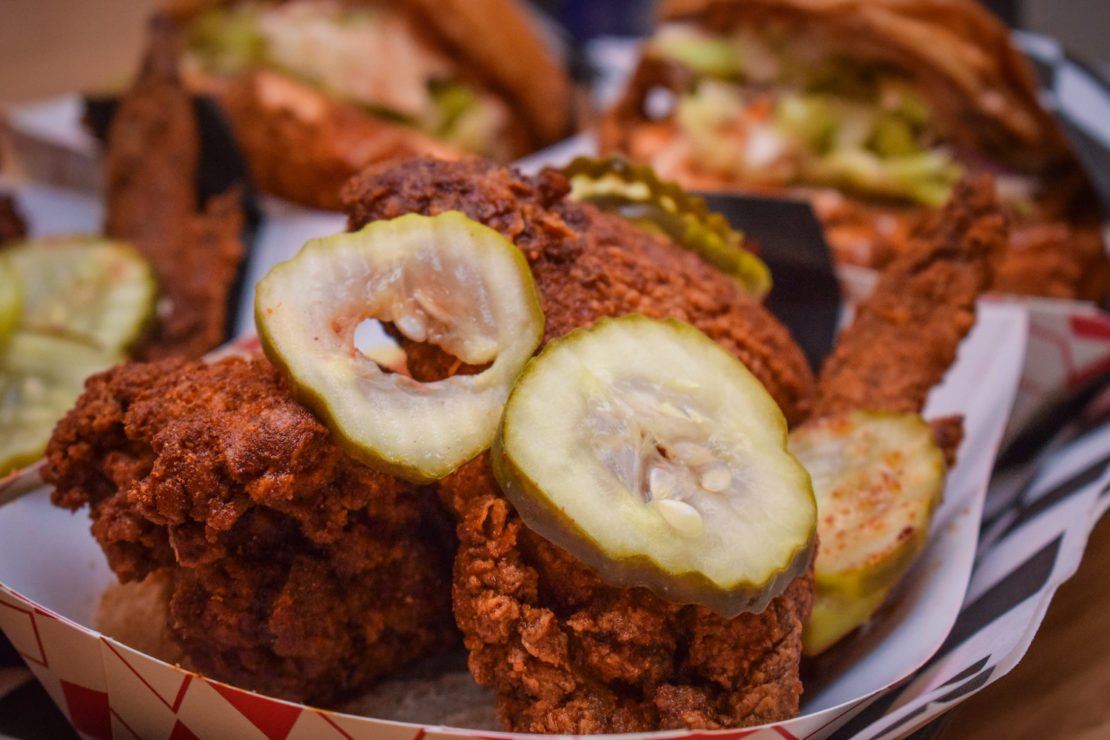 Surely, Thyda's masterful chicken sandwiches are legit. Layers of pickles, a slaw with a hint of papaya salad-like characteristics, a hefty spread of their creamy and sweet comeback sauce and a perfectly fried breast shoved between brioche buns; a genuinely perfect combo.
"I found out the key to the sandwich was the breast size," Thyda said. "Eight ounces was one ounce too much—you weren't getting the balance of the skin and spice with the meat that was needed so I use a seven-ounce breast for the sandwich."
The result is a nearly perfect bite for every bite.
But the true star of Fire Bird are their whole, three-joint wings.
Here, in the Nashville tradition, the talents of the cook are laid bare. You get nothing but two whole wings sitting atop a slice of white bread and topped with pickles, the latter accoutrements designed to help with the heat. Completely on par with Hotville and, in some ways, even surpassing Howlin' Ray's—yeah, I said it—Thyda's fried chicken are bits of fowl so succulent and so perfectly crafted that I even encourage some folks to order them without the heat so one can have the simple enjoyment of stellar fried chicken.
But I am a glutton for pain with an inner masochist so itchy to express itself that I find myself unable to escape the heat. Ordering wings at Fire Bird's third level of five different heats, dubbed "Hot Chick," I definitely found myself in a sublime state of pain and adoration. I can only imagine what the "Ex-Wife" and "Suicide" levels might induce. With the wing, beware: unlike the sandwich, there is no barrier between your lips and that spice; for those willing to endure the suffering, it is a trip unlike any other.
But Thyda and Chet, unlike Howlin', explore, allowing folks to experiment with the heat in different ways. There's a wonderful elote—a creamy, sultry addition if your lips are on fire—and Nashville spice-coated mozzarella sticks and jalapeño poppers that allow you to explore varying levels without having to dedicate your tastebuds to a wing.
It's fun. It's Long Beach. And, even better, it's just flat-out great fried chicken, one that upholds and embraces the Nashville hot tradition while showing off the budding skills of Thyda's taste and cooking.
Fire Bird is located inside Liberation Brewing Co. at 3630 Atlantic Ave. They are open daily at 4 p.m.
Brian Addison is a columnist and editor for the Long Beach Post. Reach him at [email protected] or on social media at Facebook, Twitter, Instagram, and LinkedIn.