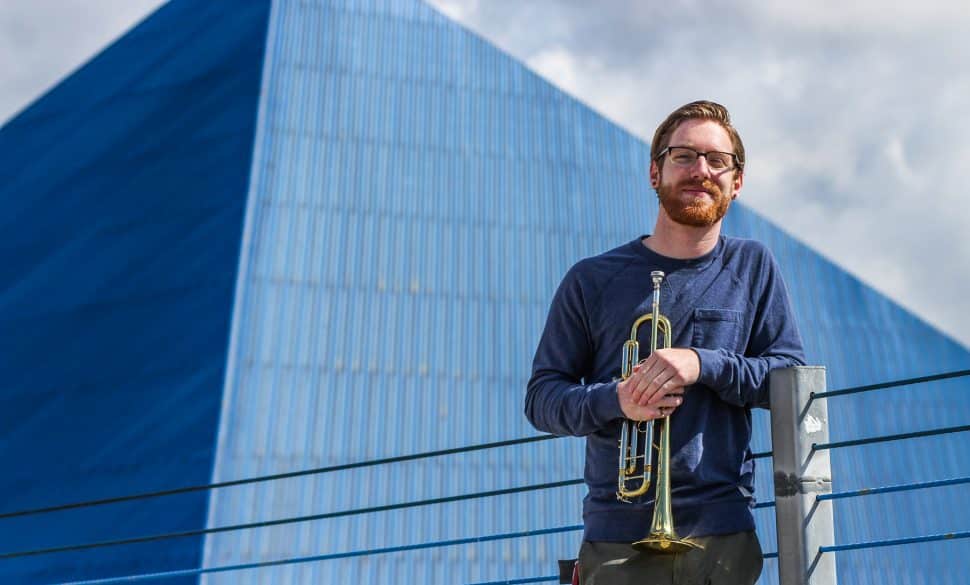 When the ra-ra of Lady Gaga was topping Billboard charts and Lil Wayne's incarceration was propelling the sales of his eighth studio album, "I'm Not a Human Being," Cade Gotthardt was listening to Miles Davis.
Specifically, the trumpet-playing seventh grader was listening to "Kind of Blue," one of jazz's most influential albums and the record that sparked his own obsession with the genre.
"I felt like I didn't need anything else," said Gotthardt, now a senior performance major at Cal State Long Beach. "It was so good."
A product of elementary school band practice and private lessons, Gotthardt's trumpet career isn't one that would lend itself to a dramatic screenplay. But his love affair with the instrument was a gradual devotion.
"I kind of describe my relationship with jazz as an arranged marriage," the Santa Cruz transplant said. "I just kind of chose music as a hobby, and then over time, without realizing it, I slowly fell in love with it."
His diploma in jazz trumpet performance nearly at hand, the Long Beach denizen will be graduating from CSULB this spring. Taking with him several years of experience playing with Cal State's acclaimed jazz ensemble, and a slew of other freelance performances under his mouthpiece, Gotthardt now has a noteworthy title to accompany his final bow out of college.
Winner of the Yamaha Young Performing Artists award, Gotthardt is one of only 11 students to win the national competition—an annual program that recognizes outstanding musicians from the world of classical, jazz and contemporary music.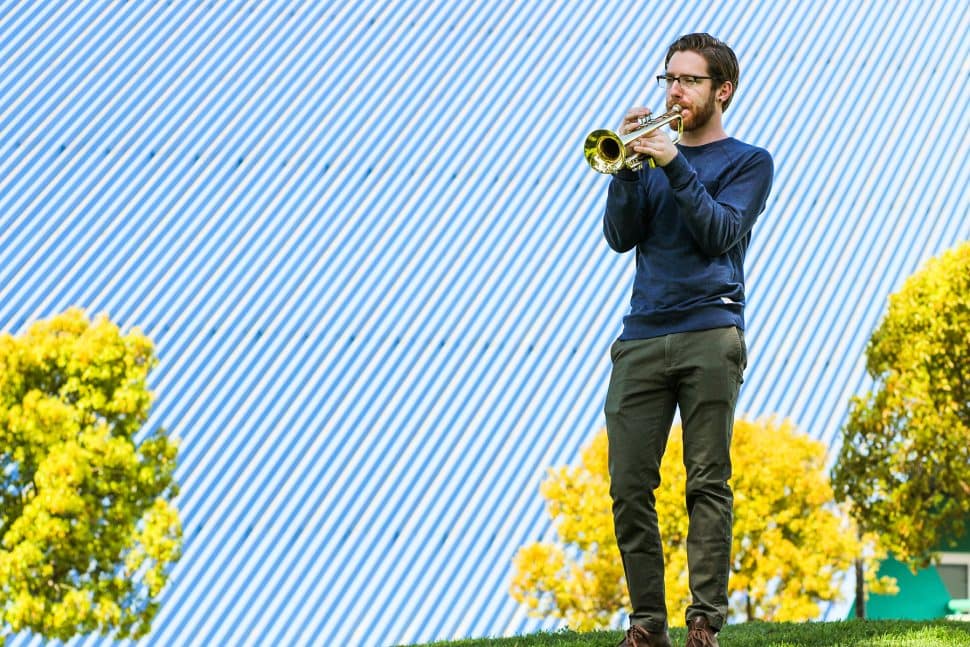 In addition to being the stand-alone winner to represent CSULB, Gotthardt is the second of only two recipients to come from a state school—quite an accomplishment considering most of the winners come from some of the most rigorous music schools in the country, like the Curtis Institute of Music in Philadelphia, or the Manhattan School of Music in New York. Many of Yamaha's winners go on to play for distinguished orchestras and worldwide ensembles like the New York Philharmonic or Vienna Symphony.
"I was definitely surprised," the 22-year-old said. "Honestly, I had forgotten that I applied because I didn't think winning it was going to even be an option."
A few years ago Gotthardt would have basked in this accomplishment. But accolades don't energize the young musician like they once did.
"I [used to] put a lot of pressure on myself to be excellent," he said. "When I get in that kind of headspace it easily starts to become about the ego and just excellence for excellence's sake, as opposed to excellence for creativity's sake."
These days, he plays for a feeling. For that moment where he can completely lose himself and sit in the nebulous transcendence of a song.
An outlet, music enables him to experience in a pure and powerful way the many emotional aspects of what it means to be human. As a budding composer, still exploring his own voice and style, he aims to write music that is, as he puts it, the truest resonance of his soul or spirit.
"Anything that he plays or writes comes from profound introspective emotion and thought," Paul Smith, a fellow jazz studies senior at CSULB said. "His self-awareness as a person is largely what informs his musical expression, and results in mature and inherently unique music."
Last October, Gotthardt wrote his first original jazz piece titled, "Searching for Something" that premiered at the Bob Cole Conservatory. That got Yamaha's attention.
His song is an example of how he found the soul of modern jazz but burrowed his own way into it, with its floaty, progressive harmonies, diatonic in its familiarity. He describes his tune as a natural part of the coming of age season in his life and reflects a radical deconstruction in his worldview that took two years in the making. The concept of his piece, he explains, was a mindset to keep a posture of living life as a learner, always searching for greater depth.
"I took the same passion for truth and life that my Christian upbringing instilled in me and applied towards a more free-thinking lifestyle," he explained.
It's an approach he looks to continue in more of his original projects. Intrigued with the idea of musical transcendence, he plans to record a full length album that expands on the existential questions that inspired "Searching for Something." But it's another album he has in mind that encompasses the style which Gotthardt gravitates towards: contemporary jazz. It's an album akin to what Grammy award-winning trumpetist Roy Hargrove was doing in the early 2000 with his group, RH Factor.
"It's the hip-hop, neo-soul kind of inspired stuff, that just feels really good and grooves hard," he said.
Born out of the various permutations of popular jazz in the 80's and 90's, contemporary jazz is a catch-all term that describes a fusion or at least combination of jazz music with rock and hip-hop beats, pop-jazz's catchy melodies, with funk and R&B influences. It's a genre-blending movement that's been pouring out of Los Angeles jazz clubs since the early years of this decade. The artists creativity and willingness to explore other music styles are what Gotthardt pinpoints as a major characteristic of the current L.A. jazz scene. It's inspired, in part, his own desire to experiment.
As he continues to play gigs throughout the Los Angeles and Orange County area the fledgling musician looks to the Berklee Global Jazz Institute in Boston as the next phase in his musical evolution. Although he's unsure where his path may lead him he hopes to, in some capacity, combine his passion for music with his desire to be an activist.
"'I'm knocking on a hundred doors," he said. "I'll see which ones open."