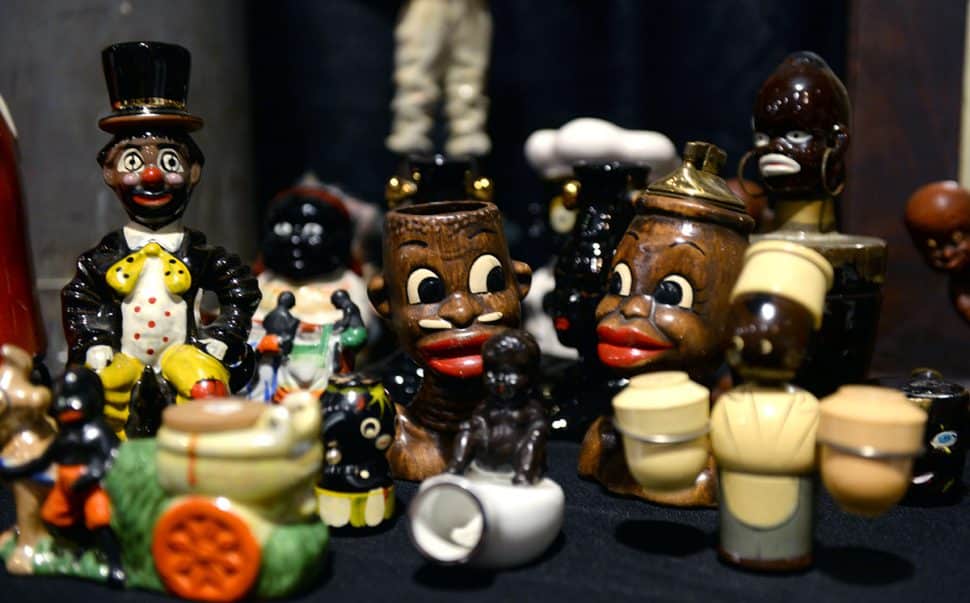 If you want a PG version of Black History and the African-American experience, then "Forgotten Images," a traveling exhibit owned and curated by David and Sharon McLucas may not be for you. For instance, when Sharon offers a full tour of her exhibit, she often shows a recent painting by local artist Cory Bilicko that represents the torso of a man in front of an American flag. The silhouette has three sections, symbolizing the evolution of the black man's experience in the United States. On one side are chains and shackles, in the middle a hangman's rope and, on the other side, bullet holes.
"Our exhibit is very emotional," she says.
David adds: "Most exhibits are politically correct; our exhibit is in your face."
The exhibit, in all its raw, unvarnished power will be unveiled again, Thursday, Jan. 31 through Saturday, Feb. 2 at the Expo Arts Center, 4321 Atlantic Ave., in conjunction with the 7th annual "Caribbean Heritage" event. It will also be featured in various iterations throughout the month.
Growing up in Oxnard, David Lucas, 70, said he didn't have to experience many of the dark episodes on display in his exhibit. When he began collecting African-American historical pieces and images, he was shocked at the pervasive images of racism through the years.
"We found it's vast," he says. "There are literally millions of symbols and images that are out there."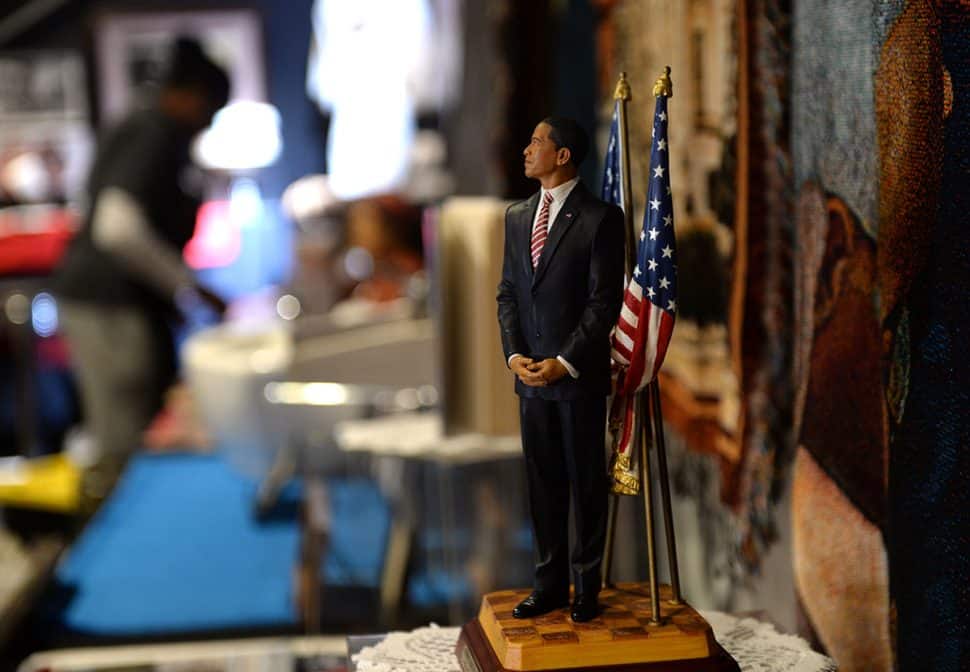 They insist that their exhibit is about much more than just the morass of racial brutality that has defined more than 300 years of black history in the United States. The exhibit honors Barack Obama and his ascendance to the Presidency as well as black successes in all walks of American life.
But, they also acknowledge that the darkness is what gives the exhibit an emotional punch.
"I still get emotional," David says about narrating tours. "I have to keep myself straight."
For sheer shock value, perhaps nothing is as jarring as "Alligator Bait," featuring a stuffed alligator and historic advertisements and artwork that show black babies being used as bait to catch gators. One ad for licorice features a baby, an alligator and the slogan "A dainty morsel."
Also in the exhibit are posters for the Sealy mattress company of an old man and two black children hauling cotton.
Through the years the couple has collected a child's Ku Klux Klan outfit, a number of shackles, collars and chains, a slave branding iron and replica cotton gin. The grim displays are reminders of "the trials and tribulations of men, women and children from the 1600s coming forward," Sharon says.
In fact, it was a shocking piece of folk sculpture, depicting the African-on-African slave trade that moved Sharon and her husband to create the exhibit.
"As soon as I saw it, it was over," Sharon says of the piece, believed to be from West Africa, of a chief being carried aloft on a litter, followed by shackled slaves and an overseer.
They say they can tailor their exhibit for different audiences; an upcoming exhibit at Aquarium of the Pacific, for example, has less of the graphic displays. The traveling museum is scalable from just a few tables to a full exhibit of about 40 tables. Each table typically has a theme and may be staged with 10 to 40 items. Although some of the objects are reproductions, many others are authenticated originals. For full exhibits, David and Sharon McLucas will often offer guided orated tours.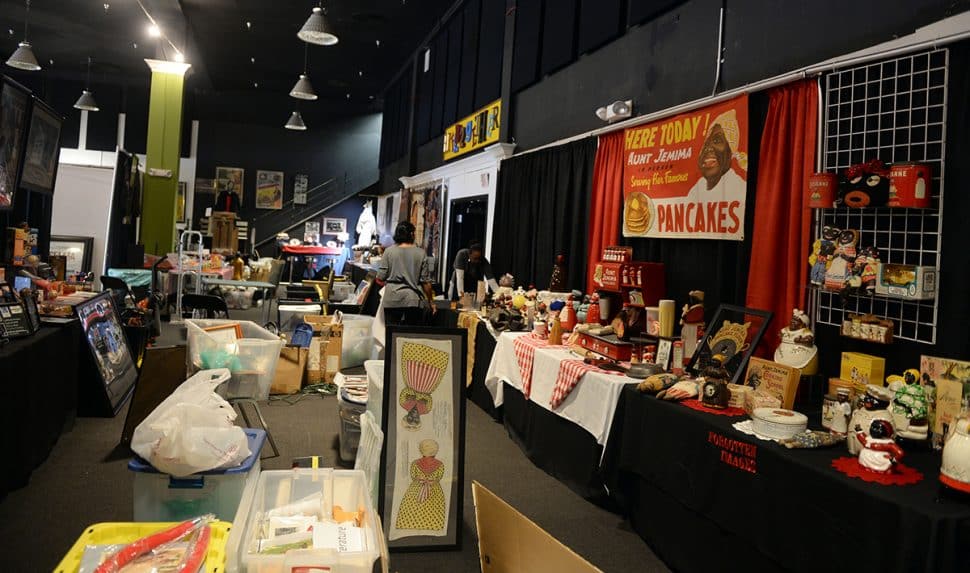 Sharon and David McLucas first met in 1969 at Cal State Long Beach where David played basketball for Jerry Tarkanian and Sharon was a cheerleader. But it wasn't until many years later, after both had been married and divorced, that they reunited and soon began collecting.
At that time, each was a minor collector: Sharon of historical artifacts and David of music. Neither was an activist beyond involvement in community projects.
Sharon's mother, Autrilla Scott, was a former nanny for a young Bill Clinton and renowned in Central Long Beach for her involvement in neighborhood improvement. Long Beach's Autrilla Scott Lane is named in her honor.
Sharon and David have collected more than 20,000 pieces of history and spent more than $500,000 doing it. They have traversed the country, attending estate sales and auctions for items to add to the collection. David says he has reached into his savings and even retirement for prized items.
"I won't just buy any trinkets," Sharon says while noting that the price and demand for African-American antiques has risen sharply.
"There's a lot of impulse buying," David admits. "I have a grocery list. But with a lot of things, you have to buy it when you see it."

Five years ago, David said he wanted to obtain an original cotton gin and a plow.
"You know you ain't getting any of that," Sharon told him.
David was able to obtain a replica of a cotton gin, but he continues to hunt for a rare and likely pricey original.
At some point, the couple would love to find a permanent home for their collection, which they say has outgrown their Signal Hill home. At this time of year, the inside of the McLucas house is strewn with myriad historical arcana as the couple prepares for the exhibit.
At the Expo, the full exhibit will be on display and the couple will offer tours, except Friday when "First Fridays" opens the building to throngs of visitors.
At the end of each tour, Sharon and David try to end on a positive note. Attendees are asked to ring a display bell, admittedly a slave bell, and give positive testimony.
On a piece of art donated to the exhibit, Bilicko wrote the museum is "a tremendous gift to current and future generations of people who must learn the story of the African-American experience."
Forgotten Images takes place Thursday, Jan 31 – Saturday, Feb. 2 at the Expo Arts Center, 4321 Atlantic Ave. Admission is free. For information, call 562-595-0081. 
African American Festival takes place Feb. 23 to 24 at Aquarium of the Pacific, 100 Aquarium Way. Admission is free with regular admission. For information call 562-590-3100.