Warehouse mural show reopens to public for all-female art battle
If you missed "Hello, Welcome" the warehouse mural show that may have been the art event of the year, its organizers are hosting a second event on Saturday, Feb. 2 in the same space; the 5th floor of the Icehouse Arts Complex in Long Beach.
While the original murals are still up and viewable, this time the focus will be on an all-female group of creatives. It's one way the majority-male group of muralists are ensuring the duration of the show is balanced with female talent.
https://lbpost.com/life/arts-culture/warehouse-art-show-long-beach/
Los Angeles-based artist Allison Bamcat, who was the only woman to paint a mural for "Hello, Welcome," which opened earlier this month, was given the task of organizing "Tooth and Nail," where artists/competitors will be pitted against each other during a 90-minute live art battle using three colors—accompanied by music—fighting "tooth and nail" for the loudest cheers from the crowd, which will be gauged with a decibel meter.
"We're hoping that bringing this much talent, specifically talented female and female-identifying artists, we can bring more exposure to women in the underground and street art scenes," Bamcat said. "We've always been here, and when we're given space to perform our skills, we can change the game entirely."
Earlier this month, artists were asked on Instagram to show their interest in competing; Bamcat said she and the team "truly agonized" over selecting just three out of the more than 20 people who wanted to participate. The group chose emerging artists Alepsis Hernandez, Michelle Ruby and Crisselle M., while Bamcat herself will be competing as the fourth.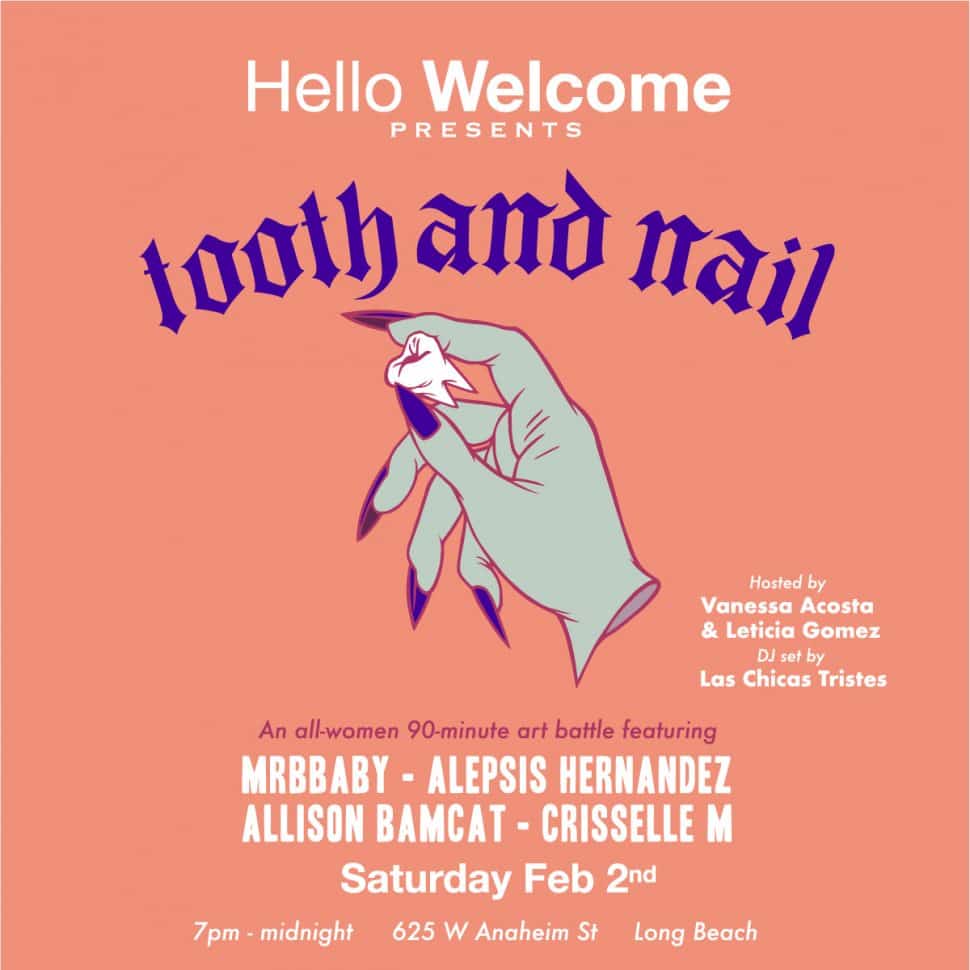 "While we want a crowd to come out, we really wanted to showcase artists that are still building their following so they can celebrate the success at 'Hello, Welcome' with us," Bamcat said. "It's like bringing on some new family members."
The battling artists, to be hosted by Vanessa Acosta and Leticia Gomez, have also been invited to paint parts of the warehouse, while an additional artist, Hannah Webb, will paint one of the pillars. There will also be a DJ set by Las Chicas Tristes, drinks provided by PBR, food vendors, merch for sale and new art on the gallery walls.
Learn more about the artists below:
Long Beach-based artist Alepsis Hernandez paints grayscale portraits, but also knows a thing or two about wielding a spray can, Bamcat said.
Described as "a heavy-hitting muralist and painter", Michelle Ruby has painted murals across the U.S., including Puerto Rico.
Crisselle M.'s illustrations have attitude. From fighting vegetables to portraits of kick-ass characters, this Santa Ana-based artist has done work for Long Beach's Moxi Skate Shop and more.
"Tooth and Nail" organizer Bamcat identifies as a surrealist painter "who isn't afraid to paint big, with every color in the rainbow." She'll be representing the home team, as in the "Hello, Welcome" collective.
Tooth and Nail takes place Saturday, Feb. 2 from 7 p.m. to midnight at 625 W. Anaheim St. Make sure to RSVP to the art battle here. 
Support our journalism.
Hyperlocal news is an essential force in our democracy, but it costs money to keep an organization like this one alive, and we can't rely on advertiser support alone. That's why we're asking readers like you to support our independent, fact-based journalism. We know you like it—that's why you're here. Help us keep hyperlocal news alive in Long Beach.