Balance in all things. That's why, this week, we're giving you lots of food, a fair amount of drink, a flying fish for dessert, a few ways to work all of it off and some music and art for your soul. We're not sure where the VW Buses fit in all of that, but they're nice, you know, if you don't have to drive behind them.
1. FOODWAYS SUMMIT (Saturday and Sunday)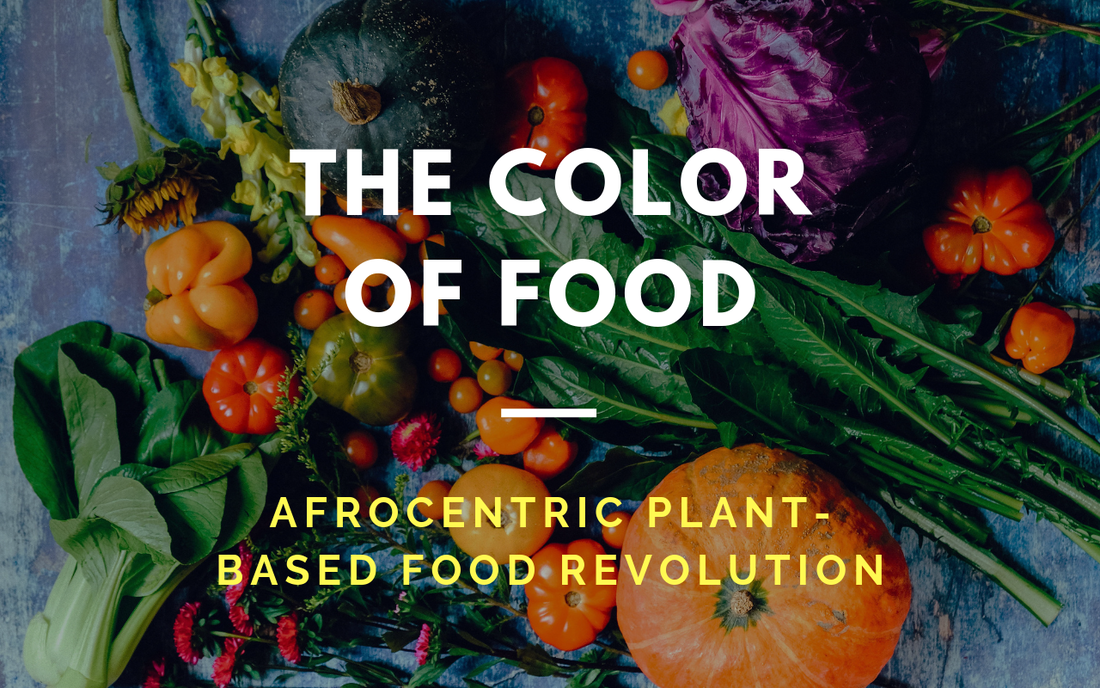 We like food. A lot. In fact, we'd have to say that when it comes to eating, food would be one of our favorites, along with grub and something. Apparently, this is news to some people, specifically, the excellent people who run this excellent event who somehow got it into their heads that we didn't care about what they were doing and took to social media to, kindly, call us out to give some coverage to the event.
Would still love to see the LB Post get on board with this epic event series that's 10 days away! https://t.co/gwZxuiOzZK @SteveLowery12 @stephrivera88 – shoot us a message or email! pic.twitter.com/x5NtNYHPxu

— LB Fresh (@LongBeachFresh) May 22, 2019
Thing of it is, we always had every intention of covering this event. Perhaps we didn't do a good job of communicating that. Perhaps that's why we find ourselves alone most evenings.
Anyways, FOODWAYS SUMMIT!
This six-day event covers topics from growing local food to cooking, eating and education. There will be talks, tastes and tours of local farms as well as the local food scene.
The summit begins Saturday with The Color of Food, a celebration of plant-based foods and Afroculinaria held at Organic Harvest Gardens (6751 Atlantic Ave.) in North Long Beach. Attendees will enjoy some plant-based buffet items from Chefs Rod Dodd, Kyle Johnson (MarketLovr), and Osunkoya Chavon (Sunbelly Foods) as well as healthy living demonstrations by Hands in the Soil. Kawani Brown of the Long Beach Vegan Festival will speak, Senay Kenfe will DJ and emcee Ra El will perform.
That's a pretty good day. Things get started at 2 p.m.
On Sunday, there will be The Heart of Long Beach, a walking tour of the Cambodiatown food scene. From its lively markets and organic farms to healing centers and locally run eateries, this area represents one of the most vibrant local food systems in Southern California. The walk, which starts at 1 p.m, is a little more than a mile and begins at Dong Mai market (1241 E. Anaheim St.) and ends at Gladys Avenue Urban Farm.
Another great thing: The summit continues with daily events, except Tuesday, until the following Friday.
Giving us a moment's pause: Sometimes, food doesn't like us.
For more information, tickets or to tell them what a wonderful job we did of alerting you to how great their event is, click here.
2. LAWINEFEST (Saturday and Sunday)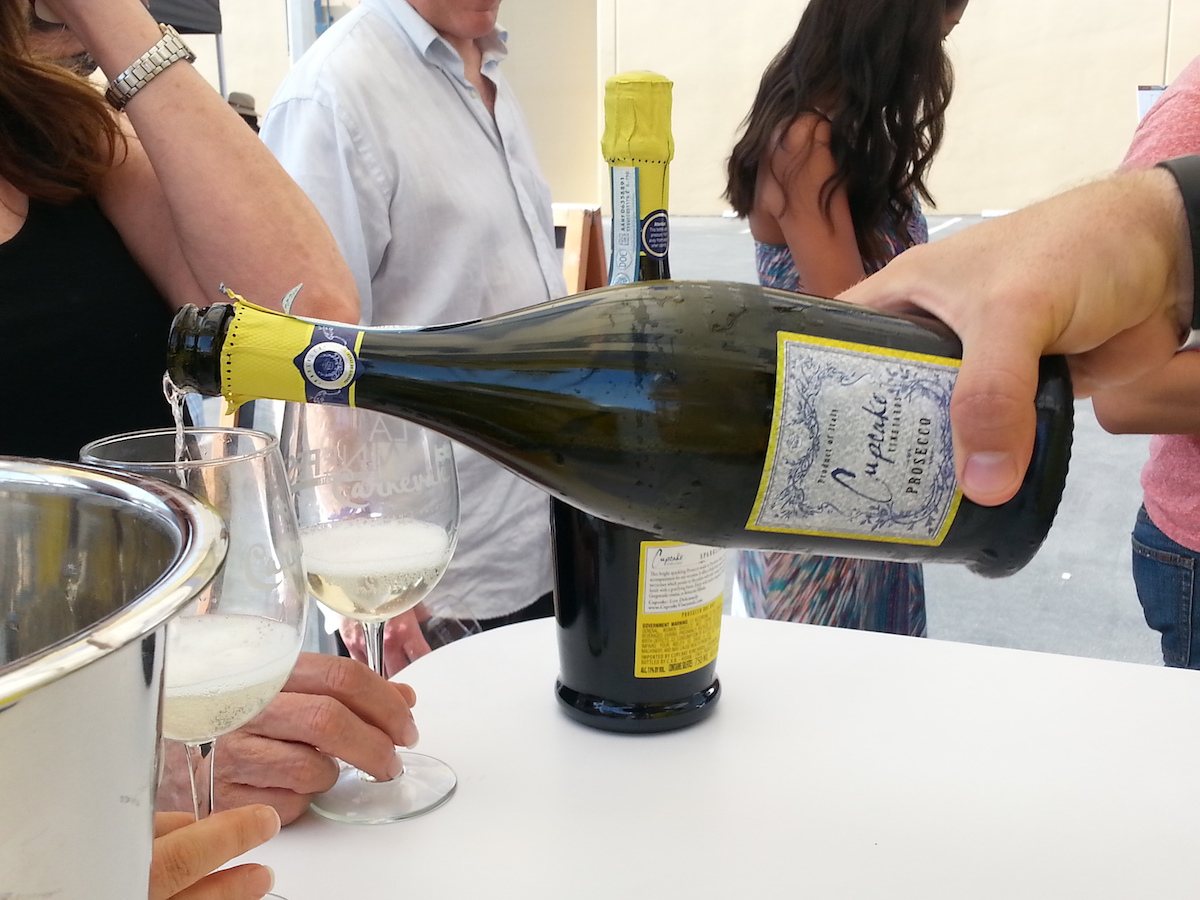 No, that's not the LawnFest, it's the LAWineFest.
This is the 14th year of the event but the first time it will be held in Long Beach, at the Pike Outlets, Saturday from 2 to 6 p.m., Sunday, 1 to 5 p.m.
It's a pretty straightforward event: you pay about 80 bucks to get in and get wine, beer and stuff to eat. That's wine and beer from around the world and around the corner since there are plenty of locals producing both.
Another great thing: The festival also serves up boutiques to browse and artisan merchandise to buy. But, you know, mostly you're gonna drink wine and beer.
Giving us a moment's pause: If you haven't already, get the Uber and/or Lyft app.
The Pike Outlets are located at 95 S. Pine Ave. For more information or tickets, click here.
3. MID-CITY STUDIO TOUR (Saturday and Sunday)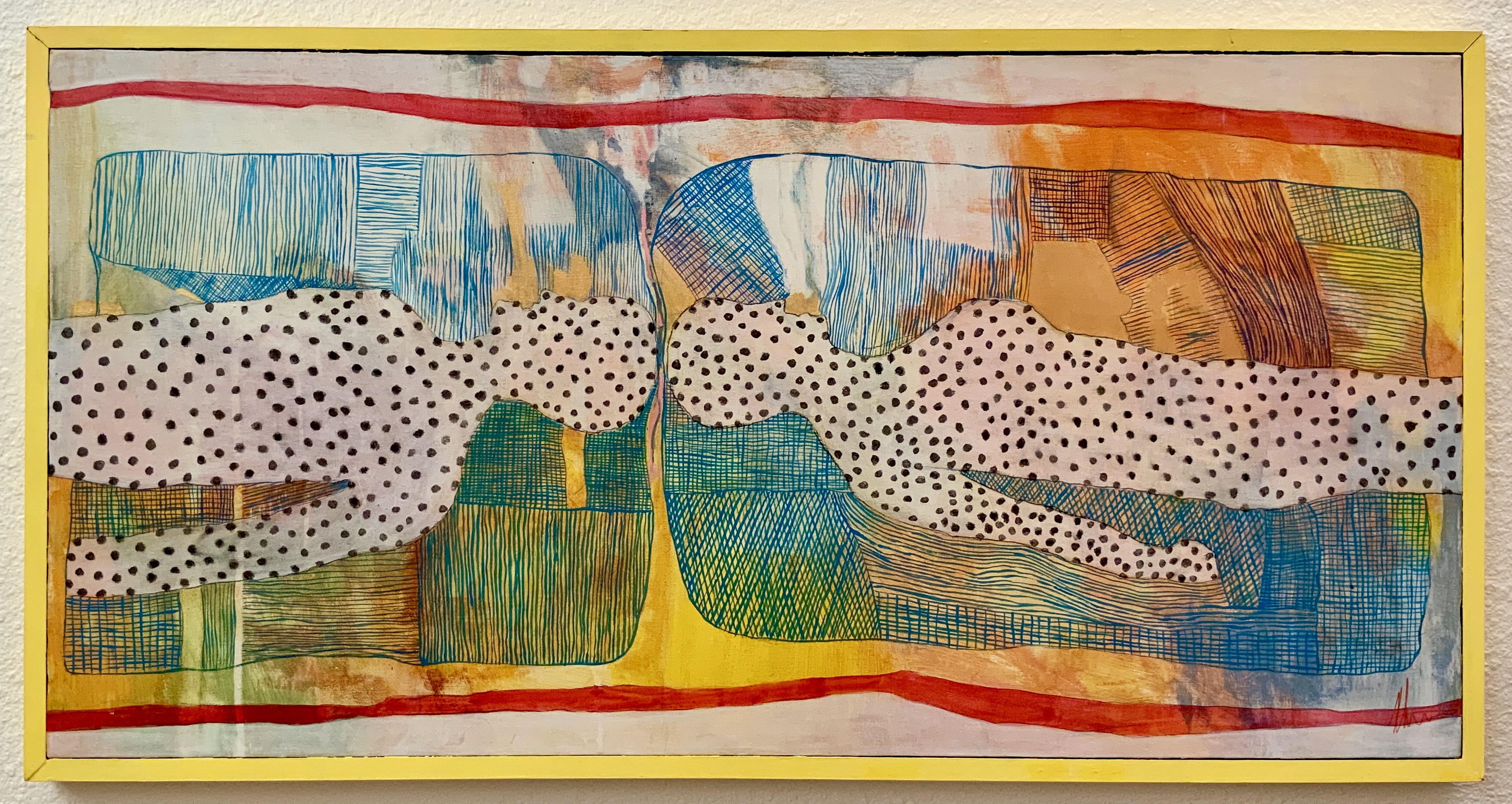 The tour affords folks the opportunity to see how 44 professional, local artists work and create. The artists, who come from diverse artistic backgrounds and produce art via a wide range of styles and genres, will be working in their spaces, allowing the public to not only see their process but talk about how they do what they do.
The tour, which runs each day from 11 a.m. to 4 p.m., is self-guided and the artists are a bit spread out, so click here to get a map that shows where each artist works.
Another great thing: Also, their artwork will be available for purchase at studio prices.
Giving us a moment's pause: Can barely afford studio rent.
For more information, click here.
4. CHARLES PHOENIX'S CATALINALAND (Sunday)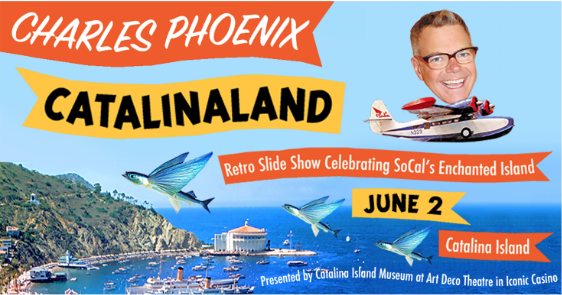 Though we rank this in order of what we think you should do, the truth is that if I was going to be in town this weekend, this is the thing that I would do.
If you've never seen a Charles Phoenix show, well, I just don't know if we can still be friends. It's not that Charles's shows are hilarious, though, they are. It's not that they are informative and dripping with useful history, though they are. It's that they are all that while also being fashion-retro-forward, plus, when the whole thing is over, you get cake! That Charles made. This one will be coconut and pineapple and, because this is Catalina, will be in the shape of a flying fish.
The thing about a Charles Phoenix show is that not only is it wildly entertaining, but you learn so much about stuff that you pass or take for granted each day. Why can't school be like this?
Another great thing: The show takes place in the iconic Avalon Casino Theater.
Giving us a moment's pause: Many times after seeing one of Charles's shows, audience members are insufferable for several days pointing out points and useful facts to clueless friends.
For more information or tickets, click here.
5. LONG BEACH LITTLE LEAGUE PRESENTS: EXTRA INNINGS (Sunday)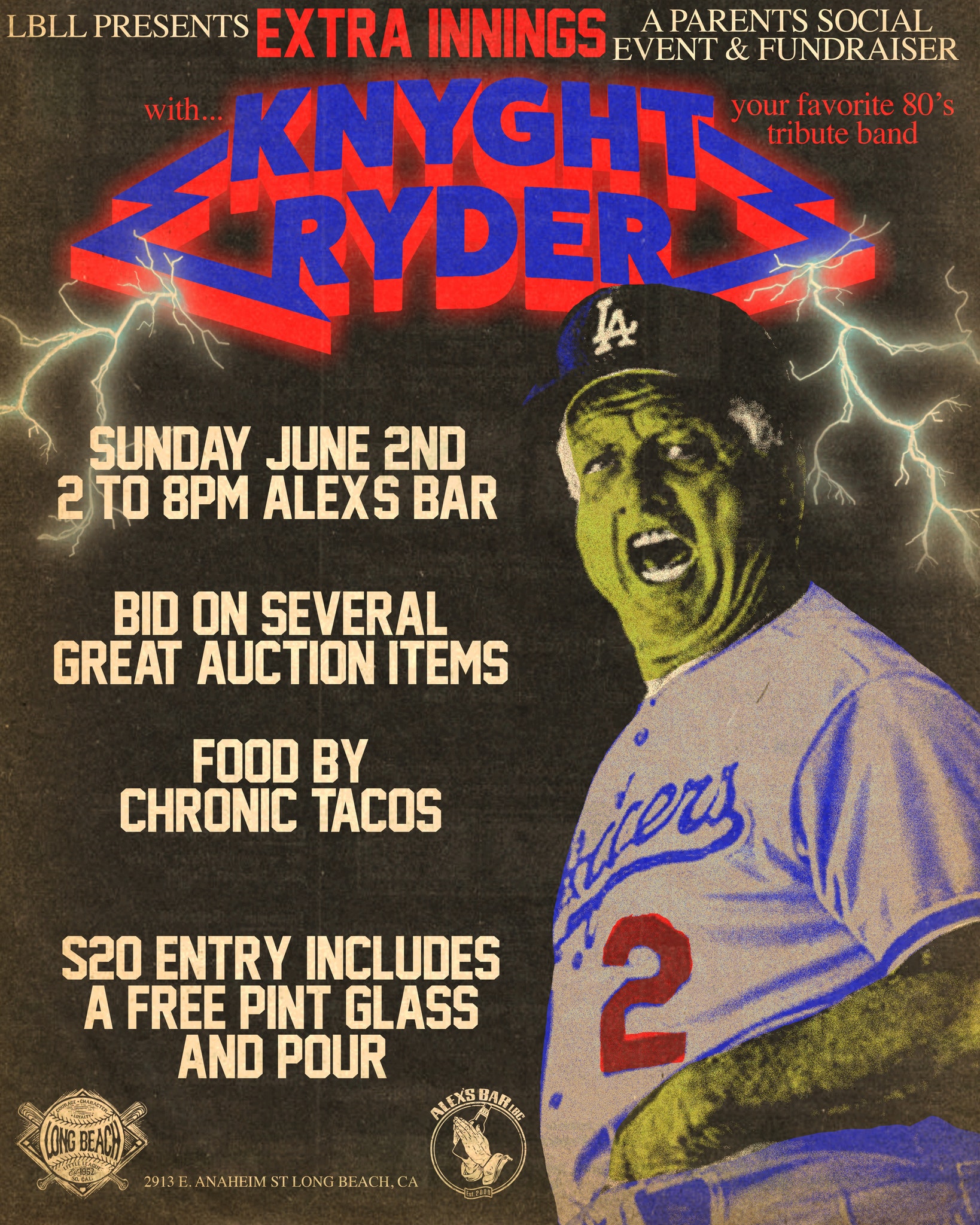 Now, this is nice. Yes, very nice. So very nice, considering that the last time I was on a Little League field, it was as a manager and one of the kid's parents offered me some strategic advice that began with: "I'm gonna tear your f***ing head off!"
True story.
Anyway, this is a great, grownup idea to raise a little dough for the kids. Also, day drinking. Folks will be able to win big on some fundraiser items and there will be food by Chronic Tacos. Twenty bucks gets you in the door and a free pint glass and pour. (Hey, that rhymes.) Knyght Ryder will be playing hits from the '80s. Maybe this is why Long Beach Little League has been so successful, it's a good deal easier to get parents involved when it involves Alex's Bar.
Another great thing: When you get home at 7 p.m. and want to go straight to bed because, day drinking, you can say you did it for the kids.
Giving us a moment's pause: The information for the event said that Knyght Ryder is "Your favorite '80s tribute band." Though that may be true, we find this presumptuous.
Alex's Bar is located at 2913 Anaheim St. For more information, click here.
6. WRIGLEY RIVER RUN, 5K, 10K, 10 MILER (Saturday)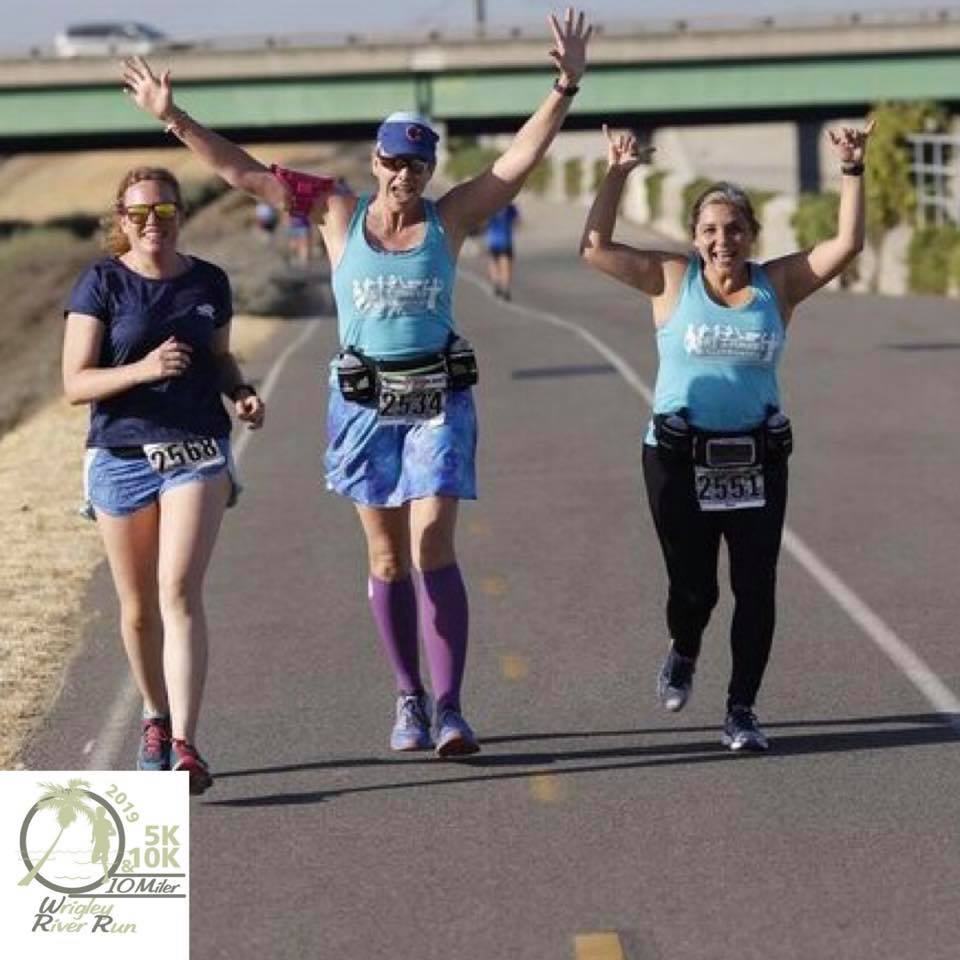 This is the 12th year they've run this charming event that prides itself on being inexpensive and a lot of fun, which actually begins the day before the race with the All-You-Can-Eat Pizza Pig Out for only $5.
The courses for all of the races are USATF certified and have live music and other entertainment along the way. Each participant gets a medal when they finish the race. If you really want to show off, you can do the half marathon combo by running the 10 miler at 7 a.m. and the 5K at 8:30 a.m. and earn a special combo medal in addition to the two finisher medals. That's three medals. Don't you have enough!?
Another great thing: This is an event for the whole family, with a stroller run for parents, a 1K Tadpole Trot for kids 10-and-under and a 300-yard Toddler Tadpole Trot for kids 5-and-under.
Giving us a moment's pause: Cramp!
For course information or to register, click here.
7. OCTO MEET 2019 (Saturday)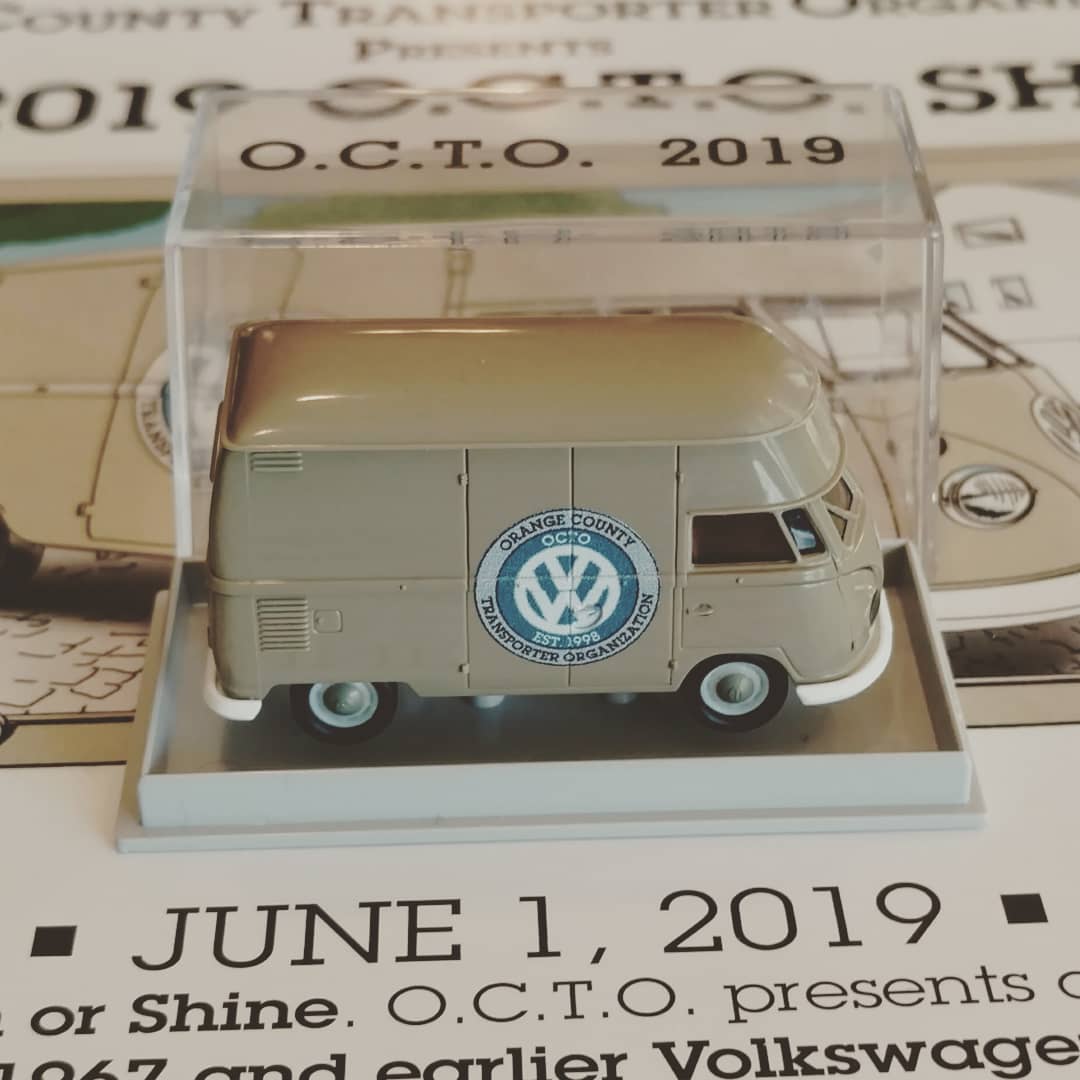 A VW Bus really is a thing of beauty, like a giant Tylenol. Yes, beautiful in every way, unless you find yourself behind one and then it is the worst thing ever because it appears that they are powered by two hamsters running in a wheel and one of the hamsters is perpetually taking a 20.
Fortunately, all the V-Dub buses at the Orange County Transporter Organization's summer bus event, at Veteran's Memorial Stadium, will be on display and away from moving vehicles. This is a swap and display meet for VW buses of 1967 vintage and earlier. There will be raffles and refreshments.
The event starts at 6 a.m. and runs until 2 p.m.
Another great thing: I swear, Jenny, we're just gonna throw our stuff in the back and drive. Just drive.
Giving us a moment's pause: Hmmmm, what's it gonna be like when all those vans have to leave the parking lot at the same time?
Veteran's Memorial Stadium is located at 5000 E. Lew Davis St. For more information, click here.