Missed one or two of these monthly lists? Click here for the full archive of Favorite Things I'm Eating. Looking for other food listicles? Click here.
****
A few years back, I wrote an Essential Long Beach Dishes listicle. I wrote it because there's something so elemental and useful about a specific great dish at a specific place; it was less about some grander proclamation than it was about, "This is just great food."
And I want to return to that, but the reality of that list is that some restaurants went out of business, some ingredients aren't around, moods shift… Food changes. Constantly. So why not just own the moment? Without further ado, here are the favorite things I'm eating right now…
****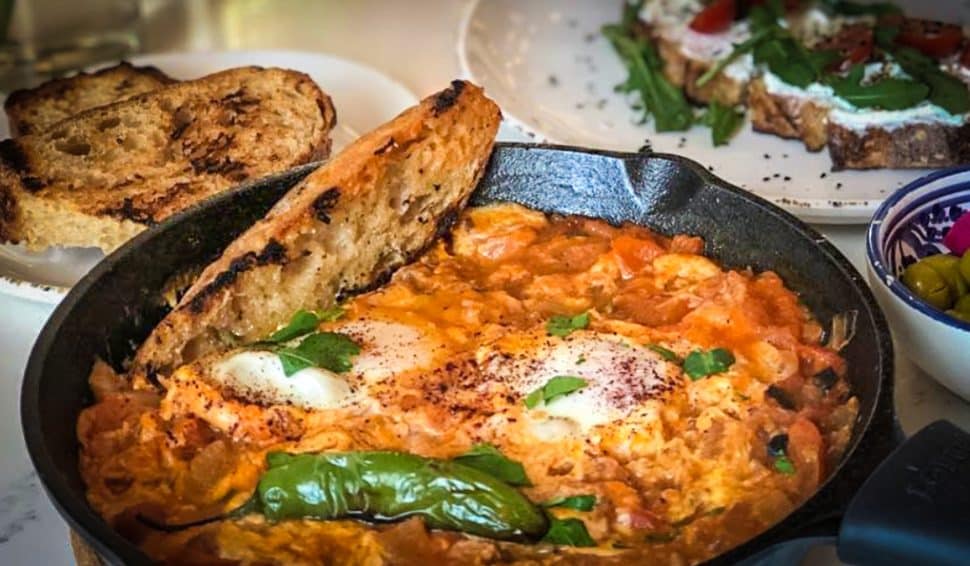 Shakshuka at Ammatolí (285 E. Third St.)
The food of Chef Dima Habibeh remains, ever since I first reviewed it, some of the best Levantine food in the region. Consistent, layered, and wonderfully aromatic: the smell of her shawarma with its hints of cloves and cardamom give my jaws little pains when I am particularly hungry; I salivate that much.
But on weekends, there is something particularly special coming from her talented hands: the almighty shakshuka, a North African dish that has become a breakfast staple throughout the Levant. Tomatoes are stewed with harissa, a paste-like concoction of blended chiles, garlic and other spices and then eggs are poached in said sauce. Dima's version—topped with a beautifully charred Serrano pepper, layered with veggies, and served with perfectly hearty, toasted bread—is one of the most stellar examples of shakshuka in the region.
Think of it as Levantine huevos rancheros or eggs in purgatory—only, at least in my humble opinion, Dima's version surpasses both.
****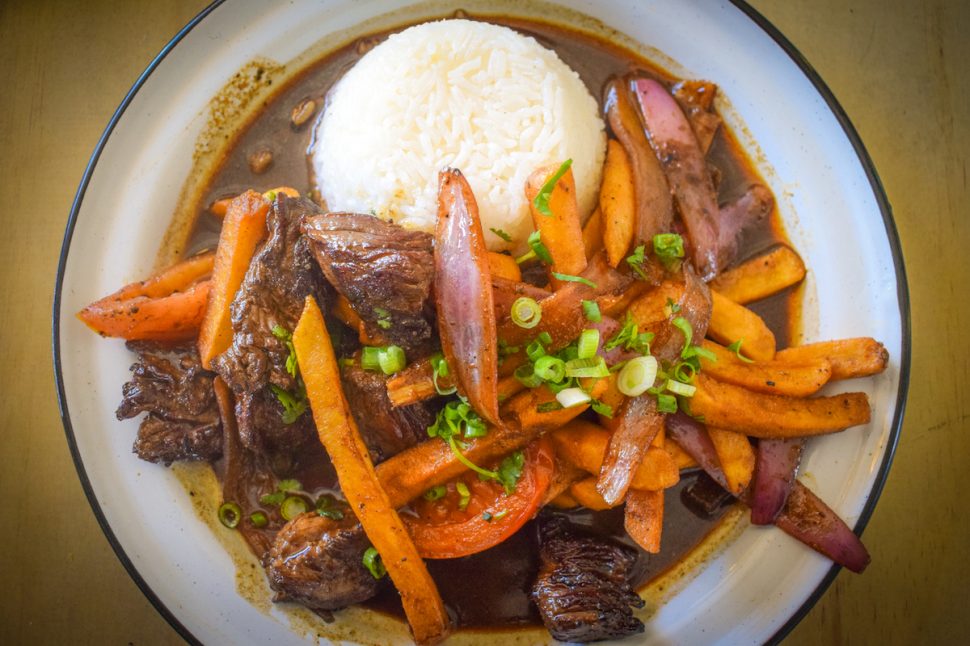 Lomo saltado at Casa Chaskis (2380 Santa Fe Ave.)
Sometimes, you just want the classics—especially when the classics are done superbly. Enter Casa Chaskis, giving El Pollo Imperial, which has long held the title of Long Beach's best Peruvian food, a run for its huacatey.
Chef Agustin Romo started in his endeavor on Instagram, delivering plates of tallarines verdes and empanadas to those who would place an order through his social media account. Saving penny by penny, Romo opened his brick-and-mortar on the Westside and now serves up some of the best Peruvian food in the city.
A stellar example of his craft is his lomo saltado, the dish which epitomizes Peruvian cuisine: French fries and tomatoes are tossed with tender slivers of beef and red onion, sitting atop an addictive au jus of sorts made with vinegar, soy, and love. The result? An ode to Peru by way of Long Beach.
****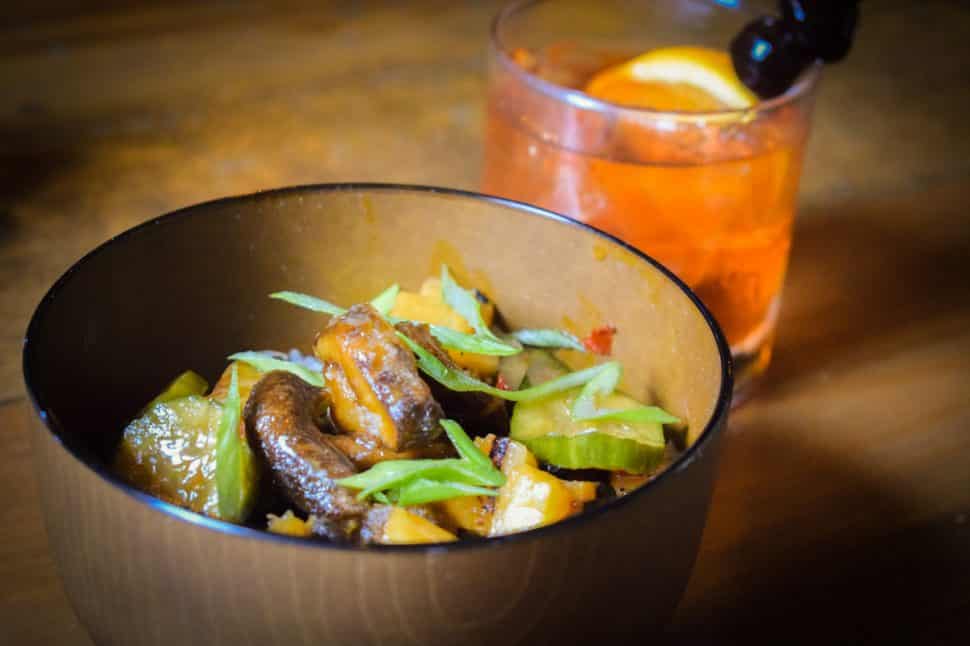 Shiitake Shrooms at Bamboo Club (3522 E. Anaheim St.)
This publication has already extolled the qualities of the food at The Bamboo Club, but allow me to elaborate on the greatness of one dish.
For one, it is unexpected; perhaps that's the quality I most love about the food cooked up by Chef Melissa Oritz: It supersedes any expectation while it fits perfectly within the excess of the surrounding decorations when you visit.
Hidden amongst the offerings of a stellar burger—the burger at Ellie's might have a run for its money—and the even more stellar chicken sandwich—why, oh why, has this thing never existed in Long Beach?—is a vegan, gluten-free dish that is masterfully executed.
No joke, Ortiz's re-hydrated, potato flour-ed, fried shiitakes sitting atop a bowl of tea-brewed rice—paired with some warm Japanese pickles, dotted with red pepper, covered with some fresh scallion—is one of the most addicting, surprising, and genuinely great things I've had in a while.
And I'll keep coming back for more.
****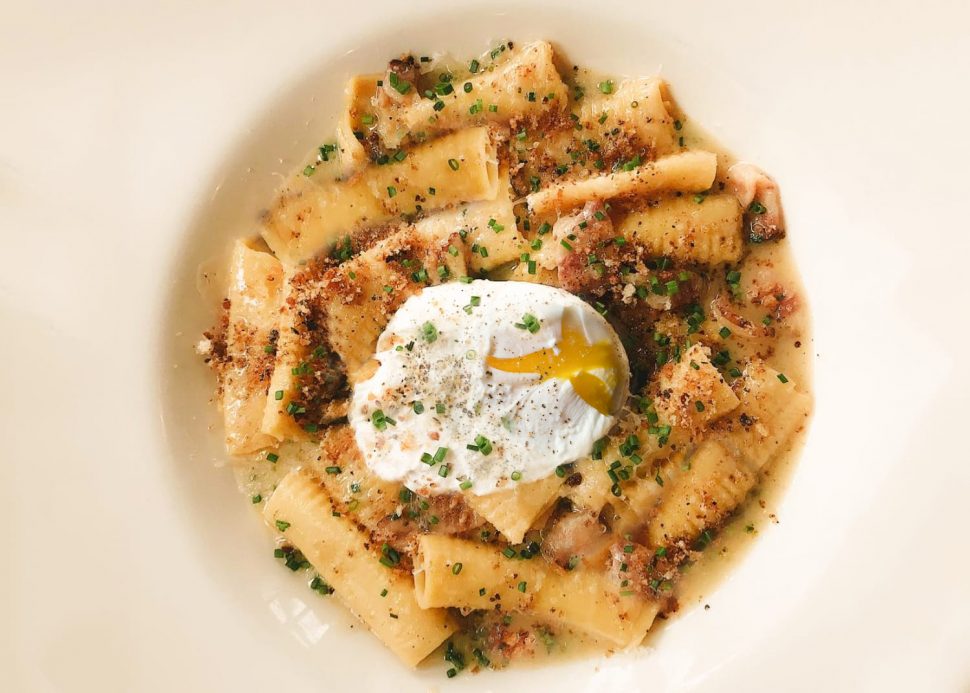 Breakfast Rigatoni at Ellie's (204 Orange Ave.)
Chef Jason Witzl read our minds before we even realized it: Breakfast pasta.
Think about it. The simultaneous shamelessness and wonder, the fact that you've wanted it before but just wouldn't admit it… even after countless morning consumptions of cold spaghetti.
The plate is one of many brunch specials and it brings with it a special quality that makes it not only delicious but distinct.
Handmade rigatoni is tossed in a creamy, pancetta-laced sauce and topped with buttery bread crumbles, chives, and a perfectly poached egg. Witty and downright addicting, this poem to Carbs All Day, Everyday will have you dreaming about your next Sunday.
****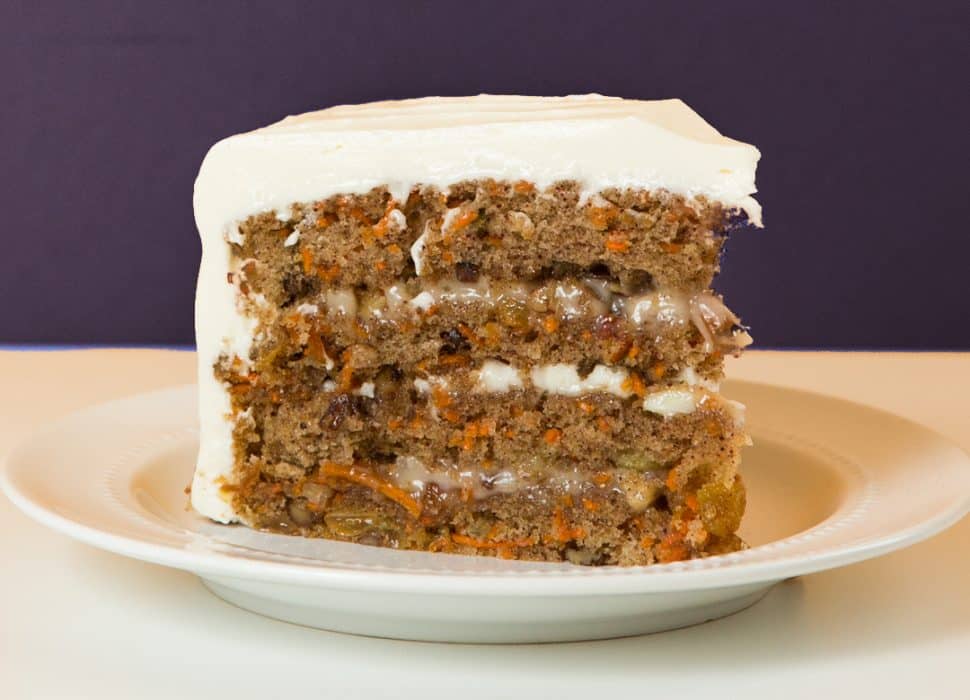 Carrot Cake at Susie Cakes (4201 McGowen St., Suite 220)
SusieCakes, overseen by L.A.-by-way-of-Chicago baker Susan Sarich, has become a small business phenomenon. Having celebrated its 12th anniversary this year with its flagship shop in Brentwood, SusieCakes now operates over 20 bakeries in California and Texas.
And what makes the work of Sarich so popular isn't her odd approach to baking—she's not pushing the baking envelope—but her heavenly take on the classics: vanilla cupcakes, chocolate chip cookies, etc. Here is where she shines, and there is no better example of this than her carrot cake.
Four layers, alternately layered with a praline frosting and a cream cheese frosting, are packed with slivers of carrot, chunks of walnut, and a mixture of both golden and classic raisins. The result is a perfect dessert.
****
But, if I had to pick just one to live with for the rest of the month—just one—it would be Dima's shakshuka at Ammatolí.
Brian Addison is a columnist and editor for the Long Beach Post. Reach him at [email protected] or on social media at Facebook, Twitter, Instagram, and LinkedIn.