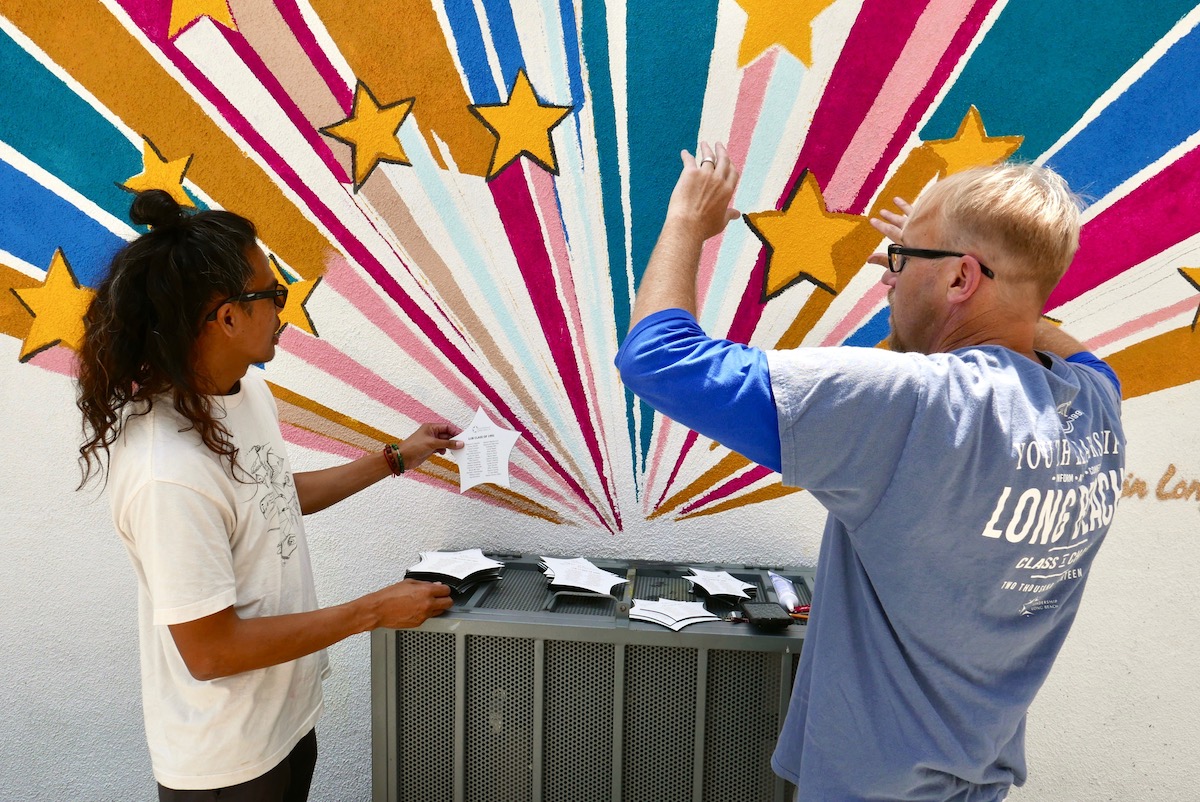 New North Promenade mural a tribute to Long Beach leaders
A new mural off the North Promenade in Downtown represents the last three decades of one of Long Beach's most prized programs in helping to create an engaged community: Leadership Long Beach.
"We've never had our own place that tells the community about who we are," said LLB executive director of almost 10 years, Jeff Williams. "Our 30th anniversary gave us an opportunity to do that."
Williams hopes the mural will encourage people to learn more about the organization and inspire others to get involved in making Long Beach a greater city, with the names of every alumnus from the last three decades to be immortalized within star-shaped plaques.
That's more than 1,500 graduates from LLB's multiple programs, founded in 1989 to encourage civic engagement and motivate future leaders to take an active role in shaping their community for the better.
The class of 2019 included 31 members who graduated from its 10-month flagship program on Monday and presented a recap of the community projects they've been working on since November, one of which involved organizing a trades fair to expose high schoolers from underserved communities to career options not requiring a four-year college degree.
https://lbpost.com/news/education/long-beach-students-get-a-peek-at-blue-collar-jobs-at-trades-fair/
By Saturday, when the nonprofit will have its 30th anniversary celebration called "Night of a Thousand Lights," a canopy of lights will be strung across The North Promenade next to the mural, while street graphics will also be added with information about LLB.
There, the class wall will be dedicated with its artist rendering of the LLB story.
"It'll be like an outdoor museum," Williams said.
Mural coordinators and LLB alumni Sayon Syprasoeuth and Nicolassa Galvez were there Thursday afternoon adding the names to the wall. Its overall design, based on LLB's logo and colors, is meant to encourage people to take photos standing in front of it, with rays and stars shooting out from behind them, said Syprasoeuth.
Syprasoeuth, who graduated in 2017, is a program coordinator at United Cambodian Community and recently started a small art gallery there.
Galvez, a member of the class of 2012, said she was accepted into LLB at a time in her life when she was questioning her future. She had just lost her job at a domestic violence shelter and feared that it would affect her standing with LLB. Williams reassured her at the time that she had been accepted for a reason.
Galvez went on to lead what was then a community-run arts hub in Downtown, Art Exchange, and went on to become the art director for Music Tastes Good festival and is now a board member at the Arts Council for Long Beach, among other arts and service positions.
"I can't imagine how [Williams] is there for all of us," Galvez said. "He's like that for everyone, he brings people together. There's this culture of fellowship so we always want to give back. The work starts after you're done."
The mural will be unveiled during LLB's 30th anniversary party, Night of a Thousand Lights, which takes place Saturday, June 8 from 6 to 10 p.m. between 3rd and 4th streets on The North Promenade. For tickets and more information, visit the website here.
Support our journalism.
Hyperlocal news is an essential force in our democracy, but it costs money to keep an organization like this one alive, and we can't rely on advertiser support alone. That's why we're asking readers like you to support our independent, fact-based journalism. We know you like it—that's why you're here. Help us keep hyperlocal news alive in Long Beach.