For a few hours on Wednesday afternoon, high school juniors and seniors got a chance to peek into deep sea diving helmets, learn about the building-demolition business and explore what can be done with metal fabrication.
They were learning what some of their career options were without having to go to college for four years.
"We realized that not all of our teens or youth are geared towards a traditional, four-year institution, as far as university or college," said Lamar Howard, who is part of the current class of Leadership Long Beach, the organization that sponsored the event at Long Beach City College. "So we thought that it would be a good idea to expose them, as well as make them aware of the various trades that are out there, which even if they don't attend a four-year university, they can still make a pretty decent living."
Howard is the Harbor Marine Manager at the Port of Long Beach, but he started out doing underwater deep sea diving and construction, a career he trained for in the Navy and then through one year of trade school with National University.
He and his classmates at Leadership Long Beach came up with the idea of putting together a trades fair when they decided they wanted to expose students from underserved communities and alternative high schools to these kinds of careers.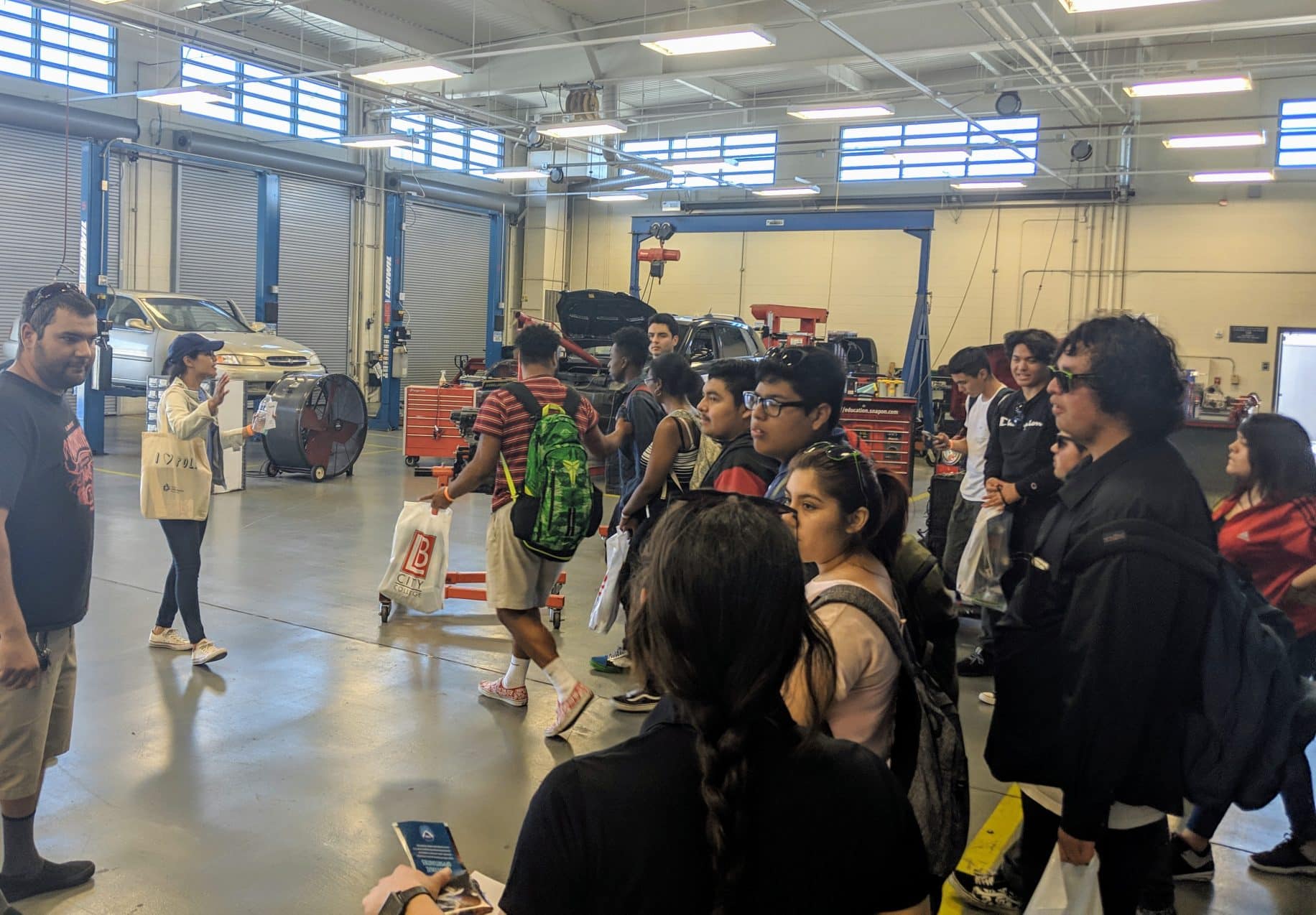 "We're actually hoping that it would encourage them to get back into school and obtain a degree," he said. "We also want to advocate for education, but we know first things first, they have to have that stepping stone."
Some students were really into the idea of hands-on jobs. Robin Thorne, a chemical engineer and owner of a construction and demolition firm, CTI Environmental in Long Beach, brought her newly founded organization, Demo Chicks, to introduce girls to non-traditional jobs.
"CTI Environmental had just completed a demo and we thought: more people should know about this because our general labor was making $42 an hour," Thorne said. She hopes to build a community and foster mentorships between women who have literally and proverbially broken through ceilings and young girls.
LBCC students who are already on their way in their career paths were on hand to talk to the high schoolers about their options with the community college in a tour of some of the facilities.
Alexis Acuna-Mitchell, the president of the Automotive Association at LBCC, is excited the college is reintroducing the automotive technology program.
"It's really important because everybody uses some sort of transportation these days, whether it be bus or cars or Ubers or taxis or bicycles or motorcycles, and we have to have people who can repair them," Acuna-Mitchell said.
He noted that there aren't many institutions that are able to keep up with the demand for knowledgeable technicians and that going into automotive technology doesn't necessarily mean you'll be under a car covered in grease—even auto claims adjusters need knowledge in automotive tech.
The students also got to tour the welding, metal fabrication, robotics labs and other areas during the fair.
Editor's note: Long Beach Post reporter Stephanie Rivera is part of the current class of Leadership Long Beach that hosted the event.