Fall Theater Preview: Lady Day, Christmas Carols and full frontal
Fall is here, and you know what that means: the new TV season, gut-clenching gas prices and a whole mess of great theater ranging from Billie to Bard to Santaricide.
So take a look at what Cal Rep, The Garage Theater, International City Theatre, Long Beach Playhouse, Long Beach Shakespeare Company and Musical Theatre West have waiting for you.
Curtain!
CALIFORNIA REPERTORY COMPANY
Cal State Long Beach's graduate theater program has graced the local live performance scene with quality, thought-provoking plays and performances directed by respected theater directors all across Southern California and enacted by the campus' graduate students.
Opening Nov. 7 and running to Nov. 16 is "Romeo and Juliet: Hard Way Home," combining the classic text of Shakespeare with the tunes of Grammy award-winning country singer Brandi Carlile from her 2012 album "Bear Creek." While not the first Shakespeare adaptation she's endeavored, director Beth Lopes continues on her mission to make classic works relevant to new generations in this world premiere performance.
In the final performance of the fall season, "MOVE: History of the Hand" a multi-year arts project designed to explore the cultural, scientific and personal histories of our hands, our most frequent tool to interact with the world. Directed by Ezra LeBank, head of the Movement Department at Cal State Long Beach, "MOVE" runs from Nov. 21 to Dec. 8 and aims to open your mind to your body's full potential and gain a new appreciation for those handy limbs attached to your wrists. (Cheantay Jensen)
Another great thing: Students! The California Repertory Company looks kindly upon you with discounted tickets at $18 (individual tickets, which are still remarkably affordable, are $23). So wave your student ID like the magic wand it is.
Give us a moment's pause:  Will this be on the midterm?
Cal Rep performs at CSULB's University and Studio theaters, loccated at 1240 Bellflower Blvd. For more information or tickets, click here.
GARAGE THEATER
Alternative playhouse, The Garage Theatre, recognized for their independent, affordable, intimate and provocative performances, brings to a close their 18th season with docudrama play, "A Wolf's Mother" by Cary Simowitz.
The play, told through the lens of Ada "Kathleen" Bower, mother of Charles Manson, is a historical drama that explores the idea of what could have happened had his mother, despite her own tumultuous upbringing, been a part of his life. Question the notion of fate, ponder the frailty of human nature and unearth the capacity for forgiveness in this emotionally poignant performance beginning Oct. 4. (CJ)
Another great thing: Garage Theatre's small storefront venue on Seventh Street, which seats about 30, is pretty much the most intimate theater experience you could ask for. Be prepared for the actor-audience eye contact.
Give us a moment's pause: Starring in "A Wolf's Mother" is actor, singer and YouTuber Joshua Evans. Seeing the bubbly personality channel the mindset of a murderer may prove to be exciting… or unsettling for his fan base.
The Garage Theatre is located at 251 E. Seventh St. For more information or tickets, click here.
INTERNATIONAL CITY THEATRE
ICT actually closes its season this fall with the ambitious "Lady Day at Emerson's Bar and Grill;" ambitious not because the scale is so epic but because it is so intimate.
The musical drama is a fictional account of Billie Holiday's last public performances before her death in July of 1959. The characters lists includes Holiday, her musical accompanist Jimmy Powers and that's pretty much it.
Karole Foreman, who played Rose in ICT's well-received production of "Fences" in 2017, plays Holiday, while musical director Stephan Terry doubles in the role of Powers. The choice of Foreman, most certainly an actor who sings, rather than a singer who acts, makes clear that director Wren T. Brown most valued a performer who would not only be able to recreate a plausible Holiday stage presence, but also communicate the contours of her all-to-short life, whether speaking or singing.
The play, performed at the Beverly O'Neill Theater, takes place in a fictional seedy bar in Philadelphia. Holiday performs 16 songs, including such iconic standards as "God Bless the Child" and "Strange Fruit" while recounting the often devastating turns of her life. (Steve Lowery)
Another great thing: These are Holiday classics we never get tired of hearing.
Giving us a moment's pause: Billie Holiday died at the age of 44. Considering that contemporaries Ella Fitzgerald and Frank Sinatra had careers of continued distinction well past their 40s, the mind is boggled, and saddened, about what might have been.
The Beverly O'Neill Theater is located at 300 E Ocean Blvd. For more information or tickets, click here.
LONG BEACH PLAYHOUSE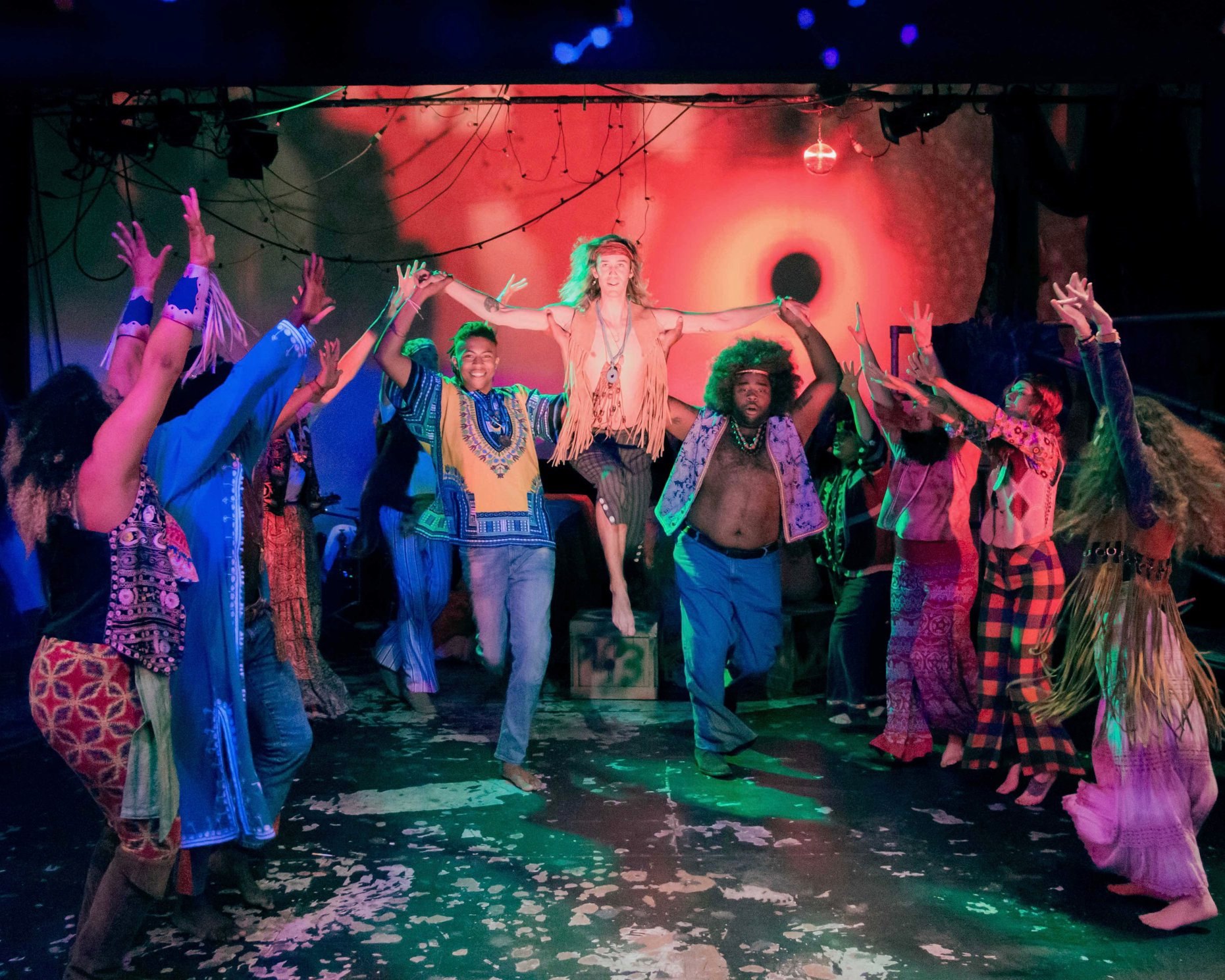 Ready to be delightfully terrified? "The Haunting of Hill House" opened in September and runs until Oct. 19. Following the paranormal investigation of a mansion, many dangers and psychological manipulations are just waiting to trap Dr. Montague's team of volunteers. Based on the novel by Shirley Jackson (she also wrote "The Lottery"), the dramatization is fit for an especially spooky October outing to Long Beach Playhouse's Mainstage Theater.
In the Studio Theater, "HAIR," an exploration of 60s counterculture, runs through Nov. 16 and dives into the struggle of young people finding their voices in a quickly changing world. Due to full-frontal nudity, simulated drug use, language and other adult situations, those under 17 require a parent or adult guardian to attend. Yes, this play is Rated R.
Last season, Long Beach Playhouse put on Jane Austen's "Pride and Prejudice," this season, it's all about the middle sister of the Bennet household, Mary. "Miss Bennet: Christmas at Pemberley," will run Nov. 1-Nov. 30 to charm audiences with the same droll, romantic, intellectually stimulating spirit of its predecessor as it follows Bennet's introduction to an unexpected guest during the holidays.
And, because they are required to by law, the Playhouse will present "A Christmas Carol," the classic Dickens tale of… Oh, you know what the hell "Christmas Carol" is about. Playing from Dec. 6-22, don't be a Scrooge. (Asia Morris)
Another great thing: Did you know that the playhouse has an art gallery?
Giving us a moment's pause: Full frontal.
Long Beach Playhouse is located at 5021 E Anaheim St. For more information or tickets, click here.
LONG BEACH SHAKESPEARE COMPANY
Long Beach Shakespeare won't be doing a lot, or any really, of its namesakes plays this fall. In fact, it won't be doing many plays, not in the traditional sense. Oh, from Nov. 22 through Dec. 15, the company will be performing holiday play, "The Plot to Overthrow Christmas." Yes, we know it sounds like something you might hear screeched on talk radio, but it is, in fact, a clever morsel where some of the greatest (worst?) villains of all time, come back in an attempt to thwart Santa from making his rounds.
"The Plot to Overthrow Christmas" is actually a staged version of a radio play and that's ironic since the rest of the company's offerings this fall are pretty much literary and theater fare offered as radio plays. Staged radio readings have proven very popular for Long Beach Shakespeare, we're guessing because it allows audiences not only to focus on great written words but to see, without being distracted by costumes and stage direction, how actors solely interpret the written word as spoken.
Performances coming up are "Dracula" from Oct. 18 to Oct. 20; "War of the Worlds" from Oct. 25 to Oct. 27 and "A Christmas Carol" from Dec. 20 to Dec. 22. (SL)
Another great thing: Happy Holidays!
Giving us a moment's pause: There is actually quite a lot of stories, plays, movies about people trying to off Santa.
Long Beach Shakespeare Company performs at the Helen Borgers Theatre, located at 4250 Atlantic Ave. For more information or tickets, click here.
MUSICAL THEATRE WEST

Musical Theatre West will open its 67th (67th!) season with "Something Rotten!" which opens Oct. 18 and runs through Nov. 3. Set in 1595 London, two brothers seek help from a soothsayer to best popular playwright William Shakespeare with the world's first musical about… an omelette? They call this an "over-the-top take on Shakespeare."
Sexual innuendo? You bet! Funny? Likely, since the musical is from the Book of Mormon's co-director. It's recommended not to bring anyone younger than a 9th grader and here's hoping most of the adults can level up to a 9th grader's sense of humor. After all, it's adults that kept "Big Bang Theory" on TV.
Next up is Irving Berlin's "Holiday Inn," opening Dec. 6 and running through Dec. 15. Based on the 1942 movie, it features dance numbers, comedy and hit Irving Berlin songs, which is pretty much the only kind of songs he wrote.
Follow Jim, who leaves the bright and shiny world of show business for a quieter life in a Connecticut farmhouse. In this feel-good production, watch how Jim and his new friend Linda turn the farmhouse into a wondrous inn full of holiday cheer. (AM)
Another great thing: Pirates!
Giving us a moment's pause: Occasional aggressive language from Pirates.
Carpenter Performing Arts Center is located on the campus of Cal State Long Beach at 6200 E Atherton. For more information or tickets, click here.
Support our journalism.
Hyperlocal news is an essential force in our democracy, but it costs money to keep an organization like this one alive, and we can't rely on advertiser support alone. That's why we're asking readers like you to support our independent, fact-based journalism. We know you like it—that's why you're here. Help us keep hyperlocal news alive in Long Beach.