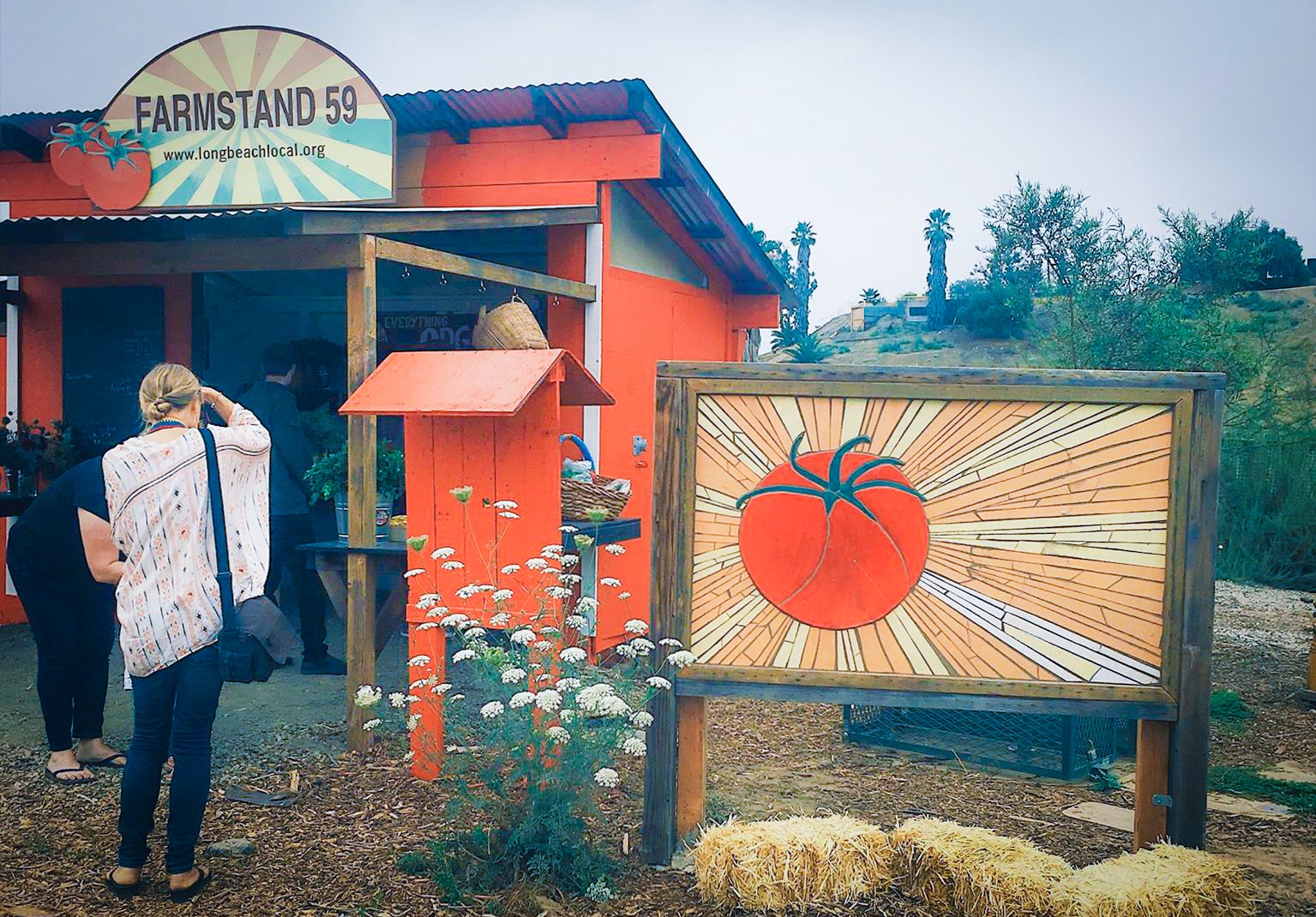 Farm Stand 59 closes shop as Farm Lot 59 moves forward with its fight for urban farming
After struggling to maintain operations, Farm Stand 59—the tiny-but-mighty shack that sold produce created by its neighboring Farm Lot 59—is formally shuttered after owner Sasha Kanno announced there were no plans to re-open this year.
"To be totally honest, it just costs too much money to keep it open," Kanno said. "The farm operates on what we can sell and the small amount of donations we can drum up, and that means it runs on thin margins with mostly myself working as a volunteer for the last nine years and the people I have to pay to work there. On top of all this, I have to purchase all the delicious things you can buy outside produce—grass-fed beef, bread, eggs—plus everything that the farm provides to the stand all while standing on the side of a dirty road using a porta-potty."
In other words: Without a formal sponsor, the stand requires intense labor and costs to operate. Add onto this vandalism to the stand that prompted a shutdown and a re-opening which undoubtedly took time and money, and Kanno's reasonable approach to closing the stand, opened in 2013, becomes clearer. (Farm Lot 59 opened in 2011 at 2714 California Ave.)
https://lbpost.com/life/food/farmstand-59-back-in-business-with-grand-re-opening/
Still, all this doesn't deter Kanno's dedication to all things earthy. She has always had a deep connection to the soil and what it can bring about. In a continually booming urban landscape that often exchanges concrete for earth, the importance of reconnecting people to produce, straight from its source, is important to Kanno, and Farm Lot 59 has proven effective: from local chefs vying for her produce to sparking an urban farming craze across the city, her influence is felt far and wide.
And even more, it's important for sustainability. After all, we have some seven-and-a-half billion stomachs to fill daily on our planet and being able to do that exerts a heavy price on the planet. With excess water consumption, pollution, land destruction, energy loss and all the other end-times-type things that mass agriculture contributes to, we need a way to produce our food as local as possible.
"I think it's important that this city has at least one working farm," Kanno said. "That's why I'd like to spend more time perfecting my farming practice and growing the education and training programs instead of all the other stuff that goes along with having a farm in the city—food access, policy, land use and the rights attached to that use… It's a lot to navigate."
The proliferation of urban farms is some fad mislabeled as hippie culture; it is a solution to the aforementioned problems: adding greenery to cities, they increase shading, cool our environment and reduce harmful runoff as well as provide communal benefits. In fact, a 2016 study showed that urban farms in North America and Western Europe not only increase healthy, active work for city dwellers,  they prove a fascinating point about human psychology: The experience of growing food is correlated with its consumption, meaning that the more people experience growing food, the more likely they are to eat it.
From 2008 and for two years following, Kanno held an active community garden in the Wrigley area of Long Beach and its success inspired her to approach the garden from a different angle: food production. That is ultimately where she began, much with the support of the City of Long Beach Parks, Recreation and Marine Department, searching for properties. And it took her four years to finally settle in on and make what is now known as Farm Lot 59.
Just one-sixth of an acre, the Farm Lot 59 property sits behind a tiny hill and truly feels like another world with its rows of hand-toiled produce and flowers, alongside the clucking chickens. That won't change.
"I am staying on the farm, there's no question about that," Kanno said. "This year is all about doing what's right for the farm and taking on what works for me and not everyone that asks me for something. I've always had bigger visions for the farm but never had any big backers or grants. I'm hoping now that I have a longer lease and a reputation it will be easier to get funding."
Farm Lot 59 is located at 2714 California Ave.
Brian Addison is a columnist and editor for the Long Beach Post. Reach him at [email protected] or on social media at Facebook, Twitter, Instagram, and LinkedIn.
Support our journalism.
Hyperlocal news is an essential force in our democracy, but it costs money to keep an organization like this one alive, and we can't rely on advertiser support alone. That's why we're asking readers like you to support our independent, fact-based journalism. We know you like it—that's why you're here. Help us keep hyperlocal news alive in Long Beach.