La Michoacana, the ice cream shop which opened just a few months ago at Seventh Street and Orange Avenue, is hoping to mimic the style of the outrageously popular paleterías that started in the Mexican state of Michoacán.
These shops are filled with sweet wonders and bright, saturated color. You're meant to exude happiness as much as the shop itself does: Paletas that are made with everything from fresh fruit standards like strawberries to more Latin-centric fruits like nance and guanabana. Milky popsicles that mimic Mexican candy like Duvalín, with chocolate, strawberry, and cookie flavors, or are filled with Oreos and cream. Giant vats of house-made aguas frescas…
The ice cream shop is so ubiquitous throughout Mexico that writer Gustavo Arellano—leaning heavily on the work of Sam Quinones' "True Tales From Another Mexico: The Lynch Mob, the Popsicle Kings, Chalino and the Bronx"—said La Michoacana "refers not so much to a specific chain as to an idea."
And he is right: Step into practically any city in Mexico, especially toward its West Coast, and you'll easily find one or three in every town. Mexican journalist and writer Laura Sands said there are "anywhere from 8,000 to 15,000 La Michoacáns throughout Mexico." In My Dude's hometown of Jalostotitlán in Jalisco, just north of Michoacán, there are two, of which citizens will vehemently proclaim are different from one another and with equal passion, expressing their reasons for preferring one or the other.
This latter point is the story of La Michoacana: the idea and branding—typically a pink-dressed indigenous girl holding an ice cream cone; sometimes some abstract form of fruit—has been largely left up to a mix of Mexican history and mythology. While it is universally agreed that the birthplace is Tocumbo, a town of about 11,000 people in Michoacán that borders with Jalisco, other details remain arguable.
According to Sands and scholars at El Colegio de Michoacán, the state of Michoacán was rich in agriculture, especially bovine, during the early 20th century. With electric power—and therefore freezers—beginning to pop up throughout the region combined with easy access to fresh milk, the almighty paleta (popsicle) began to popularize and Rafael Malfavón Villanueva of Tocumbo took advantage of this and birthed what Mexico came to know as La Michoacana.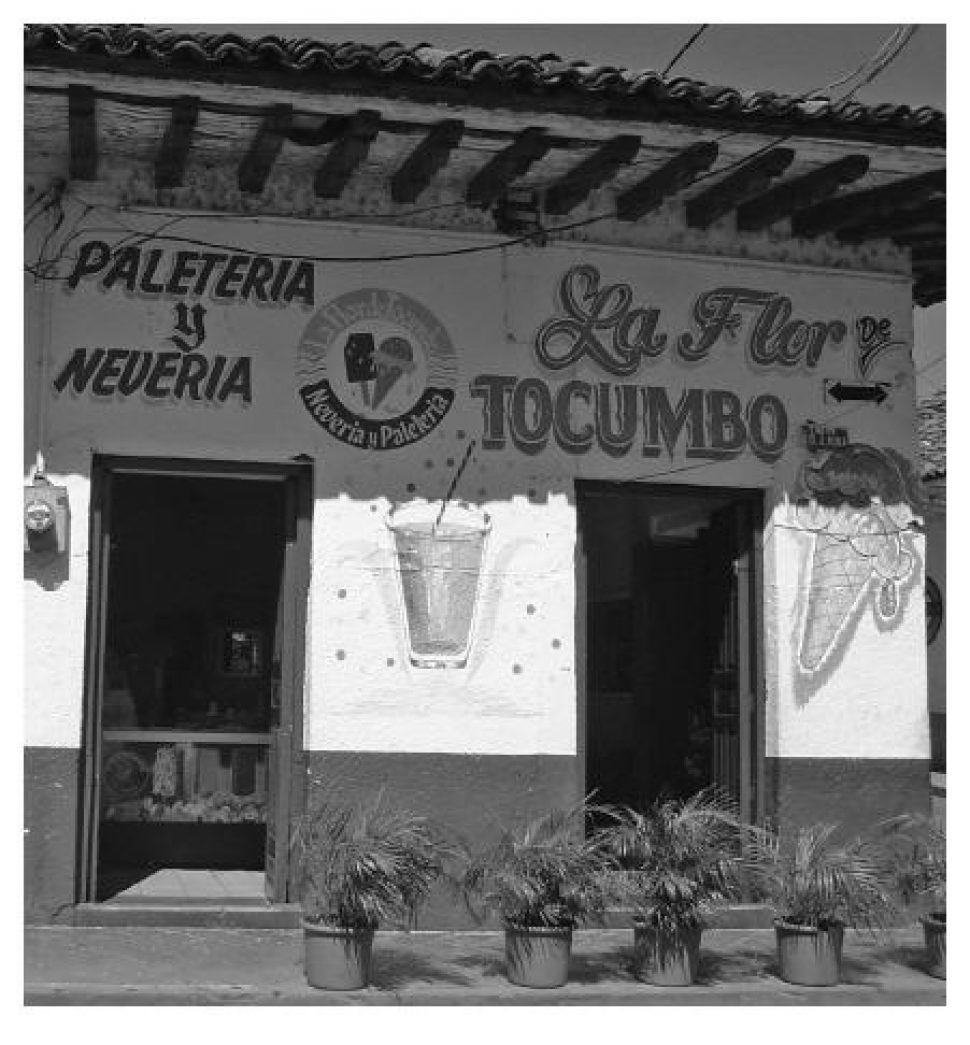 One of his employees, Ignacio Alcázar Pulido, basically stole money from Villanueva. Partnering with his brother Luis and friend Augustín Andrade, the trio fled to Mexico City in order to open their own paletería located near the old prison of Lecumberri. Featuring what Sands described as "crude drawings of fruit," it turned out that Pulido's success would match that of Villanueva.
"The business turned out to be so good that not only a short time later was Pulido able to pay his former boss Villanueva for the 'debt' he had basically stolen," said Esteban Barragán López of El Colegio de Michoacán, "but allowed him to open more shops, including franchises to his family as the business began to grow."
Here we have the origin of how the Paleteros of Tocumbo began to dominate Mexico with the explanation that, despite sharing the same name, each had subtle differences. Add on top of this a businesses model that required only a small investment—making it easy for families to join in or borrow small loans from the wealthy—and soon they were everywhere.
"Hundreds of paleterías were opened throughout the country," López said. "All, mind you, with names that are nostalgic and remember their homeland: 'La Flor de Michoacán,' 'La Flor de Tocumbo,' 'Janitzio'—or, simply, what would become 'La Michoacana.'"
Stateside, it is no different: There's La Michoacana Premium in Orange County and Tennessee. (You read that right.) There's La Michoacana Premier here in Long Beach and up in L.A. In fact, numerous entrepreneurs in the States have tried to lay claim to the La Michoacana brand by trying to trademark it for their own: at least 18 separate trademark applications exist for some variant of the name and logo.
Despite its storied history, the one thing we can all welcome are more paletas. For one of the original purveyors of paletas in Long Beach, make sure to visit Paletería la Mexicana, located at 1864 Pacific Ave.
La Michoacana Premier is located at 1168 E. Seventh St.
Brian Addison is a columnist and editor for the Long Beach Post. Reach him at [email protected] or on social media at Facebook, Twitter, Instagram, and LinkedIn.