Melissa Ortiz's new Tiki bar menu is elevating Long Beach's food scene
Have you tried the food at Bamboo Club? It's a question that's being texted and whispered a lot across Long Beach lately, ever since the city's new Tiki dive bar launched a chef-driven, all-day menu a few weeks ago.
It's been asked of me incredulously, as if it's hard to believe that our favorite 4th Street bartenders would now find themselves working at a place that serves affordable just-shucked Baja oysters with a tepache-radish mignonette.
Another time, it was spoken excitedly, more an invitation than a question, as if I hadn't already been binging at the Bamboo Club multiple weeknights in a row, downing classic Tiki cocktails in its dim interior and developing unhealthy cravings for the Thai tea-brined fried chicken sandwich (with that green papaya slaw).
Have you tried the food at Bamboo Club yet? The question is even being asked around Los Angeles, the city that scoffs at our small-fry dining scene, but can't help but be curious when one of their own defects.
For the last few years, Bamboo Club Executive Chef Melissa Ortiz, the new menu's mastermind, worked as the right hand to James Beard award-winning chef Michael Cimarusti, first as a contractor at Best Girl inside the Ace Hotel and later running the kitchen at his casual seafood restaurant, Connie & Ted's. (His fine dining outfit, Providence, charges upwards of $200 per multi-course meal). During her time at Connie & Ted's, Executive Chef Sam Baxter became an invaluable mentor to Ortiz, passing along Cimarusti's dedication and strategic approach to culinary excellence.
"Chef Sam works like no other chef I've ever worked for in my life, and it all comes from chef Michael," Ortiz says. "They always lead by example. They both equally taught me so much, and I want to pass that down to my cooks in Long Beach."
Ortiz is an Army veteran with over a decade of experience in experimental fine dining. The Orange County native fell into culinary school—and moved to Long Beach—after returning from duty over a decade ago, but she didn't immediately explore the city or try working here. Instead, with an incisive palate across a variety of cuisines, an obsessive need for balance and an expectation of consistency, she staged at Michelin-starred Melisse, became executive chef at the late Little Sparrow in Santa Ana and at one point ran the kitchen at the corporate headquarters of Snapchat.
She left Connie & Ted's earlier this year because she was planning to deploy to Afghanistan, but during the long government shutdown, paperwork got backed up so she started doing fermentation-focused pop-ups around Long Beach with her best chef friend Remy Bisharat under the name Pyru After Dark. The pop-ups were met with mixed reactions, providing an important introduction to the city's low-key food culture and giving her a crash course in how still-in-training-wheels both local chefs and local diners are. (She says she was unaware that Piru is a South L.A. Bloods gang or that Pyru's first host, Sweet Dixie Kitchen, had a little PR disaster once upon a time called Popeyesgate.)
Other local opportunities presented themselves and since the beginning of the year Ortiz has been getting more involved in Long Beach's restaurant scene: she consults with Rose Park Roasters on the food at their downtown location and recently wrote a seasonal dinner menu at Berlin. But it's the dozen-or-so dishes she crafted to fit the vibe at Bamboo Club that has become Ortiz's passion project over the last few months. It's the first time Ortiz has created a menu by and for Long Beach in the 11 years she's lived here.
"It was a challenge to make my food approachable—to simplify my ideas into bar food," she says, noting that reducing quality was never an option. "All I knew is that I didn't want to do the cliché Tiki bar menu. Long Beach deserves better."
Ortiz built the menu organically, taking inspiration from the city's history and diversity just as she began discovering it herself. When she went to the iconic Long Beach bar Joe Jost's for the first time in March, she took note of the pickled eggs and pretzels they've served since opening nearly 100 years ago, then went home to make her own Japanese-inspired version. Finding Long Beach lacking in decent late-night grub, she fashioned a classic 6-ounce chuck-blend burger, cooked medium rare and oozing with caramelized onions, house-made Thousand Island dressing and pickles from her personal collection ($10 regular price, $7 happy hour). Recognizing the city's strong vegan mafia, she made a Beyond Meat version to match.
A coconut shrimp toast drizzled in tamarind glaze—inspired by a savory pain perdu she had while cooking in the south of France—almost got axed from the menu after Eater declared that shrimp toast was "having a moment" in L.A. and she was worried about people thinking she was trying to be "on trend." She kept it on only after being convinced that few in Long Beach had ever heard of shrimp toast, a fact verified after confused customers had to have it explained to them as "like Texas toast covered in shrimp paste."
"It feels good to cook and for people to just enjoy it with no pretention," she says.
And people are definitely enjoying; permeating the Bamboo Club is a kind of lightly themed neighborhood-bar energy. On a recent evening, less than a week after Bamboo Club's menu launch, a man came in and ordered the Thai tea-brined fried chicken sandwich, proudly proclaiming it to be his third one in as many days. The next time he came in, I watched as he saddled up to the bar, asked Ortiz what the daily special was and ordered it sight unseen. A plate of fried smelt emerged, covered in a fermented Fresno and pineapple hot glaze with a side of yuzu-kosho ranch. He dipped each one, then popped the fish whole into his mouth, licking his fingers like he was devouring a plate of wings.
There's more to come too, like house-made Spam, mango sticky rice for dessert and whatever else Ortiz and her growing team of sharp, local cooks feel like experimenting with. This Sunday, to celebrate the opening of the themed-and-thatched back patio, Ortiz is planning to cook a feast fit for a luau. She ordered a 90-pound pig, which she will wrap in banana leaves and cook on hot rocks in the traditional Polynesian style.
"I just want to make good food in a city that I live in," Ortiz says, beaming.
Bamboo Club is located at 3522 Anaheim St.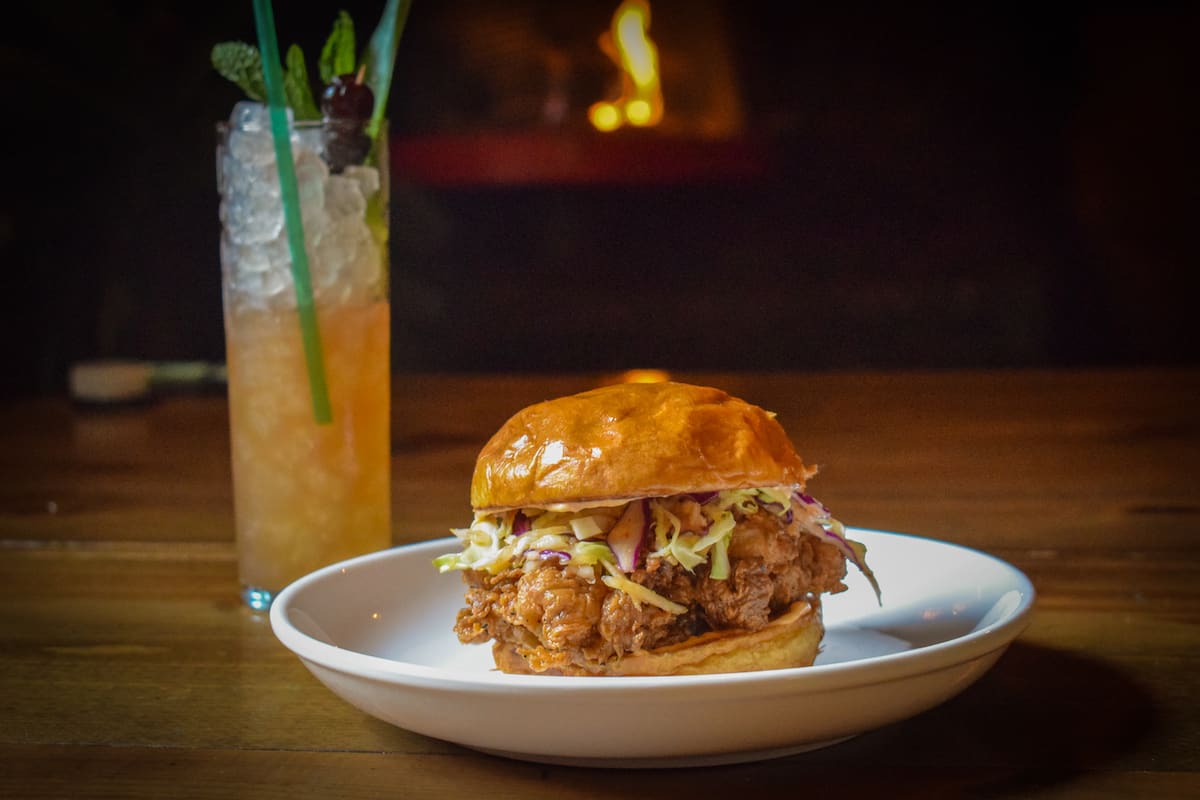 Thai tea-brined fried chicken sandwich. Photo by Brian Addison
Support our journalism.
Hyperlocal news is an essential force in our democracy, but it costs money to keep an organization like this one alive, and we can't rely on advertiser support alone. That's why we're asking readers like you to support our independent, fact-based journalism. We know you like it—that's why you're here. Help us keep hyperlocal news alive in Long Beach.