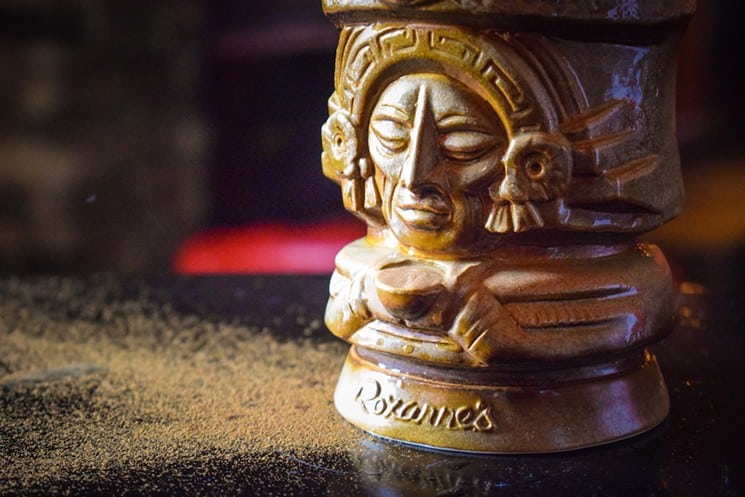 Roxanne's aims for massive expansion in Cal Heights with portable tiki bar and new distillery space
If you know Robert Molina, the guy behind the bar and grill that is Roxanne's in Cal Heights, one thing is glaringly obvious to both friends and patrons alike: he is a very a restless man.
Molina introduced the craft cocktail scene to Long Beach by way of Roxanne's and, eventually growing a bit bored, created Long Beach's first contemporary speakeasy, which operates in the back of Roxanne's and is known as the Exhibition Room—entered through a secret telephone booth.
Then, two years ago, he announced he wanted to create a tiki bar—dubbed Marie's Tek-Tec—inside a shipping container that his shipping company could take around wherever he sees fit. And, during that same time, he said he was going to open a distillery—called Willie's Tin Shop—next door to the Exhibition Room.
Those ideas have taken another step toward fruition: The doors for the mobile tiki bar are on their way and the massive stills for creating everything from gin to whiskey are inside the space.
"We could technically open next week if we wanted—we're that ready," said Forrest Cokely, factotum for Molina's projects. "But permitting is holding back. They say they will have it back to us within 60 days so we're hoping that in a couple of months, we can be up and running."
Both projects, on the books for years, follow the trend of Long Beach's new found love of distilling and tiki drinks: Portuguese Bend, the city's first distillery, will likely open in Downtown by the end of April while Bamboo Lounge, the city's first seven-days-a-week tiki bar, opened just a few weeks ago. But while Portuguese Bend will have a full bar and restaurant attached and Bamboo is a permanent space, Willie's will be serving its spirits in The Exhibition Room and Marie's will be, well, as mobile as it wants.
"While Marie's will be, for the most part, parked out back [and accessible through Roxanne's back door], what I love most about it is that I can take it to other parties," Molina said. "You want a full-service tiki bar at your parking lot office party? We can bring it to you. Plus, it's not just normal tiki; it's tiki with a Latin twist—so that means taking the Polynesian roots of the tiki cocktail and infusing as much as we can from Peru downward," Molina said. "So we're trying to blend the rich history of Mesoamerica—the myths, the deities, the art—into this bar."
If you're wondering how a "Latin twist" is applied to tiki drinks, well, think fruits common to Central America—nance, dragonfruit, guava, cashew fruit—and apply them to drinks paired with overproof rums, mezcals, and tequilas.
When it comes to Willie's, permitting has not only held up opening but stifled, for now, hopes to have a tasting room. According to Cokely, they will have to wait even longer before they can begin pouring advertised tastes inside the distillery; until then, The Exhibition Room, along with bars that wish to carry the spirits, will be the only place you can score the spirits which Molina said will be "made through Long Beach and by Long Beach."
What does that mean, exactly? It means making whiskeys from a Long Beach brewery's beer, much in the vein of Seven Stills, which brews their own beer as well as using other local beers to create their line of whiskeys. Or a brandy from a local wine. Using indigenous botanicals in order to create their gin.
"We're trying to use as many things that are specific to Long Beach as possible," Cokely said. "We'll use California juniper and sage instead of the European versions, for example, in our gin—a recipe I'm still in the midst of tweaking."
While you tweak, we'll just mosey on over to Marie's.
Roxanne's is located at 1115 E. Wardlow Rd.
Brian Addison is a columnist and editor for the Long Beach Post. Reach him at [email protected] or on social media at Facebook, Twitter, Instagram, and LinkedIn.
Support our journalism.
Hyperlocal news is an essential force in our democracy, but it costs money to keep an organization like this one alive, and we can't rely on advertiser support alone. That's why we're asking readers like you to support our independent, fact-based journalism. We know you like it—that's why you're here. Help us keep hyperlocal news alive in Long Beach.