There's a certain aura you step into when entering The Ordinarie (pronounced "ordinary") depending on what time you go.
That vibe is essential and, at least in my romanticized daydreams, reflects what owner Christy Caldwell is trying to mimic: the American tavern, a hospitable place of the past that was—as required by law, no less—to be a space for people to gather, drink, eat and discuss the happenings of the day. Ordinaries were a function of both civic and food life. It was, in and of itself, a contradiction; a place where you were supposed to escape yet also politick, where you have fun while pondering your community's needs and dreams.
At midday, when most are at work, The Ordinarie's space is quiet, bright, with Caldwell himself bouncing from patron to patron to talk about pretty much anything. At night, quiet turns to boisterous ambiance, often accompanied with live music, where guests are encouraged to interact with others amidst walls adorned with old paintings, elaborate frames, and gold light fixtures.
It's a place of hospitality in a time when folks, especially in our digisphere, are anything but—and perhaps just as beautifully, the food reflects that. It's warm, thoughtful comfort food on an elevation that is both respectable and addicting; a talent that Chef Chelsea McNeill (with assistance by Chef Al Kim at the opening) exercises with simultaneous focus and abandon. Again, the contradiction of an ordinarie.
Take, for example, her Chicken Pot Pie bites. Delicate, flaky, buttery, everything you want and expect from any iteration of a pot pie, but McNeill creates empanada-like packages filled with bright peas, carrots and chicken that have a genuinely surprising but wonderful acidity. The bites are layered atop a healthy portion of perfectly peppery, thick gravy that provides a balance to the creaminess and brightness of the pockets themselves.
Or her chicken wings—arguably the best in the city (yeah, I said it)—that boldly harken Carolina's Lexington barbecue: sweet and sour meet smokey and salty to an extent that needs no creamy sauce to dunk them in.
These bits of comfort, of course, aren't relegated to their appetizers. No. In fact, they shine through best in the bigger dishes.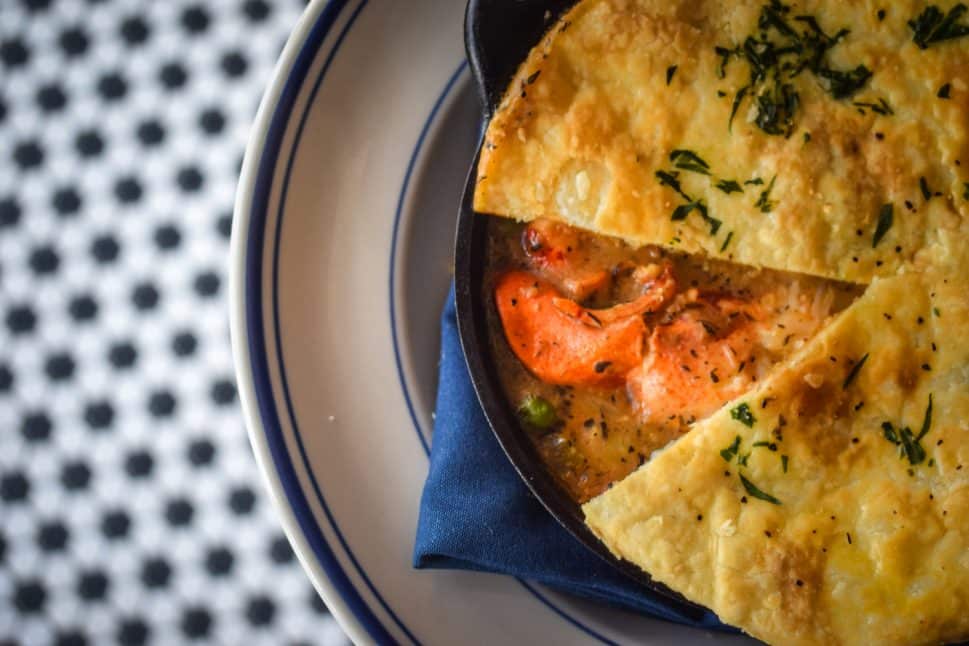 McNeill's spectacular lobster roll is a wondrous ode to the Maine-style version (with hints of its Connecticut cousin) of an East Coast staple: slightly sweet, perfectly starchy bread—sliced along the top, as it should, so the bottom and sides can be browned to a buttery crisp—is generously filled with chunky lobster bits that are delicately tossed in citrusy, quite light dressing. Bits of fresh tarragon—earthy, sweet—cut through the dab of citrus added to the dressing The result? A formal, respectable lobster roll for a city which almost hits the mark—hey there, Pier 76—but ultimately has yet to score a bullseye.
She uses that lobster and pot pie to another worthy use in lobster pot pie; a seemingly all-too-obvious choice gorgeously presented with a triangle of the pie's thin-but-worthy crust is cut off from the edge, allowing rusty red chunks of lobster to greet the eye before your fork attempts to dredge up more discoveries. The dish is clever in how it balances creaminess, acidity, salt, and sweetness thanks to a hint of tarragon and bits of carrot.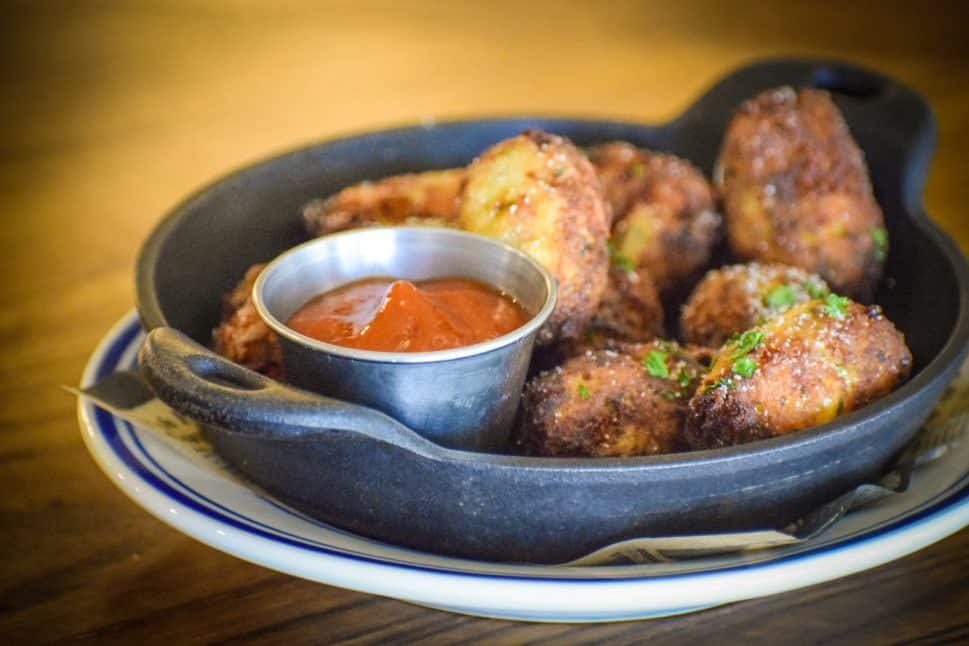 It's seriously fun and amusingly serious food, the kind of food that is easy to enjoy while throwing shade with friends or pondering the ills of society. In short, it's damn good and damn fun and, as such, extends to the limited-but-solid beverage program, curated by Adam Stearns.
Stearns' playful take on serious cocktails don't lessen the impact of their worth. Take his historically witty French 1776, an American take on the French 75 cocktail with a playful nod to the Boston Tea Party: Earl Grey-infused gin is combined with some rye, orange bitters, and topped off with sparkling wine. The result is a slightly less sweet version than the original that is also dangerously sippable.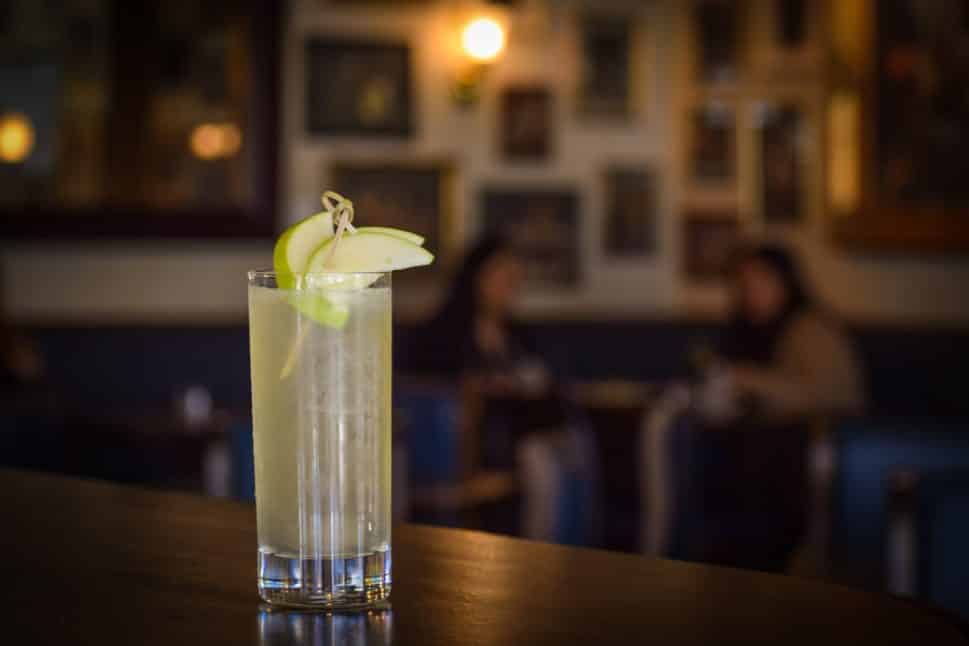 Even on Stearns' direct takes—his Byculla, a classic cocktail which salutes ginger and sherry, and Old Fashioned are both wonderful reminders of keeping some drink recipes sacred; he shows off an ability to maintain complexity through classic recipes.
It would be easy for me to go on and on: the wonderful succulence of McNeill's short rib that is shoved between buttery, grilled sourdough slices for a dip. Or the colorful earthiness of Stearns' Beet the Yankees bourbon concoction.
But in all honesty, you should just go. Bring a friend to talk about the implications of an Angels stadium in Downtown. Go alone to find Caldwell sitting by your side so you can ask him about growing up in Ireland. Just go.
The Ordinarie is located at 210 The Promenade North.
Brian Addison is a columnist and editor for the Long Beach Post. Reach him at [email protected] or on social media at Facebook, Twitter, Instagram, and LinkedIn.