When my first underrated restaurants list was published, it was, at the time, my most popular piece, a testament to the fact that Long Beach's culinary scene was flourishing. That's been going on for a few years now and, with it, comes change, including to lists like these. Surely, you'll find some repeats from last year's list, but you'll also find some noteworthy newbies.
Underrated, under-the-radar joints deserve love, so, in no particular order…
---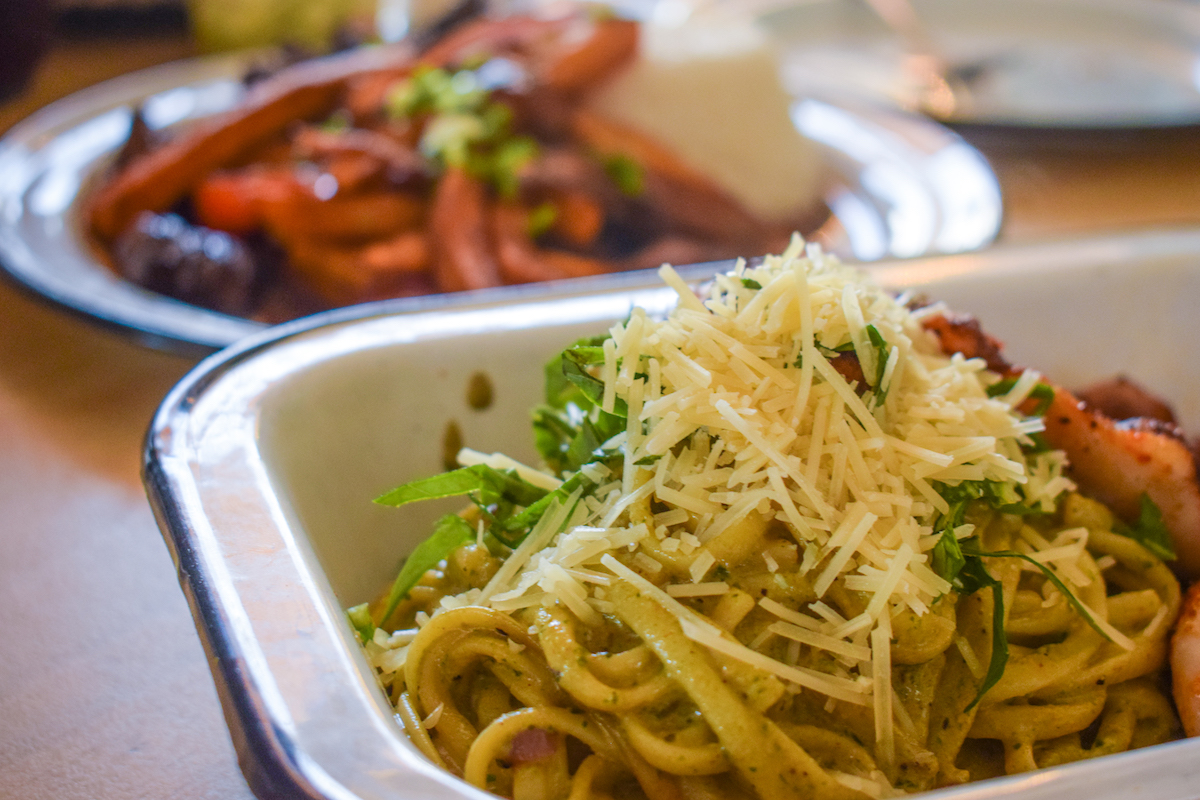 Casa Chaskis
2380 Santa Fe Ave.
There are a few things to say when there is a battle for the best Peruvian food in Long Beach.
Firstly, there is the tower of El Pollo Imperial—also having been on this list—having long held the title of not just having Long Beach's best Peruvian food but some of the region's best Peruvian dishes.
Secondly, the fact that the competition comes from a kid who used to sell his plates on Instagram is wonderfully smirk-inducing.
Chef Agustin Romo began delivering plates of tallarines verdes—strands of pasta lathered in creamy pesto and,, if you should get the chicken attached, it creates some of the best chicken pesto you'll have—and empanadas—buttery pockets of pastry stuffed with a tangy ground beef mixture—to those who'd place orders on his social media account. Saving penny by penny, Romo opened his brick-and-mortar on the Westside and now serves up some of the best Peruvian food in the city.
A stellar example of his craft is his lomo saltado, the dish which epitomizes Peruvian cuisine: French fries and tomatoes tossed with tender slivers of beef and red onion, sitting atop an addictive au jus of sorts made with vinegar, soy, and love.
---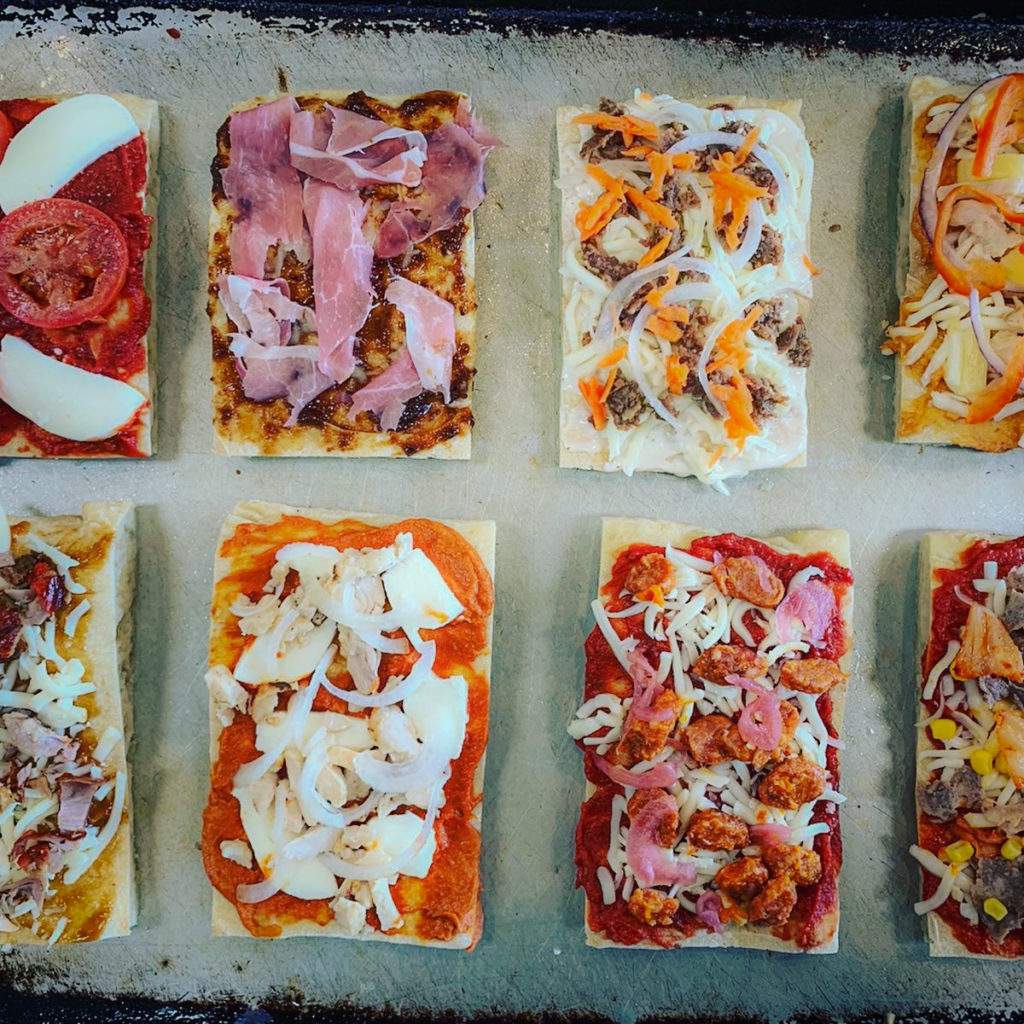 PowWow Pizza
4085 Atlantic Ave., Suite B
Unlike its Brother From Another Mother, Downtown's rightfully and crazily popular 4th Horseman, Bixby Knoll's PowWow Pizza is a hidden pie gem that is slowly but surely building an army of followers.
With roasted duck pizza, longanisa pizza, and other worldly creations, PowWow's beautiful pies are unlike any other—but perhaps the most beautiful aspect of the creations of Maurice Yim, the mastermind behind the project, is his direct and subtle ways of honoring his Cambodian heritage.
Many Cambodians, on the other hand, went the opposite route and decided to go full-on American in terms of food, beginning to open donut shops across the region. My friend Dorothy's father, now passed, opened one in Garden Grove. Many opened here in Long Beach.
Yim, in one of the most beautiful but subtle odes to his heritage, puts to-go pizzas in pink boxes, honoring the famed pink donut box that is now a food icon in SoCal.
Like many of the children he grew up with, he was the child of refugees and food was a way to not only move past the genocide his parents faced but also connect to the place to which they had moved. Soon, bowls of Cambodian noodles like the ones found at Phnom Penh Noodle Shack, where Yim himself has worked, and meats scented with lemongrass and seasoned with fish sauce became Long Beach staples.
This is reflected in his Angkor pizza, where chunks of lemongrass-ginger beef are used as a topping to make a distinct pie.
Now Yim offers Roma-style square pizzas to top it all off. These honors, paired with Yim's impeccable food skills, make PowWow Pizza an underrated gem.
---
Phở Hông Phát
3243 E. Anaheim St.
For those in the know, this place isn't underrated—hence why I never had much discussion about it on an underrated list because it easily outshines other joints like Pho America and 123 Pho and the definitive Wypipo Pho that is Number Nine. However, I've learned that those in the know are in the few.
Phở Hông Phát's focus is spectacularly simple: beef pho. And that beef pho is served in a tiny, packed, loud, no-A/C, Cash Only joint that eschews complexity or costly extras and sticks to doing one thing incredibly well. Sure, they have three options outside of beef pho—an all right chicken soup, a noodle-only soup, and a seafood soup—but these options are the only ones out of a list of nearly 20 pho offerings that revolve around beef.
From rare flank to beef balls, everyone appreciative of consuming beef will find something they like but my inner Creature of Habit always goes for the #10, Pho Tai Gan Xach with meatballs added. A cow-centric concoction of rare steak, tendon, and tripe—an homage to the heifer if there ever was one as pink bits of beef float toward the top while swimming alongside the parts of the cow frowned upon by most American palates.
---
****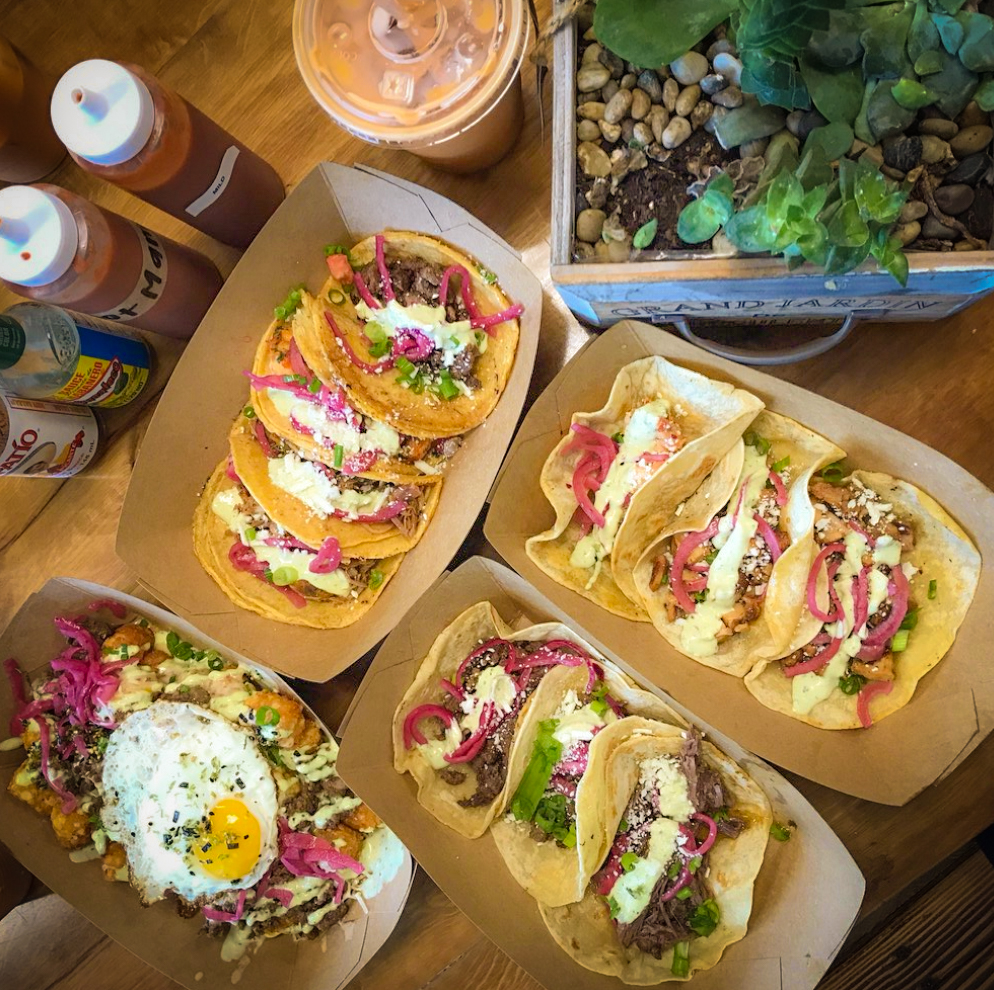 Chinitos Tacos
11130 Del Amo Blvd.
Hidden in an unassuming, ubiquitous strip mall in suburbia sits a taco joint whose "owner y chef" is a disciple of Chef Thomas Ortega, the man behind Playa Amor, one of the city's best restaurants, and Amorcito, home to some of the city's best tacos.
Meet Cambodian-American Chef Beeline Krouch and welcome to his world of Chinitos Tacos.
("Chinitos" is Krouch's nickname in the kitchen and it translates to "Little China Man." Some will tell you that given the addition of "ito," it is a term of affection, others find it blatantly offensive. Krouch makes his feelings perfectly clear on the subject when he proudly informs you, "That's me. I'm Chinitos!")
The influence of Ortega on Krouch's cuisine is clear: the bright magentas of pickled red onion, in-house crafted tortillas, the melding of heritages. But Krouch holds his own with wonderful nuances, a dash of togarashi on top of an egg here, Thai tea with a splash of horchata there and like any good Cambodian kid in Long Beach, a straight-up fried chicken special on Thursdays.
The span of Krouch's reach is astounding. He, at one point, honors the famed fantasma taco from Tijuana's Taconazo by creating a burnt cheese taco shell that is as decadent as it is blissful while, at another point, honors his own heritage by melding flavors like lemongrass, ponzu, and a house-made Chinese five spice into Mexican styles of protein, from barbacoa to carnitas.
---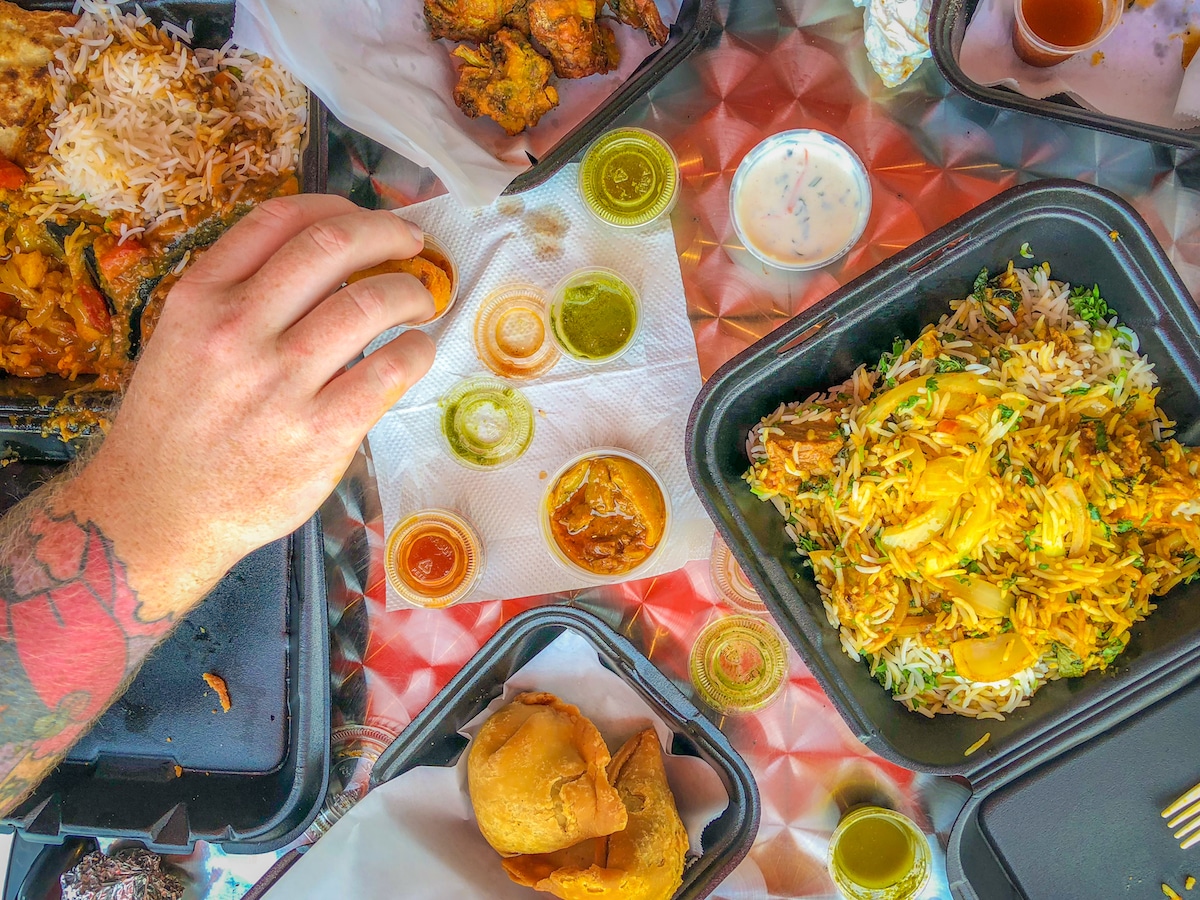 Flamin' Curry
3344 E. Broadway
If there is one thing that should never be downsized, or maligned, it is quick-and-cheap, wonderfully satisfying food. Perhaps no place exudes this quality more than the almighty taco truck, though others lurk in the shadows and shine bright once discovered. That's Flamin' Curry.
Great Indian food is difficult to find in Long Beach but this joint is unapologetically straightforward, a line of steam trays offering up a splendid array of Northern and Southern Indian staples that help my inner cravings for channa masala and biryani and, of course, various curries with the type of spiciness to transcend and heat up dining experiences.
(Local palates are often more geared toward the kind of heat one gets from Mexican and Thai/Chinese foods, centered on things like Serrano and Sichuan peppers. Indian heat is a kind of hot that doesn't hit suddenly like a hookup with a habañero but sneaks up like a lingering kiss of a Kashmiri chile, a long lost lover of sorts.)
Surely, some of the dishes can lean toward the salty but, that being said, it is quite possible that the city's best biryani—the dish that defines the Indian city of Hyderabad, is centered on two things: rice and meat, is right at Flamin' Curry.  This plate should be ordered with the goat, as should their curry. Succulent, bone-barely-clinging chunks of marinated goat sit atop a bed of basmati rice, coriander and saffron lurk up from the pile of food when you open the lid of its black styrofoam vessel. It's nothing short of wondrous.
---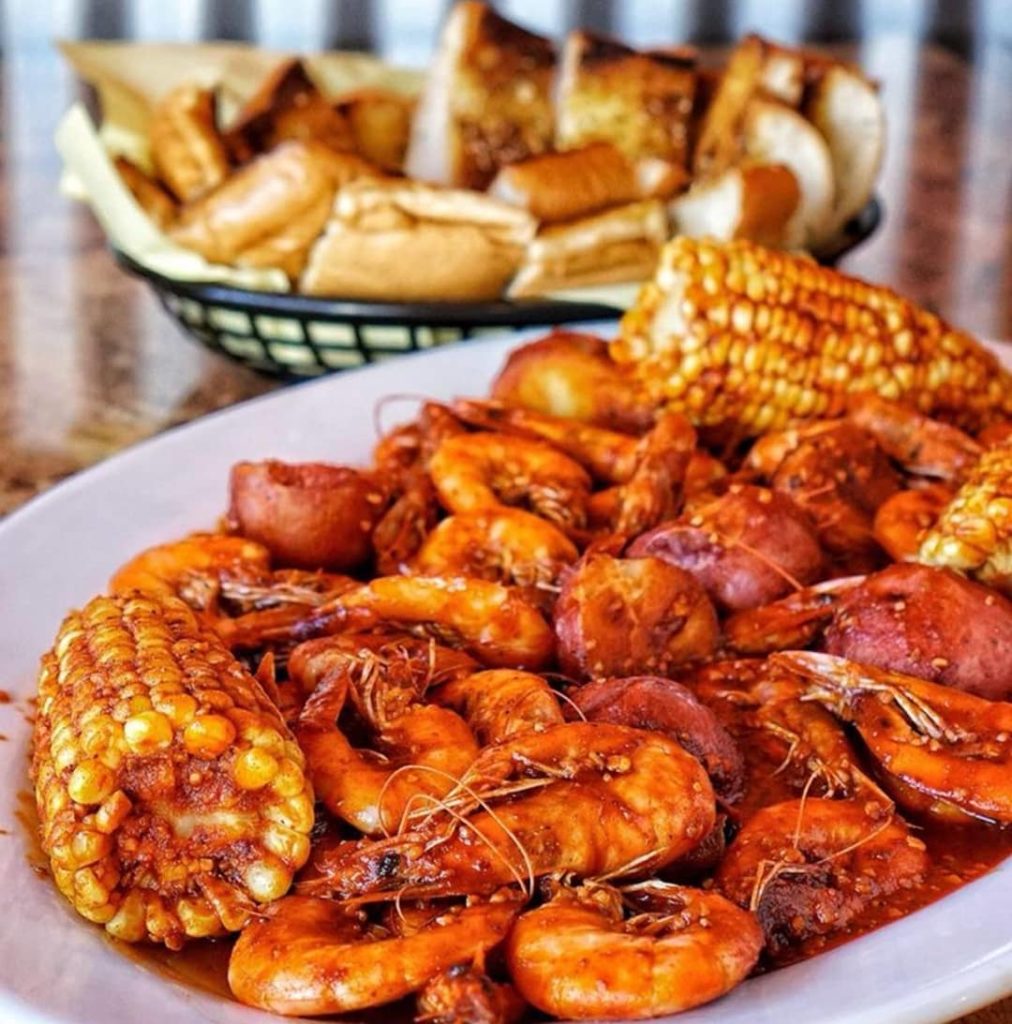 Cali Shrimp and Wingz House
1169 E. 10th St.
The Wing Lover is often a scorned one. Dismissed as always being a side, never a main entree, when it comes to pairings with beer, tacos and pizza will always win—rightfully so—over beer and wings.
But like all basic foods, when done well, they're genuinely comforting. Cali Shrimp and Wingz House and Victor Peña do wings really well.
Not only are his wings genuinely great—perfectly fried and wonderfully crisp even after a heavy bath in sauce—he creates, in house, a wonderfully wild array of sauces that go from bringing the heat to hints of sweet. Classic buffalo sauces sit with dry habañero rubs, honey lemon pepper ride alongside teryaki, made, as as it should, with oyster sauce. Jamaican jerk, Korean rub, honey hot barbecue…
Add onto this his seafood boils, where pounds of prawns or, if he has them on hand, crab legs are thrown into a boil of your choice. There are four options: the house sauce, "Diabla" sauce, garlic butter, or lemon pepper, with potatoes and cobs of corn. My suggestion? Get the Real Deal, where Peña mixes all the sauces into a single boil.
---
La Esperanza
1626 Orange Ave.
Sarah Bennett led me to this place and to her, I am forever indebted.
When you bite into the creation of Adriana Moran's tamal, you are transported. Unlike the smaller, heartier Mexican version so ubiquitous throughout California, tamales guatemaltecos are bigger. Much bigger. Wrapped in banana leaves, giving the masa a hint of grass and earth. Moran's creations come with hints of pumpkin seed and cinnamon and, on the larger plates she serves, she adds a tamal as a side.
This is just one of the one the many wonders to be discovered at La Esperanza.
With Adriana's mix of Guatemalan, Mexican and Salvadorian food—make sure to get a pupusa, topped with a wonderfully tart and crunchy slaw—this spot is not only a hidden gem but a wonderful break away from the dominance of Mexican cuisine in regards to the array of Latin American food.
---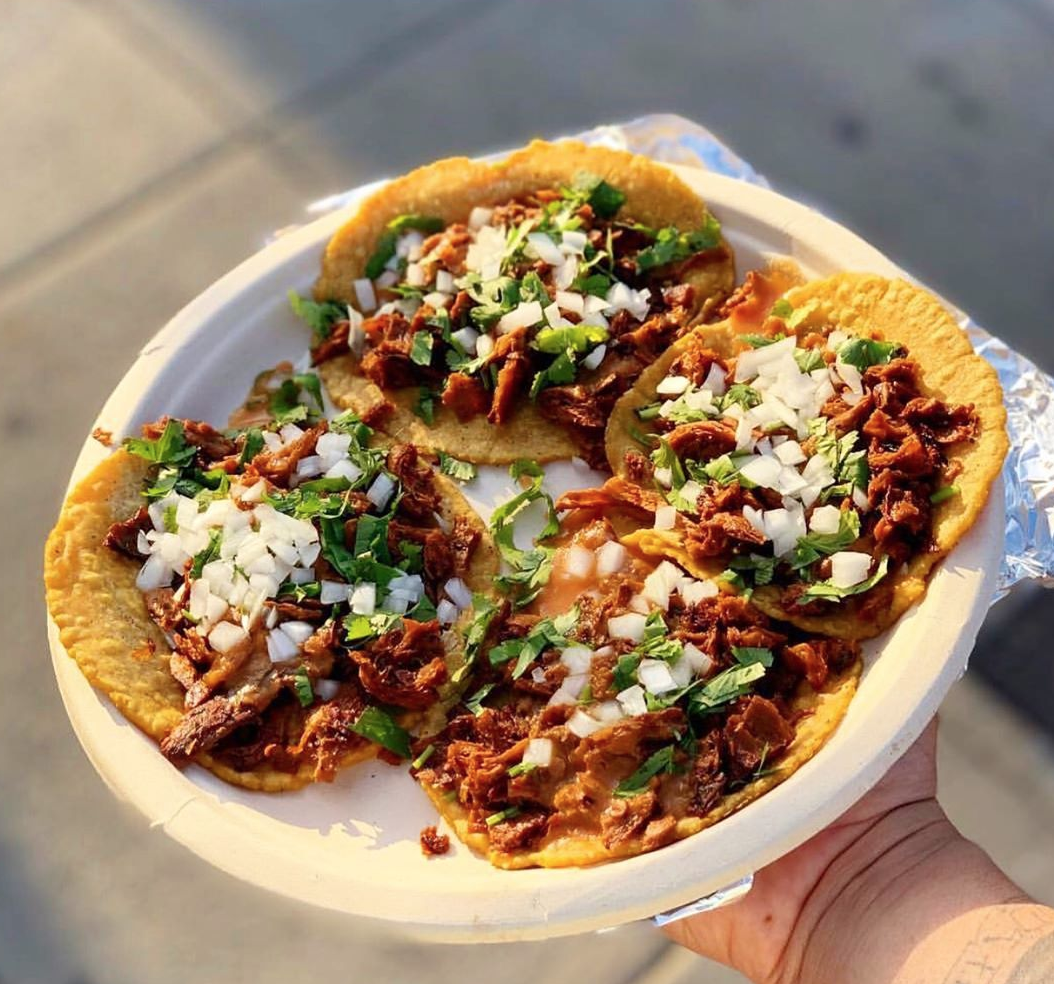 The Hawk's Vegan Taco Tuesday
468 W. Anaheim St.
When Kyle Flavin opted to vacate his management of The Blind Donkey to create his own watering hole near the 710 and Anaheim—taking over a dive that had been called The Nugget for decades—everyone's hopes were high.
He has succeeded in creating one of Long Beach's most unique bars and bringing with him some spectacular grub that is served from the bar's parking lot, including a weekly, vegan Taco Tuesday featuring a different host each week.
And over the past year, The Hawk has welcomed some of the region's best vegan makers. Places like Xochitl Vegan, the L.A.-based vegan pop up known for creating delights out of the hibiscus flower. Yes, hibiscus flowers marinated and charred to a crisp that mimic carne asada. 
Or joints like Tacos Sin Karma, known for their incredible vegan carne asada and tamales. Or Alchemy Organica, serving up a gorgeously plated, wonderfully colored tacos that satisfy both the conscientious vegan and the hesitant meat-eater. In other words: go.
---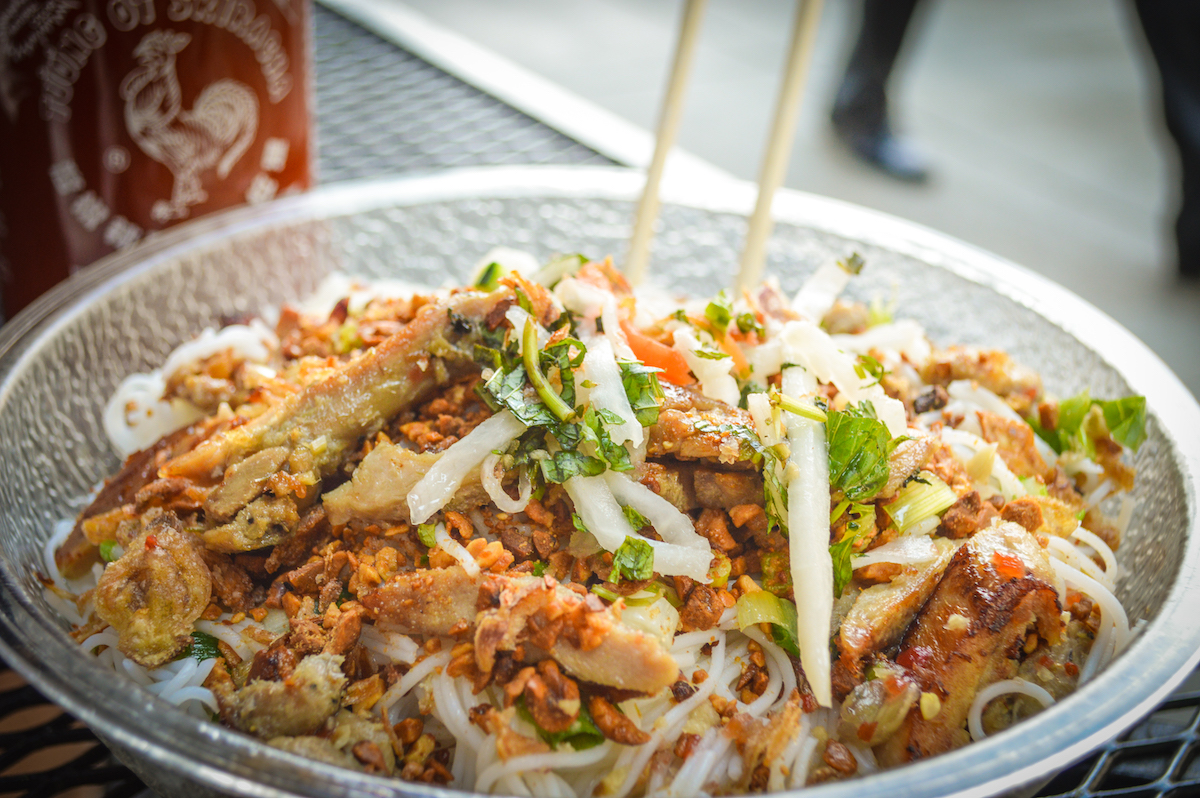 Java Junction
111 W Ocean Blvd., Suite 103
Tucked off onto what is the south side of First Street between Pacific and Pine Avenues—don't be fooled by its address; it just happens to be in the Landmark Square (aka Wells Fargo) Building but faces First Street—is Java Junction.
A staple for City Hall and Metro riders since the late 1990s, this true hole-in-the-wall might seem like your average downtown caffeine spot, but it actually serves some solid Vietnamese grub when you're craving some bún or phở or a bahn mi. Hell, you can even score a spring roll and some Thai iced tea.
Yup, tucked behind the muffins and chips and urns of coffee, a woman at the stove churns out Vietnamese and Thai food for the lunch crowd. And while Downtown's scene has yet to score phở at the level of Zaferia's Phở Hōng Phát—probably Long Beach's best spot for phở—it is not bereft of quality versions of the soup thanks to spaces like 123 Pho and, especially, Java Junction.
---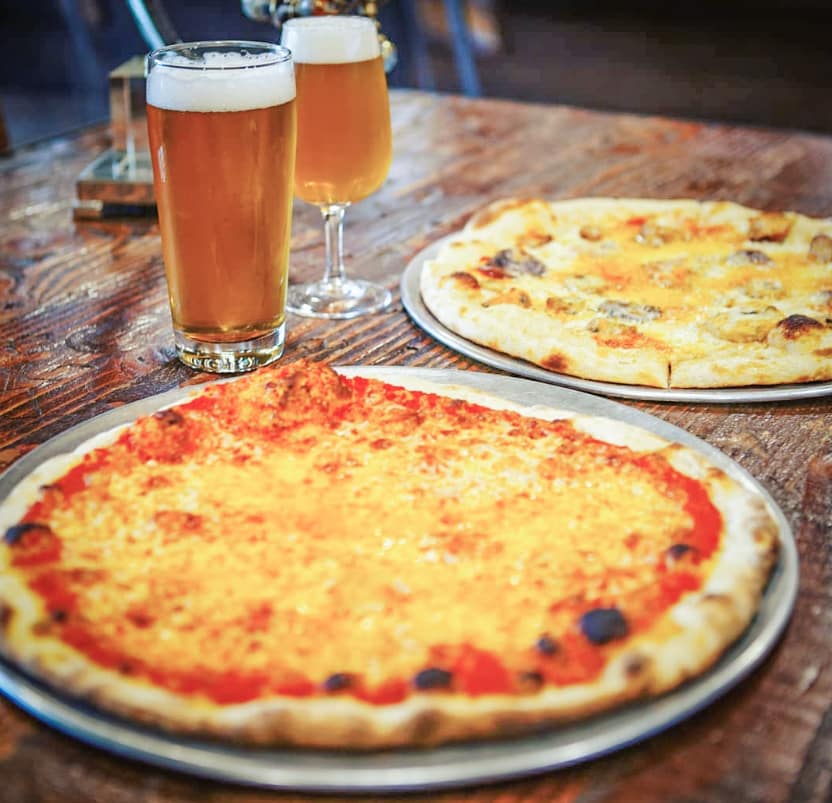 Long Beach Beer Lab
518 W. Willow St.
There is a union of many things when experiencing both beer and food at the Long Beach Beer Lab, the life's work of business partners Levi Fried and Harmony Sage.
While Fried is a beer enthusiast-meets-fermentation nerd that churns out incredible brews, hidden in the fabric of this brewhouse is a master baker and chef; a woman creating some of the city's best sourdough boules (made from their witbier), garlic rosemary loaves and more carb-y wonders that should be garnering more attention.
Using wild microflora harvested from local fruits and then incorporating malt grains from the brewhouse, Sage creates baked perfection on a level that has largely been dismissed as an attachment to the beer rather than solid food worthy of acclimation all its own.
And Sage doesn't just stop at bread.
Her sourdough starter is used in the mash of multiple beers, like their spectacular Trueberry Blast, a blueberry sour with a hint of salt that pairs perfectly with Sage's sourdough. In fact, when the cicerones pouring your beer offer you pairings, I strongly suggest you take them up on their ideas.
Her pizzas are spectacular, with an extensive list of vegan offerings that are nothing short of impressive as are her delicious oddities like her wonderful blue cheese and walnut pizza. Sandwiches? Wonderful. Soups? Awesome. Her food overall? Underrated and damn tasty, with or without a beer.
---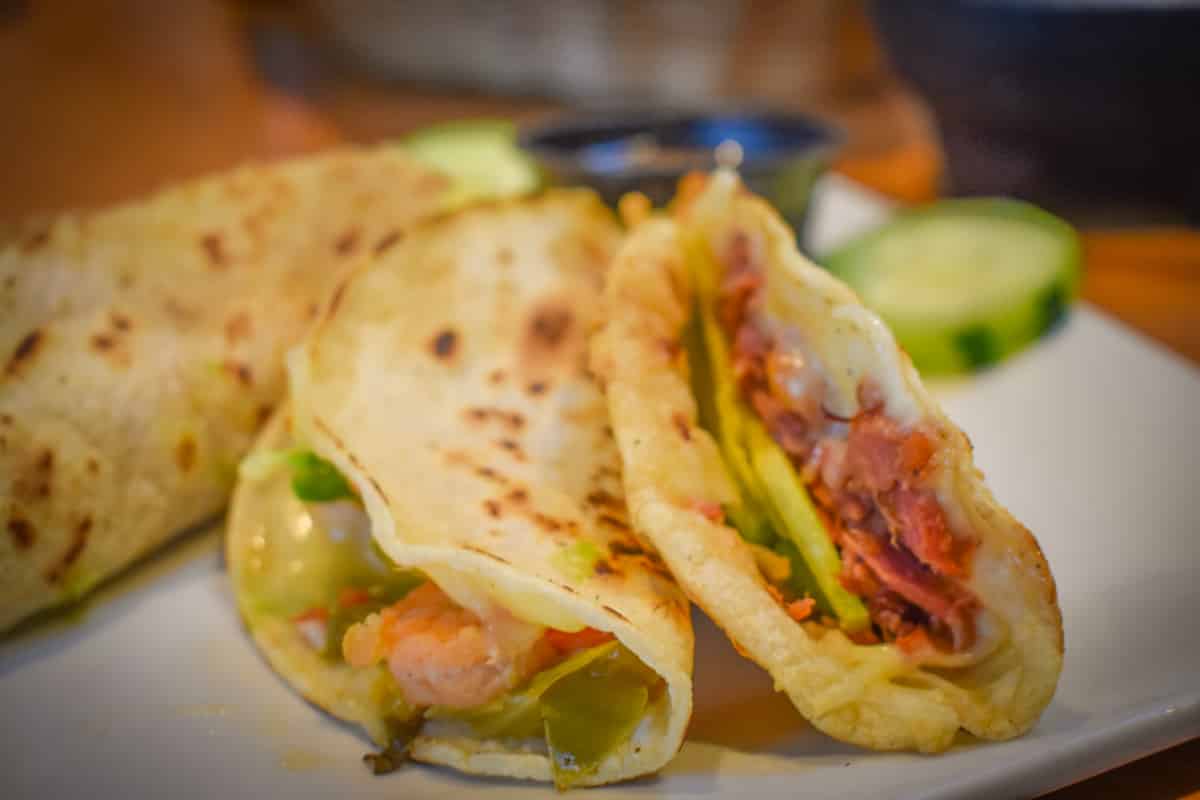 Cheko el Rey del Sarandeado
343 E. Market St.
This tiny, off-the-grid seafood joint is dedicated to the sarandeado-style preparation of fish, where it's cooked over the high heat of simmering coals.
What makes Cheko so special is that the SoCal chef responsible for introducing us northerners to the style is Chef Sergio Peñuelas, who developed a cult-like following at his former place, Coni'Seafood.
Now, his work is right here in Long Beach inside the most unassuming of places creating Long Beach's best fish taco: Cheko's marlin taco. Yes, Long Beach's best fish taco is found in this tiny-but-mighty North Long Beach restaurant. It's smoky, salty, downright spectacular and even minimalist with just smoked marlin that is then heated over hot coals, cheese and a single avocado slice smudged inside a wonderfully hand-crafted tortilla.
And do not forget to get down on Peñuelas' tostaditas locas, the ultimate appetizer that heaps shrimp and octopus ceviche on top of marlin "pâté" raw and small fried tortilla rounds.
---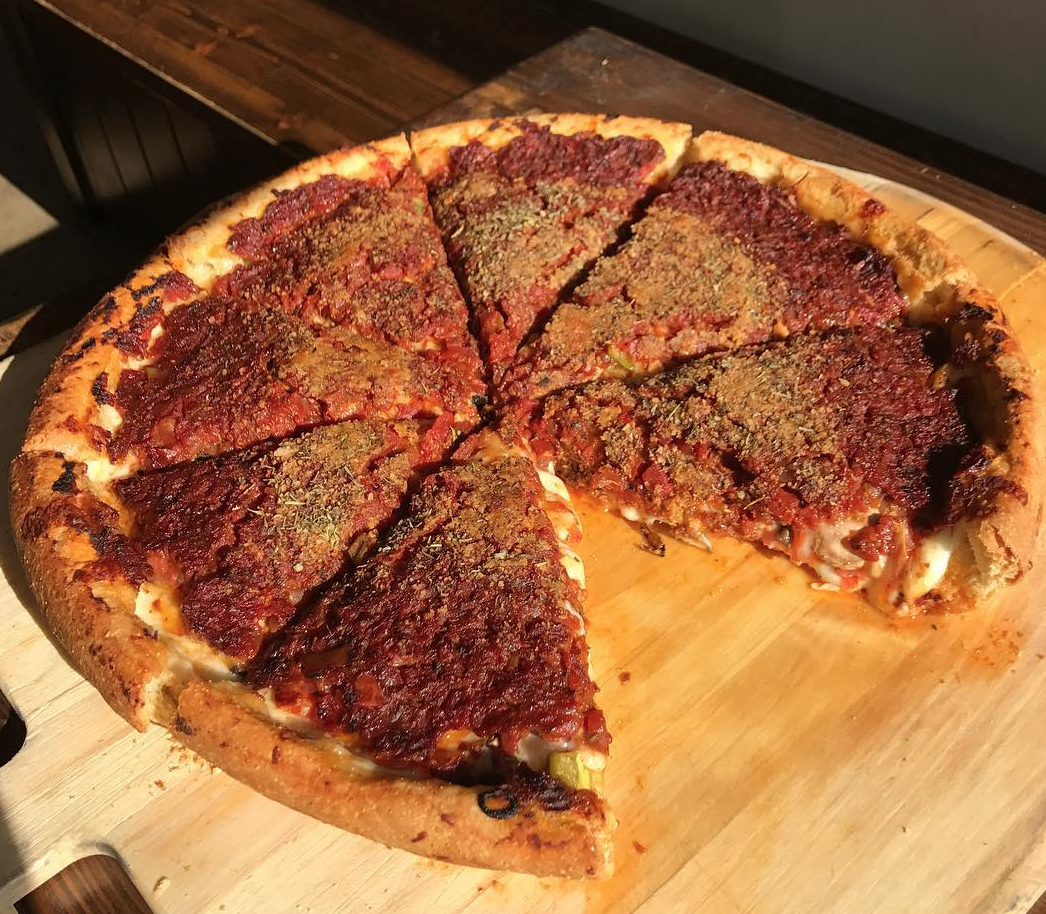 5000 Pies
2064 Santa Fe Ave.
Becky Teter and her husband John, the pastor at the Fountain of Life Covenant Church in West Long Beach, sat down with church members Michael Martinez, Sharon Im-Lee and Sara Culver one day, and all of them fell into the same idea: Their church, as an organization in which supporting your neighbors was essential, had to do more for West Long Beach.
5,000 Pies was birthed. 
According to the founders, the name comes from the Book of John, Chapter 6, where Jesus fed 5,000 people from a few loaves of bread.
Since opening in 2017, 5,000 Pies has become a place to work for former gang members, locals in need of a job and those trying to better their lives, and with it, they have brought stellar deep-dish pizza.
---
Tito's Bakery
1107 E. Fourth Street
Here, Long Beach, is the home of the best breakfast burrito in town and certainly one of the best burrito joints period Nope, this isn't your heavy-cheese-and-egg concoction that borders the American palate preference but this is a hot-damn taqueria rolled into a tortilla for $6.
One of the few places that isn't afraid of refried beans, any burrito of your choice—breakfast or otherwise—gets a slather of those delicious kernels of protein (and surely lard, considering how smooth and delectable they are). This is then paired with onions, cilantro, and your protein of choice. At breakfast time, that's chorizo, chicharrones (when available and they're wondrous), bacon (chopped fresh and cooked right there—not precooked for days beforehand so specifically request crispy if that's your preference), shredded beef, or chicken (though the pollo is not listed).
Wrapped, tossed into a small paper bag with a grilled jalapeño and your choice of red or green salsa—get both, FYI—this is the kind of  burrito that by its end will be soaked, hard to hold, and bring a sense of sadness when the last bite is consumed. But that's OK, because you can always order another if you dare—or you can just go full beached-whale status and have some pan dulce.
---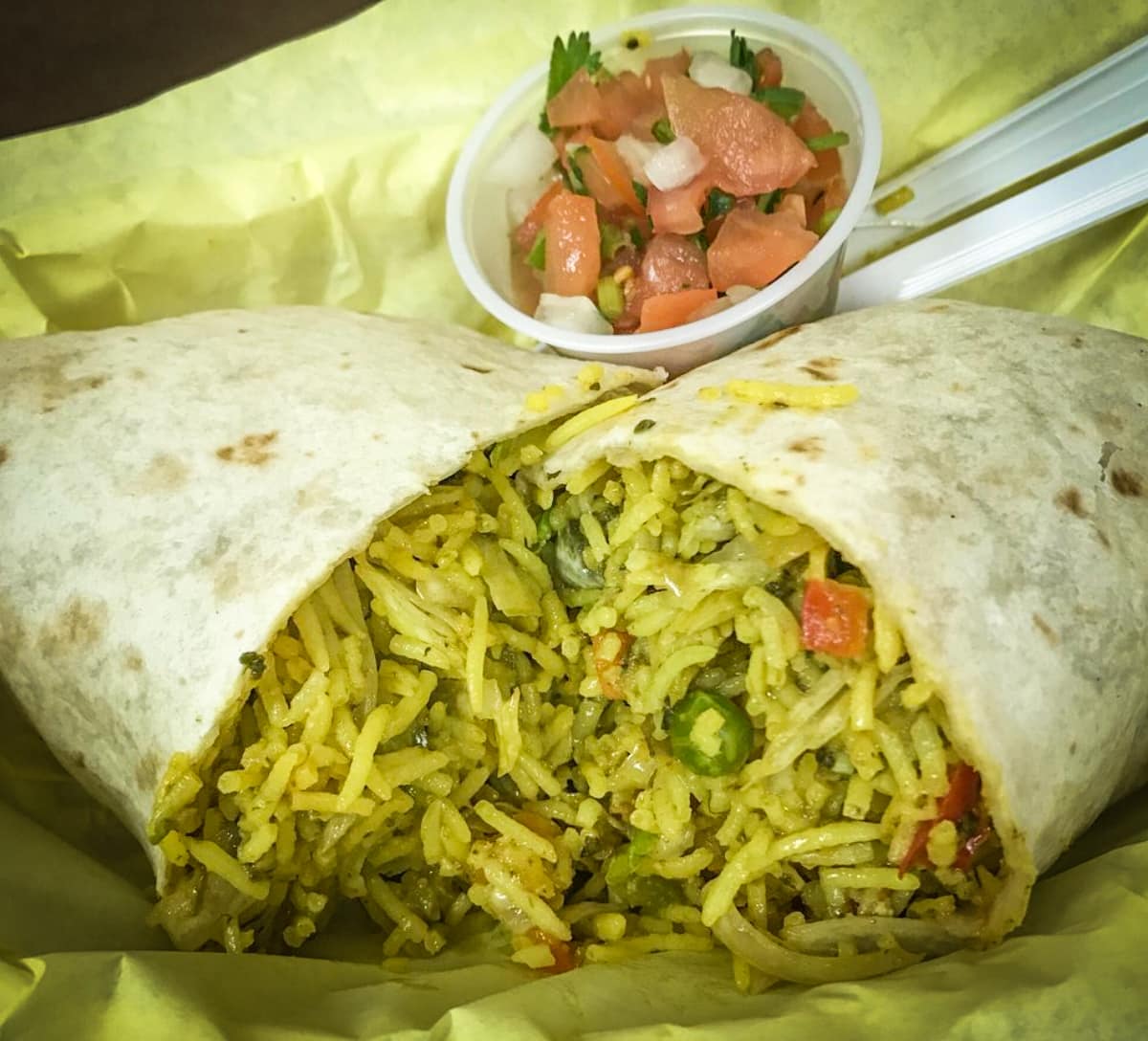 Appu's Cafe
3816 Woodruff Ave., suite 100B
The draw of Appu's Cafe, a pseudo-Indian, maybe-fusion restaurant hidden in the Woodruff Medical Offices over on the east side, is one of both simple quality and contagious affection. It serves up some of the best quality vegetarian food in the city and Appu's wife works as a doctor in the building so they can both promote health through food and direct care.
Amid the many worthy dishes—their soups are genuinely great, from both yellow and black lentil offerings to their mulligatawny soup, a stellar black peppered-concoction—it is their Maharaja Burrito that is the most popular and, per Yelp!'s admittedly eyebrow-raising rankings, was recently named the best burrito in the state. The vegetarian burrito is filled with turmeric rice, chunks of saag paneer, lentils and mushrooms if you request it.
And while I am admittedly a huge fan of the carb-on-carb monster that is the Maharaja, there are other wonderful things to get.
My suggestion? Go for their pav bahji or one, some, of their incredible soups. From both yellow and black lentil offerings to a mushroom soup that is genuinely stellar (make sure to get croutons), there's little to go wrong with. But their mulligatawny soup is where it's at: black pepper, an assortment of split legumes, and overall deliciousness.
---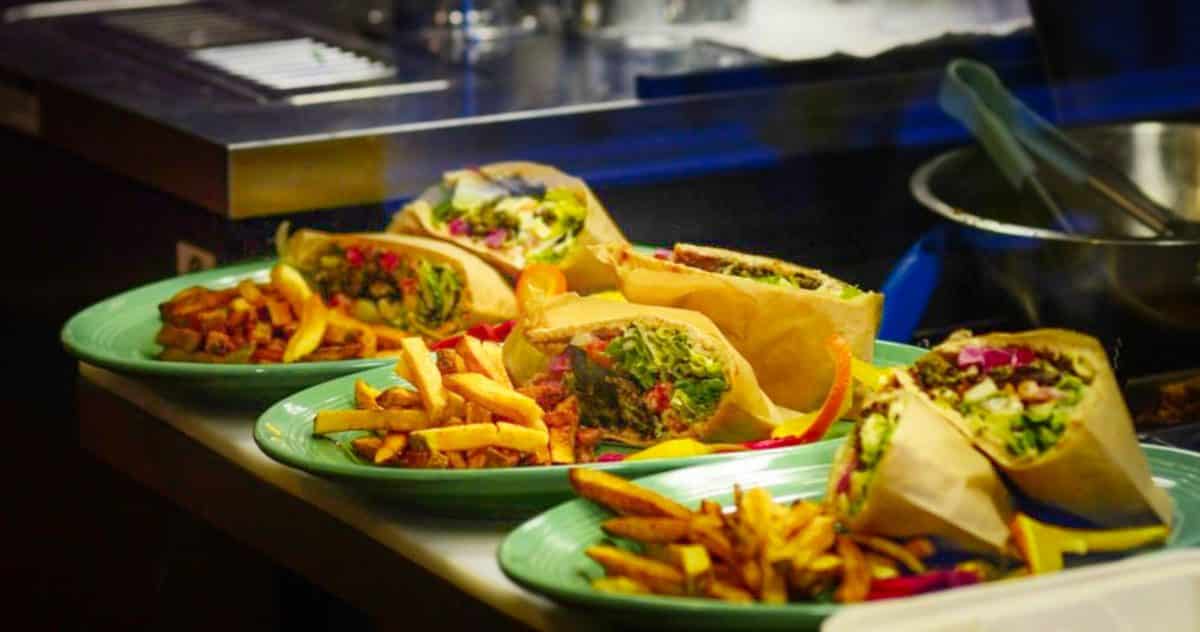 Viva Falafel
4400 E. Fourth St.
I stumbled into Viva Falafel, craving some type of Levantine food and didn't quite notice the "vegan" part of the signage. This was all in some sort of gastronomically divine intervention because it has become one of my favorite spots, vegan or otherwise.
I went with a chicken kabob plate that I was happy to pair with some Iranian polo, a rice pilaf that comes in a variety of options, including ones that are originally vegan, like the baghali rice, an offer that is tangy with dill and buttery with lima beans. The taste of the chicken immediately reminded me of something: chicken tacos directly across the street at the vegan Grain Cafe.
At first sensing some type of competition, I grabbed my phone and discovered they have the same owner: SoCal transplant, by way of Oaxaca, chef and vegan Myra Garcia. While Grain Cafe is solid, Viva Falafel has a quality that supersedes its neighbor.
---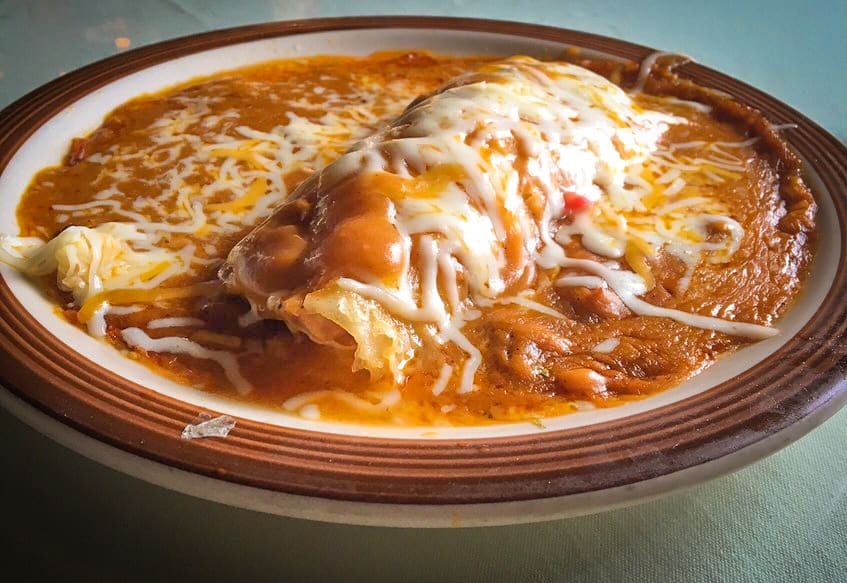 Rivera's
2901 E. Seventh Street
Rivera's doesn't quite get the love, at least on a media level, that it should, especially as it approaches its 20th anniversary here in Long Beach.
And, if all truths are being spoken, this isn't necessarily the go-to spot for tacos or burritos; it's just a go-to spot for solid, northwestern Mexican food as well as home to what is arguably the city's best bowl of pozole.
Owned and operated by Chef Virgizio Rivera Castillo and his son, George, Rivera's first came about in Compton in 1994. Its success—plates of massive wet burritos slathered in their house-made ranchero, delicate but hearty stuffed poblanos, camarones al mojo de ajo—brought the Rivera family a bounty. In 2000, they opened their Seventh Street location in Long Beach followed by a Bellflower shop in 2005 and a fourth location in Santa Fe Springs in 2010. It is a Long Beach staple that deserves more love.
---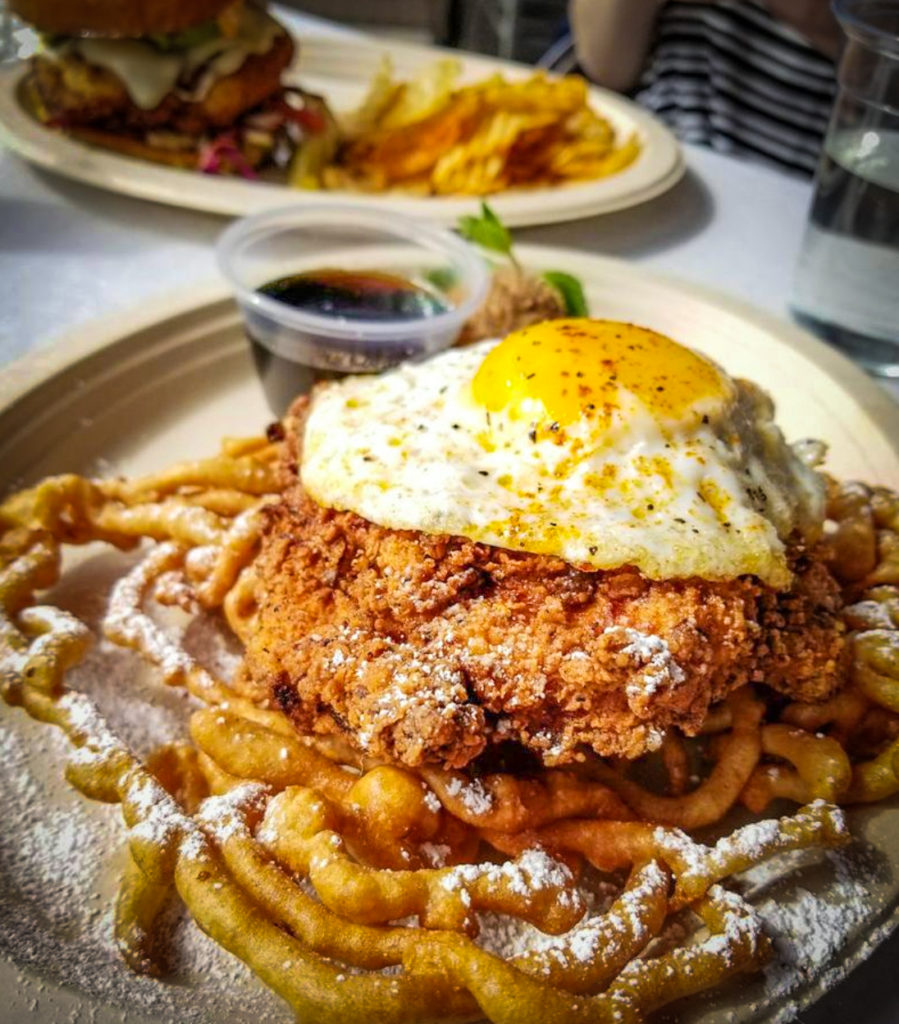 Prime by Shenandoah
3701 E. Fourth Street
As each year passes since Prime has been open, I remain entirely miffed that it is not constantly mentioned as much as other Fourth Street hubs like its neighbor, Coffee Cup, or Taqueria La Mexicana or Lola's or…
The space occupied by Prime holds a bit of history: it is the OG locale of MVPs Burgers (which moved into the space formerly occupied by Shillelagh at Fourth & Temple a few years ago) and formerly the Whistle Stop, which came and went.
But Prime surpasses each of these. Here, they have happily married Mexican food with some Southern grub love; we're talking brisket tamales, mac y chorizo, "boaritas" tacos, and green chorizo quesadillas. Prime offers spectacularly quality food with near-overwhelming kind service.
Add onto this some wondrous brunch creations, like the fried chicken and funnel cake pictures above, and I can assure you that the charm of their servers will surely win you over along with their fun, if not outright witty cuisine.
---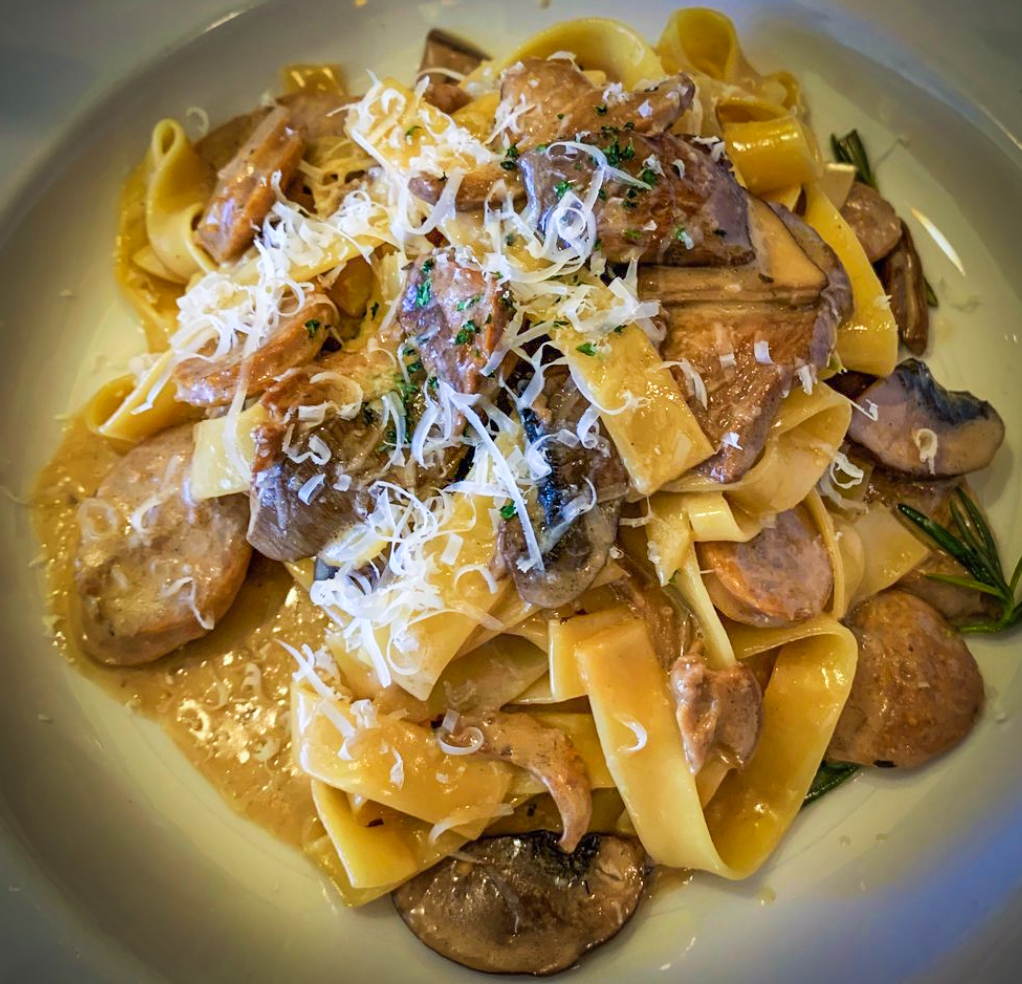 Vino e Cucina
4501 E Carson Street, Suite 105
Vino e Cucina is the type of place that lacks any sense of pretense. Bright yellow walls meet white tiles and various hung knick-knacks. It reminds of a place my Grandpa Natalino and Mom would enjoy and, more importantly, one they would both cook at.
This East Long Beach staple—right by the airport and Long Beach City College—was admittedly off my radar, but with friend after friend telling me to visit, I made a few treks and tried the things I judge homey Italian joints on when they have the audacity to offer it on their menus: gnocchi and the cioppino. I judge on these because, while common, they're difficult to execute.
Gnocchi—basically a potato dumpling in pasta form—can often come out excessively hard, excessively chewy, or excessively flour-y. Vino e Cucina's version is none of that; instead it's rolled into soft, pillowy goodness and garnished with either a wonderfully creamy gorgonzola and walnut cream sauce, slathered in a cheesy basil pesto, or—echoing my time in Florence—doused in a tangy, bright red sauce with chunks of fresh mozzarella and strips of basil.
It's straight-forward pasta at its best, all made in-house and fresh. You'll find the giant tubes of rigatoni, almost reaching the size of larger cousin paccheri millerighe, tossed in any sauce you can imagine.
Even their takes on things that are starter bites like crudo—here, they've taken Sicilian yellow tuna, thinly slice it and pair it with white cannellini beans and polenta, create a chèvre polenta with mushrooms and drizzle a bit of truffle oil over it—are on point. Not fussy, not complicated; simple, straightforward Italian food made great.
---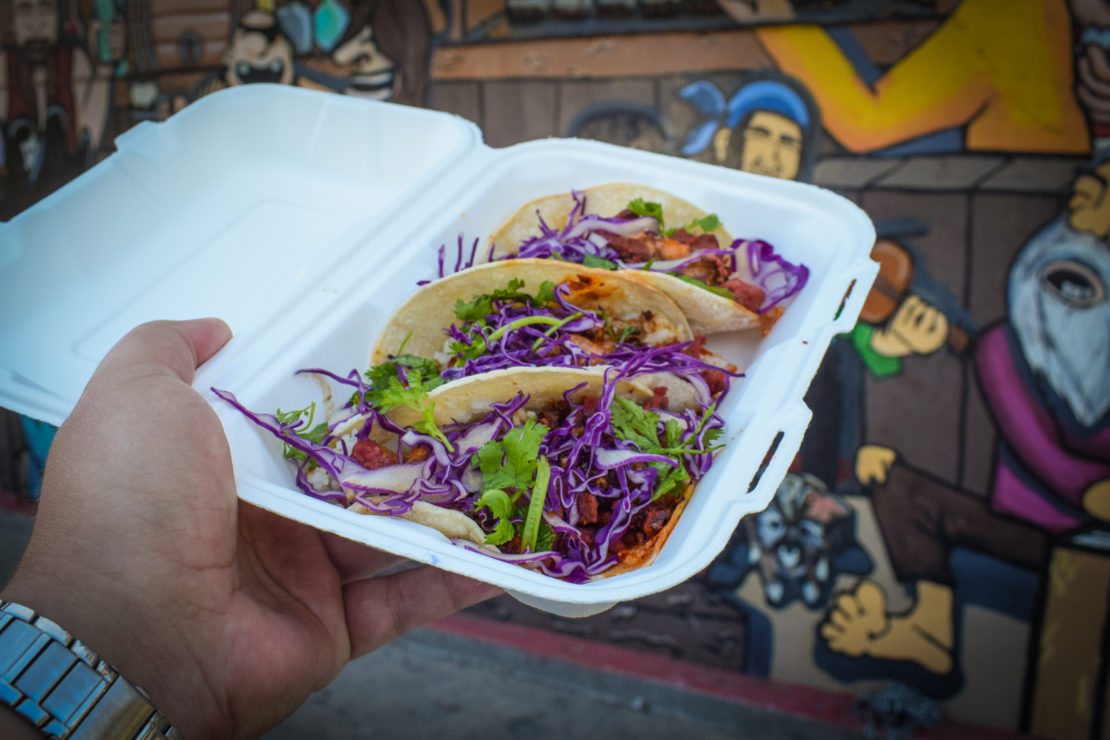 The Mess Deli at Wine Mess Liquors
1770 E Broadway
If there were some sort of Bound to the Truth Rules about what constitutes something being underrated, The Mess Deli—literally hidden inside a liquor store—would be the place where such rules would be written. Here, you will not find well-executed, house-made sauces nor will you find perfectly plated plates.
In the words of Sarah Bennett, The Mess Deli gives Long Beach its first Californian bodega.
You're gonna find fried cheese curds and churro donuts. You're gonna score three Asian tacos topped with purple cabbage and cilantro for $6. You'll get hand-made vegan egg rolls filled with taro and veggies.
But perhaps most importantly, you're gonna find that great sandwich.
While you can choose a classic turkey on wheat that you can fill with cucumbers, jalapeños, bell peppers, spinach—and I assure you: when you just want a classic sandwich, this option never fails—it is the array of their other sandwiches that shine. Like their solid bánh mì filled with three types of pork or a vegan option. (And they have vegan bacon as well for a stellar BLTA sandwich.) Or their Castro sandwich, a melding of ham and pulled pork mixed with melted mozzarella, cabbage and if you want extra decadence, ask them to throw the french fries inside. Or their Asian BBQ sandwich, where bulgolgi-like chunks of beef are stuffed into a French roll with pickled papaya, chili paste, and jalapeños.
Brian Addison is a columnist and editor for the Long Beach Post. Reach him at [email protected] or on social media at Facebook, Twitter, Instagram, and LinkedIn.