As saxophonist Alvin Hayes Jr. and vocalist Rev. Bobbie Lee Anderson practice in the backroom of Gilmore Music Store, they playfully challenge each other with impromptu call and response musical runs.
As the two fire off the feathery scales, it helps tell Hayes that he's back. Back from a long trip. Twenty years ago, he was beginning the slow, painstaking return from a massive stroke; it was unclear what he could claim of his former life. Maybe not much.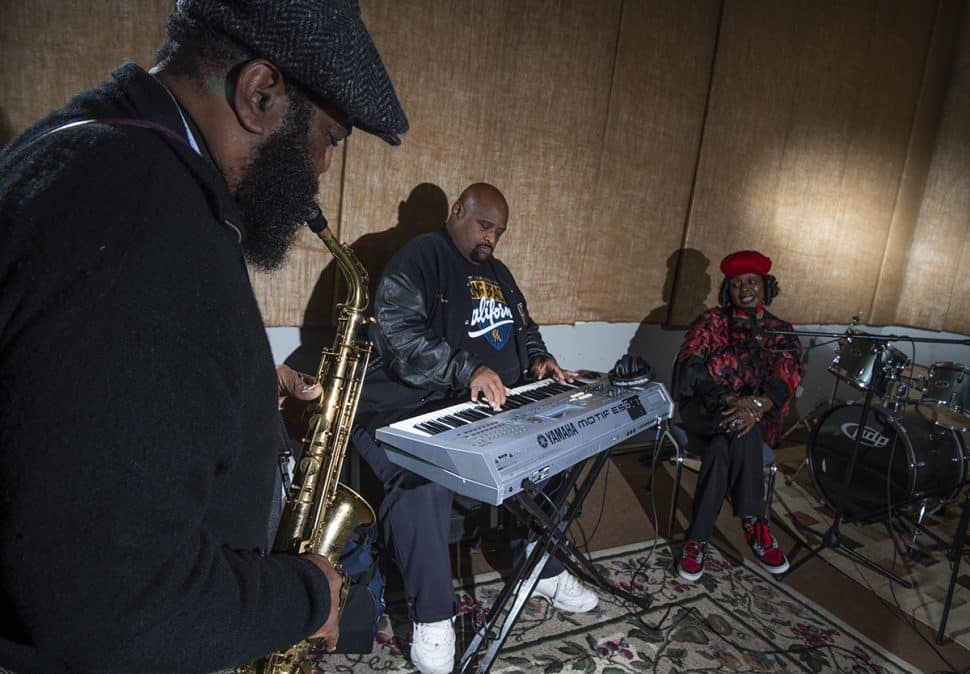 He was just learning to walk and speak again. The teaching that was his livelihood and the music that was his soul, seemed very far away.
Hope? Future? Those were vague concepts with murkier endings.
One thing Hayes remembers clearly was lying in his hospital bed and hearing two doctors discuss him as if he was no longer there.
"They didn't feel I'd get better," Hayes said.
The dialogue did two things: terrified him and gave him resolve to prove them wrong.
"I remember thinking, 'This is not the way I'm going to end up.'"
And so it began, Hayes' journey back; one step, one syllable at a time.
A musical homecoming
Hayes has just put a bow on a new album, "The LBC," which will officially be released Friday, January 11.
The smooth jazz album of original music and a few cover tunes is Hayes' homage to his hometown; a thank you to the friends and family who stuck by him and helped pull him through darker days. Although it's his second release since recovering from the stroke, he said it is on an entirely different level than "Festiva," released in 2016; this is a much more personal statement.
As Hayes sat in Gilmore Music Store, where in junior high he bought the trusty Selmer saxophone that sits in his lap, he reflected on his hometown.
"I was born in Long Beach. I wanted to do a record about Long Beach," Hayes said.
The local feel of the album is underscored by the musicians who helped bring the project together, including fellow Poly High graduates Arthur Brown Jr., and Bill "Swoop" Pittman. Brown played piano/synthesizer, sang and helped write, arrange and produce the album. Pittman provided bass, percussion and engineering.
A late addition to the project, but one who helped bring it together was Anderson. A former Broadway singer whose credits include singing at Carnegie Hall, Anderson is a minister, singer and bandleader at Bethel CME Church in Central Long Beach.
Anderson came to the project like a tidal wave. Although originally recruited for backup vocals, her role quickly grew. She wrote the melody and lyrics and sang lead on "Lady M (Time to Fall in Love)" as well as Bill Withers' "Lovely Day."
"When I (first) heard Bobbie, man, it was great," Hayes said. "That was one of my happiest things, just to hear her sing."
An unexpected addition was Hayes' decision to add a rap song. Maurice Morgan wrote the lyrics and rapped "The LBC" title track. The pairing didn't immediately click. Hayes wanted a song with a positive message and says the first set of lyrics were a little salty.
"We can't do this," Hayes said of his reaction. "I go to church. I have people who know me."
But once Morgan PG'd the song, Hayes had what he'd envisioned.
"It talks about the streets, the Pike, the Queen Mary," Hayes said. "There's a lot of positive things about Long Beach."
It's a tale Hayes almost didn't get to tell.
The seeds of a stroke
Hayes' life was a bustle as he careened into mid-life. He had already earned praise for his play, charting several solo and collaborative albums. He also taught math at Mary Butler School and attended Cal State Dominguez Hills in pursuit of a masters degree in education. Raising a family, he squeezed in rehearsals in the evening, played for his church and gigged on weekends. He did all this while he weighed 300 pounds. He was a stroke waiting to happen. It did.
Returning home from a church meeting in September of 1997, Hayes noticed that his mouth suddenly stopped working.
"It was like my talking became garbled. No matter what I said, it didn't come out right."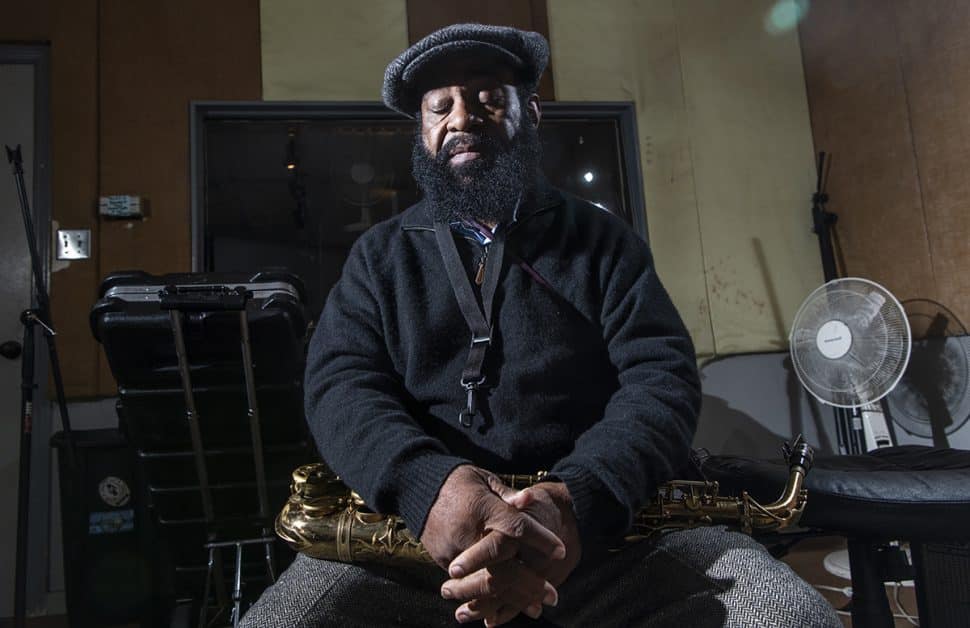 When he arrived at Memorial Hospital, Hayes learned that the stroke he had been warned about had struck. And massively. His voice had gone from garble to mute, the right side of his body was immobile.
It would take every ounce of resolve that Hayes had to climb out of bed and back into his life.
Call of the horns
Hayes mother, Ruth Hayes, remembers the day she brought her son home from the hospital, escorting him to his favorite chair.
"The first thing he asked was bring him a horn,"  Ruth said. "He couldn't even hold it. That was the thing that really pushed him. He really wanted to get to them horns."
"My horns were a part of my life," Hayes said. "I couldn't see myself sitting in that chair, not playing that horn."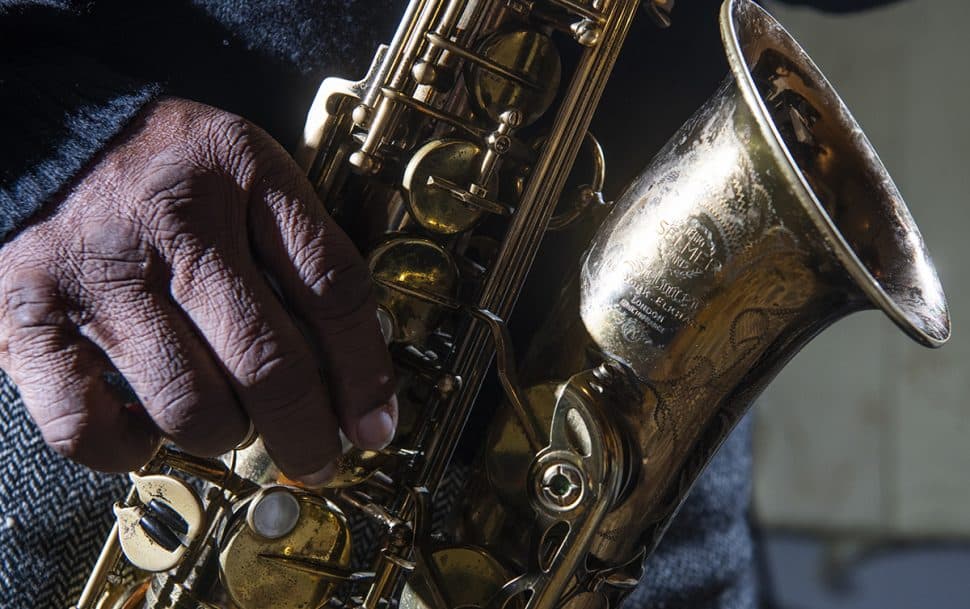 Hayes underwent a rigorous program of physical, occupational and speech therapy. Eventually, his movement and speech returned and he was able to return to teaching.
Hayes, who recently retired from the Long Beach School District, walks three miles every morning in his Bixby Knolls neighborhood, something that has helped him shed a good deal of the 300 pounds.
But for Hayes to get to a place where he could play anywhere near his old standards took longer than just getting back on his feet. It involved getting a new attitude, a new belief, a whole new life. "The LBC," represents that new vision; a hopeful future.
"Whenever I play, I will tell people, 'Yes, back in '97 I had a major stroke, but God had something else for me to do.'"
Which doesn't mean anything was handed to him. Whether retraining himself musically or physically—one of the most difficult parts of recovery has been getting his right arm to cooperate—Hayes has kept at it, each and every day.
It's still not easy, he says, but it has paid off.
"I can't throw a ball," he said. "But I can play."
Information about Hayes' music is available on his website (http://alvinhayesjr.com)