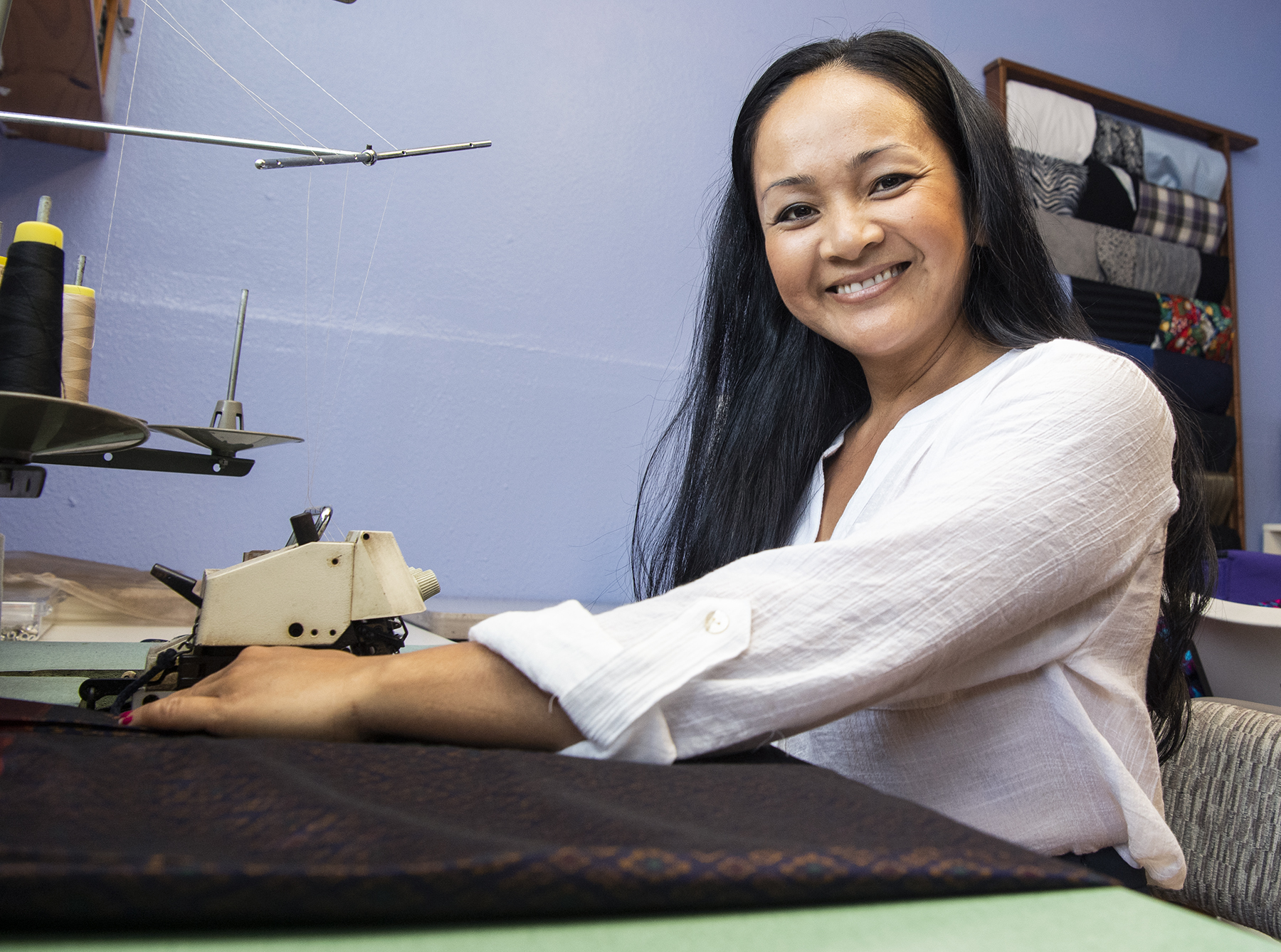 My First Job, Labor Day Remix: Scrubbing toilets, laying carpet, getting fired
With Labor Day coming, we got to thinking about that often critical, sometimes comical first job we've all had—and sometimes had to endure. We asked a few locals who've journeyed on their own interesting career paths what that first step/job was like.
Maxine Waters-Andrews
As a member of the Waters Family singers, Maxine Waters-Andrews has enjoyed an incredible career that has seen her record some of the most iconic songs, albums and soundtracks with some of the most iconic talents: Phil Spector to Michael Jackson to Adele with so, so many—Patti La Belle, Paul Simon, Paul McCartney, Guns and Roses, Whitney Houston…—in between. Maxine is married to Long Beach Vice Mayor Dee Andrews.
Before the 260 gold and more than 100 platinum albums she sang on, before the 50 years touring with Neil Diamond, before her inclusion in the Academy Award-winning documentary "20 Feet From Stardom," Maxine Waters-Andrews was an overachieving teenager looking for something to do with her summer vacation.
"I always went to summer school just to go, you know, so I could get credits ahead for the next semester," she said. "But I had collected so many credits at that point, I wanted to try something different. I wanted to get a job."
It was 1962, and Maxine found that job at Mattel Toys in El Segundo.
"I worked on the assembly line snapping this little cover onto the backs of these toy fire trucks."
Maxine says she liked the work, enjoyed talking and singing and generally entertaining the other people on the line. In fact, she says she enjoyed it right up until the end of her first week; when they fired her.
"At the end of my first week, the supervisor came by and said 'I want to see you in my office.' I said 'Oh, OK.' That's when they told me. They said the conveyor belt was backing up with fire trucks because I talked to everyone and I was singing all the time."
Singing is not second nature to a member of the Waters family; it is their nature. Descended from a long line of musicians—"My grandpa played piano in honky tonks,"—the kids could all read music and play instruments by the time they reached their teens. Singing to Maxine was no different than talking, though, in the opinion of Mattel Toys management, she did a bit too much of both.
"Oh, they were very nice about it. They gave me my $5 and sent me on my way."
In two years, that way was into a studio with Phil Spector and the Righteous Brothers to record backup vocals with her family on a little track called "You've Lost That Lovin' Feelin.'" And the rest …
"It was a lot of fun, there was all this talent around. Darlene Love and Ronnie Spector and Sonny and Cher, though back then, he was just Sonny and she was just Cher, they weren't together," Maxine said. "I didn't think this would be a career. Phil would just pay us hourly, cash. I liked working for him. He was weird, but I liked working for him."
The Waters family—Maxine, Julia, Luther and Oren—would go on to work with virtually every kind of artist, in virtually every kind of style for virtually every kind of medium. Just consider this ridiculous stat: they were part of the biggest selling album of all time (Michael Jackson's "Thriller"), the biggest selling soundtrack (Whitney Houston's "The Body Guard") and the most played record in radio history (The Righteous Brothers' "You've Lost That Lovin' Feeling").
Maxine says she is semi-retired now from a near-60 year career that has seen her travel to six continents and 197 countries, a good deal of that as a backup singer with sister Julia to Neil Diamond for 50 years. Still, she says she hasn't stopped altogether.
"We just did some work with Ringo Starr on his new album," she said. "Trust me, it is hot!"
She says if Neil were to call tomorrow and say he was going back on the road, she would seriously consider heading out with him. She likes to work, she says, just as long as it's her kind of work.
"Oh, I never held anything against [Mattel]. I was just doing what came naturally to me. I never felt bad about getting fired. In the end, I  think it worked out best for everybody." (Steve Lowery)
Bob Foster
Bob Foster, who was mayor of Long Beach for two terms, from 2006 through 2014. Prior to serving as mayor, Foster worked for Southern California Edison, becoming its president in 2002.
Bob Foster, even after he learned to walk, spent much of his younger years crawling on the floor.
Born in Brooklyn, New York on New Year's Day in 1947, Foster's first job was installing carpet with his father Ben in Manhattan.
"I was good at it," he says matter-of-factly. "I could work fast; do a whole house in a day. It's a lot of physical work."
Foster continued working in the flooring business all through his college years at San Jose State University.
"When people ask me how I became successful in my life, I tell them that I was always able to take risks that other people might not take," says Foster. "Because if push came to shove, I could always go back to flooring to support my family. I could make a good living at it."
Foster's first boss was his pop. "Dad's the one who taught me," says Foster.
His dad Ben was a Marine serving in the Pacific during World War II. "When he got back to New York from the war, he paid someone to show him how to lay carpet," says Foster. "It was a different job back then. You had to tack the carpet down inch by inch; it was called tuck-and-tack, and it was much more difficult than it is now.
"You were crawling around with a mouthful of tacks, bouncing off the walls. Later, they came out with tackless strips that you put down along the walls to put the carpet on, but you still had to nail those down so you still had a mouthful of tacks, and finally they came up with pre-nailed tackless strips. I don't know why they don't use nail guns because that would be even faster."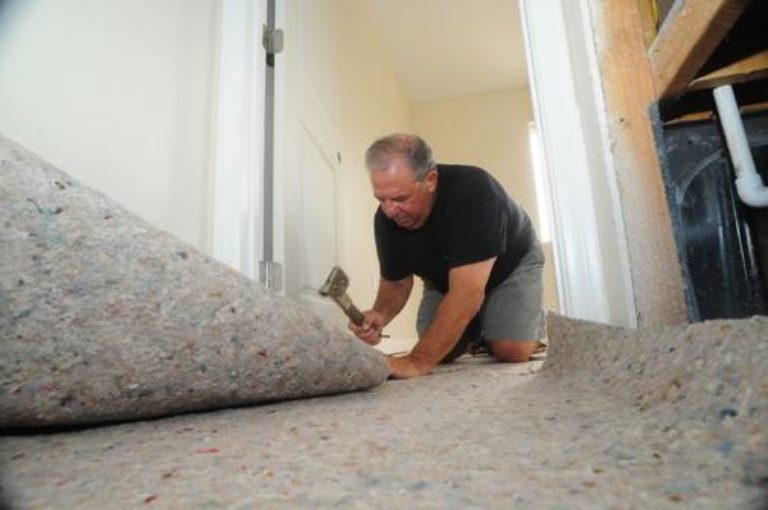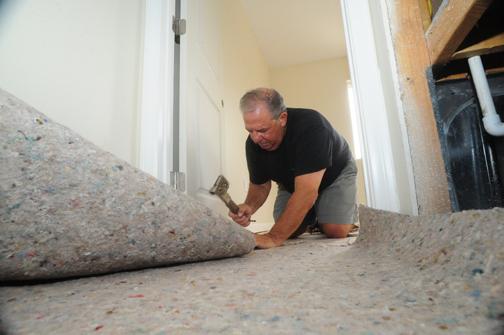 In 2011, when Foster was mayor and a spry 64-year-old, he worked with Habitat for Humanity on the Mayor's Build House, which was given to a low-income Long Beach family.
"The kids who were working on the house said, 'Mr. Mayor, are you going to lay some carpet?' Foster ended up laying all the carpet for the second floor.
"It was like I never left," he says. "I mean, I was kickin' carpet, laying down tack strips and bouncing off the walls. I could still work at the same speed, the only difference was I was always looking for door knobs or window sills—anything to help me get up off the floor." (Tim Grobaty)
Griselda Suarez
Griselda Suarez has served as executive director of the Arts Council for Long Beach since 2016, taking Long Beach's creative community under her wing and helping it flourish. 
Griselda Suarez swears she's bonded for life with the fellow staff she scrubbed toilets with during her first real job at a boarding arts high school and summer camp in Idyllwild. Two weeks before the campers arrived, she cleaned bowls, built bunk beds, raked pine needles and painted rooms.
"We were like the temporary facilities crew," Suarez said. "They got all these college kids from all over the country to do it. I got to meet some really cool people."
One of those people turned out to be one of NPR's most prominent radio personalities, one owns a publishing company and one runs a renowned modern dance company in San Francisco. Today, Suarez says she still keeps in touch with the people she met scrubbing toilets. As far as long-term relationships are concerned, Idyllwild Arts is also where she met her wife, Angels Gate Cultural Center Executive Director Amy Eriksen.
"It was quite the summer," Suarez said. "I remember we had to expel a DeVito kid for breaking the rules."
Founded in 1946 and nestled in the forests of the San Jacinto Mountains as a secluded arts institution, known artists from Ansel Adams to Shepard Fairey, have passed through its summer and year-round programs. Suarez was also a painting student at Idyllwild School of Music and Arts (ISOMATA) before its name was changed to Idyllwild Arts, in '95.
At age 19, having been a camper, she was more than inspired to take the job; working at Idyllwild was like a test on how to deal with artists, she said, something she seems to handle with considerable ease now. But then, it was about learning how to control the chaos, the "artistic energy," the "mayhem" of the high schoolers, and yes, cleaning toilets.
Suarez' tasks included wrangling the boys she caught surfing down the stairs on their mattresses in the dorms, cleaning the camp, performing, serving as a butler of sorts for the well-off families in the family camp, putting together a daily newsletter, more cleaning, as well as stage managing and performing.
"It was like a cruise on a mountain, we were the entertainers and also the facilities."
Suarez said she learned two things: one, that artists need room, a lot of room, to create what they're going to create and two, how to be detail-oriented from working under the assistant director of summer programs at the time.
"She taught me how to assign tasks, how to meet… she had all her days planned out; which piano was needed in this room, what stage had to be built. I learned a lot about those kinds of arts logistics, production logistics that I still have a pretty good grasp on."
"I got to see how poets work, all the genres. They really are different communities. I learned what a poetry show needs, what a painting show needs, I got a little taste of everything."
After two years working for Idyllwild Arts, Suarez graduated from Pitzer College in Claremont and moved to San Francisco. But she went back to the mountain one summer to take a break from the city.
"It was so beautiful," Suarez said. "We would have to stay up for dorm watch, and then one summer we were just like, let's go see the comets, the ones that happen in August. Growing up in LA, and also being on a mountain, was really cool." (Asia Morris)
Laura Som
Laura Som is the founder and executive director of the MAYE Center in Cambodia Town and is now preparing for her seat as a commissioner on the city's new Ethics Commission.
Laura Som's first job coincided with the first English sentence she ever learned.
"One chicken leg, please," a 10-year-old Som would ask an employee at the Popeyes Louisiana Kitchen on Long Beach Boulevard before handing over her hard earned cash.
The fast-food restaurant was just around the corner from the garment shop she worked at with her mother. Today, the location is a parking structure for St. Mary Medical Center, right across from the Superior grocery store.
Som's job was to cut leftover threads at the end of pants or shirt sleeves.
"I felt so proud of myself," she said.
While the job was very easy, Som remembers having fun and focusing on the quality of her work.
"It was a process of just being in the moment of working and the joy of earning an income and taking pride in that," she said.
At the shop, which housed about 20 to 30 employees—the majority of which were Cambodian refugees like Som and her mom—the elders knew to be careful with the quality of their work under Som's watchful eye. If not, Som would have a pile of garments waiting for them to fix.
"There's stuff that I would catch and say, 'You have to redo that!'" Som recalled with a laugh.
Som and her mother were able to land the job through a friend of a friend nearly two weeks after arriving in Long Beach from Cambodia in March 1992. Som didn't know her ABCs yet. With no age requirement or background checks, Som said work at garment shops sometimes were the only jobs available and easy to obtain for immigrants.
Earning a few dollars at a time, Som worked six hours a day, five days a week; getting picked up by her mom after school, arriving at work by 4 p.m. and leaving by 10 p.m.
So what did she do with the money she got, besides ordering chicken legs?
"I had a little piggy bank and I would put all my quarters and dollars in there and then I would buy my backpack and back-to-school clothes," Som said.
Som ended up working at that shop for five years, until 9th grade, when she transitioned to a donut shop.
While she never made clothes after that experience, Som's work as founder and executive director at the MAYE Center in Cambodia Town—which focuses on meditation, agriculture, yoga and education to heal past trauma—has brought her work life to a full circle.
"I'm learning how to sew," Som revealed.
After the elders at her wellness center asked for the heavy, industrial sewing machines they were accustomed to using long ago, Som obliged about two years ago.
Now, the elders are teaching Som how to sew—but this time she's learning how to make a complete garment.
"With the factory style, they divided the tasks so you could never learn how to make your own shirt," Som said. "One person would sew one sleeve and the other person would sew the main portion of the body of the shirt, but we would never have the skills to become a tailor."
At a launch party for Equity for Cambodians earlier this year, Som even sported a dress handmade at the center with fabric purchased for $10 at a local Cambodian fabric shop.
"People looked at that outfit and thought, 'Oh my gosh that must be hundreds of dollars!' and I was like nope, we made it for an art class." (Stephanie Rivera)
Support our journalism.
Hyperlocal news is an essential force in our democracy, but it costs money to keep an organization like this one alive, and we can't rely on advertiser support alone. That's why we're asking readers like you to support our independent, fact-based journalism. We know you like it—that's why you're here. Help us keep hyperlocal news alive in Long Beach.