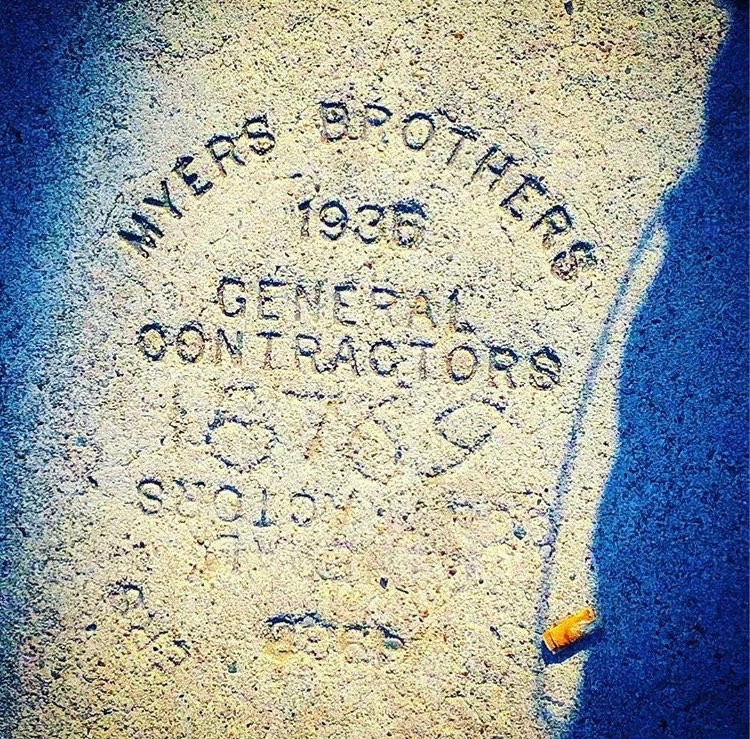 Overlooked LB: History in the sidewalks
We finally named it! The photo series formerly known as "a project we launched recently" is now called Overlooked LB, where we ask you to slow down and notice the overlooked details of your neighborhood or just about any place in town you find lovely or fascinating or both. Whether those end up being plants or people or, in this case, contractor stamps, that's up to you. Depending how many submissions we receive, we'll share the most compelling ones with you right here on the Hi-lo about once a week.
This week's post is not from a specific walk, but from several walks by mortician Suzi Loomis over the past two years, the ones she'd take "as a single mother trying to make ends meet," when "there wasn't much money left over for fun."
Walking, to her, was certainly fun.
A local history buff who briefly led tours of Downtown's historic buildings with Long Beach Heritage, a nonprofit dedicated to preserving and appreciating historic architecture, Loomis moved to Belmont Heights in 2017. It's no wonder that contractor stamps, those markings in the sidewalk denoting a tidbit of local history, caught her attention, particularly the ones featuring the date the concrete was laid.
"I'm sure the sight of someone cruising the sidewalks stopping abruptly to seemingly snap a pic of their feet was interesting to anyone who happened to notice," Loomis said.
Two years later, Loomis' walks have become "marathon power walks and the occasional run," but she still keeps a lookout for stamps. They lend a subtle insight to the history of the neighborhoods surrounding Belmont Heights, she said.
Instagram: @mortygal
To submit your own Long Beach-based photo adventure, email [email protected] 5 – 10 photos with captions, your name and general location, a 100- to 200-word description of your walk/ride/adventure through town and any social media platforms you'd like mentioned.
Support our journalism.
Hyperlocal news is an essential force in our democracy, but it costs money to keep an organization like this one alive, and we can't rely on advertiser support alone. That's why we're asking readers like you to support our independent, fact-based journalism. We know you like it—that's why you're here. Help us keep hyperlocal news alive in Long Beach.