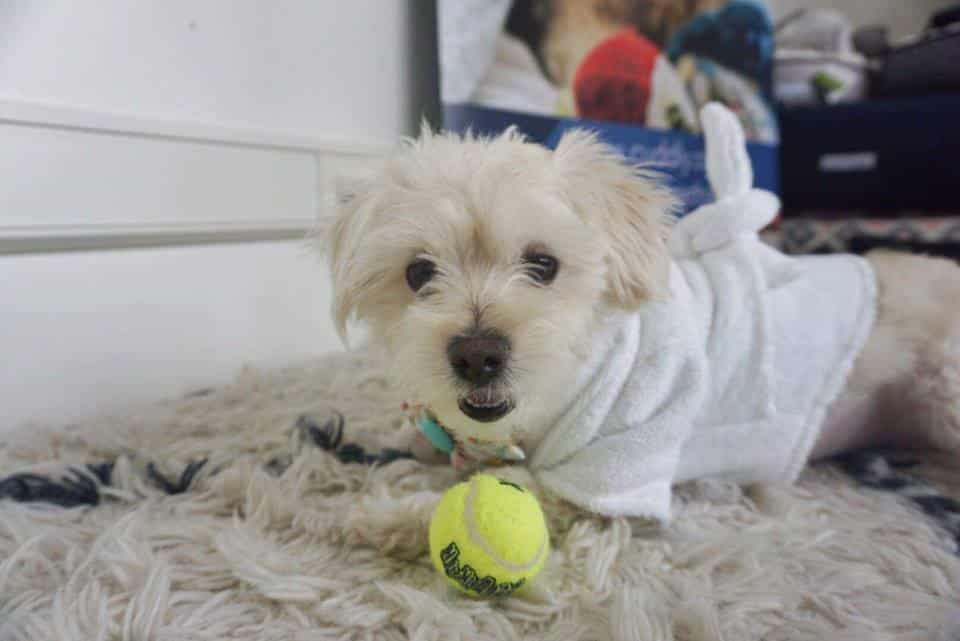 Abused dog Chloe is ready for adoption—problem is, there's only one Chloe
Little Chloe, a terrier-poodle found tied up in a trash bag in a Dumpster in Downtown, has turned a couple of corners—and is now ready for a new home.
The Long Beach Post broke Chloe's story on Dec. 10 after a resident found the dog and contacted a Fix Long Beach volunteer, who kept her alive until another volunteer drove down and brought her to Primary Care Animal Hospital, where she was stabilized. The doctors discovered that her skull was cracked and a hind leg had been cracked in two.
Chloe's story made every news channel and almost every publication in the area, extending across the country and as far away as Australia. Gifts and donations poured in, and her progress was chronicled on her own Facebook page, Saving Chloe. Fix Long Beach, which has overseen Chloe's care and welfare since she was rescued, along with Just Food for Pets and other donors, offered a $20,000 reward for information on the abuser and his or her whereabouts. The Long Beach Police Department quickly opened a felony investigation and assigned the case to the Violent Crimes Detail. As of this writing, there are no updates.
Chloe's doing just fine now. She spent the greater part of her recovery at Long Beach Emergency Vet, where the vets patiently encouraged her slow rehabilitation and fed her chicken. She transformed from a matted, wounded creature into a snow-white, playful ball of flumpf.
Chloe was released to her foster on Dec. 19, with great hoopla—well-wishers, shelter staff and news media, including ours, were there to wish her well. Now, she's healed in all aspects and is ready to go home.
Months later, she's ready to be adopted. Chloe's Facebook page and Fix Long Beach's inbox have been bristling for months with impatient posts asking to adopt her. Each hopeful candidate can now fill out an application on the Saving Chloe tab on Fix Long Beach's website. Going through the applications will not be a quick process: it isn't a lottery. Fix Long Beach volunteers will be painstakingly raking over each applicant's qualifications and conducting interviews.
Chloe's story comprises a rare community effort and rally. But the spotlight hasn't been shut off yet, either. On March 30, Fix Long Beach is organizing a meet-and-greet with Chloe at Pet Food Express. Chloe Fan Club members can shake paws with the little luminary, get coated in slobber at the doggie kissing booth, and purchase a T-shirt with Chloe's picture on it.
The shirts may also be ordered here; revenue will go toward Chloe's remaining medical bills.
The most significant detail of the event is the adoptable pets who'll also be there. It's understandable and perhaps natural for people to flock to the support of an innocent victim of a horrible crime, particularly if it's an animal or a child. Chloe is symbolic of abuse, but she isn't a symbol herself. She's a living creature, and she will find a good home. One good home. As a visitor to Chloe's page posted, "Everyone who says they want to adopt Chloe are very sweet people. But if you can't adopt Chloe, go to your local shelters and rescues to adopt a dog or cat in need. All they want is love."
The best way to make Chloe's story even more meaningful couldn't have been better expressed.
Support our journalism.
Hyperlocal news is an essential force in our democracy, but it costs money to keep an organization like this one alive, and we can't rely on advertiser support alone. That's why we're asking readers like you to support our independent, fact-based journalism. We know you like it—that's why you're here. Help us keep hyperlocal news alive in Long Beach.