I recently visited Iowa and the souvenirs in the airport gift shop reminded me that Iowa is where "Field of Dreams" takes place. As a child of the '80s, this movie was part of my upbringing; I regularly quoted the line "If you build it, he will come" and it's the first thing that came to mind after speaking with Long Beach artist Jacob Melchi.
Melchi is a painter who, until his recent move to Long Beach, was living in Highland Park. He had a home that included a separate building for his studio in his backyard. He renovated his yard into a beautiful garden and his studio would sometimes spread into the outdoor space.
As artists are known to do, Melchi would photograph what he was working on in the studio and post it on Instagram. Sometimes, he would take his paintings outside and photograph them in his garden, and he found that people really responded to the images. Recognizing he had something special, he decided to share the space with other artists.
"In L.A., there are so many good artists. For every artist that is represented by a gallery, there are exponentially more great artists not getting shown or represented," he said.
In January of 2018, he invited his first artist to exhibit in his garden and the opening for the show drew much better than expected. He realized that this could be a thing and his project space, JACOB'S, was born.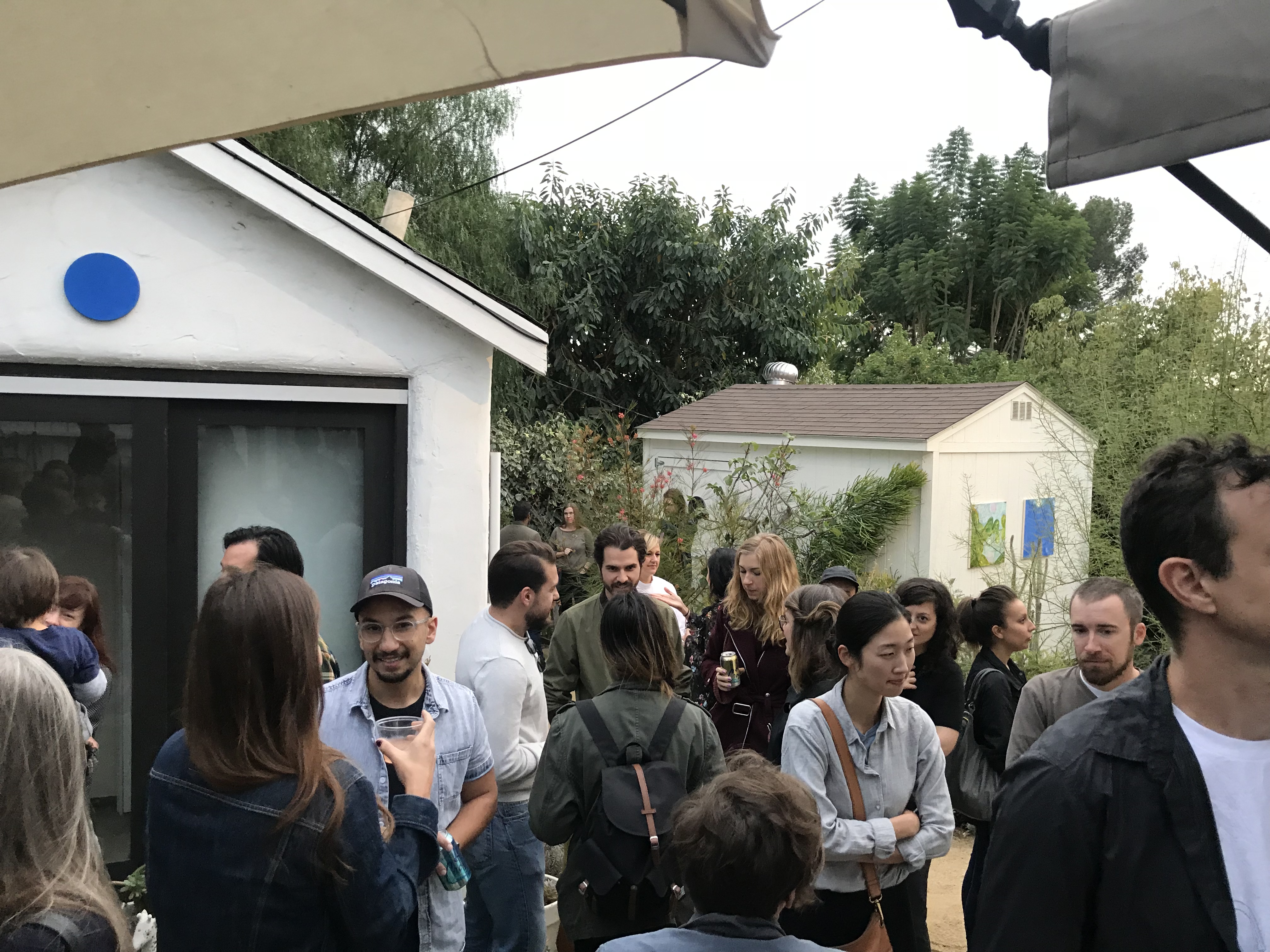 I attended the second show there—a solo exhibition of the work of Christine Hahn—and the vibe of viewing work in a garden was relaxed and felt more community-oriented and welcoming as opposed to how some white cube galleries can feel.
"It was like a gallery, but also an anti-gallery," explained Melchi.
The anxiety of rubbing elbows and viewing work at an opening in a sterile white cube is non-existent at JACOB'S. Instead, guests found themselves sitting in a garden and having a beer or sparkling water with friends. Creating this space helped Melchi become more visible in the art community.
He had been working under the radar for a while and starting this public project brought new opportunities for his own work, including some sales and an expanded community of peers. Pretty soon, Melchi had too many requests for studio visits to keep up with. He started organizing off-site exhibitions including "Los Angeles Notebook" in Venice, which included 27 artists, many who had shown in his backyard garden.
Shortly thereafter, Melchi curated a room at the SPRING/BREAK Art Show in Downtown Los Angeles, where it was the top-selling booth; he's been invited back for next year.
There are a lot of artists that feel the itch to create exhibitions and materialize special projects that have used all sorts of spaces, often working with what they've got. Artists have created project spaces in a freight elevator, backyard pool, flagpole and as pop-ups on the beach. Nothing is off the table.
Long Beach has its share of artist-run exhibition spaces. Based in North LongBeach,  __flatline is a project space serving the local community. Artist and director Liz Munzon uses the storefront both for her studio and the workshops and exhibitions she hosts. I asked Munzon if she saw a need in the art community that she wanted to address.
"I did see a gap between recent art school graduates and gallery opportunities in Long Beach, and even more so in North Long Beach where art spaces are scarce."
Despite the art desert that North Long Beach may feel like at times, Munzon, who co-founded __flatline with local artist Cynthia Lujan, has begun to nurture a growing community.
"The space has also benefited me with the connections and friendships I have made there. I feel my community growing."
Flux Art Space is another Long Beach artist-run gallery that hosts workshops and doubles as the studio of artist Betsy Lohrer Hall. The studio/gallery model is a great option for artists who want to have their toe in the curatorial world and maximize the space they already have available.
Both Melchi and Munzon described juggling day jobs and their studio practices along with these curatorial projects.
"I am always splitting my time between my paying job, __flatline, my own artwork and personal life. It's challenging to find the right formula," Munzon said.
In some ways, the added work of curating a space seems to be tempered by the fact that it brings people to you as opposed to all the hours it may take running around visiting other galleries and shows, hoping to run into the people you want to meet. After a run of great shows in the backyard, JACOB'S has become a nomadic project.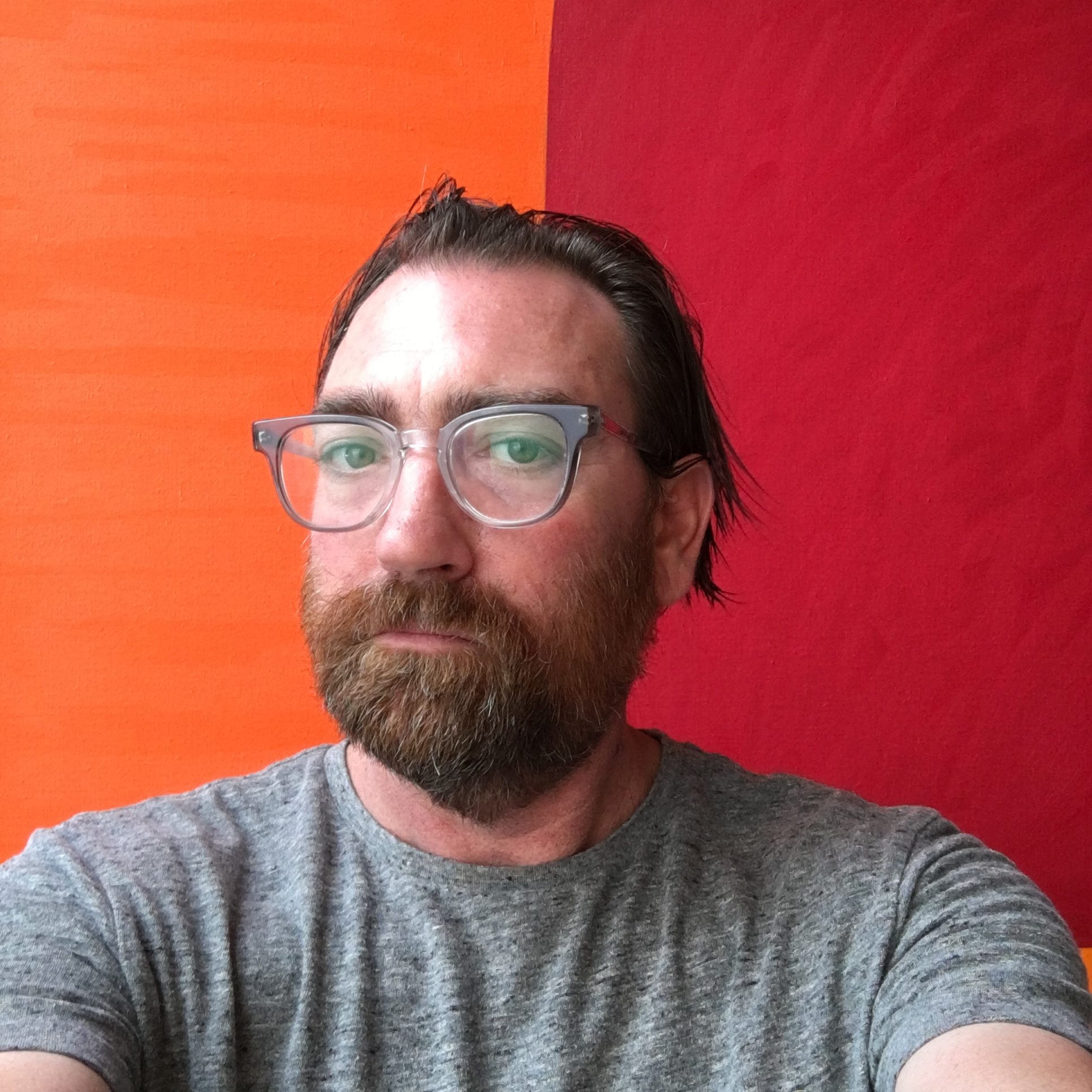 Circumstances often change and if there is one thing I know, artists are like chameleons in that they adapt to new situations with creativity. These moments often bring new opportunities and I for one am excited to see future projects from Jacob Melchi. As James Earl Jones and I always say, "…if you build it, people will come."
Roundup of Recommendations
Need help with starting a project space? Machine Project has a free "Guide to Starting Your Own Art Space" and the Women's Center for Creative Work has a very helpful and informative handbook for starting a feminist organization.
If you are considering some kind of exhibition space, this Artnet article talks about disruptive trends galleries should be adopting if they want to survive. An interesting read as an artist to see what challenges the commercial art world is facing.
Not ready to launch your own space, but want to curate a show at an established gallery? Los Angeles Contemporary Exhibitions (LACE) in Hollywood is accepting proposals for the Emerging Curators Program; the deadline is Nov. 1.
Similarly, Side Street Projects is accepting proposals for their Spring 2020 Artist-in-Residence program, which will entail workshops and a community-engaged art project around the theme of Mobility Archived; the deadline is October 31.