The 7: Things to do in Long Beach this weekend including… the 8th Annual Uptown Jazz Fest
Looking for things to do post-Fourth of July? We have a hodgepodge of Long Beach arts and culture that have a little less to do with red, white and blue celebrations, and more to do with, well, self-expression for the sake of summer.
1. SWIM SKOOL WITH SUMO HAIR, CAPTAIN PLANET (Sunday)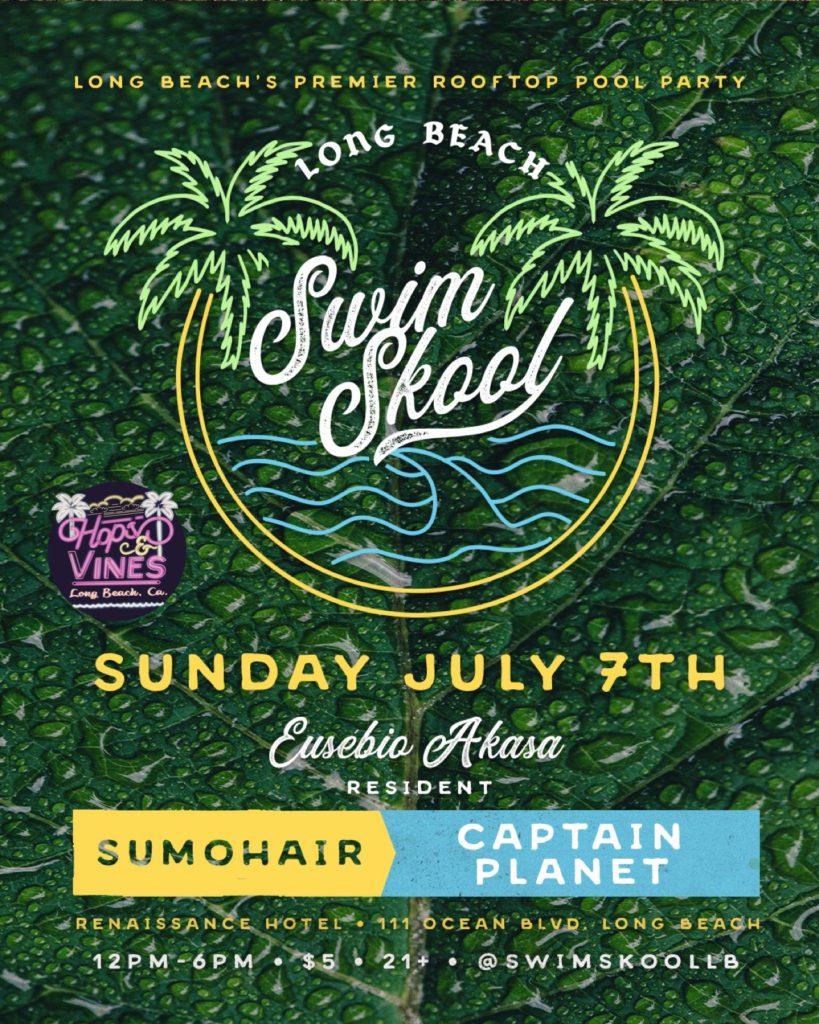 In case you haven't noticed, it's officially summer, and what better way to pretend like you're on vacation than to relax poolside at a hotel to the worldly sounds of well-traveled music collectors? We asked Long Beach artist DJ Eusebio Akasa, host of Swim Skool, why he's geeking out about Sumo Hair and Captain Planet playing at the Renaissance Hotel on Sunday.
"Bringing Captain Planet and Sumo Hair to Swim Skool feels a little unreal at the moment," Akasa said. "I DJ these guys' songs all the time—I have their records—I geek out over their tracks with friends endlessly. They live lives DJs and producers mostly only dream of: traveling the world collecting records and recording local musicians, then turning out products that slide into every world music DJs' setlists." 
Sumo Hair, is a self-described Mexican expat exploring the African diaspora through music, Akasa said, whose "colorful tones, rich melodies, and driving beats fused together create a tropical panorama around the dancer."
Captain Planet's trademark "Gumbo Funk" style was created from frequent trips to the Lincoln Center Public Library's World Music section and flipping those records the way Hip Hop producers traditionally sample music, Akasa said.
Since releasing his debut 12" in 2005, the artist has gone on to create remixes for the likes of Little Dragon, Erykah Badu and more, while his cassette mixtape "Mystery Trip Vol. 1" was included in the New Yorker's "Best Music of 2012."
"Throughout every Captain Planet song, you can hear his inspired appreciation for breaking the boundaries between genres and bridging continents through rhythm," Akasa said. 
Another great thing: Not quite ready to call it quits? Towel off and head to Chadwick Bishop's Sunday Evening Cool Down Session at 4th Street Vine (2142 E. 4th St.) where every first Sunday in July the Alabama-born singer/songwriter raised on gospel and Motown performs his soulful sounds. More info here.
Giving us a moment's pause: Wetness.
Swim Skool takes place at the Renaissance Hotel; 111 Ocean Blvd. from noon to 6 p.m.; $5, 21+.
2. UPTOWN JAZZ FESTIVAL (Saturday)
Headlining the eighth annual Uptown Jazz Festival will be funk heroes Con Funk Shun with their heartbreakingly good choreography, spine-tingling vocal harmonies and feel-good, humorous stage presence. Then there's festival favorite DW3 readying to give Saturday's crowd an upbeat performance of R&B, contemporary jazz and funk.
"For eight years, the Uptown Jazz Festival has brought Long Beach together to celebrate summer, spend time with neighbors, and listen to incredible music," Councilmember Rex Richardson said in a statement. "This year, I am thrilled to bring the high-energy funk band Con Funk Shun, festival favorite DW3, and an exciting line-up back to Uptown. The festival will, once again, be a great event for all ages to enjoy!"
Also included in the lineup are DJ Mr. Quick, Tatiana Tate Quartet, Boxcar Seven, Susie Hansen Latin Band and Biscuits & Gravy Live.
Another great thing: The festival is free! There will be food trucks, vendor booths, a Kids' Zone, and a beer and wine garden. Bring low-back lawn chairs and blankets.
Giving us a moment's pause: Press releases are usually pretty stale, but this fun statement from festival partner and councilwoman Jeannine Pearce was, uh, interesting. 
"As Thelonius Monk once said: Writing about music is like dancing about architecture. I'm thrilled to partner with Councilmember Richardson to bring music to Long Beach, especially jazz music that inspires so many pop, rock, punk, and country musicians."
This sounds like something I would say to sound cool at a party after one too many swigs of Malort. But, at the risk of sounding nit picky and getting a rock thrown at my glass house, it's actually up for debate who exactly implied that writing about music is a stupid thing to do since the quote has been attributed to everyone from Monk to Martin Mull to Elvis Costello to Mile Davis to George Carlin. Smart money is on Mull as the originator, still, it just isn't clear how quoting it exactly helps with the promotion of the jazz fest.
Senator and former councilwoman Lena Gonzalez, also a festival partner, was a little more to the point with her contribution: "I'm so excited to support this year's Uptown Jazz Festival. The event is a great way to bring communities across the city together to celebrate the importance of live music in Long Beach."
The festival takes place from noon to 7 p.m. at Houghton Park; 6301 Myrtle Ave. For more info, check out the Facebook event here.
3. LA CAGE AUX FOLLES (Friday – Sunday)
Yes, above is a trailer for The Birdcage, which La Cage Aux Folles inspired. Georges and Albin, a happily unmarried couple who work together at a famed drag nightclub, are tested when Georges' son announces his engagement to the daughter of a conservative, right-wing politician. While Georges reluctantly agrees to step back into the closet to meet the family of his son's future bride, Albin makes other plans. The result: an incredibly funny musical. 
Another great thing: Donald Tiscareno of Long Beach Creative Group has 22 paintings on view through July 31 in The Gallery at the Playhouse. Expect to see colorful, abstract works on your way to see the show.
Giving us a moment's pause: Families come in all forms, dammit! How many times do we have to tell you! 
La Cage Aux Folles plays Fridays, Saturdays and Sundays through August 3. Long Beach Playhouse; 5021 E. Anaheim St. For tickets and more info, click here.
4. WHALE WATCHING (Anytime)
I
Take in the views of Long Beach from the sea—and maybe get a chance to see the largest mammal on the planet. Harbor Breeze Cruises and the Aquarium of the Pacific pair up for these adventures, with guides giving guests information on sea life including wales, dolphins, sea lions and birds.
For more information, click here.
5. FIGHT CLUB LBC (Friday)
It's been five years since a group of local musicians' impromptu meetup grew into a highly curated, monthly gathering guaranteed to get you to dance, even if you consider yourself a shy one. On Friday, local rapper Red Bag will make his Fight Club LBC debut around 11:45 p.m., with sound selection by Bike Tyson warming up the floor at 9 p.m., spacey arrangements from Soular System at 10:45 p.m. and Hancedigg closing out with Dilla and Madlib tributes after midnight.
Another great thing: If you miss this one, Fight Club happens every first Friday of the month.
Giving us a moment's pause: Cash bar only.
Fight Club LBC is $5 before 10 p.m. and $10 after; Que Sera is located at 1923 E. 7th St. 
6. PORSCHE PALOOZA (Sunday)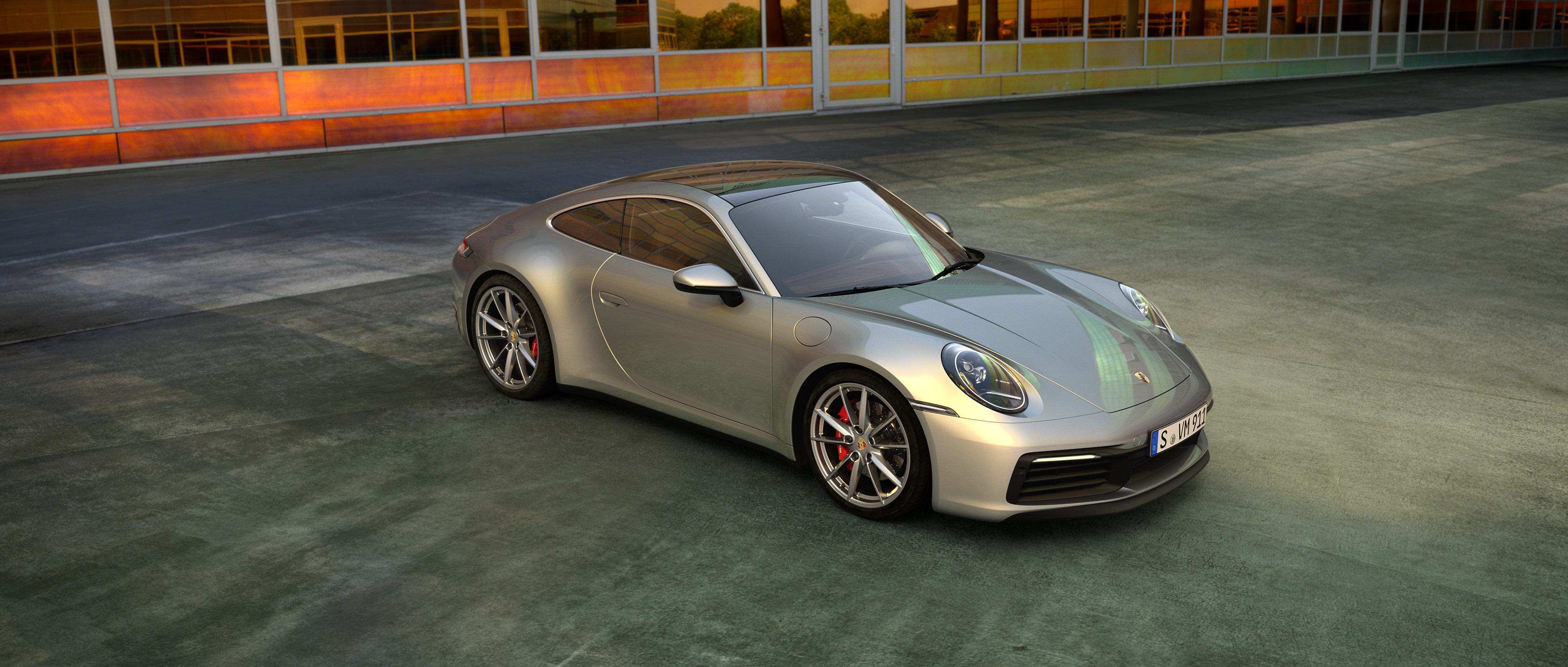 I'm no expert when it comes to cars, but this seems like one of those events that, if you're out and about on your bike, walking or scootering around Downtown's shoreline, you'd be more than pleasantly surprised to run into. As an appreciator of good design, I'd certainly pause to ogle the more than 50 vintage and new Porsches to be displayed on Sunday. I'm hoping that a few of the Cabriolet owners (hey, check out the new one above) from last year's 70th anniversary show up again, too.
Another great thing: It's free!
Giving us a moment's pause: No, this isn't like one big Cars and Coffee, if you want to display your Porsche you can see if there are any spots left by emailing [email protected]. 
Porsche Palooza runs from 11 a.m. to 3 p.m. outside of Gladstone's; 330 S. Pine Ave. For more info, tap here.
7. FRAU FIBER'S MISSION IN AMERICA (Thursday – Saturday)
Local artist Carole Frances Lung is Frau Fiber, an East German garment worker and textile superhero who draws attention to the human cost of the garment industry through campaigns, performances and installations. Now, you can catch the tail end of her exhibition at the Huntington Beach Art Center, where Frau Fiber has moved her entire Long Beach studio. 
Artist Carole Frances Lung wants you to stop shopping and start sewing
Another great thing: Lung helped start the HBAC back in the day, so this is a homecoming of sorts. 
Giving us a moment's pause: As Lung would say, "Leggings are not pants." 
For more on Frau Fiber's Mission in America, on view through Saturday, July 6, visit the website here. The Huntington Beach Art center is located at 538 Main Street, Huntington Beach, CA 92648.
Add the "Today you should…" calendar

Subscribe through Google Calendar or your calendar app and get alerted to the best things to do in Long Beach. Updated 7 days a week.
This feature is experimental. Let us know how it's working.
Support our journalism.
Hyperlocal news is an essential force in our democracy, but it costs money to keep an organization like this one alive, and we can't rely on advertiser support alone. That's why we're asking readers like you to support our independent, fact-based journalism. We know you like it—that's why you're here. Help us keep hyperlocal news alive in Long Beach.