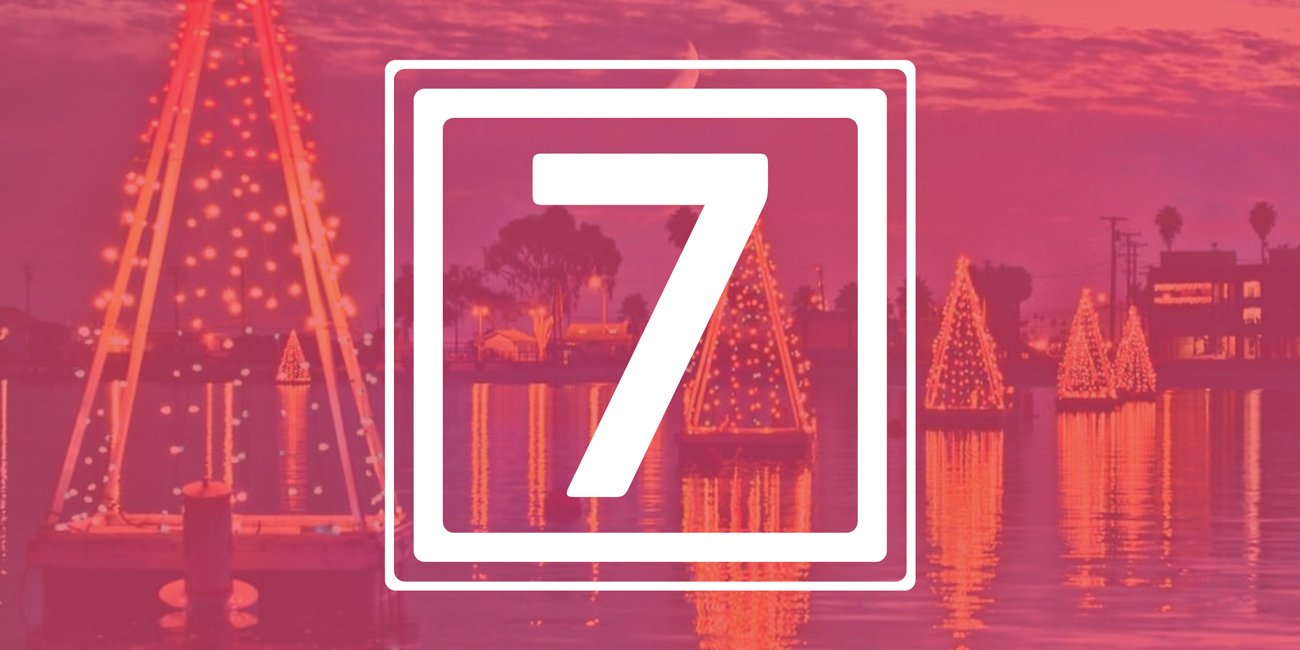 The 7: Things to do this holiday season in Long Beach
The holidays, they arrive too early and they're gone too soon, so instead of grumbling that it's too early for Christmas decorations (we're guilty of this) why not make the most of this extensive list of parades and holiday lights tours, and relish every moment you have to share "oohing" and "aahing" with friends and family at the colorful bulbs wrapped around and hanging from all sorts of objects, including houses, parade floats, trees and floating "trees."
1.  NAPLES HOLIDAY LIGHTS DISPLAY
Strolling the canals of Naples, taking in the light displays, isn't just one of our favorite holiday activities in Long Beach, it's one of our favorite holiday activities anywhere. In fact, it's one of our favorite activities, period.
Where to start? That's kind of the point. However you access the canals, begin wherever you want, go as fast or as slow as you wish: briskly get your steps in as the colors wash over you; saunter about, lingering at the house made into the giant Santa face and reminisce about the roller coaster display, long since passed, that used to stop (foot) traffic.
The lights are lovely, of course, and so are many of the homes. But there are a lot of places that can make the same boast. What puts Naples in rather rarified air, is that while you're making your way around, there are no cars—the vehicles you will pass are seaworthy, including more than a few gondolas—and the sidewalk you'll find yourself on is rather narrow, which means you'll find yourself in close proximity to all manner of neighbors.
And that's another thing, though Naples is one of the most affluent areas in Long Beach, the light show also makes it one of the most egalitarian. All types of people, come for all manner of reasons, including this being, flat out one of the romantic, enchanting dates a couple could have. Love, after all, is the greatest gift of all… though, we encourage you to hang on to your receipts. (Steve Lowery)
Another great thing(s):
NAPLES BOAT PARADE (Saturday, Dec. 14)
Just as with the light displays on the homes above, what raises the Naples holiday flotilla above similar fleets in Huntington Harbor and Newport Beach, is the intimacy and coziness that the others can't really touch. In part, because when the light-festooned ships pass by you feel as though you can reach right out and touch whatever it is those on board are drinking. The parade gets started at 6 p.m. and can also be seen from numerous other vantage points including the beach along Bay Shore and the Peninsula. For more information, click here.
PARADE OF 1000 LIGHTS (Saturday, Dec. 7)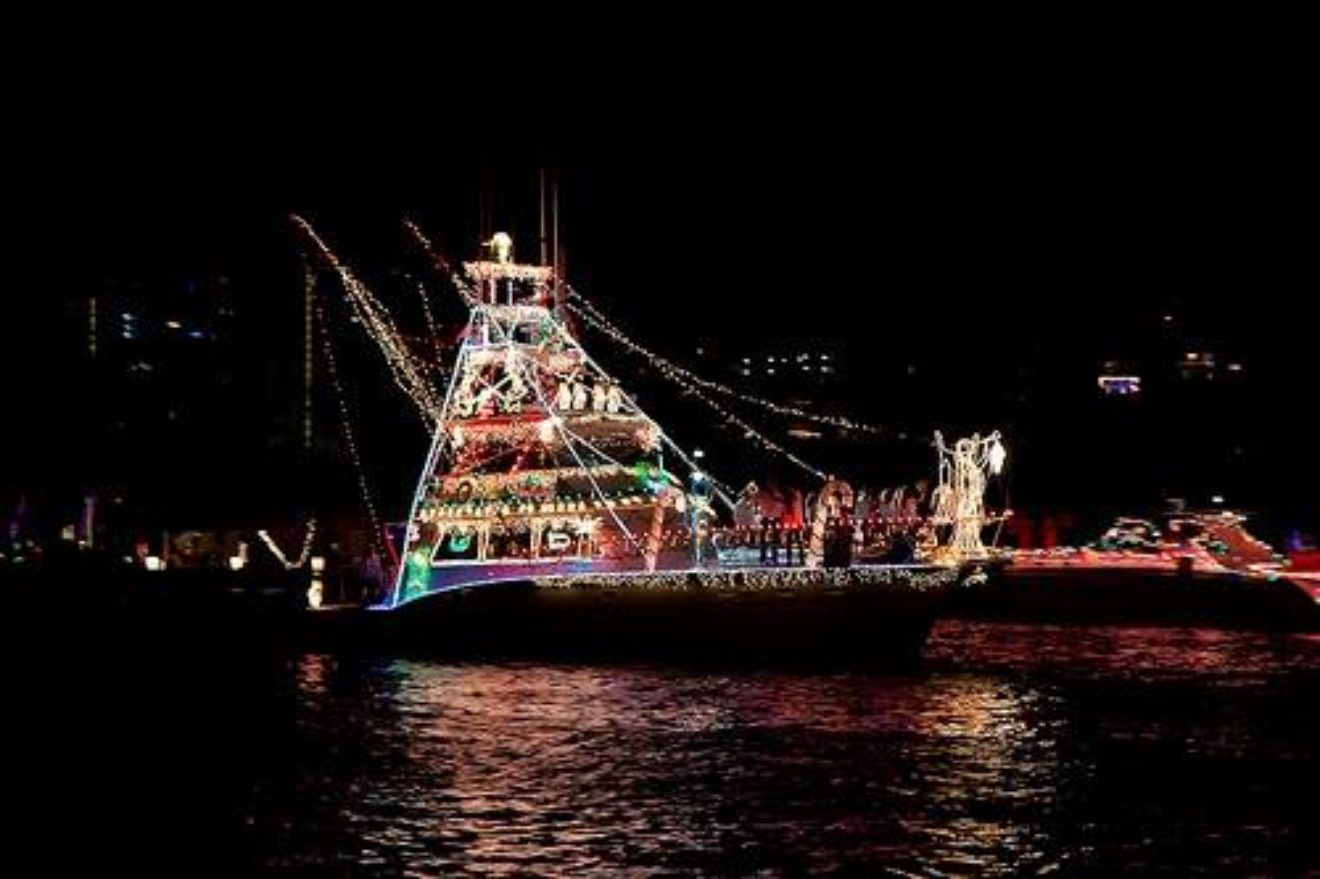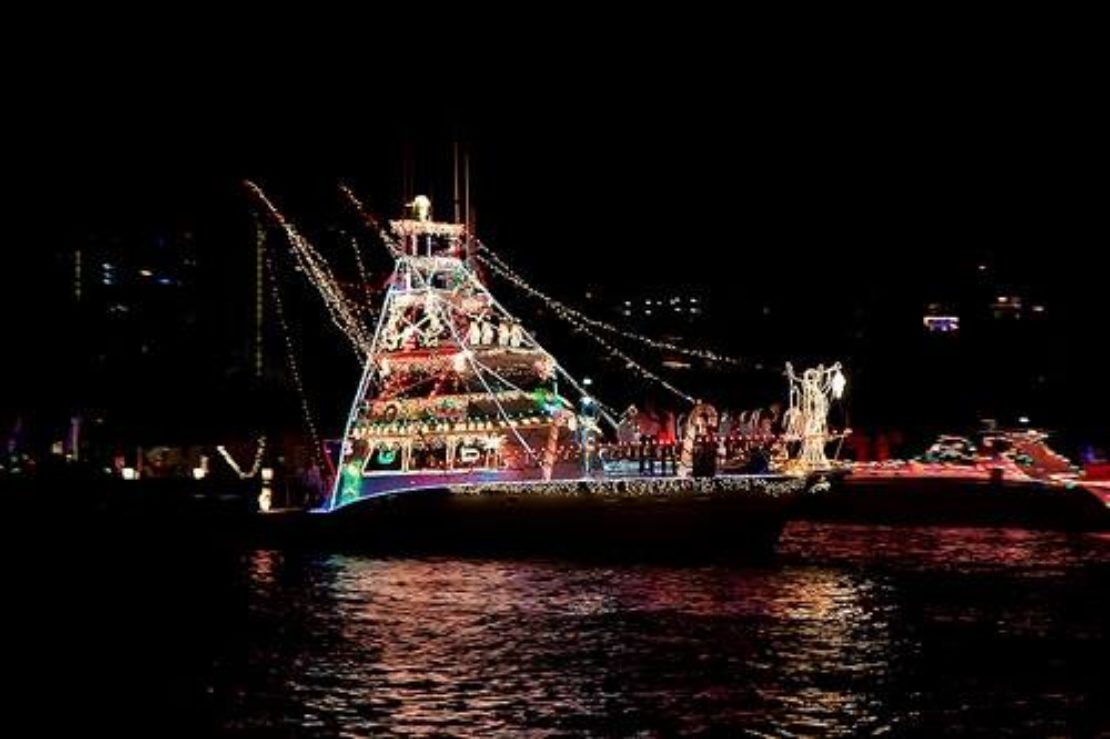 There are so many things to be grateful for, living in Long Beach. One would be easy access to multiple, holiday-themed boat parades. Behold! A week before Naples' nautical niceties, on Dec. 7, is this boat parade that begins at 7 p.m., starting outside the Shoreline Marina. It too has boats of all shapes and sizes outfitted in their holiday finery, sailing past the Pine  Avenue Pier and then  past the Queen Mary. Best viewing locations are in Shoreline Village, Rainbow Harbor and the Queen Mary. For more information, click here.
QUEEN MARY CHRISTMAS (Nov. 29-Jan. 1)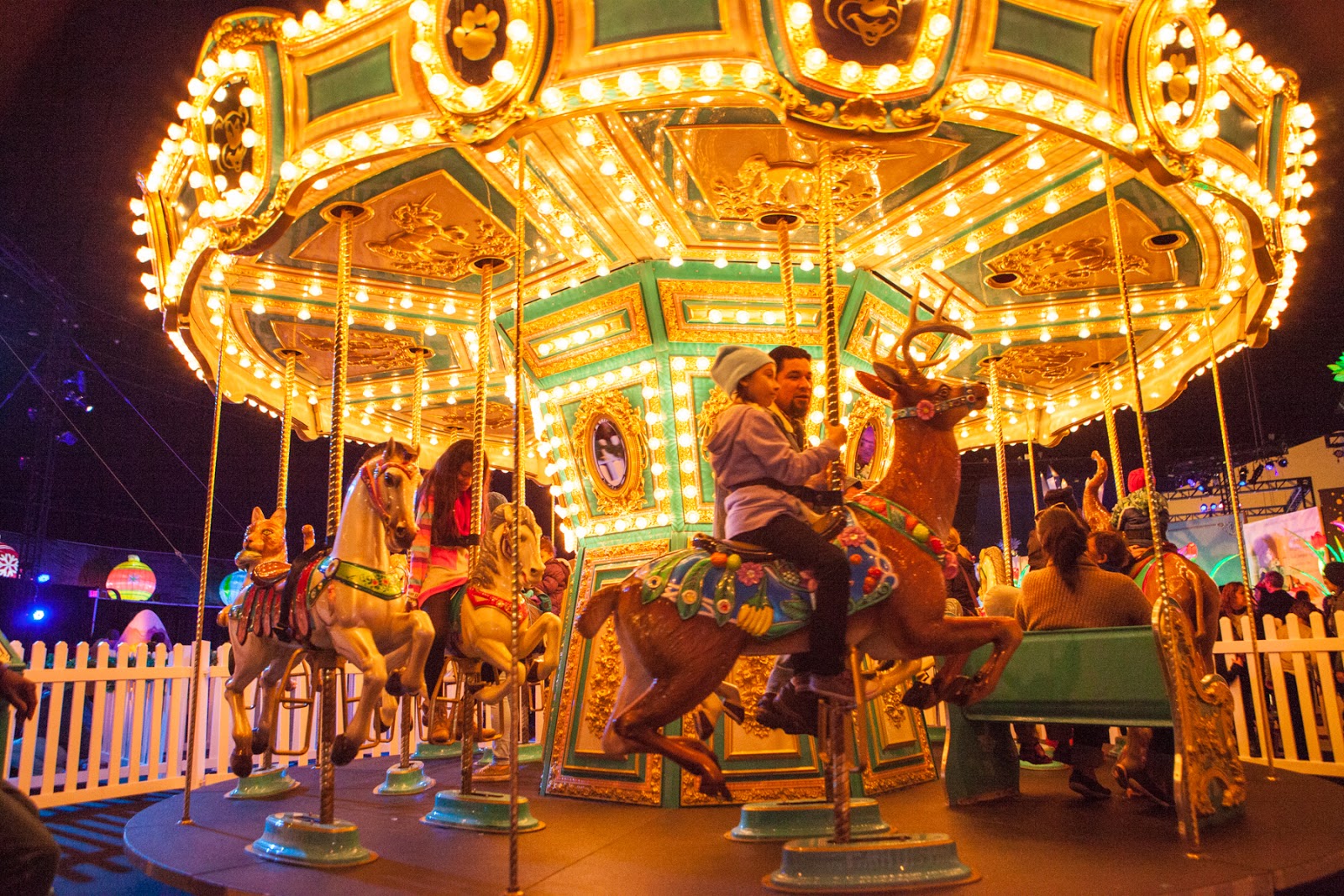 Speaking of boats… yes, yes, ships, whatever… the Queen Mary will once again host a whole, well, host of holiday events, attractions and activities from Nov. 29 until New Year's. Let's see, there's the immersive holiday adventure through the outdoor North Pole Village for live entertainment and ice skating at the True North Ice Rink; there are rides and crafts and a 4D viewing of "The Polar Express;" and a meet-and-greet with St. Nick himself as well as a whole mess of other stuff too numerous to list here.
The Queen Mary is located at 1126 Queens Highway, pretty much just drive toward the massive ship in the harbor, doing your best to avoid the water. There's a good captain. For more information or tickets, click here. 
THE POST'S HOLIDAY LIGHTS MAP
Right up there with gifts and presents and stocking stuffers, BUT NOT SCENTED CANDLES—C'MON, A LITTLE EFFORT, SUSAN—holiday lights are one of the real highlights(!) of the season. And, you know how there are those nights when nothing will satisfy your holiday needs like the wonderment, beauty and wattage of houses/neighborhoods who really turn it up for the season. But, where are these houses and neighborhoods? Where? WHERE? Chill. Click on the Post's Holiday Lights map and find out right away where the best light displays are. What's more, you can vote which ones you like best to help out others chasing that Unbearable Lightness of Lights. It's kind of like Pokemon Go. Then again, maybe it's not. We were trying to sound current. You can access the map by clicking here.
2. DAVID BENOIT: A CHRISTMAS TRIBUTE TO CHARLIE BROWN (Saturday, Dec. 21)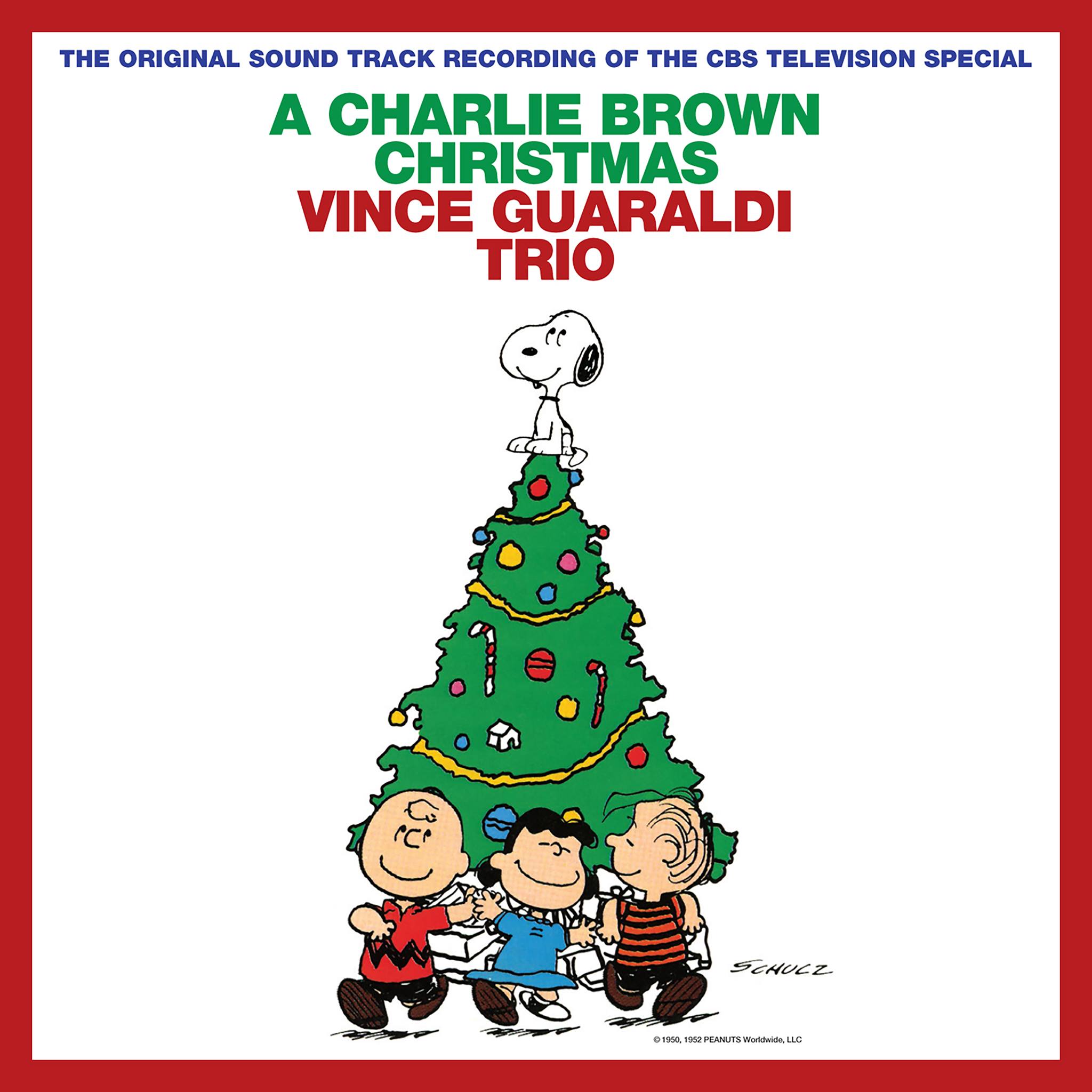 "A Charlie Brown Christmas" is one of the great(est) holiday traditions, in large part because of its soundtrack, created by The Vince Guaraldi Trio. One of the wonderful things about the music is how wonderfully contrary a kids Christmas show seems to pair with West Coast Jazz. But it works! Boy does it. The soundtrack album must rank at or near the top of everyone's contemporary Christmas music alongside the Phil Spector produced "A Christmas Gift For You" and that's the list.
The album is so good that recreating it has become one of the highlights of the Carpenter Center's season, as acclaimed jazz pianist David Benoit is joined by a special guest, the Grammy-nominated jazz singer Sara Gazarek, along with the All-American Boys Chorus and the Pacific Vision Youth Symphony.
Benoit has said that hearing the soundtrack in 1965 was the defining moment of his professional life, as he decided he would one day play like Vince Guaraldi. Called Guaraldi's heir, Benoit has spread the joy of Guaraldi's classic songs for more than two decades with numerous Peanuts performances, including "The Peanuts Movie." But, of course, "A Charlie Brown Christmas" is the masterpiece of all Peanut productions, combining childhood angst with the inarguable fact that capitalism demands winners, losers and, saddest of all, those who wonder what is the point, anyway?
Good grief? Best grief!
David Benoit—A Christmas Tribute to Charlie Brown begins at 8 p.m. The Carpenter Center is located on the campus of Cal State Long Beach at 6200 E. Atherton St. For more information or tickets, click here. (SL)
Another great thing(s):
HOLIDAY DAY POPS! WITH THE COPA BOYS (Saturday, Dec. 21)
The Copa Boys—Sonny Black, Jimmy Cargill, and Tony Apicella—perform with Long Beach Symphony Pops to spread cheer by singing holiday tunes and Rat Pack standards. While the concert begins at 8 p.m., doors open at 6:30 p.m. Folks are encouraged to come early and bring a picnic dinner, along with your favorite libations. If you don't feel like lugging the grub, concessions are available at the Arena, i.e. pizza, sandwiches and full beverage service. For more information, click here.
3. IT'S A DRAG TO GIVE (Friday, Dec. 13)
Sure, there are drag queens that have perfected the art, that have found their strut, that have made it their duty to awe and push the boundaries of entertainment, and what could possibly be more entertaining? Those who haven't perfected the art, but are going to dress in drag anyway to raise funds for local nonprofits, that's what. Take first-time drag performer and Long Beach Creamery dynamo Dina Amadril, for example. The chemist behind many a drool-worthy flavor combination, Amadril will be seen on stage as Cara Mel at the fifth annual It's a Drag to Give, hosted by Hamburger Mary's Jewels and community activist Mia Farrow. The event, a full on fundraising gala, will include cocktails, a silent auction, performances and raffles all in support of four local nonprofits: Beacon for Him, The LGBTQ Center of Long Beach, Long Beach Immigrant Rights Coalition and WomenShelter of Long Beach. (Asia Morris)
It's a Drag to Give takes place at the Long Beach Convention Center; 300 E. Ocean Blvd. from 7 to 11:30 p.m. For more information and to purchase tickets, visit the Eventbrite here.
Another great thing(s):
REASONS TO LOVE LONG BEACH SANTA CRAWL (Sunday, Dec. 15)
If there's nothing you'd rather do than imbibe in a Santa suit on a double decker bus, then this is the event for you. Christmas costumes (and $32) are required to hop on the Big RED Bus, which will stop at three different bars for the second annual Reasons to Love Long Beach Santa Crawl from 1 to 4:30 p.m. on Sunday, Dec. 15. There will be drink specials and free appetizers at each bar. Pick up is at 1 p.m. at the old Tilted Kilt at 6575 E. Pacific Coast Highway. For tickets, visit reasonstolovelongbeach.com.
WINTER IN WILLMORE (Saturday, Dec. 14)
Make a gingerbread house, sled down 40 tons of snow, meet Santa and his elves, get your face painted; there's so much to do at this free family-friendly event created by the Willmore City Heritage Association. While the event is free to attend, you can bring a canned food item to trade for a raffle ticket, which apparently, you won't want to miss this year.
Winter in Willmore runs from noon to 4 p.m at Drake Park; 951 Maine Ave. For more info, click here.
4. BELMONT SHORE CHRISTMAS PARADE (Saturday, Dec. 7)
It's the 37th Annual Belmont Shore Christmas Parade, its theme, "Your Holidays Start on 2nd," is quite telling from the thousands that annually attend to fully engage in drumming up the holiday spirit. Kids, spilling into the street, parents, attempting to corral said kids, cheers, waves, high-fives, holiday lights, snow-like confetti spewed into the "cold" night air, high school bands putting on their best show, the drum corps rallying the crowd, teenagers crowding the no longer-Jack in the Box parking lot. It just doesn't get much better, or traditional, than this.
Beverly O'Neill, Long Beach's only three-term mayor elected citywide, will serve as Grand Marshal of the festivities. Parade floats will be judged on spectator appeal, execution of theme and originality of design. (AM)
The parade begins on Livingston Drive and runs along Second Street from 6 to 9 p.m.; Belmont Shore side streets will be closed at 3 p.m. while Second Street will be closed to traffic at 4:30 p.m. Livingston from Termino Avenue to Second Street will be closed off at 2 p.m. For more info, visit the event page here.
Another great thing(s): 
66TH ANNUAL DAISY AVENUE PARADE (Saturday, Dec. 14)
Still have some parade left in you? Don't miss the 66th Annual Daisy Avenue Christmas Tree Lane Parade on Saturday, Dec. 14 from 5 to 8 p.m. where, between Hill Street and Pacific Coast Highway. Expect dazzling lights, decorated floats and of course, feel-good family entertainment. The parade route itself has some history; dubbed Christmas Tree Lane in the 1950s with its grassy median decorated with a Christmas Village and residents following suit with their own house decorations, even with the absence of parade fanfare, it's a quite a site to see and a welcome addition to any holiday to-do list. For more info, click here. 
LONG BEACH TROLLEY WATERFRONT TOURS (Dec. 5 – Dec.30)
OK, so all the walking and sitting and waving and parade viewing, or just thinking about it all, has you feeling a bit exhausted. Why not board a trolley and leave the holiday-light viewing to your tour guide/driver? Starting Dec. 5, Long Beach Trolley offers waterfront tours of the floating Christmas trees in Alamitos Bay and the lights of Naples Island through Dec. 30. Not to mention, your tour ticket includes hot cocoa and a sugar cookie. Click here for tickets and more info.
BIG RED BUS WATERFRONT TOURS (Dec. 4 – Dec. 24)
Classic cable-car trolleys are cool, but what about big red buses? As in double-decker buses, or a "double-decker sleigh," in this case. You can take a waterfront holiday lights tour on the Big RED Bus Dec. 4 through Dec. 24. Click here for details.
5. MUSICA ANGELICA BAROQUE CHRISTMAS (Friday, Dec. 13)
Those looking to find their Christmas verve in a more timeless tone need look no further than Musica Angelica's Baroque Christmas performance. Now in its 27th season (its fifth year of residence in Long Beach) this year's seasonal show features voices lent from renowned American soprano Robin Johannsen and the Long Beach Camerata singers in a setlist filled with European pieces that have evoked the Christmas spirit for centuries.
Expect French Noel "Kyrie" from Marc-Antoine Charpentier's "Messe de Minuit," Father of symphony Franz Joseph Haydn's classic concerto for organ and orchestra and Mozart's timeless church music including "Laudate Dominum," (for soprano, choir and orchestra) "Ave verum" and "Exsultate jubilate" that will lead up to the climax of Handel's "Hallelujah" from the iconic "Messiah."
The performance will be preceded with a dinner of small plates at Bogarts & Co., located underneath the Beverly O'Neill Theater at 6:30 p.m. Concert starts at 8 p.m., so you don't have to come early to the free meal, but then again, why wouldn't you? (Cheantay Jensen)
Musica Angelica's Baroque Christmas performance is Friday, Dec. 13 at the Beverly O'Neill Theater in the Long Beach Convention and Entertainment Center; 300 E. Ocean Blvd. Show starts at 8 p.m. Tickets range from $59 to $79, to purchase tickets visit their website, here.
Another great thing:
LONG BEACH CAMERATA SINGERS AT RANCHO LOS ALAMITOS (Thursday, Dec. 12)
On Dec. 12 history comes to cozy life in this special performance by the Long Beach Camerata Singers at the historical landmark Rancho Los Alamitos. Adapted from the illustrative children's novel "Christmas Eve at Rancho Los Alamitos" by Katharine Bixby Hotchkis—which is based on the personal recollection of Katharine's childhood Christmases while living on the ranch—the performance will be a musical adaptation of the book, telling (and singing) stories about family holiday traditions from early in the last century. The event doubles as a music program geared for children ages 3 to 8 years old and will explore musical concepts such as melody, tempo, dynamics and rhythm.
Following the program will be light refreshments, children's craft activities in the barnyard, and tours of the decorated ranch house.
Christmas at the Rancho with the Long Beach Camerata Singers falls on Thursday, Dec. 12 at Rancho Los Alamitos; 6400 E. Bixby Hill Road. The performance starts at 3:30 p.m. and runs until 5 p.m. Adult tickets are priced at $15 with children ages 12 or younger priced at $10. Free admission for children ages two or younger. The event requires RSVP, which you may do so, here.
6. A CHRISTMAS CAROL (Dec. 7 – Dec. 22)
Arguably the most famous literary work associated with Christmas, Charles Dickens' "A Christmas Carol," is one of those staple holiday hallmarks that you've got to see, otherwise, would it really feel like the season? Those of you who already know you and your family will be spending that cozy evening at home, sipping your cup of hot cocoa, chuckling at the bah-humbug-screaming Ebenezer Scrooge, may like to spice up tradition with a visit to the Long Beach Playhouse for their live performance of the perennial classic. Expect all the miserly attitude, creepy ghosts and heart-warming resolution as Scrooge rediscovers his lost humanity and learns to see it in others. (CJ)
The Long Beach Playhouse performances of "A Christmas Carol" run from Dec. 7 through Dec. 22 (with their half-price preview performance on Friday, Dec. 6) at the Long Beach Playhouse Mainstage & Studio Theaters; 5021 E. Anaheim St. Tickets range from $24 to $27. You can purchase yours, here.
Another great thing(s):
A CHRISTMAS CAROL RADIO STYLE (Dec. 21 – Dec. 23)
Hear the 1939 radio rendition of "A Christmas Carol," where American actor Lionel Barrymore voices Ebenezer Scrooge. For decades this radio story, that was produced by Orson Welles for his Campbell's Playhouse—which is what The Mercury Theatre on the Radio became after "The War of the Worlds" broadcast—was aired live every Christmas Eve. Bit of a podcast junkie? This showing, presented by the Long Beach Shakespeare Company, ought to prove a nice reprieve from your usual listening station, otherwise known as your car.
A Christmas Carol Radio Style runs Friday Dec. 21 through Monday Dec. 23 at the Helen Borgers Theatre; 4250 Atlantic Ave. Tickets for the show are $12.50 and can be purchased, here.
IRVING BERLIN'S HOLIDAY INN (Dec. 6 – Dec. 15)
While the song "Heat Wave" may be more appropriate than "White Christmas" as far as California Christmases go, you'll hear both songs and more in Musical Theatre West's performance of Irving Berlin's "Holiday Inn." The resident musical theater company of the Carpenter Performing Arts Center that has brought Broadway-quality production to Long Beach for the last 67 years, promises all the joyous musical features and thrilling dance numbers that made the 1942 movie an Academy Award winner.
Irving Berlin's "Holiday Inn" by Musical Theatre West runs Dec. 6 through Dec. 15 at the Carpenter Performing Arts Center at Cal State Long Beach; 6200 Atherton St. According to the company's website, tickets for the performance range from $20 to $240, although Goldstar is selling discounted tickets ranging from $22.50 to $37.50 and can be purchased, here. While there is close and convenient parking to the theater in the lot G12 on the CSULB campus, parking costs $10.

LONG BEACH BALLET'S NUTCRACKER (Dec. 14 – Dec. 22)

A cryptic, patch-eyed uncle, human-sized mice soldiers and the elegant sugar plum fairy. You know it, you love it; now go and see it.  For the 37th incarnation, the Long Beach Ballet brings Tchaikovsky's masterpiece to the Long Beach Terrace Theater again in one of the most dazzling, high-quality performances of the season. This year the show boasts guest artists Sarah Richard Orza as the Sugar Plum Fairy and Seth Orza as the Nutcracker Prince, both principal dancers with the Pacific Northwest Ballet. There will be a flying sleigh, a real live horse, on-stage pyrotechnics and a full symphony orchestra geared with a cast of over 200 dancers to bring the gorgeous, timeless tale to existence.
The Nutcracker runs Dec. 14 through Dec. 22 in the Long Beach Terrace Theater at the Long Beach Performing Arts Center; 300 E. Ocean Blvd. Ticket prices range from $34 to $115 and can be purchased here. For more information you can check out their website, here.
7. CHRISTMAS TREE LIGHTING (Wednesday, Dec. 4)
[SPONSORED] You are invited to join Mayor Robert Garcia's 5th annual Christmas tree lighting ceremony on Wednesday, Dec. 4. The "halls" have been decked with over 110,000 twinkling lights. The magical tree lighting will start at around 6 p.m. and there will be plenty of festivities to enjoy before and after the light show (fireworks included) from food trucks, face painting, train rides, and photo ops with Mr. & Mrs. Claus, all to the merry sounds of a brass band, DJ and choirs.
Another great thing: Sponsored by the Long Beach Convention & Entertainment Center / ASM Global and the Long Beach Convention & Visitors Bureau, it will be a night full of festive holiday fun and complimentary sweets. You can park your sleigh for free, and don't forget to bring your camera.
Giving us a moment's pause: By attending this event you agree to be photographed for promotional purposes; check out the 2018 video here!
The lighting ceremony runs from 5 to 8 p.m. at the Terrace Theater Plaza, 300 East Ocean Blvd. 
Add the "Today you should…" calendar

Subscribe through Google Calendar or your calendar app and get alerted to the best things to do in Long Beach. Updated 7 days a week.
This feature is experimental. Let us know how it's working.
Support our journalism.
Hyperlocal news is an essential force in our democracy, but it costs money to keep an organization like this one alive, and we can't rely on advertiser support alone. That's why we're asking readers like you to support our independent, fact-based journalism. We know you like it—that's why you're here. Help us keep hyperlocal news alive in Long Beach.