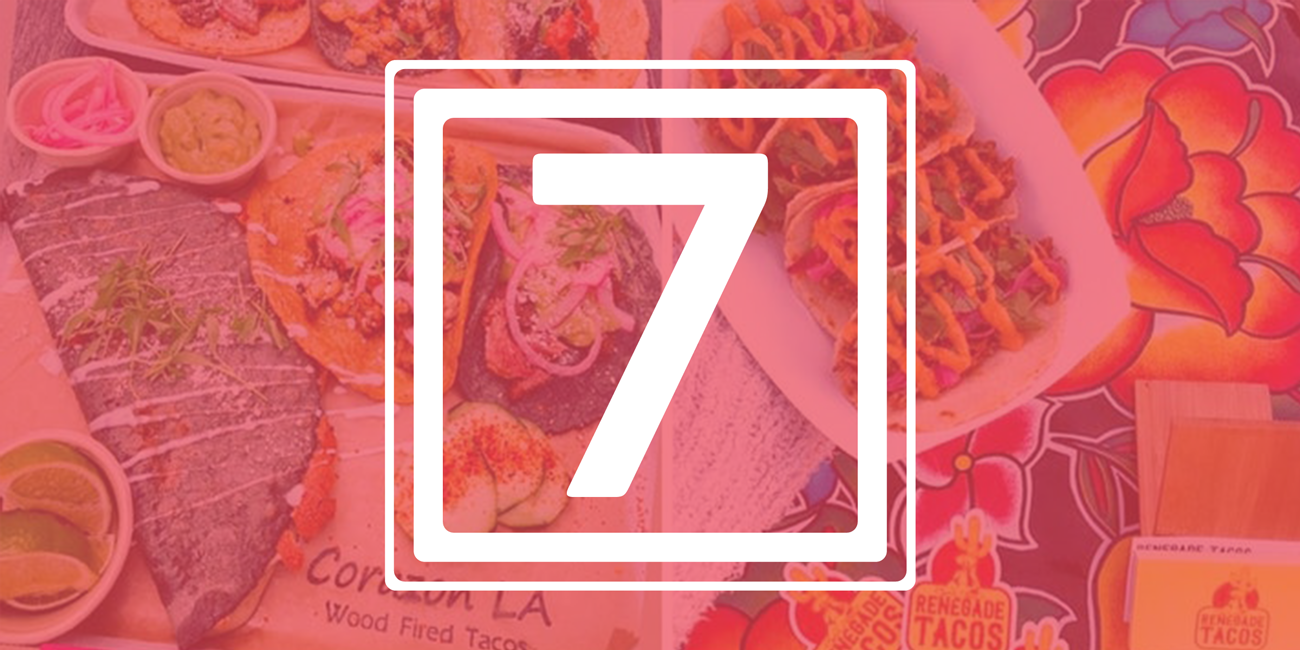 The 7: Things to do this weekend including… makers, miracles and throwdowns
While an influx of Democrats will be roaming the streets of Downtown, head elsewhere for non-political happenings throughout Long Beach, including Marine Stadium for a packed festival of local makers, the last Folk Revival Jam at the Red Leprechaun and Trademark Brewing for a Taco Throwdown.
1. FOLK REVIVAL JAM (Thursday)
The annual folk festival-turned-monthly-jam-session, Folk Revival Jam, will be plucking their last string at the Red Leprechaun this Thursday. Following announcements that the Irish-American pub has been sold to new owners and will be closed by the end of the year, this show, it seems, will have to find a cozy new den elsewhere.
Aside from showcasing local folk and bluegrass talent, the monthly show provided a platform for budding singers and musicians to try their hand at performing alongside a group of seasoned musicians, as opposed to braving it alone on stage.
Come celebrate their last hurrah in your boots made for stomping while sipping a pint to the twangy tunes you may (or may not) know. The evening starts with an hour jam session followed by a performance by local folk outfit, Brother Pines, where after they'll cap the night with a final jam sesh.
Interested in performing but a little gun-shy? Check out the Folk Revival Festival website where they've listed chord charts to 25 classic folk standards. (Cheantay Jensen)
Another great thing: Keep the folk fever rolling and catch rockabilly trio Reckless Ones the following night at Harvelle's Downtown Long Beach. Minneapolis born, but now LA-based, these guys fuse vintage rockabilly tones with modern rock and roll energy and attitude. In their decade-long career, they've toured all over the US and Europe and have opened for rockabilly icons such as Robert Gordon and Lee Rocker.
Giving us a moment's pause: We're not sure what's greasier, a rockabilly's hair or the chain on their motorcycle.
The Folk Revival Jam is Thursday, Nov. 14 from 7 p.m. to 10 p.m. at the Red Leprechaun; 4000 E Anaheim St. For more information check their Facebook page, here. 
Reckless Ones performs Friday, Nov. 15 at Harvelle's Downtown Long Beach; 201 E Broadway. Tickets can be purchased for $10 online, or for $13 at the door. Must be 21+ to enter. Doors open at 8 p.m., show starts at 9 p.m.
2. PATCHWORK SHOW LONG BEACH MAKERS FESTIVAL (Sunday)
The Patchwork Show Makers Festival is a free biannual craft fair that sets up shop around Southern California offering local artists, crafters and designers a space to showcase their hand-made goods in an affordable venue. The Long Beach show, their largest event, boasts more than 250 vendors this year with hundreds, even thousands of hand-made crafts and original wares just waiting to be discovered.
Patchwork vendors are strategically selected by a jury, so you can be sure merchants are offering unique, high quality, one-of-a-kind goods: handbags, jewelry, furniture, home goods, ceramics, clothing for men, women and children, knits and crochets and apothecary items.
Not only can you shop, but you can also make some of your very own hand-made creations. Over 22 DIY craft stations will be on-site, including holiday workshops where you can create porcelain ornaments, gift bags (and wax tags!), bookmarks, cards, greenery present toppers and jingle bell necklaces.
For whatever reason, shopping makes for a strong appetite. Rest assured, gourmet food trucks will be peddling their edible goods alongside artisan food vendors. And you can take a breather from the shopping excursion by checking out some of the live bands and entertainment. (CJ)
Another great thing: Free shuttle and bike valet! You can download their event and shuttle map, here (you'll need to scroll down the webpage a bit to find it).
Giving us a moment's pause: Handmade presents, especially ones you don't actually have to make by hand, really do make the best gifts.
The Patchwork Show Long Beach Makers Festival runs Sunday, Nov. 17 from 11 a.m. to 5 p.m. at the Marine Stadium boat slip (5255 E Paoli Way) right off Appian Way. For more information visit their Facebook page or website, here.
3. JAD ABUMRAD, "THE MIRACLE OF INDOOR PLUMBING" (Saturday)
Abumrad is the creator and host of the iconic "Radiolab" program and as such is often credited, along with "This American Life's" Ira Glass, for creating the current podcast culture we live in. Whether that makes you want to buy him a beer or pour said beer over his head, is up to you, the fact is the man has done something. Quite a lot really. So much, that Abumrad reached a day when he felt as though he had no more to give.
That moment of crisis/burnout/is-that-all-there-is? is one familiar to almost anyone who deals in creativity and creation. In '"Miracle," a one-man performance, Abumrad recounts how he found himself at his crisis point and how he moved beyond it, utilizing music and video to uncover the sometimes hidden ingredients key to telling great stories that not only inspire but connect people and change things.
Another great thing: Well past his crisis, Abumrad continues to do great work, including his new production, "Dolly Parton's America."
Giving us a moment's pause: That Jad might have an issue with our Tribute, some might say Rip Off, to/of "Radiolab" in this "Can You Hear Me, Long Beach?" interview with him.
PODCAST: Radiolab creator Jad Abumrad; Mimi Masher's roller dreams
Carpenter Center for the Performing Arts is located at 6200 Atherton St, on the campus of Cal State Long Beach. The show begins at 8 p.m. For more information or tickets, click here.
4. DOUYÉ: AN EVENING OF JAZZ, BOSSA & ART (Saturday)
Born in Nigeria, Douyé sang in her church choir in Africa, and her father was really into jazz. In fact, it was the first type of music she heard. Later, she became a vocal major at the Musicians Institute in Los Angeles, experimented with R&B and put out a couple of CDs (no big deal) then found her way back home to jazz in 2017.
At Casa Arjona on Saturday, Douyé will be singing a select group of Brazilian and jazz numbers from her recent albums, "Daddy Said So" and "Quatro: Bossa Nova Standards," accompanied by Angelo Metz (guitar), Mika Mutti (keys), Kevin McClellan (bass), and Lucio Vieira (drums). There will also be photographs to browse by artist Abril Blue, which you can preview at the 51-second mark in the video above. (Asia Morris)
Another great thing: Free parking! On the street!
Giving us a moment's pause: While your $20 ticket ($25 at the door) does include light appetizers, guests are welcome to bring their own drinks and "special hors' d'oeuvres…" Do they have to be special? Last time we had a "special hors' d'oeuvre" we ended up hiding under a car for three hours in a special hors' d'oeuvre-induced panic, if ya know what we mean.
An evening of jazz runs from 7:30 p.m. to 10 p.m. at Casa Arjona; 4515 E. Harvey Way. For tickets and more information, check out the Eventbrite page here. 
5. TACO THROWDOWN (Saturday)
Long Beach and Los Angeles taco pop-ups Renegade Tacos, LBTacos12, Lechon and Corazon LA are the vendors scheduled to seduce your taste buds on Saturday as Trademark Brewing hosts a Taco Throwdown. Each vendor will prepare a signature taco—there will be meat and vegetarian options—for guests to try and then cast a vote for their favorite.
Twenty dollars gets you one taco from each vendor (four), one raffle ticket and a voting token. The $50 VIP pass, which can only be purchased online, also provides four tacos, but ticket holders receive two raffle tickets, a crowler certificate that must be redeemed on Saturday, Nov. 16 and a Trademark Brewing T-shirt. Raffle prizes include guest passes to Trademark's neighbor, Long Beach Rising, an indoor climbing gym, as well as other merch.(AM)
Another great thing: Beer, obviously. You're at Trademark Brewing. They'll have a selection including a new blonde ale, a new IPA and their fan-favorite, 10 Hour Stout.
Giving us a moment's pause: In addition to guests getting to cast their vote for best taco, a panel of celebrity judges will be offering their opinions on "whose tacos take the torta," including the Post's very own food writer, Brian Addison, former Bachelor contestant Bekah M and one judge yet to be announced.
The Taco Throwdown starts at 2 p.m. at Trademark Brewing; 233 E. Anaheim St. Tickets are $20 online (presale ends on Nov. 15) and $27 at the door; for more info, click here.
6. "A STEP FORWARD" (Saturday)
"A Step Forward" is a short documentary film by Eric Tandoc, a Long Beach-based filmmaker, about Filipino senior citizens who live on the city's westside and have found community by forming a weekly walking club. The westside has a history of gang violence, environmental pollution and government neglect, but when members of the Filipino Migrant Center started a Walking Club at Hudson Park, it brought together long-time residents to engage in improving their health and their neighborhood.
The event takes place at the East Yards Community for Environmental Justice Office and runs from 10 a.m. to 12 p.m. Tandoc and several members of the walking club, featured in the film, will take part in a Q&A after the film.
Another great thing: The Museum of Latin American Art will host a free screening of "Los Tigres del Norte at Folsom Prison" on Sunday, Nov. 17. The screening will be followed by a Q&A with director Tim Donahue, the documentary's co-producers, Zach Horowitz and Ilan Arboleda and Lance Dawes. The film follows the enormously popular band as it performs at Folsom State Prison, 50 years after Johnny Cash held his historic concert there. In conjunction with the screening, MOLAA will debut a special exhibition of behind-the-scenes photographs, taken by award-winning photographer Lance Dawes.
Giving us a moment's pause: We really should walk more.
East Yards Community for Environmental Justice is located at 2448 Santa Fe Ave. The screening begins at 10 a.m. RSVP with the Filipino Migrant Center by emailing [email protected]
MOLAA is located at 628 Alamitos Ave. Admission to the museum is free on Sunday but you will need to RSVP for the screening here.
7. AUTUMN FESTIVAL AT THE AQUARIUM OF THE PACIFIC (Saturday-Sunday)
[SPONSORED] Delve into the arts, cultures, and marine environments of Asia during the Aquarium of the Pacific's annual Autumn Festival on Nov. 16 and 17. The event highlights the traditions of Japan, China, Korea and the Philippines through dance, music, cultural displays, crafts, and more.
Another great thing: If you've never seen Japanese Taiko Drumming, don't miss these performances at 12:55 p.m. Saturday and 12:20 p.m. Sunday. We're also looking forward to the Sumi-e calligraphy demonstrations and being awed by the Chinese Lion Dance demonstration.
Giving us a moment's pause: Don't mistake the lion dance for a dragon dance.
The festival runs Saturday, Sunday 9 a.m. to 5 p.m.; 100 Aquarium Way. For more information, including tickets and schedule of events, visit the aquarium's website here.
Add the "Today you should…" calendar

Subscribe through Google Calendar or your calendar app and get alerted to the best things to do in Long Beach. Updated 7 days a week.
This feature is experimental. Let us know how it's working.
Support our journalism.
Hyperlocal news is an essential force in our democracy, but it costs money to keep an organization like this one alive, and we can't rely on advertiser support alone. That's why we're asking readers like you to support our independent, fact-based journalism. We know you like it—that's why you're here. Help us keep hyperlocal news alive in Long Beach.