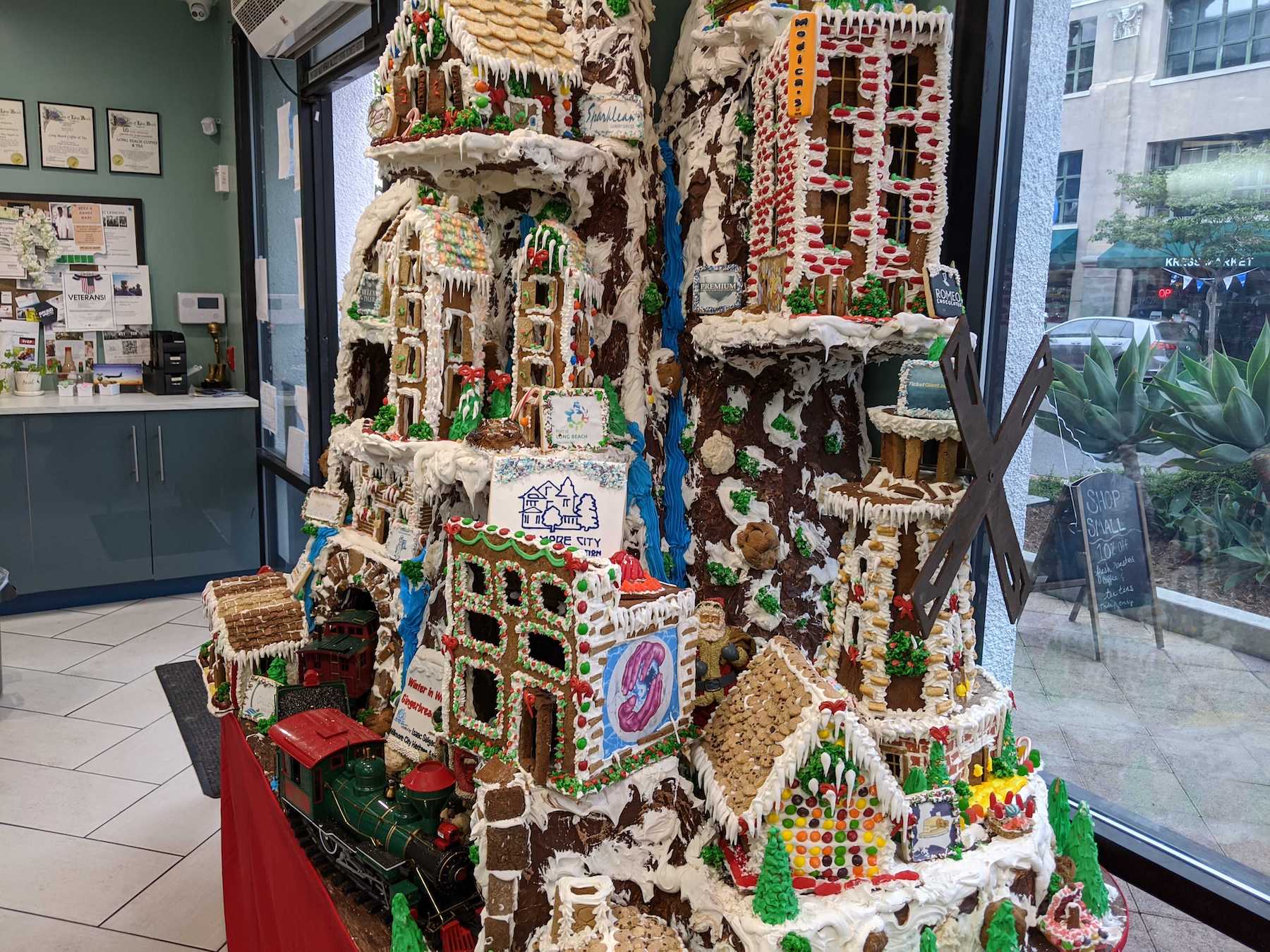 Today, you should… see the best dang gingerbread village in Long Beach
SUNDAY, DEC. 1
Since 2013, Isaac Salgado has spent more than 300 hours each year constructing a massive gingerbread village to install in a Downtown business during the holidays.
This year's design work started later than anticipated, said Isaac's wife, Mariela Salgado, but they, and a group of volunteers, family and friends managed to complete the towering sugar, flour, hard candy and chocolate structures in time to impress passersby as well as Long Beach Coffee & Tea customers.
Three individual wooden frames, built by fellow Willmore City Heritage Association (WCHA) board member Hulean Tyler, support the 350-pound, 15-foot long gingerbread city, Isaac's largest display yet since he started building the villages in 2013.
Each structure—there are 37 gingerbread homes and buildings, some including images of military branches; a nod to Long Beach Coffee & Tea co-owner and retired Marine Tom West—takes anywhere from five to eight hours to complete.
"I become a little obsessive, I have to admit," Salgado told the Post in 2016, describing the village at Kress Market & Deli that year. "But that's just because I let my imagination roam free and spend hours inside grocery stores and shops trying to figure out what can be what. A door, a roof, a sled… "
Compared to previous years, no house or display is the same, said Mariela Salgado. Also, new to the village are a few of the POW! WOW! Long Beach murals painted this past summer, as well as houses and tiles created by Cesar Chavez Park seniors and after-school kids.
It takes a village to make a village.
WCHA members, volunteers and Isaac's two daughters all contributed to the eight-week process of shopping for ingredients, baking, assembling and decorating each house. A team of Willmore volunteer "elves" spent 16 hours just installing it.
Before opening his carpet cleaning business, Rug'It Cleaning, Isaac worked in the food industry for a decade. He remembers building a gingerbread city at that time measuring 20 feet long and 10 feet high. Food art has remained a passion.
Isaac started his own tradition in 2013 and brought it to downtown Long Beach in 2014, where the first village was installed at Mike Dunfee Group on the corner of Fourth Street and Pine Avenue.
Mariela calls her husband a "small business owner by day and master gingerbread house-builder by night."
"Each year it has become sweeter and bigger, all in the spirit of spreading holiday cheer," she said.
Another great thing: The village not only serves to impress viewers but seeks to support a small business during the holidays by increasing foot traffic. Last year, Romeo Chocolates hosted the towering sugar structure.
It also aims to promote WCHA's annual Winter in Willmore event on Dec. 14.
Giving us a moment's pause: "While it may smell delicious… we don't recommend you taking a bite," said Mariela.
The village will be on display through Dec. 31 at Long Beach Coffee & Tea; 480 Pine Ave. For more info, including holiday hours, visit the Facebook page here. 
Get the "Do This!" email

The "Today You Should" newsletter is now "Do This!" Subscribe and we'll let you know whenever there's something great to do in or around Long Beach.

---

Add the "Do This!" calendar

Subscribe through Google Calendar or your calendar app and get alerted to the best things to do in or around Long Beach.
This feature is experimental. Let us know how it's working.
Support our journalism.
Hyperlocal news is an essential force in our democracy, but it costs money to keep an organization like this one alive, and we can't rely on advertiser support alone. That's why we're asking readers like you to support our independent, fact-based journalism. We know you like it—that's why you're here. Help us keep hyperlocal news alive in Long Beach.