THURSDAY, OCT. 17
It's Thursday. The weekend, although just slightly out of reach, is nigh. If your life is not dictated by the strong arm of a nine to five, may we suggest an afternoon at the Long Beach Museum of Art where, between 3 p.m. and 8 p.m, entrance is free. Who doesn't like free?
Their newest exhibition, "Thread," is a collection of fibrous artwork from 14 of today's leading textile artists. Experience the intricacy, rich colors and ornate expression of these artist's labor-intensive craft. The designs and methods the artists employ are as diverse and unique as the stories they wish to express.
Diedrick Brackens, a Los Angeles based textile artist, creates tapestries—made chiefly from cotton—employing techniques from West African weaving, quilting from the American South and European tapestry-making to create both abstract and figurative works.
"Its historical significance in the U.S. relative to enslavement, violence and subjugation has had lasting effects on black bodies. I think of the process of handweaving cotton as a small way to pay tribute to those who came before me and worked with the material under very different circumstances," Brackens said in his artist's statement.
Colorado-born "yarn painter," Terri Friedman, creates her works by method of traditional loom weaving. It's a slow moving process, unforgiving to any mistakes an artist might make. Her pieces are bright and have a loose, jumbled feel to them. Many of her works embody the experiences of her travels throughout India, Nepal and Indonesia, where she says she fell in love with textiles. Her pieces incorporate a multitude of different materials, largely cotton and wool, but also metallic fibers and stained glass.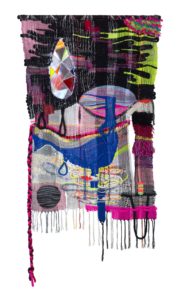 But not all of the art at "Thread" will be hanging. Several of the featured artists include sculptures, a sort of weaving of materials. Zimbabwean artist, Moffat Takadiwa, builds large-scale sculptures using ordinarily discarded materials, including items such as computer waste, aerosol cans and spray bottles, toothbrushes and toothpaste tubes. His art communicates his concern with issues of consumerism, inequality, post-colonialism and the environment.
Another great thing: Most good things come in threes. Featured alongside "Thread" is the exhibit "The Artful Book," an ode to the art and beauty of books, printing, paper binding and calligraphy. And finally, behold several pieces from oil-painter Adam Harrison who creates massive urban landscapes by working, months at a time, painting solely from a fixed vantage point. When he can't paint on-site, he works from his memory. His exhibit, titled "Place" features various landscapes from locations in Long Beach and San Pedro.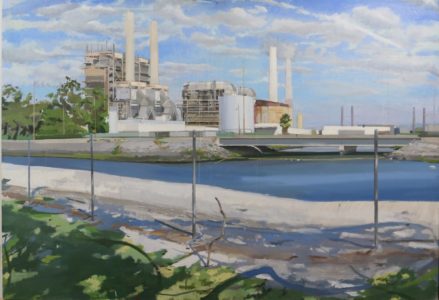 Give us a moment's pause: This is not an interactive gallery. So, no touchie.
Admission to the Long Beach Museum of Art at 2300 E. Ocean Blvd. is $10, however, on Thursdays guests can enter for free after 3 p.m. On Fridays, tickets are sold at half-price. "Thread" and Adam Harrison's "Place" will remain on display until Jan. 12, 2020. "The Artful Book" will be available for viewing until Jan. 5, 2020.  For more information including hours and entrance fees, visit their website.