Rosa Hernandez was walking home after having breakfast with a friend when she saw a slim young man dressed in black coming toward her. When their paths crossed on the quiet residential sidewalk, he erupted.
He shoved the 63-year-old Long Beach woman to the ground and began stomping on her head. As she lay motionless, he grabbed a 30-pound Bird electric scooter parked nearby, raised it above his head and slammed it down on her with such force that the handlebar column snapped off.
A stunned witness jumped out of his car and yelled. The attacker simply glanced up, and then delivered more blows.
"He looked like he didn't feel anything," the driver would later tell Long Beach police, "like he didn't feel pain, he didn't feel scared, he didn't feel worry. He just knew, 'This is what I have to do, this is what I'm gonna do and I'm gonna do it until I feel like I'm done.'"
And when he was finally done, he ran—Rosa's purse still slung over her shoulder. The crime was so brutal and bizarre that it made international headlines.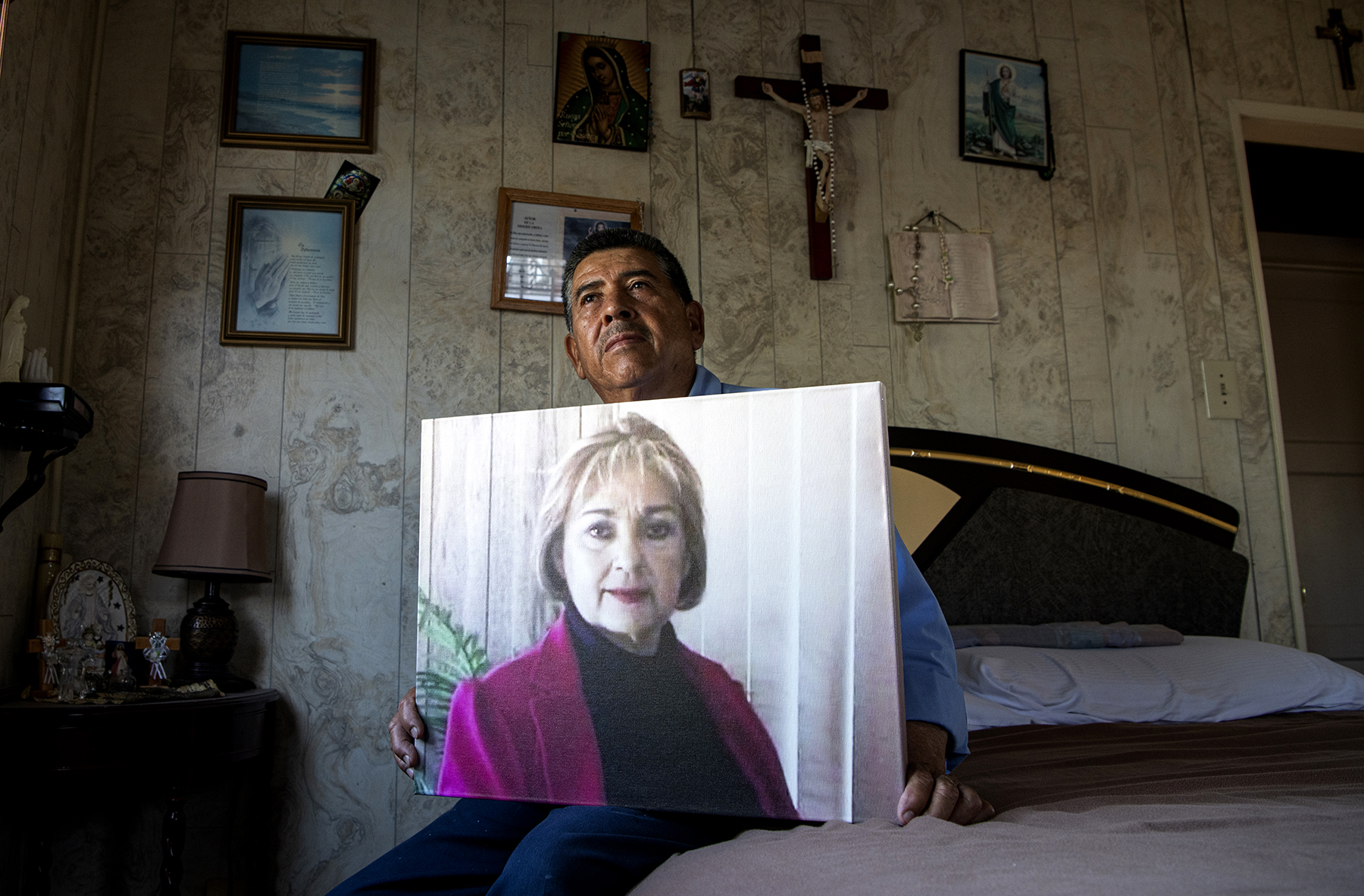 Authorities say Rosa was killed at random by a man she didn't know, just three blocks from the small, lime-green house she shared for three decades with her husband, Manuel.
That May afternoon, Manuel arrived home to find the lunch Rosa had laid out for him. He ate alone, waiting for his wife to return, wondering where she might be.
Her suspected killer, Amad Rashad Redding, would soon be taken into custody at a nearby Circle K convenience store without a hint of the ferocious violence he was accused of unleashing. The 27-year-old Louisiana native had only recently surfaced, homeless, in Long Beach.
The killing has, of course, left Rosa's family and many friends devastated. But it also has triggered a wave of soul-searching in Louisiana, where Amad had been descending in a spiral of mental illness.
In a months-long examination of the case, the Post learned that Amad was jailed at least four times in Louisiana and committed involuntarily to several mental health facilities in the 16 months before Rosa's killing.
Amad's family, his employer, even strangers say they pushed to get him help before he was beyond their reach. He seemed to keep slipping through their fingers as he was passed back and forth between jails and mental health facilities. Some now wonder whether more could have been done to help the talented young artist from a caring family before he ended up accused of murder.
In hindsight, no one seemed to grasp the totality of the deepening struggles that led him to the streets of Long Beach.
"Things just got out of control," says one of his sisters.
A bright future takes a dark turn
Opelousas is the kind of city where, as one resident puts it, you still get invited to a family's barbecue even though you broke up with one of their relatives years ago. Although Opelousas has a population of only about 20,000, it's the biggest town for miles along a stretch of rural southern-central Louisiana.
Amad, one of 12 siblings, grew up in a home on Opelousas' Main Street, directly across from a pawn shop and a short walk from the local police station. His dad, a military veteran and attorney, died around the time Amad was born. His mom continued to provide a comfortable life for them. She ran a restaurant and sold lunches out of the house.
Amad was the baby boy. He and his younger sister were the last two siblings living at home. "He was very protected. He was very cuddled," sister Annie affectionately recalls. "Amad, to be honest, was a little on the spoiled side."
He was taught to be loving and respectful, still going to church with his mother as a young man. He also loved making his family laugh. His little nephews and nieces couldn't wait to see Uncle Amad. He spent a summer making goofy YouTube videos with a best friend.
At Opelousas High School, the 6-foot-tall, 178-pound Amad distinguished himself on the Tigers' track and football squads. After graduation, he set his sights 60 miles east to Baton Rouge, home of Southern University, where he earned a walk-on spot on the track and field team.
Until he got an apartment in Baton Rouge, he would commute back and forth from his mom's house an hour away in Opelousas.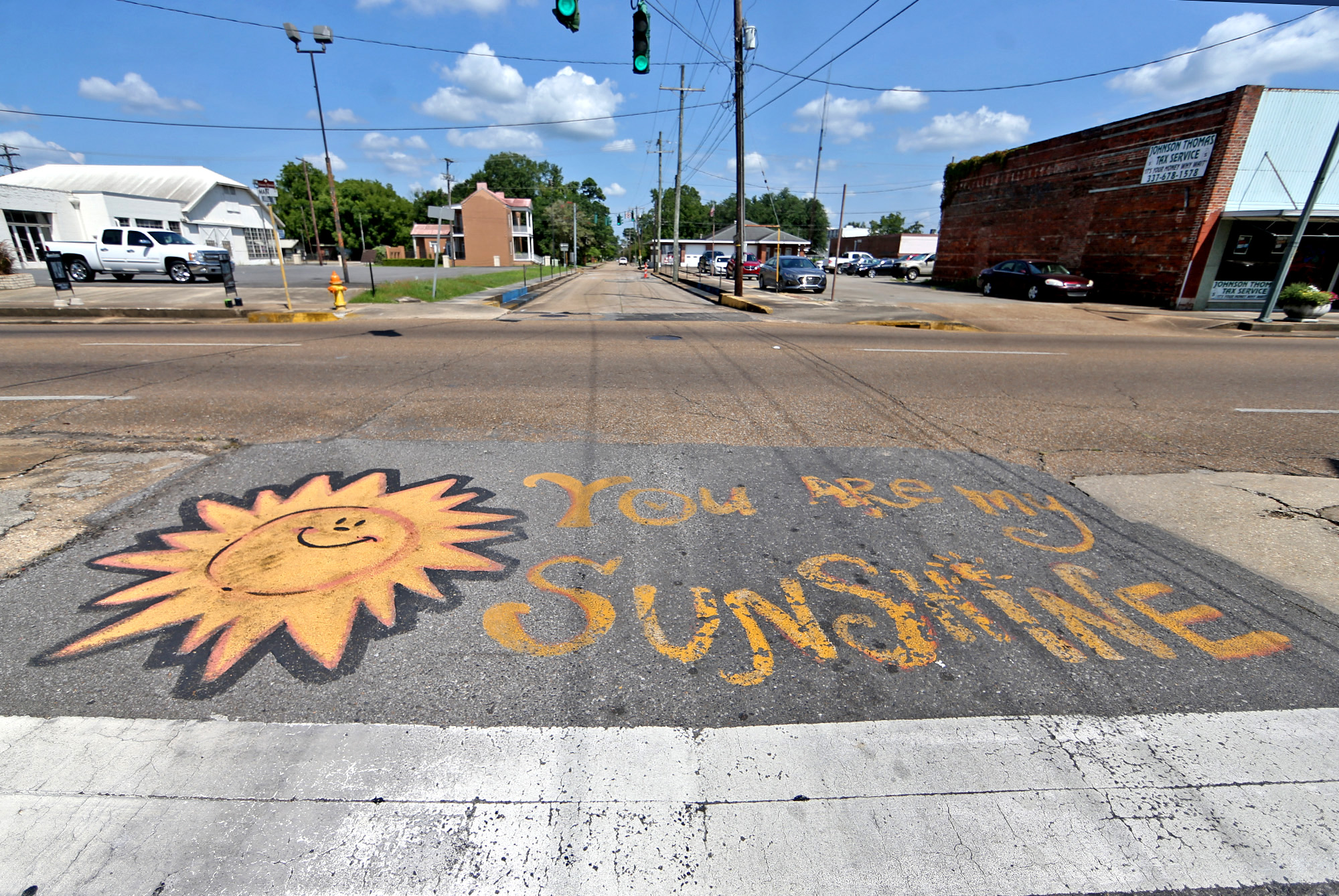 Annie says she began encouraging her brother to envision a bigger future, one with new places, new experiences, new friends. "If you don't separate yourself from the 'hood, the place that you grew up and everybody knows you, if you don't break away from that, it can consume you," she says she told him.
Annie, a commissioned officer in the National Guard, also planted the idea with Amad that he might think about joining up, too, which he eventually did.
Amad's potential also caught the eye of a Southern University art professor.
Addie Dawson-Euba says she saw something uniquely intense in his abstract paintings for her entry-level class. His use of bold, fiery colors and shapes looked like "some inner voices that were speaking to him," she says.
She encouraged him to enter a student art show and, soon, he landed an opportunity to exhibit his work at a gallery in New Orleans. The local paper took note in a story headlined: "Student ditches cleats, picks up paint brush."
"I feel like it's a part of me," Amad said of his art. "I want people to know who I am, just want [to] let them know that I'm a real cool genuine person."
He told the newspaper that even though his mom wasn't crazy about him turning her house into his messy art studio, he'd overhear her on the phone bragging to her friends about his paintings.
Despite Amad's newfound sense of purpose, Dawson-Euba says she'd occasionally notice him drifting off in class. Are you listening? she'd ask.
"He'd look and he'd say, 'Yes ma'am.' I don't know where he went," the professor recalls, "but you could see in his mind he was totally somewhere else."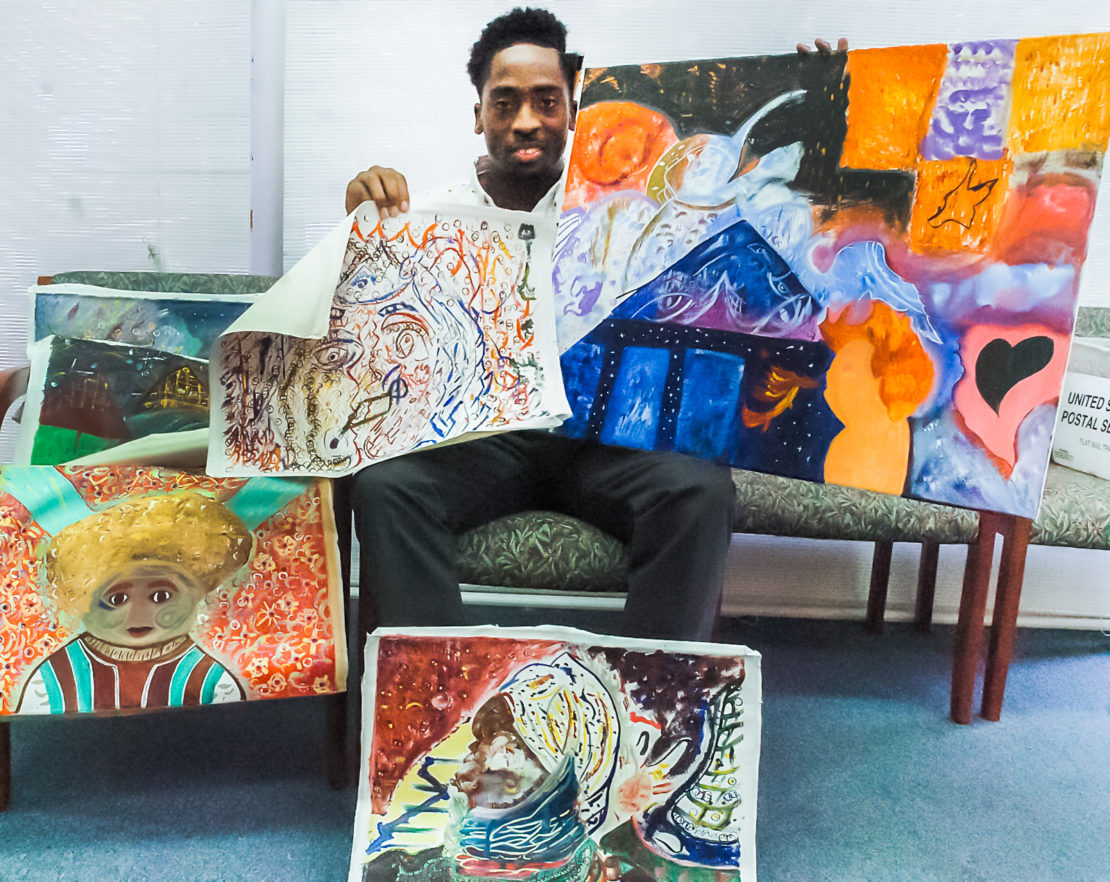 Soon, however, his behavior took a more tangibly ominous turn.
Amad was still away at college when another sister says she saw a photo late one night that was posted on social media. The image was deeply confusing and concerning, says the sister, who asked to be called Jill. In it, Amad seemed to be in the back of an ambulance, where medics were using some kind of apparatus to keep him warm. It was dark outside and there was water in the background.
Worried, the family tried unsuccessfully to reach Amad. It wasn't until hours later that a hospital nurse would call with an explanation. She said Amad had been spotted atop a tall levee not far from campus. He was precariously close to the edge when police managed to talk him down.
"If he would've fallen in there, they never would've found his body," says Jill, who suspects one of the paramedics uploaded the photo.
At the scene, officers told Amad that he was technically trespassing. They said he was either going to jail or to a hospital, according to sister Annie. Although Annie says she is unsure exactly how long Amad was in the hospital, she remembers that he was released with medication for bipolar disorder.
Often reserved, Amad wouldn't talk with his family about what happened in the hospital. They'd have to sit him down somewhere quiet to coax anything out of him, according to Annie.
"There's been times that Amad would say there's things going on in his head that he doesn't understand," she says.
A storybook marriage
The union of Rosa and Manuel Hernandez seemed like sweet destiny.
The two grew up in a Mexican village called Campanillas, tucked into the mountains of Sinaloa off an unpaved road. Its population consisted of about 15 families. As kids, Rosa and Manuel knew each other from the town's tiny school house, but back then they weren't particularly close.
Life was tough in Campanillas. Families worked farms or sold basic goods out of their homes to survive. In 1980, Manuel and a group of friends immigrated to Long Beach looking for new opportunities.
Rosa stayed behind, refusing to be defeated by difficulties. At neighborhood parties, she danced and sang and pulled others along with her. She collected food and clothes for those in need. She also was raising her young niece, who became more like Rosa's daughter.
"She gave all she had," says niece Linda Lorena Lopez Manjarrez.
But when Rosa was about 30, she decided to leave for Long Beach, too, hoping to earn money to send back to family members. Still, she kept close to her roots. Rosa and Linda talked on the phone every day, and Rosa often visited her parents in Campanillas, once her paperwork was in order.
Now, sharing the same town again for the first time in a decade, Manuel and Rosa gave in to the nudgings of acquaintances and agreed to meet and go dancing. Within a few years, they were wed.
"Over there is where their love grew," Linda says of Long Beach.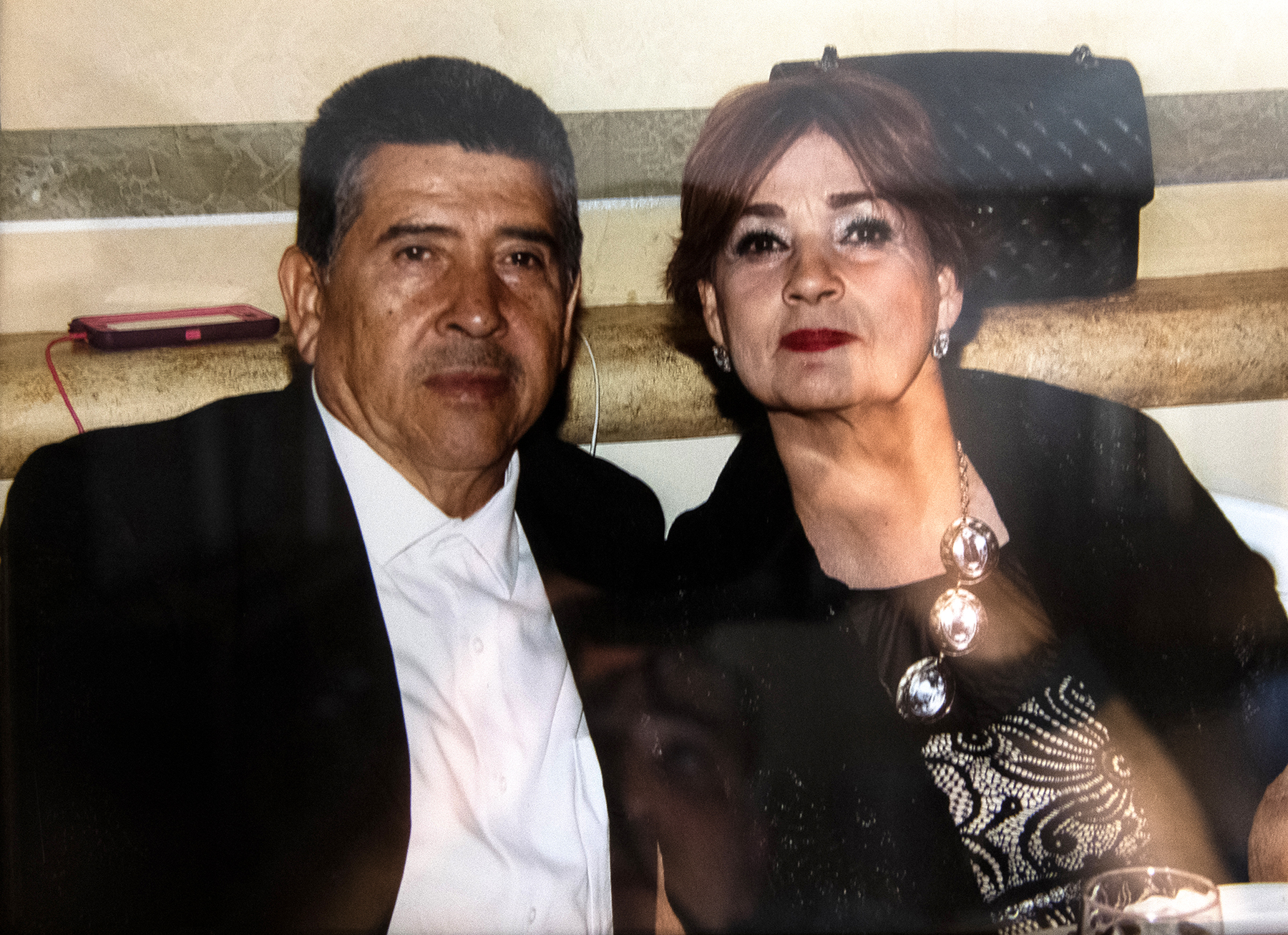 In their lives together, Rosa hopped from job to job, not wasting time anywhere she didn't seem to fit, but Manuel's employment was steady. He performed maintenance work for a man who owned apartments in the area.
Rosa and Manuel were so close to the man that, when he died, he left the couple a two-bedroom house across the street from Ramona Park in North Long Beach. Although the home was small, it was perfect for Rosa and Manuel, who did not have children. A picture of Manuel's departed boss was given a prominent place on a table under the living room window.
With no mortgage or rent, the couple could now make do on Manuel's wages alone. So Rosa, in her 50s, spent her time taking care of her husband and their home, while staying as social as ever.
Because she didn't drive, Rosa got rides or walked almost everywhere, which was easy in a neighborhood where she could visit her many friends simply by strolling down the block.
"She was a very happy woman," says Linda, "very loved."
"He needs to get some help"
On the other side of the country, life was more turbulent for Amad's family, which was grappling with ways to guide him after the bewildering levee incident.
Amad's sister Annie reached out to someone she knew in the mental health field and asked him to see Amad while the family worked out the details of longer-term treatment.
Amad knew something was wrong inside, she says. "He didn't understand what was happening to him." Still, he failed to show up for the appointment, she says.
One time, when Amad did attend a different therapy session, he swore he'd never go back. Those people were crazy, he told Annie and his mother.
As the months wore on, Amad's descent quickened, prompting more encounters with law enforcement and stays in mental health facilities.
One jarring early sign of trouble came on the night of Jan. 26, 2018, when Amad lashed out at his little sister, with whom he'd always been close—her protector, in Annie's words.
The two had been arguing over something small, a can of soda, when he allegedly hit her in the face with an open hand. Amad then went to the laundry room, returning with a 9mm handgun that he purportedly pointed at her.
Although Amad denied pointing a gun, police took him into custody after the sister showed officers the weapon. Amad was not charged in the incident.
Less than two months later, there was more trouble.
It was around 11:15 p.m. and Amad's mother heard gunshots outside her home—nonstop and getting closer. Suddenly, she realized that it was her son who was firing and she called 911.
According to a police account of the incident, Amad had been shooting wildly, with rounds hitting the closed pawn shop across the street. One bullet went through the front window, another into a drain pipe and two through some paneling. Nobody was hurt.
Officers found Amad under his house with a Smith and Wesson pistol and ammunition. Before officers took him into custody, Amad's mother told them he needed mental help. He was later released and charges inexplicably would not be filed for more than a year.
According to the family, Amad began bouncing in and out of inpatient facilities as his erratic and unpredictable behavior escalated, eventually drawing the scrutiny of his superiors in the Louisiana National Guard.
About a month after the pawn shop episode, Amad walked up to Shawn Tucker, the sales manager at a used car lot in Lafayette, and said he wanted to test drive a black Dodge Charger. Tucker told him to sit tight while he grabbed his phone from the office.
Instead, Amad took off without him—and didn't come back. At the lot, he'd left his old Jeep with its keys and some National Guard paperwork inside. Tucker managed to get Amad's sergeant on the phone, and for two days the men unsuccessfully tried to talk Amad into returning the car.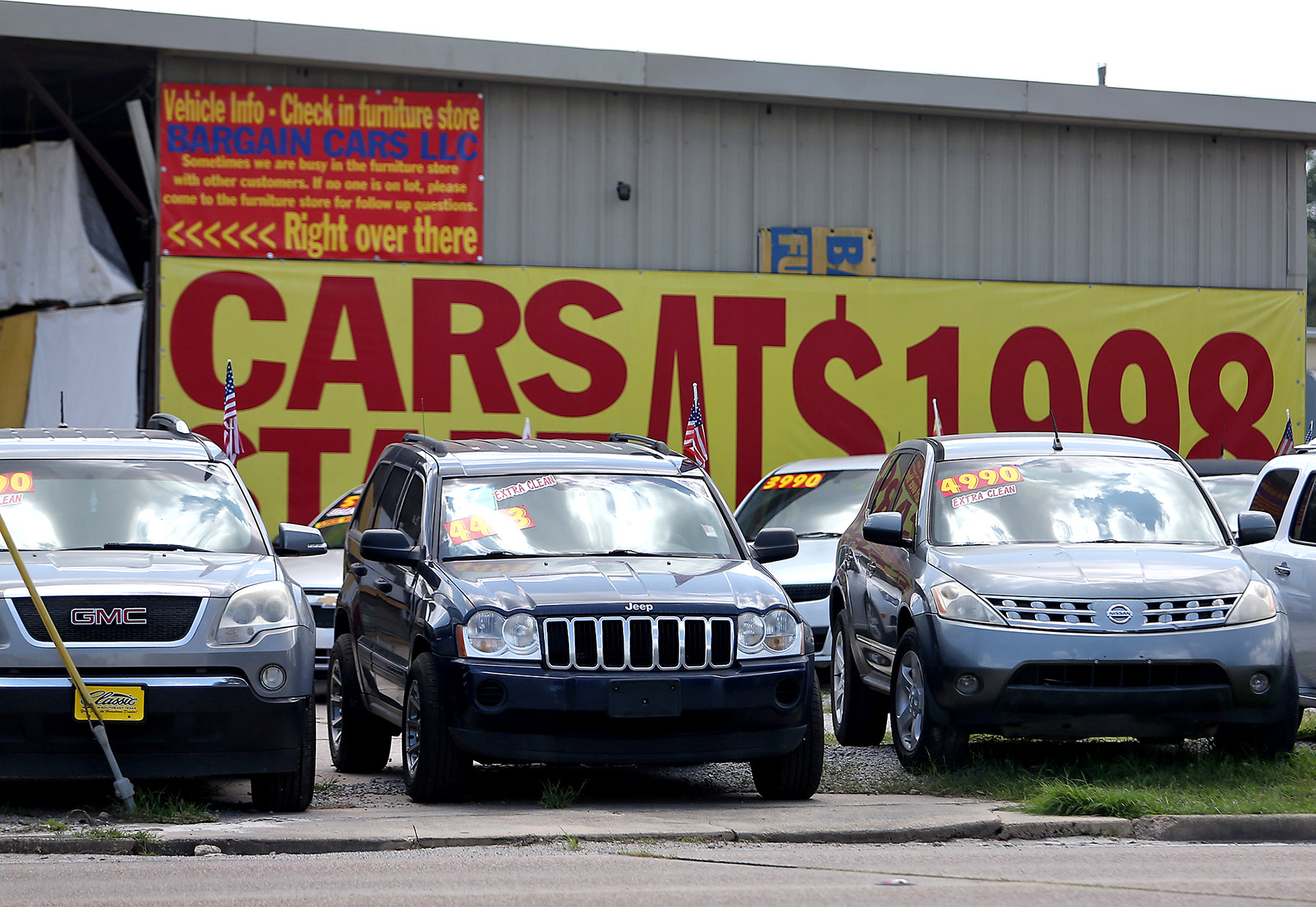 Four or five times, Amad agreed to meet Tucker at a different gas station or parking lot. Each time, Amad was a no-show. Finally, Tucker spotted him driving away from the last designated meeting spot and followed behind, calling Amad until he answered.
Tucker convinced Amad to return to the lot, where police surrounded him. Tucker told the officers he did not want to press charges. He just wanted Amad to undergo some kind of mental evaluation by the paramedics.
"Dude's just got problems," Tucker says he told the police. "He needs to get some help."
But Amad, quiet and standoffish, said he didn't want treatment from the paramedic crew and he was allowed to get into his Jeep and go, according to Tucker.
National Guard officials, meanwhile, had alerted Amad's superiors about the strange incident. It was part of a pattern of concerning behavior by Amad, says National Guard Col. Ed Bush.
Often called "weekend warriors," most members of the Guard serve part-time but can be called into action by state governors who control their operations or by the federal government in national emergencies. Monthly training drills are an important facet of keeping guard members service-ready—and Amad had been missing some of them while in police custody, according to Bush. He'd also been involved in some pushing and shoving incidents during training.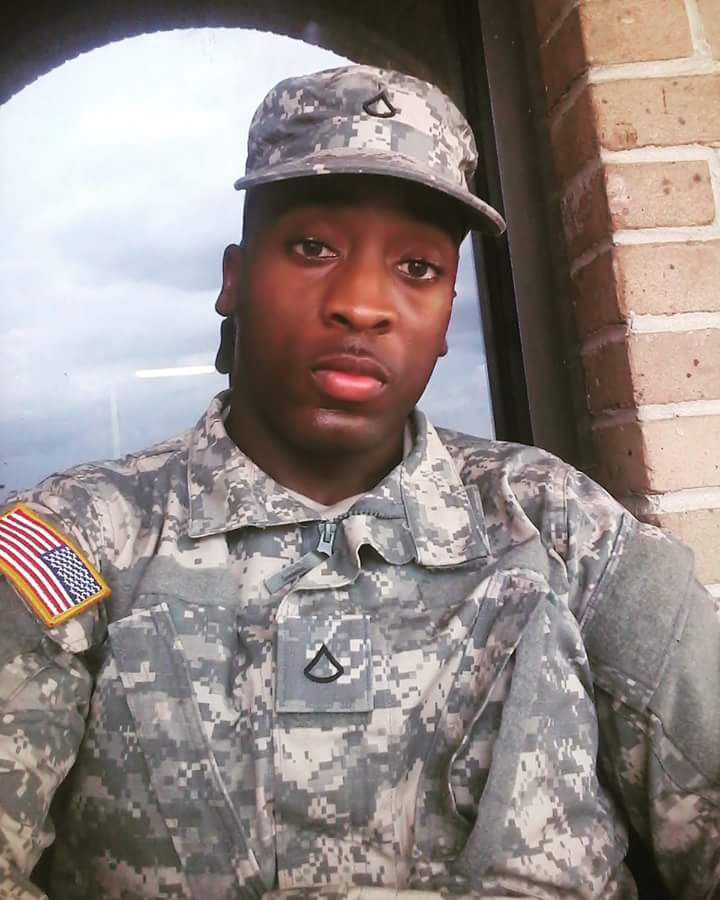 A tipping point came when Amad and his fellow guardsmen were training at Camp Shelby in Mississippi, according to a person familiar with his service records. Amad reportedly had a paranoia-induced argument with one of the soldiers.
Amad's Guard superiors decided it was time to act. They had him transported to a nearby hospital, where staff concluded that Amad's condition was so severe they petitioned a judge to have him involuntarily committed to a state mental institution.
When Amad arrived there, he was paranoid, lethargic and speaking only in vague whispers, according to a source who reviewed Amad's medical records. But within a few days, doctors wrote that the symptoms had abated. They discharged him with a diagnosis of unspecified personality and adjustment disorders. Amad was given medication to take with him but it is unclear whether he was offered continuing mental health treatment.
Despite seeing disturbing pieces of Amad's deterioration, his sisters say they did not grasp the full scope of what was happening because they still saw him acting in his old fun-loving ways.
In June last year, for example, just weeks before National Guard officials had him involuntarily sent to the mental institution, Amad attended his brother's wedding. He brought a date. He danced. He took photos with his family.
"There was nothing to warrant anyone to think that he wasn't healthy," Annie says.
But by the beginning of 2019, it would become increasingly clear that Amad's decline was no longer gradual. He seemed to be freefalling.
Cycling through jails, institutions
Amad's family home burned on the night of Jan. 21.
The damage was catastrophic, leaving mostly a charred shell. Fortunately, no one was inside. But firefighters told Amad's sister Jill that they had encountered her brother acting strangely outside.
"They said that he was trying to get back in the house," Jill recalls. "He said that he was trying to get his clothes or something else out of the house and they had to, like, try to hold him down for him to not get in the house."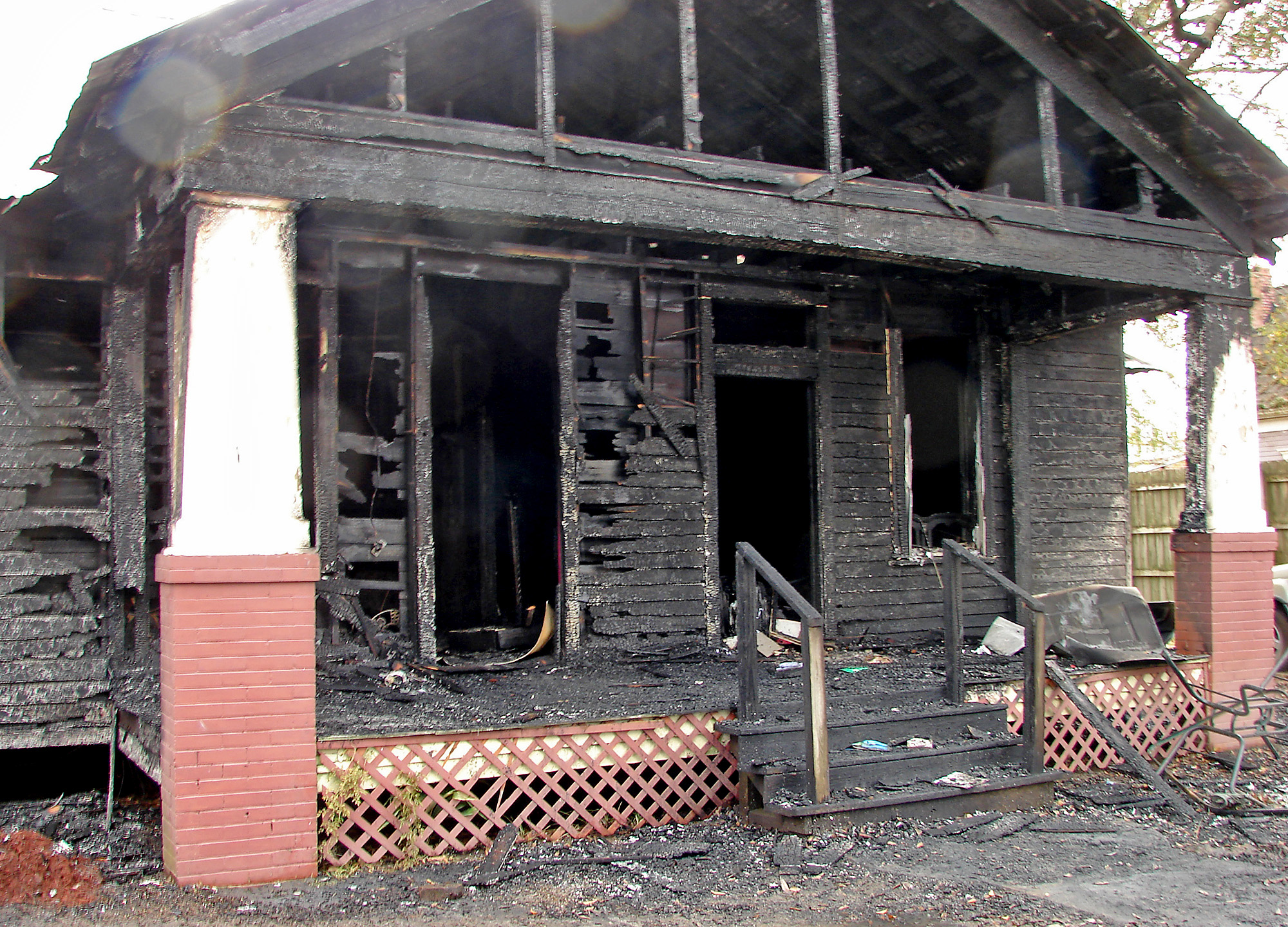 Amad reportedly also incriminated himself. He told firefighters he'd been playing with gasoline in the dining room when he poured it over his hands and caused the fire, according to an arson investigator's report.
Amad was transported to a Lafayette hospital and treated for third-degree burns on his hands. He was later transferred to a small mental facility in New Orleans, where his family hoped someone could figure out what was happening to him.
At the facility, Jill says, Amad gave her a different version of the fire's origin. He said he'd been eating at the dining room table when he was blown backward by some kind of unexplained explosion at the front of the house.
But Jill was also talking with Amad's doctors. For the first time, they told her that, among other mental health issues, they thought her brother had schizophrenia, a disease that typically takes hold in the late teens to early 30s. She says they assured her that he'd "be fine once he gets the medication in his system."
Jill wishes they'd acted more alarmed. "They didn't tell us how severe it was," she says.
What's more, any optimism that Amad was now in good hands, safely on the mend, was about to vanish. When Jill called the facility for an update, a nurse informed her he was gone.
Amad had been arrested by the State Fire Marshal's Office, which says it acted only after the facility said he was about to be discharged. Amad's family contends that he was removed from treatment prematurely, sparking a downward spiral with irreversible consequences.
"He should not have been taken from that facility," says sister Annie.
The local newspaper, which only a couple of years earlier had heralded Amad's transition from athlete to artist, was now writing about him as an alleged arsonist.
The warrant authorizing Amad's arrest was signed by a judge whom the family knew. Jill says her mom confronted the judge, telling him that he had wrecked any chance of Amad recovering. The judge declined to comment when contacted by the Long Beach Post.
Court records show that he set Amad's bail at $5,000, which was covered by a bondsman. Soon after his release, Amad tried to allay his family's concerns, telling them not to worry, that he'd gotten a hotel room so he could shower and get some sleep.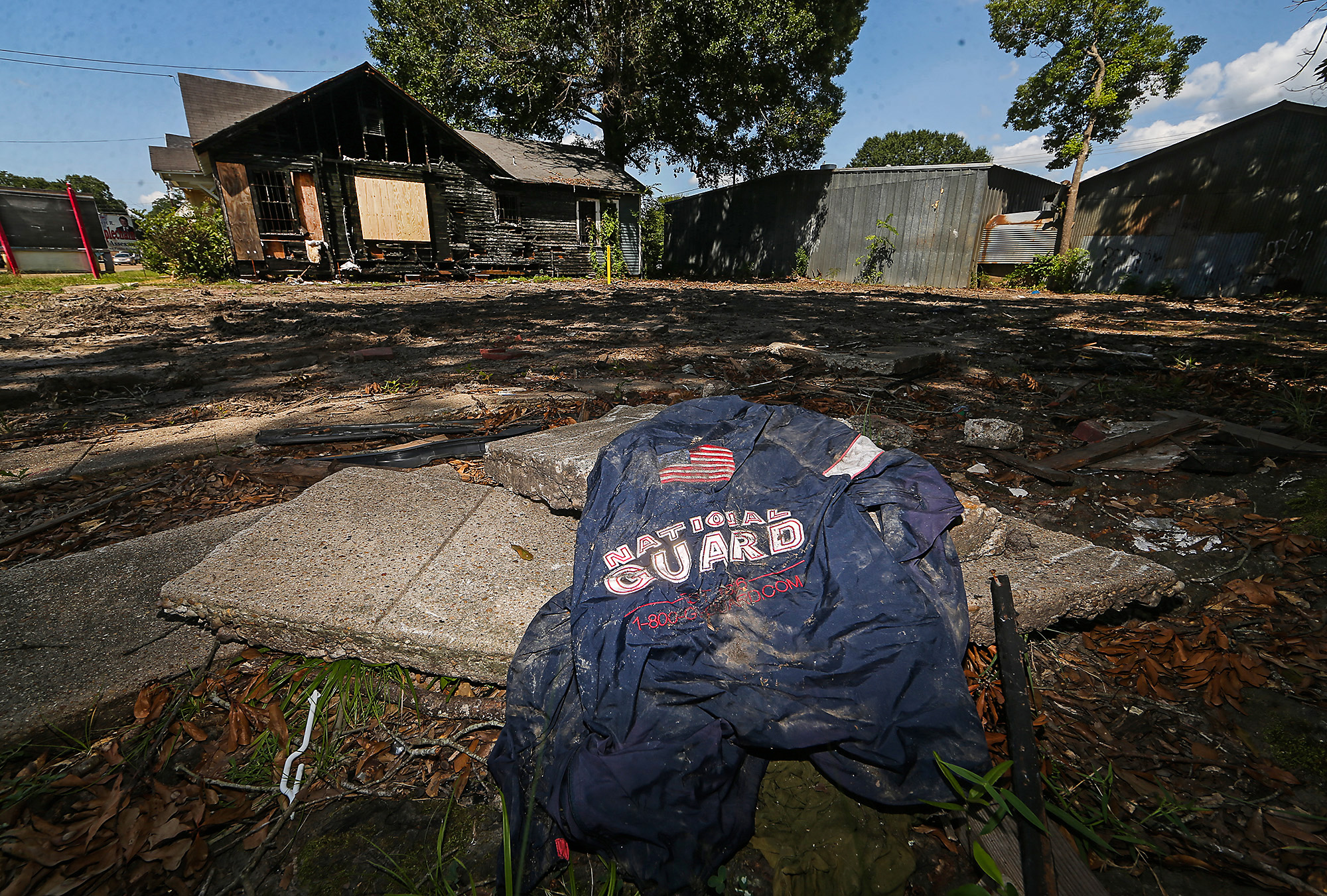 That evening, a police officer pulled into the parking lot of a strip mall at the edge of Opelousas, an area with a handful of motels. In the lot, the officer encountered a man dressed all in black.
From the Opelousas police station, Major Mark Guidry was monitoring the situation. When he heard Amad's name during the interaction, he contacted the officer and warned him that this was the same man, the accused arsonist, who'd been cut loose earlier that day.
Amad told the officer that he was "feeling violent tendencies towards himself and others," according to a police report on the encounter.
Having been free for only a matter of hours, Amad was again taken to a psychiatric facility, this one 100 miles southeast in Houma, Louisiana. He was given medication for schizophrenia and depression while staff there started trying to verify his address to determine the best place to send him next, according to law enforcement records.
But by the eighth day, Amad was apparently done waiting. The local sheriff's department says he broke a latch on a door in his room that led to the ceiling and tried to kick his way to freedom through the tiles. When deputies arrived, they found Amad holding on to the rafters and took him into custody.
Again, Amad went from a mental health facility to incarceration. He spent almost six weeks in the Terrebonne Parish lockup without ever being transferred back to a treatment center, according to sheriff's department records.
"There's no hospital to send him to," one law enforcement official quipped. "Welcome to Louisiana."
That assessment is echoed by other law enforcement employees and mental healthcare advocates in the state.
Over the past decade, two large hospitals in central and southern Louisiana closed as the state cut healthcare and higher education by hundreds of millions of dollars, according to the local affiliate of the National Alliance on Mental Illness.
"That severely limited the number of beds that people with severe mental illness can go to," says Anthony Germade, executive director of NAMI Louisiana.
On March 27, Amad was released and the criminal matter was dropped while Terrebonne county prosecutors sought more information on the damage he'd caused at the facility and whether he should potentially face misdemeanor or felony charges.
In the meantime, his worried family remained determined to help.
One of Amad's brothers, a trucker, drove to Louisiana to pick him up from jail. He planned on bringing Amad to his home in Florida so he could keep an eye on him, according to sister Annie, who intended to take over that responsibility while her brother was on the road.
But Amad had a different plan. He wanted to see his son in California.
Homeless in Long Beach
"What?" Annie remembers thinking. Could Amad really have a son he'd never mentioned? She quickly did the math in her head. Maybe he met a woman 18 months earlier during his National Guard training?
No matter; within a few days Amad was on a bus to the coast.
Family members, skeptical about his story of visiting his boy in California, kept calling him to make sure he was OK. Each time, Amad assured them all was well.
"He was like, 'I'm at an apartment just watching cartoons with my son,'" Annie recalls her brother saying.
Amad would also ask for money he'd left behind with his family—around $5,000 he saved from his National Guard wages and tax returns, according to Annie. They'd dole it out as he told them he needed it. But the cash went quickly.
First he asked for $500, then $600, then he'd call back and say he needed a new phone.
"We were sending money to him, but we were like, how is he spending this much money in a day or two?" Annie says. "In about eight days or so, we had sent him almost $4,000."
What his family didn't know was that Amad was sleeping on the sidewalk outside a gym known as The Camp in a Long Beach strip mall on Artesia Boulevard. Beyond Amad's word, there was no evidence of a young son, no carefree afternoons of cartoons.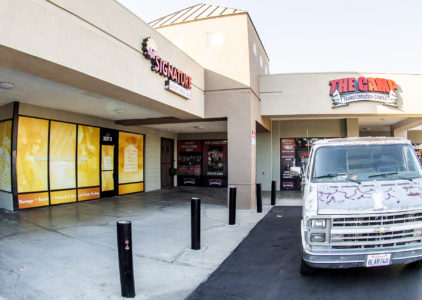 Amad had been around The Camp long enough for regulars to take notice. A few storefronts from the gym, a woman working at a check-cashing shop warned her brother to beware of the shirtless homeless man in red sneakers. Something seemed off to her.
But Marlene Bonner saw something else. Amad was around the same age as her own son, according to employees at the gym, which Bonner frequented. To her, Amad seemed too young for homelessness to be his only option, and he didn't seem to be on drugs, she would later tell police.
When Bonner asked Amad about his family, he told her his house had burned down and all he had left was his backpack.
Over the course of a week, she would tell police, the two talked for about 45 minutes. She gave him another backpack, this one full of items she thought he could use: some polo shirts, her son's old pants, hand sanitizer, a journal. She also helped him apply for an EBT card, got him a motel room and gave him some cash.
"I did what I did," she says, "because I wanted to humanize him."
But she had her limits, Bonner would later tell detectives. When Amad texted her saying he was hungry and thirsty because he'd lost the EBT card, Bonner told him he'd have to be more responsible and, this time, fend for himself.
Meanwhile, in conversations with his family, Amad continued to conceal the realities of his Long Beach street life.
On May 12—Mother's Day—Jill and Amad talked on the phone. He told her he was doing well, that he even had a job interview lined up. Jill told him she was happy for him. Good luck, she said, keep me posted.
She wanted to believe that Amad was going to be alright. "He's my little brother."
Together, a final trip home
Like every Sunday, Rosa was at church on Mother's Day. The pastor, Armando Leyva, asked her to read the congregation a Psalm. She stood and recited the passage: "We are his people, the sheep of his flock."
After the service, Leyva was busy talking with parishioners, but he made time to say hello to his special Rosita. She was one of his most devoted congregants. At almost any church event, she'd be there, donating what she could or volunteering—sometimes even holding the cup for communion.
"She was not a mother, but I always was saying, you look like a mom for all of us," Leyva says.
One of Leyva's associate pastors was supposed to meet Rosa for lunch the next day, on Monday. But he canceled after the pastor asked him to change his car's oil. Rosa, always the social one, didn't miss a beat. She arranged to meet at a friend's house for a late breakfast after getting husband Manuel off to work.
The two women chatted and ate until it was time for the friend to leave for work. She offered Rosa a lift home but Rosa turned her down. It was only five blocks, and Rosa's legs were sore. She thought stretching them might help.
A few minutes before 12:30 p.m., she started walking.
It was about 4 p.m. when Manuel got home. He was forced to take a detour to avoid yellow crime tape blocking 64th Street and Obispo Avenue, a few blocks from his house.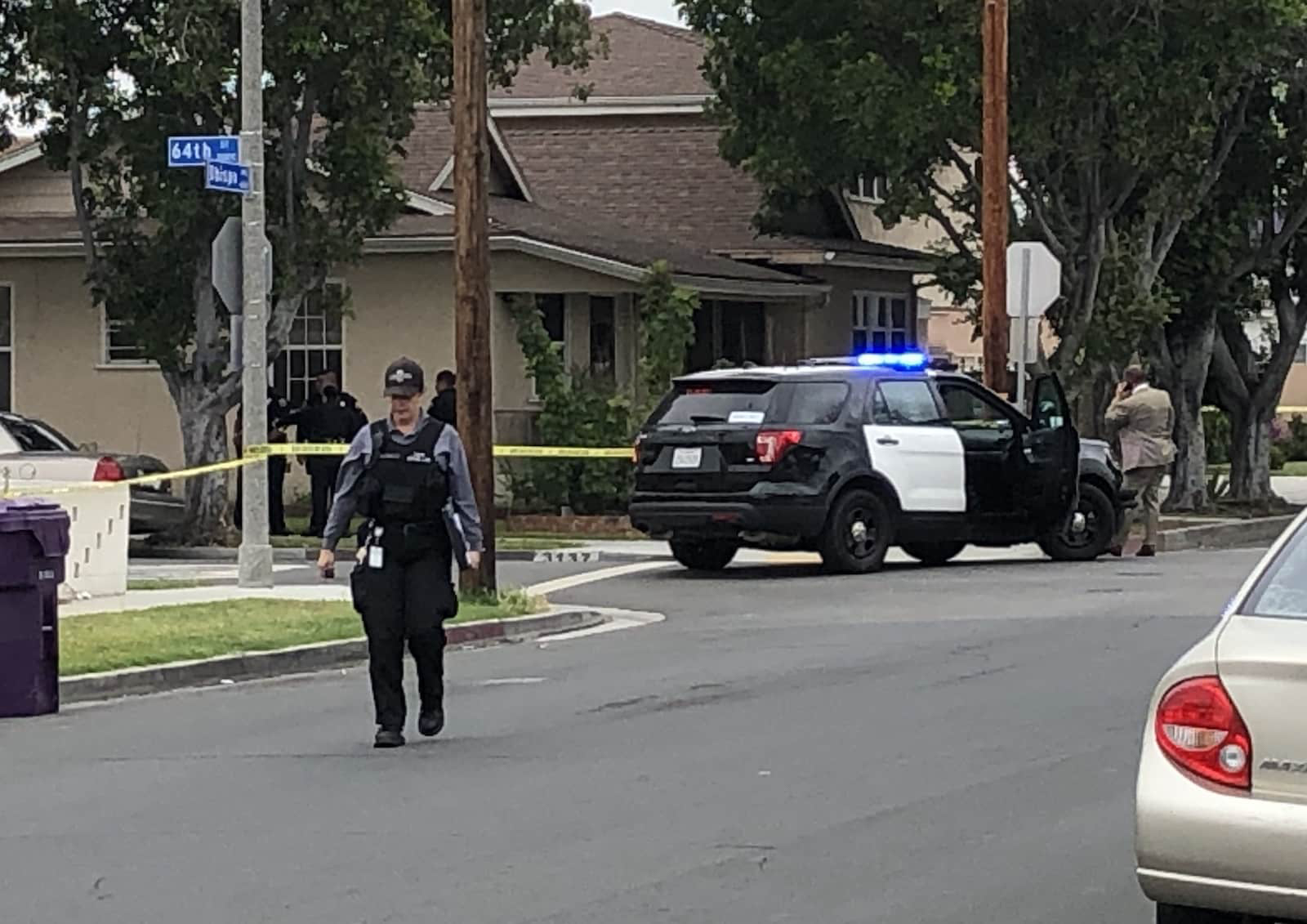 As he finished eating the lunch Rosa had prepared for him that morning, two detectives knocked on his front door. He immediately thought they were there to ask whether he'd seen whatever may have happened down the street. He waved them around to a side door, where Rosa had taped devotionals and pictures of Jesus.
Manuel was confused when their first question was about Rosa. Had he seen her? He thought that maybe there'd been a minor accident. He said he hadn't seen Rosa since the morning and didn't know where she was.
The detectives asked to come inside.
Manuel sat down on a small couch in his wood-paneled living room. The detectives sat across from him as they continued to ask about Rosa.
What was she wearing that morning? What kind of phone did she have? What about her purse?
They asked to see a photo of his wife. When he showed them one, the detectives exchanged looks. Manuel knew something was terribly wrong.
The detectives revealed that someone had killed her and that they were flooding the neighborhood with officers to find him. Before the detectives could say more, they got a call, said a quick goodbye and raced off.
Manuel still had no idea of exactly what had happened to Rosa. Dazed, he sat alone with no way of even reaching out to family in Mexico because Rosa had the couple's only phone, now in the hands of police.
Soon, news crews started massing on the sidewalk in the darkening evening and word spread throughout Rosa's network of friends. Shocked neighbors, walking past the house, talked among themselves about the nightmarish crime.
Manuel overheard someone say Rosa had been beaten to death with a scooter. He didn't ask any questions because he didn't want to hear the answers. "I was ill," he says.
Later, police told Manuel how they'd arrested the suspected killer at the Circle K convenience store, which is across the street from The Camp and three blocks from the couple's home. Nearby security cameras had captured the beating.
The next few days were the hardest, Manuel says. Friends and neighbors who saw Rosa's picture on TV started flooding his home. He says he didn't sleep for a week.
"The waiting was very hard," he says, remembering that day. "The waiting for more information, just waiting and waiting."
Rosa's injuries were extensive. It took several days for the Los Angeles County coroner to finish examining her, gathering evidence for the anticipated murder trial. The coroner said her skull had been shattered into fragments by the Bird scooter, which the killer had repeatedly swung like a sledgehammer.
A funeral home took Rosa after the autopsy. There, Manuel had to decide whether she should have an open casket.
The staff led him to a private room where Rosa was being prepared for her funeral. She was wearing a blue dress with gold trim that family friends had picked out for her at Macy's.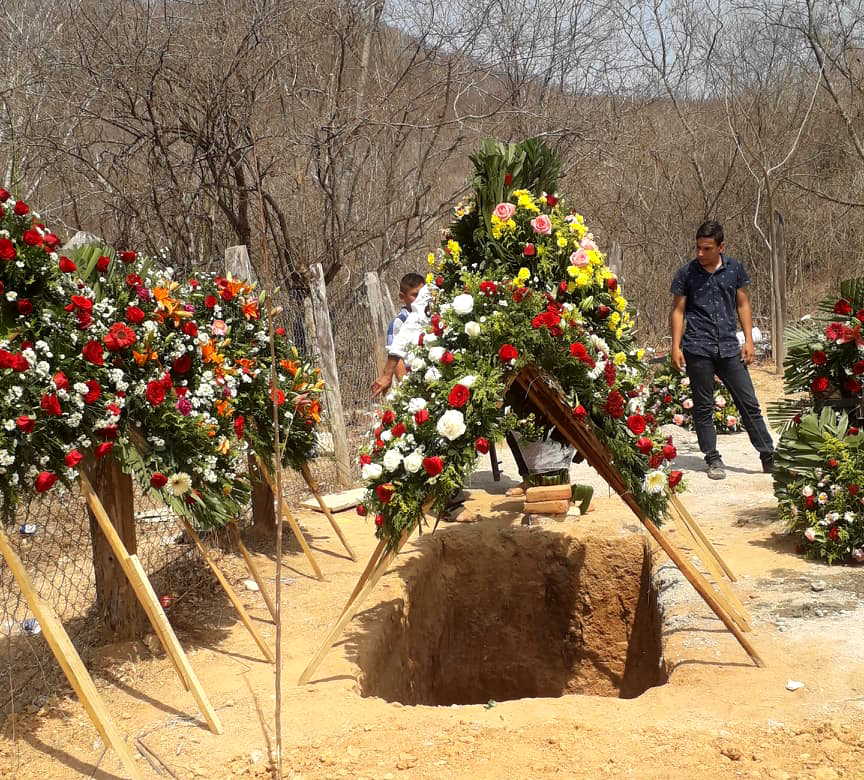 Rosa had always said she didn't want anyone seeing her in a coffin. Manuel would joke that it wouldn't be up to her because she'd be dead. But under the circumstances, he abided by her wishes.
"I saw her very destroyed," he says. He didn't want friends to see her this way.
Rosa's body was flown to Mazatlan and then transported to Campanillas for the couple's final trip home. She was taken to the house where her father had lived. The burial was scheduled for the following morning.
When the priest who was to preside over the interment was delayed, Manuel decided not to wait. The village's tiny chapel was overflowing. The assembled mourners prayed the rosary and sang for Rosa one of her favorite songs: "Eres flor, eres hermosa, eres perfumada rosa." You're a flower, you're beautiful, you're a fragrant rose.
She was then laid to rest in a small cemetery with her parents.
Lingering grief, countless what-ifs
During appearances at the Long Beach courthouse, Amad often arrives in an anti-suicide vest. His gaze is unfocused. He's motionless, slightly slumped in his chair, as his public defender pulls him through the proceedings.
Recently, when the judge asked Amad a procedural question, he stared blankly ahead, speechless. His attorney, Nikhil Ramnaney, leaned in and whispered, "Just say yes."
Over the months since Amad's arrest, Ramnaney has been tracing his client's past through medical and law enforcement records. He has come to believe that Amad was repeatedly failed, tossed in jail when he should have been given sustained mental health treatment.
"It just seems like nothing was done at all at so many junctures," Ramnaney says. "Why was there no staff, no doctor, nobody to say, 'What's the plan? What resources are available?'"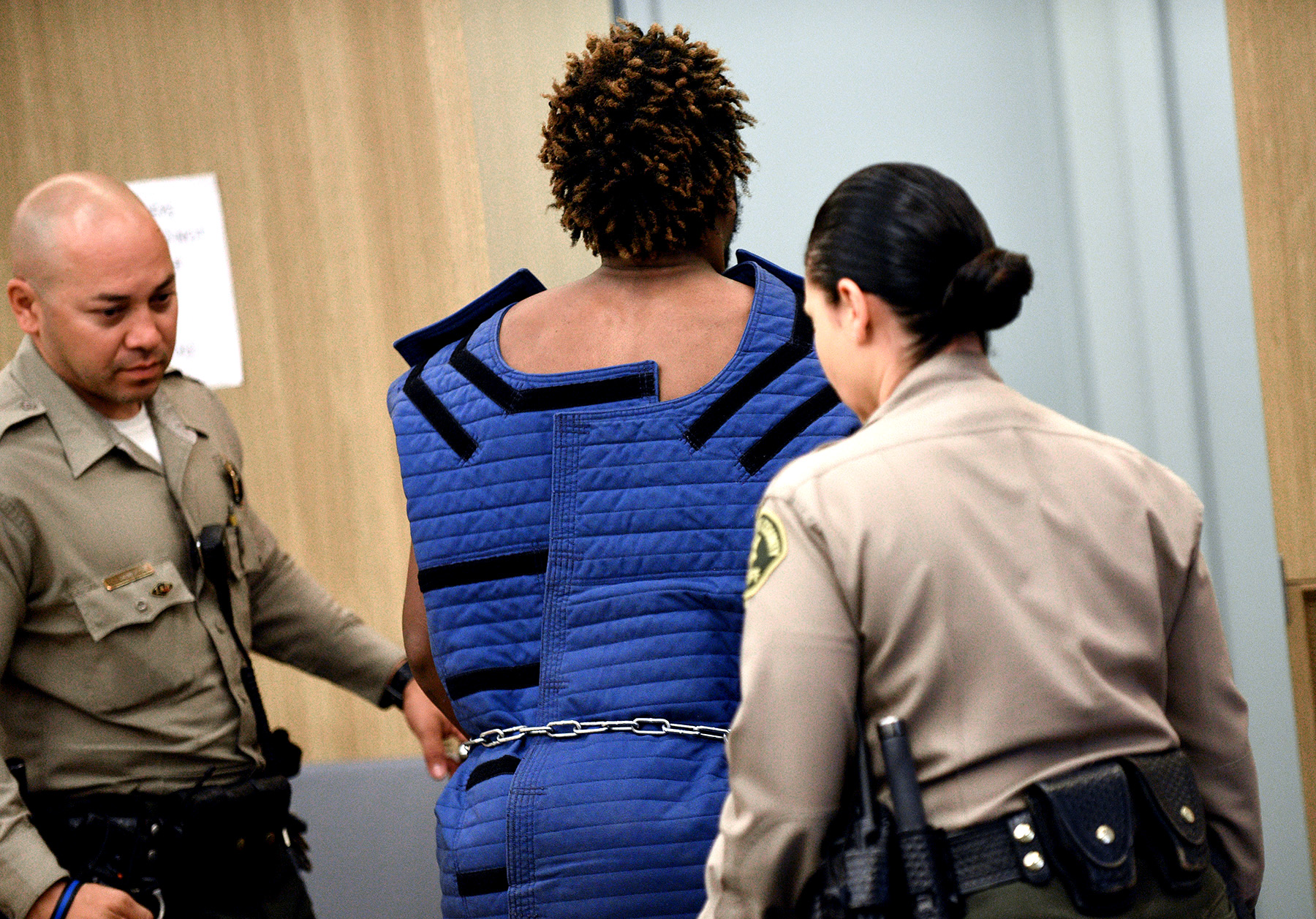 In August, Ramnaney told the court that Amad was not competent to stand trial on a charge of murder, an opinion with which the judge agreed after reviewing reports from court-appointed doctors. Amad, who has pleaded not guilty, will soon be moved from county jail, most likely to a locked mental health facility run by the state.
This time, Amad will stay until he's well enough to face a jury.
Manuel, for his part, is not closely following the legal saga.
On this particular day, months after his wife's death, Manuel is sitting at his kitchen table, tracing a finger along a photo of Rosa in a pink jacket. He touches her cheekbones, her nose, her jaw, all destroyed by the force of the scooter.
He says he forgives the man accused of inflicting all this.
"What can I say except that God forgives?"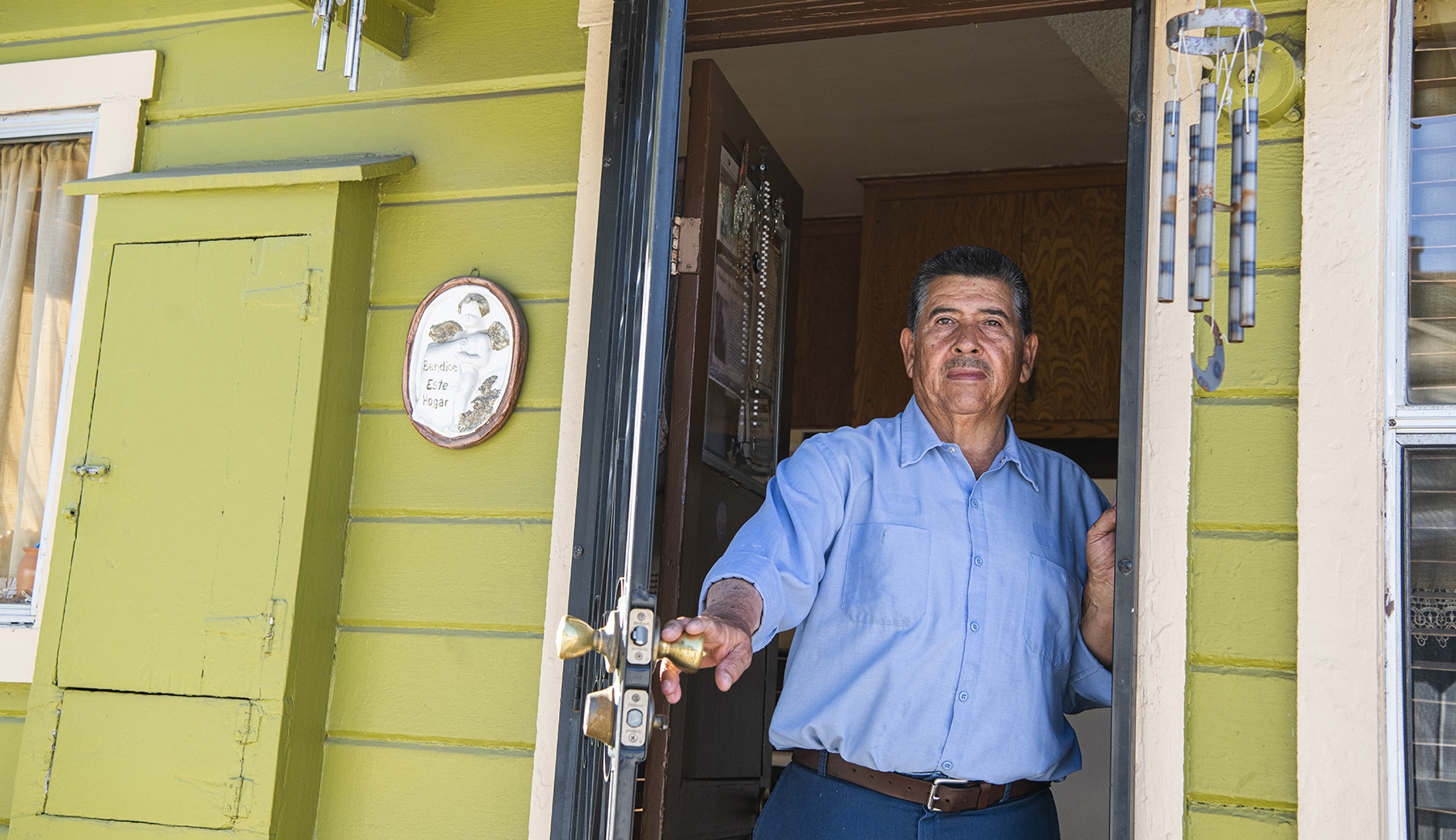 Should Amad make it back to a courtroom, Manuel has no intention of being there. He says he's afraid the devil will tempt him to take revenge if he comes face-to-face with the alleged killer.
These days, Manuel meets with a therapist once a week as he tries to cope with life alone. He's had to stop dwelling on the small, random decisions that conspired to put his wife in harm's way at that single moment in time.
What if the associate pastor had not canceled his lunch with Rosa? What if Rosa had accepted her friend's offer of a ride? What if she had simply walked one block over?
Sometimes, that's how destiny is, Manuel says. "You have to be aware that there's nothing to fix what happened."
Reporter
Jeremiah Dobruck

Project editor
Joel Sappell

Additional reporting and translation of Spanish-language interviews with Linda Lorena Lopez Manjarrez and Manuel Hernandez
Stephanie Rivera

Layout and design
Dennis Dean

Photography
Stephen Carr
Bill Alkofer
Michael Democker
Thomas R. Cordova