Opinion: The spineless dissenting five of Long Beach's City Council just made affordable housing less of a reality
"What the hell are we doing?"
These are the not-so-minced words of Councilmember Rex Richardson, who seems to be the only one who vocally and politically cares about affordable housing on a tangible level in a city, region and state rife with gentrification, displacement, homelessness and a complete lack of affordability.
"You cannot sweep the homeless issue into the seams of life: into our river beds, into our freeway onramps, into North Long Beach and the shelter," Richardson said this past Tuesday evening, blasting some of his fellow councilmembers. "You can't do that. You have to actually build capacity. We've been playing nice and I gotta tell you: the rest of the council? They're not playing nice, they're not playing fair. They're looking out for themselves. I'm proud of my residents for stepping up and building that shelter. If opening up and building that shelter didn't give us the opportunity to give the voters a chance, what the hell are we doing?"
Richardson was referring to his proposed bond measure, a $298 million affordable housing and homeless services bond that polled at 65% favorability citywide, and would have eased the creation of affordable units across the city by allowing developers to tack on local dollars to the other funds they seek to build.
In other words, it was reasonable. It was modest. And it deserved attention.
Immediately called to "receive and file"—meaning a complete dismissal of Richardson's proposal to allow the voting public to decide on the bond—and going through a substitute and substitute-substitute motion, the council ultimately decided, 5-4, to just continue directing staff to find state and federal funds for more housing. They already do that, actually, with or without a directive from the council.
So the five that voted against getting the bond directly on the ballot, led by Suzie Price and followed by Stacy Mungo, Daryl Supernaw, Al Austin and, in a direct slap to his own district and in contradiction to his own words, Vice Mayor Dee Andrews, who originally signed onto the agenda item, now are busy coming up with excuses.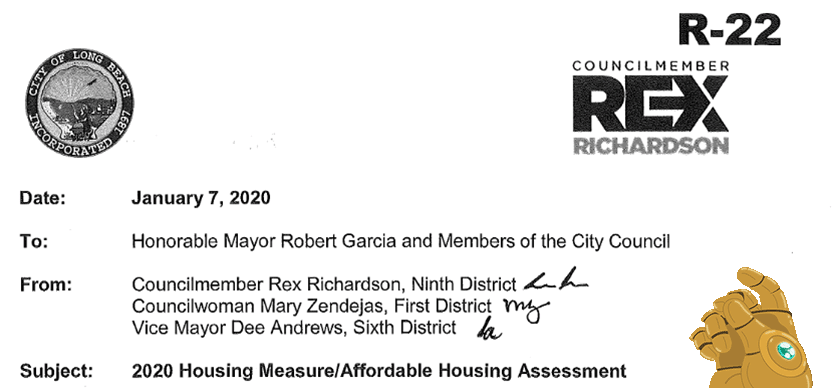 The main excuse is that they just don't trust the numbers and we haven't had a bond in 50-some-odd years and we can't add any further burden to homeowners, even if it's about $7 a month on their taxes. (Fun fact: renters pay property taxes as well—and they pay it through their rent, which landlords use to pay taxes. Stop acting as if single-family homeowners are the sole contributor to property taxes.)
But what about the numbers? Richardson saw this coming, so he introduced another motion that would direct city staff to look into the viability of a bond, returning the numbers, and…
"NO."
That was the answer from the Dissenting Five, so let's stop playing like they actually care about the state of housing in this city and this region and this state. This isn't about a tax being imposed on overwhelmed property owners and them hating it. Even in the most conservative of districts, Richardson's data showed the bond had a 65% favorability rating. Andrews' district has an 85% approval rating, according to Richardson's data.
This isn't about the city not having had a bond in decades or about the numbers.
Just like the mental illness facility that got shoved out of the Fourth District and into the Sixth District...
Just like the homeless shelter that was placed in North Long Beach because its residents care while the rest of city wanted to keep "shoving the homeless into the beds of our rivers…"
This is exactly what Richardson said: councilmembers fending solely for themselves and ignoring the dire need for low-income and affordable housing as well as better access to housing that isn't under the thumb of slumlords.
This is about being anti-poor, anti-housing, and anti-change. It's also about being anti-human. And you wonder, as a council, why the state wants to take away local control of housing? It's because of precisely this. You absolutely refuse to build it, especially for those that need it most.
The housing crisis could not be more clear. It has been covered over and over. And over. And over.
Pathetic.
But rest assured, I am sure this isn't the last you'll hear of Richardson proposing this—he'll just have to go around council.
Editor's note: This article was updated to correct the spelling of Stacy Mungo's name.
Brian Addison is a columnist and editor for the Long Beach Post. Reach him at [email protected] or on social media at Facebook, Twitter, Instagram, and LinkedIn.
Support our journalism.
Hyperlocal news is an essential force in our democracy, but it costs money to keep an organization like this one alive, and we can't rely on advertiser support alone. That's why we're asking readers like you to support our independent, fact-based journalism. We know you like it—that's why you're here. Help us keep hyperlocal news alive in Long Beach.