California will meet its 2030 emission goals—in 2061
Echoing a report late last year from the state's California Air Resources Board, a newly-released report that shows the state will not meet its 2030 emissions goals until 2061 and will not meet its 2050 goals until 2157, a 31-year and a 107-year delay.
The 2019 California Green Innovation Index, research from nonprofit and nonpartisan organization Next 10, presents a dire picture that vilifies the individual car.
"The transportation sector alone represents 41% of California's statewide emissions—a percentage that has been increasing the last few years," said F. Noel Perry, founder of Next 10. "Vehicle ownership has hit an all-time high and even in climate-conscious California, consumer preferences for SUVs and larger vehicles are adding to the challenges."
Passenger vehicles account for 68% of that transportation pollution—or 28% of all statewide emissions.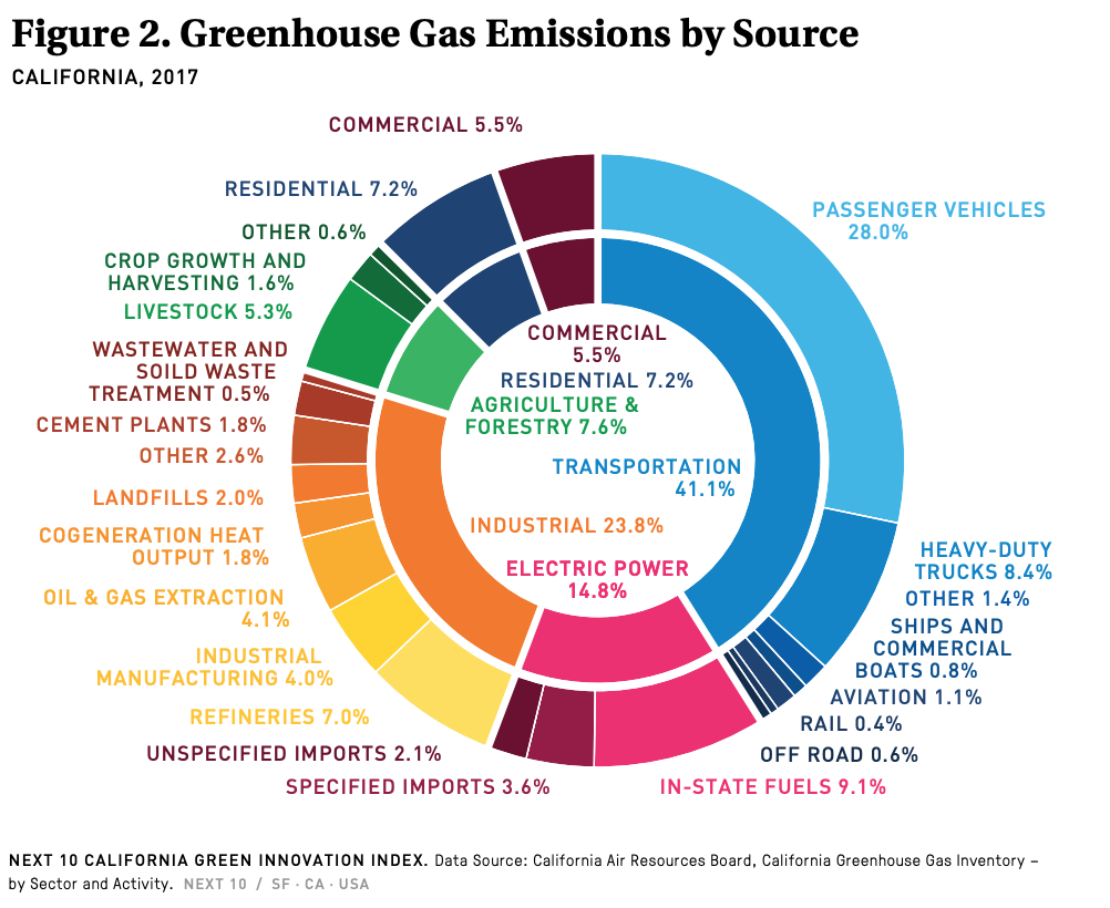 Those 2020 goals were launched at a time when legislators passed an aggressive suite of bills seeking to reduce carbon emissions. The 1990s produced scientifically backed data showing pollution was altering the climate and threatening the livability of the planet.
While much has been said about making cars cleaner and more efficient, very little has been said about why people drive so much or for such great distances on such a regular basis. With a severe housing decrease—particularly affordable housing in transit-rich areas—those displaced from urban centers have become much more likely to buy a vehicle to get to and from work.
This, in turn, brought a second wave of aggressive legislation that focused on creating housing near transit, what is called transit-oriented housing, in order to meet a new slew of climate change goals. The state has pledged to reduce its greenhouse gas emissions to 40 percent below 1990 levels by 2030. In addition, over the past decade, it created a first-of-its-kind law such as SB 375, the Sustainable Communities and Climate Protection Act of 2008.
But what about those lofty goals for 2030?
As both the research from Next 10 and California Air Resources Board tells us, you can pretty much book it that they will not be met the same way the 2020 goals were. Why? Because the 2020 goals mainly dealt with improvements to the electrical grid and commercial freight transit. The 2030 guidelines deal with the great white whale of California emissions: the private automobile.
The numbers speak for themselves. While accounting for 28% of all statewide emissions, the use of the private automobile over more sustainable forms of transportation has increased.
In Los Angeles, a person who uses public transit solely or in conjunction with walking or biking the "last mile" is responsible for eight to 21 times less greenhouse gases than those who drive alone.
Total vehicles registered and vehicle miles traveled (VMT) have reached record highs, with the number of vehicles registered increasing 1.2% from 2016 to 31 million in 2017, and VMT increasing 1.1% to 343.9 billion miles over the same period.
VMT per capita increased 0.5%.
Emissions from surface transportation have increased each year since 2013.
The vehicle ownership rate is increasing faster than ever, reaching 80.6 vehicles per 100 persons in 2018. Zero-emissions vehicles and hybrids accounted for about four vehicles per 100 persons.
Public transit ridership continues to decline throughout the state. Of California's 26 metros, only five recorded significantly higher total unlinked passenger trips (UPTs, or trips on one transit vehicle, not including connections) in 2018 over 2017. The Los Angeles-Long Beach-Anaheim metro saw a 3.3% decrease in its pubic transit ridership, one of the steepest falls of any metro.
Public transit ridership per capita declined substantially throughout most of California between 2008 and 2018, from a decrease of 8.9% in San Francisco to 34.3% in Fresno. On the other hand, ridership declined only 4% in the New York metro area and remained flat in the Seattle metro area.
"The transportation sector, particularly the light-duty passenger vehicle sub-sector, is one of the largest sources of greenhouse gas emissions in California," Perry said. "For most Californians, cars are the default mode of travel.  Unfortunately, public transit ridership continues its downward trend throughout California."
In other words, we need to foster healthier transportation options. This, however, is tricky because fostering those options is intimately linked with one's housing and job.
So what do we do?
When it comes to the legislative and information structure of our state, things get murky—and that's largely because departments and organizations work in silos.
For example, the California Air Resources Board and the California Transportation Commission, which have existed more than 50 and 40 years respectively, met for the first time in a historic meeting last year, echoing the disconnect between powers in the state that control climate and transportation policies. And those same entities are now
Mending the disconnect between powers-that-be is key: Cooperation and collaboration will be essential if we are even attempting to achieve our climate goals. In all frankness, the state should create a new inter-agency group made up of state, regional, and local officials to home in on how to connect these moving parts toward success.
But let's be blunt here, folks: culture cannot be legislated. No inter-agency group will be able to unilaterally alter our culture. They may help or influence, but they will not magically turn around our very self-centric habits that revolve around comfort, ease and an eight-speaker sound system. They will not magically make everyone cheer on a Bus Only lane being installed on a freeway instead of the anger that is broadcast when another lane for cars isn't created. (PSA: More lanes don't fix traffic.)
I can guarantee you that when your livelihood is threatened not because of a law but because you can't get from Point A to Point B, maybe then—when it's way too late, when the cost of driving is way beyond your means—you will have wished we put in that mass transit lane on the 710 expansion instead of adding another car lane.
Brian Addison is a columnist and editor for the Long Beach Post. Reach him at [email protected] or on social media at Facebook, Twitter, Instagram, and LinkedIn.
Support our journalism.
Hyperlocal news is an essential force in our democracy, but it costs money to keep an organization like this one alive, and we can't rely on advertiser support alone. That's why we're asking readers like you to support our independent, fact-based journalism. We know you like it—that's why you're here. Help us keep hyperlocal news alive in Long Beach.