What the City's inclusionary ordinance—essential for easing affordability in housing—could look like
The Californian housing crisis has been one of the decade's most dire issues, prompting skyrocketing living costs that have spurred displacement and homelessness to rare levels—and one of the many ways cities are combating the detrimental effects of the crisis is through inclusionary policies that require developers, on some level, to include affordable units in their developments.
The City of Long Beach has been looking into an ordinance for over two years, with the council instructing city staff to look into an ordinance in May of 2017. Now, city documents show that a final study session with the Planning Commission in August will precede a formal review from both the Planning Commission and City Council, where it will likely undergo severe scrutiny before being handed off.
How the study analyzed a potential ordinance
In a commissioned study led by contractors LeSar Development Consultants and Estolano LeSar Perez Advisors (with sub-consultants Keyser Marston Associates and The Robert Group), 64 other cities in California with inclusionary ordinances were examined as well as various laws regulating such policies.
For example, the California Building Industry Association sued the City of San Jose in 2015. San Jose's inclusionary ordinance includes a common "in-lieu fee" where, if a developer decides they do not want to include affordable units in their development, they instead pay a fee that typically goes toward a public housing fund. The association felt that this was "confiscatory," meaning they were not being deprived of a fair and reasonable return on their investment. The court ruled in the favor of the city: Inclusionary ordinances are a planning tool and are well within a city's zoning power.
This was one of many laws and examples used to bring the study to Long Beach with as specific analysis as possible: We have not met our housing needs according to our state-mandated Regional Housing Needs Assessment that our city must submit every eight years. This, in turn, has created two problems: overcrowding (due to a lack of development) and increased rent (due to an increased demand, housing costs have skyrocketed).
For example, of the 7,048 affordable units needed to be built in Long Beach between 2013 and 2021 according to our assessment, only 1,650 building permits have been issued as of December 2017. That means 77% of the affordable housing we said we _have_ to build by 2021 hasn't even had a permit issued.
What an inclusionary ordinance could look like in Long Beach
The vast majority of development over the past two decades has been in Downtown Long Beach and Central Long Beach, named "Midtown" in city documents regarding the ordinance. This area, dubbed "Submarket #1" was separated from the rest of the city, dubbed "Submarket #2."
Given the two distinctions between each market, they were each given different analyses after a definition for households—Very Low Income, Low Income, and Moderate Income—was determined.
For Submarket #1, the following conditions were created in terms of what percentage of what type of affordable unit is recommended for developers of future projects: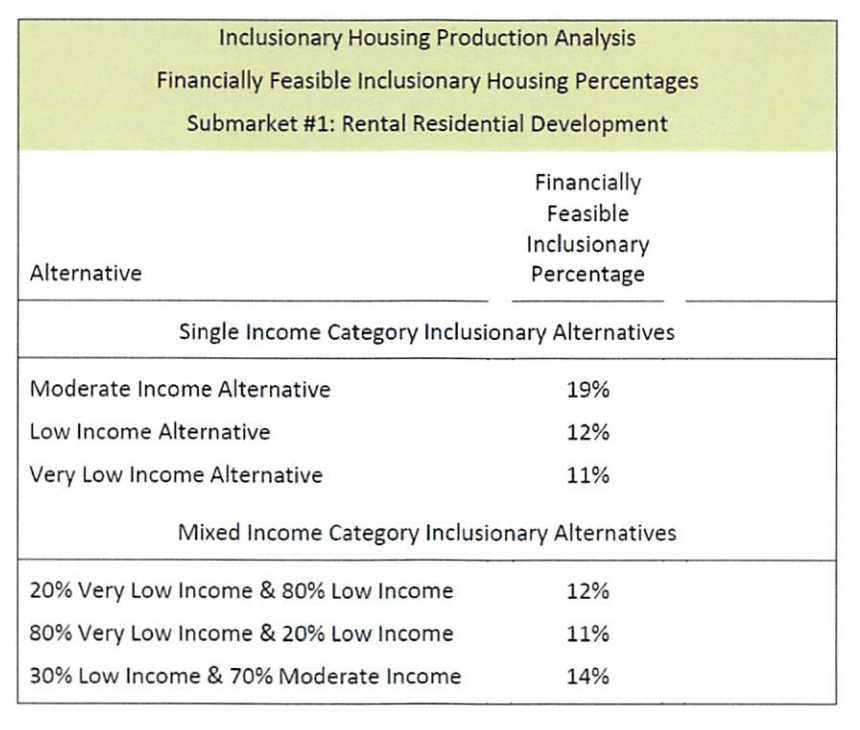 Should the developer wish to opt out of including affordable units in their development in Downtown or Midtown, they would have to pay an "in-lieu fee," which the study concluded should follow the following numbers:

The study's analysis of Submarket #2, largely the most suburban and less dense areas of the city, was relegated to density bonuses that provide developers incentives to go more dense with their projects and inclusionary requirements.
The following conditions were created in terms of what percentage of what type of affordable unit is recommended for developers of future projects in Submarket #2: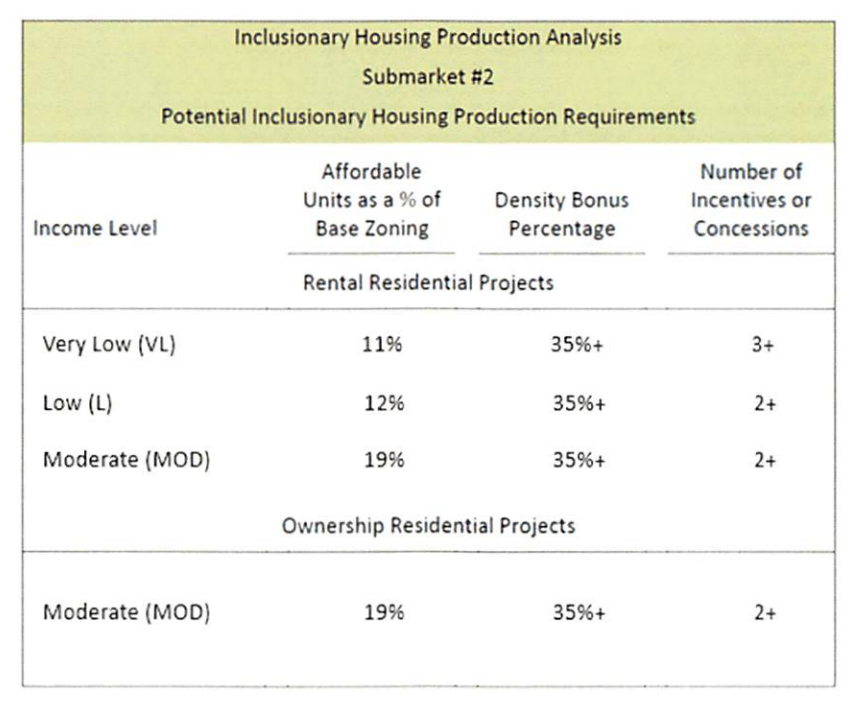 In terms of density bonuses in Submarket #2, the following numbers are being recommended: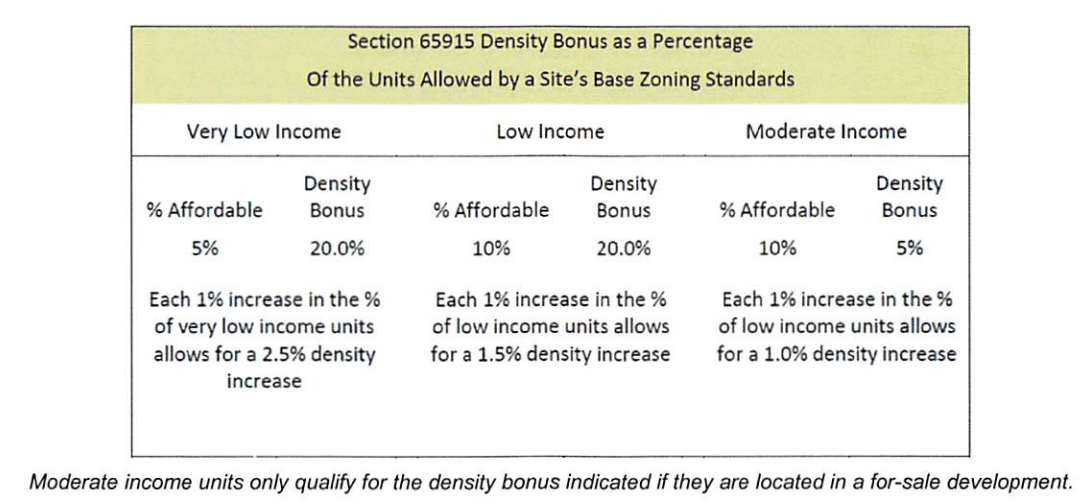 Is there more to the ordinance or is this it?
Many other options were listed as potential add-ons to the final ordinance.
A threshold project size which would allow smaller developments, typically between three and 10 units, to be exempt
Covenant periods of 55 years for rental units and 45 years for owned unit
Homebuyer loans for owned units that help those attempting to achieve ownership status by keeping sales price in conjunction with ordinance
Land Dedication clauses that permit the city the to barter with developers to fill in financial gaps for affordable units
Programming procedures that assure the inclusionary ordinance is examined every five years
So what's next?
It is anticipated that this study will face the Planning Commission in August, followed by a sanction of the study by the commission to push it toward Council, which will then review the study likely in September.
Brian Addison is a columnist and editor for the Long Beach Post. Reach him at [email protected] or on social media at Facebook, Twitter, Instagram, and LinkedIn.
Support our journalism.
Hyperlocal news is an essential force in our democracy, but it costs money to keep an organization like this one alive, and we can't rely on advertiser support alone. That's why we're asking readers like you to support our independent, fact-based journalism. We know you like it—that's why you're here. Help us keep hyperlocal news alive in Long Beach.