After public call-out, Metro re-names 'Line A' to the 'A Line' to match SoCal lingo
At first, Metro was doubling down on dubbing the light rail "Line A" after an Instagram user noted that the phrasing seemed out of touch with SoCal speak: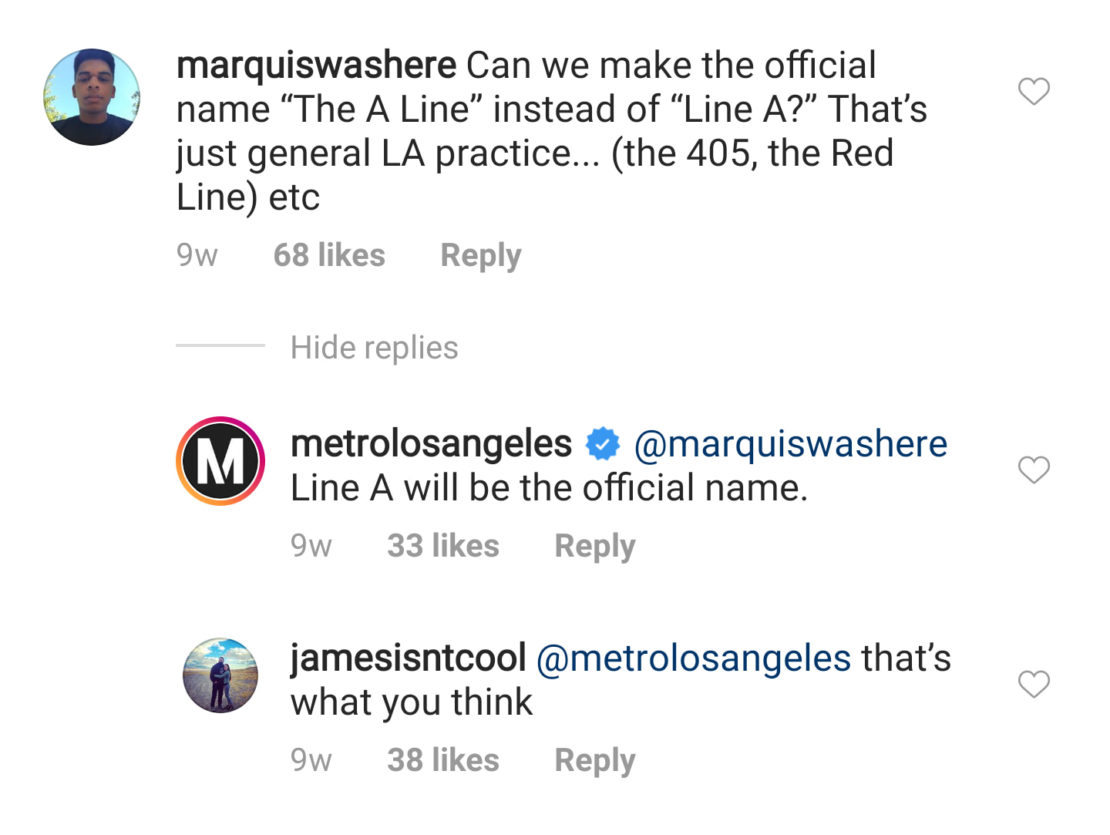 Turns out @jamesisntcool was prophetic: That is what they thought—and now, per Metro spokesman Rick Jager, "It will be called the A Line."
What this means is that the signs that have already been posted along the southern stretch of the Blue Line reading "Line A" will now have to be changed.
"Some of the feedback that we got was that 'Line A' and 'Line B' and 'Line C' was not as intuitive to our riders as saying 'the A Line' or 'the B Line,'" Chief Communications Officer Yvette Rapose told LAist. "And so as we moved forward with the rolling out of this new naming convention, we made a strategic decision to move to 'A Line,' 'B Line,' 'C Line.'"
So, when all is said is done, come later this month, when the Blue Line re-opens, it will be called "the A Line" by the wonderfully familiar announcer whose voice is projected out of the speakers on Metro light rails. But rest assured: Most will likely always call it the Blue Line.
For an updated map of Metro's light rail lines, click here.
Brian Addison is a columnist and editor for the Long Beach Post. Reach him at [email protected] or on social media at Facebook, Twitter, Instagram, and LinkedIn.
Support our journalism.
Hyperlocal news is an essential force in our democracy, but it costs money to keep an organization like this one alive, and we can't rely on advertiser support alone. That's why we're asking readers like you to support our independent, fact-based journalism. We know you like it—that's why you're here. Help us keep hyperlocal news alive in Long Beach.