There are 83 acres of parking lots in Downtown Long Beach alone. That could be over 12,000 housing units.
The connection between the Almighty Individual Car and everything from traffic to pollution has been well-documented and, even among the most ardent and stubborn of drivers, generally accepted as true. People know we should be investing in mass transit but, frankly put, they just don't want to give up their cars. Period.
And even amid the cognitive dissonance—the circular argument "There isn't good enough public transit so I have to take my car and I don't want to vote for policies that create good public transit because that hinders my ability to use my car more efficiently"—people generally know cars aren't good for the planet and aren't good in the long run.
The other thing, generally speaking, is I firmly believe most people know is that we're in a housing crisis. And, again, while there is certainly some cognitive dissonance—"I can't believe how expensive it is getting around here but don't build any more housing near my home!"—people have accepted that we're in a housing crunch.
But the intimate connection between parking and housing costs is one that is quickly dismissed by most Southern Californians, especially those here in Long Beach. The first question or thing to be pointed out in a piece about any housing development is: "How much parking is there?"
Of course, there is an inherent conundrum there: Parking is particularly costly for developers because land values are one the biggest drivers of development costs, aside from construction and financing—and those costs are directly driven by parking minimums, a legal requirement that developers attach a certain amount of parking to every unit they build. According to the Council of Infill Builders, one parking space per unit increases costs by approximately 12.5%, while two parking spaces can increase costs by up to 25%.
What this uptick in cost ultimately does is push developers toward market-rate construction in order to offset the cost. In other words: Attaching parking to housing is the perfect recipe for increasing housing costs.
And while I've been writing about it for years and years, perhaps visuals and direct numbers would be more helpful in showcasing the issue. Like this:
Begin to really process that. Over a tenth of our incorporated land is dedicated to parking your private property.
Or this: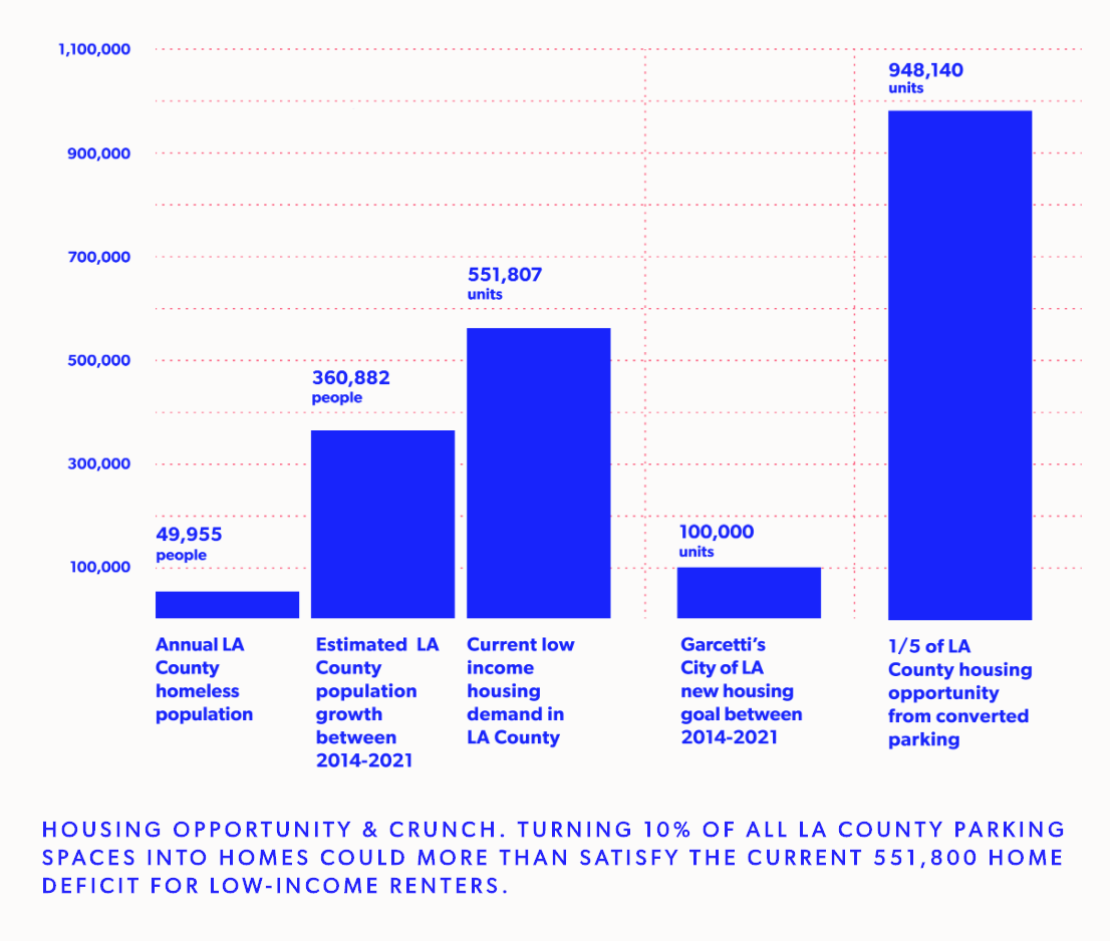 This is the work of Josh Vredevoogd—and Vredevoogd is not a journalist but a designer and data collector. And through his website, No Parking Here, has stirred a conversation through visually-driven points about Los Angeles County's housing crisis and its intimate connection to parking.
"A while ago I started a design exercise on the domain, trying to communicate the large negative externalities caused by parking minimums in Los Angeles, especially considering the enormous climate, housing, and transportation challenges facing the city," Vredevoogd said. "Parking is obviously a hot subject, but it feels like most of the dialogue is around how hard it is to park instead about how we have way too much of it. This, of course, just reinforces the fact the car storage (and use) can never geometrically or financially scale with a dense walkable city."
Through his collection of various data points, for example, he notes that Downtown Long Beach is home to some 83 acres of surface lots. And while many of those are set to become housing of some sort, if we allotted them to housing right now, Long Beach could provide 12,524 potential units by Vredevoogd's estimates.
Union Station's array of surface lots? 16,654 potential units.
Dodger Stadium? Originally land set aside for low-income housing, its massive parking crater could be home to over 21,000 places for people to have a roof over their head.
In Vredevoogd's eyes, his visual exercise is to push lawmakers across the county to begin the process of abolishing parking minimums. Mexico City did it two years ago. Buffalo, New York became the first U.S. city to do so.
Until the Los Angeles region catches up, there is simply no way housing can maintain even a fragment of affordability.
Brian Addison is a columnist and editor for the Long Beach Post. Reach him at [email protected] or on social media at Facebook, Twitter, Instagram, and LinkedIn.
Support our journalism.
Hyperlocal news is an essential force in our democracy, but it costs money to keep an organization like this one alive, and we can't rely on advertiser support alone. That's why we're asking readers like you to support our independent, fact-based journalism. We know you like it—that's why you're here. Help us keep hyperlocal news alive in Long Beach.