Long Beach named among Top 50 most bike friendly cities in nation
While Los Angeles barely squeaked into the Top 150 this year—its score dropping from a stellar 2.6 last year to 1.7 this year—Long Beach saw itself climb extraordinarily from out of the Top 150 in 2018 and into the Top 50 most bike friendly cities in 2019 according to national nonprofit and advocacy coalition People for Bikes.
Using both national data as well as data the nonprofit collects annually through its community surveys and city snapshots that review and research infrastructure and policies within a given city, cities are ranked across five measurements:
Ridership: This score reflects "how many people in the community ride bikes. It considers biking for both recreational biking and biking for transportation."
Safety: This measurement considers fatalities and injuries of people on bikes, due to both car collisions and dangerous road conditions, as well as those walking and driving. Additionally, "perceptions of safety," that is, a general consensus about whether or not people ride a bike because of perceived safety or a lack thereof.
Network: This score evaluates "the quality of the bike network: how completely it connects people to each other and local destinations using comfortable routes."
Reach: This area of analysis determines "how well a community's low-stress network serves all members of the community. It uses demographic data to understand differences in access and connectivity for traditionally underserved populations compared to the whole city."
Acceleration: One of the most important scorers, this section "assesses how quickly a community is improving its biking infrastructure and how successful its encouragement programs are at getting people to ride."
That last scorer, Acceleration, is the main reason Los Angeles fell so far behind and why Long Beach stealthily moved ahead.
While Los Angeles has been killing bike infrastructure growth due to an increasingly combatant driver coalition, Long Beach has expanded its biking network significantly over the past five years: Separating pedestrians from the Beach Bike Path, expanding connections along Third Street and Broadway, and increasing bike paths in East Long Beach have all contributed to one of the highest Acceleration scores in the country.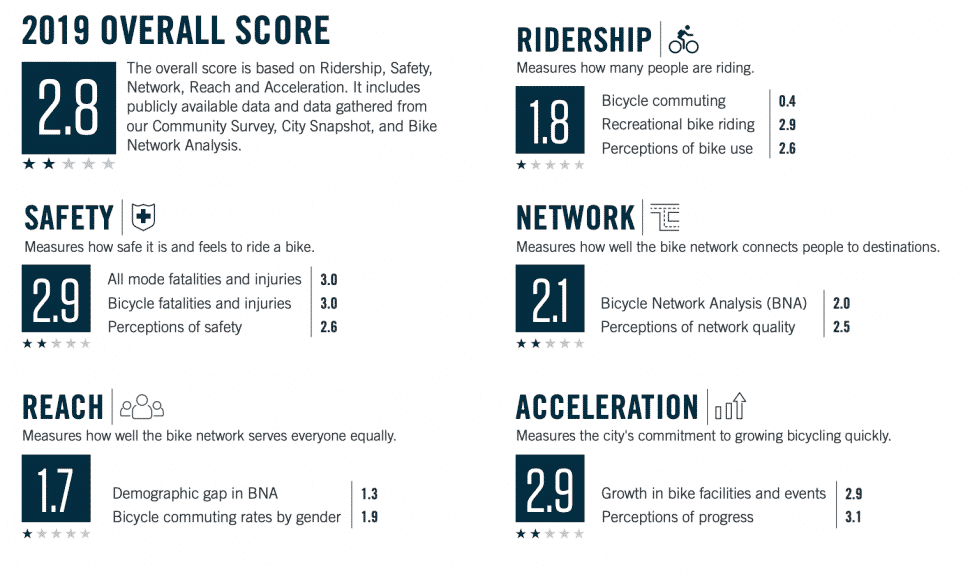 However, our Reach and Ridership levels continue to remain stagnant. We were told last year that these were our two weakest areas and they remain so.
While I have long discussed how West and North Long Beach are essentially deprived of any safe bicycling or walking routes—a particularly dangerous aspect for our youth since LBUSD halted its busing system, prompting a significant increase in biking, walking, and transit use among students—the crux of getting people to ride their bikes in Long Beach outside of recreation is an entirely different, more complex matter.
Long Beach is the city of inverses when it comes to employment: Most people who work here don't live here and most people who live here don't work here, making commuting by bike (and even mass transit, unless you work in Downtown Los Angeles) difficult.
Cities in California that ranked higher than Long Beach included Santa Barbara, Santa Monica, San Diego, Ventura, Lompoc, and Goleta.
Brian Addison is a columnist and editor for the Long Beach Post. Reach him at [email protected] or on social media at Facebook, Twitter, Instagram, and LinkedIn.
Support our journalism.
Hyperlocal news is an essential force in our democracy, but it costs money to keep an organization like this one alive, and we can't rely on advertiser support alone. That's why we're asking readers like you to support our independent, fact-based journalism. We know you like it—that's why you're here. Help us keep hyperlocal news alive in Long Beach.