Report: Initial data shows pedestrian traffic fatalities in 2019 hit highest in 30 years
The Governor's Highway Safety Association used preliminary data to estimate that 6,590 pedestrians were killed on U.S. roads in 2019—the highest number in more than 30 years.
The numbers don't fare better when taking into account all types traffic violence. Along with the increase in the number of pedestrian fatalities, their deaths as a percentage of traffic deaths increased from 12% in 2009 to 17% in 2018, a percentage that hasn't been reached since 1985. One in five of those deaths was a hit-and-run.
Additionally, pedestrians now account for the largest proportion of traffic fatalities since 1982.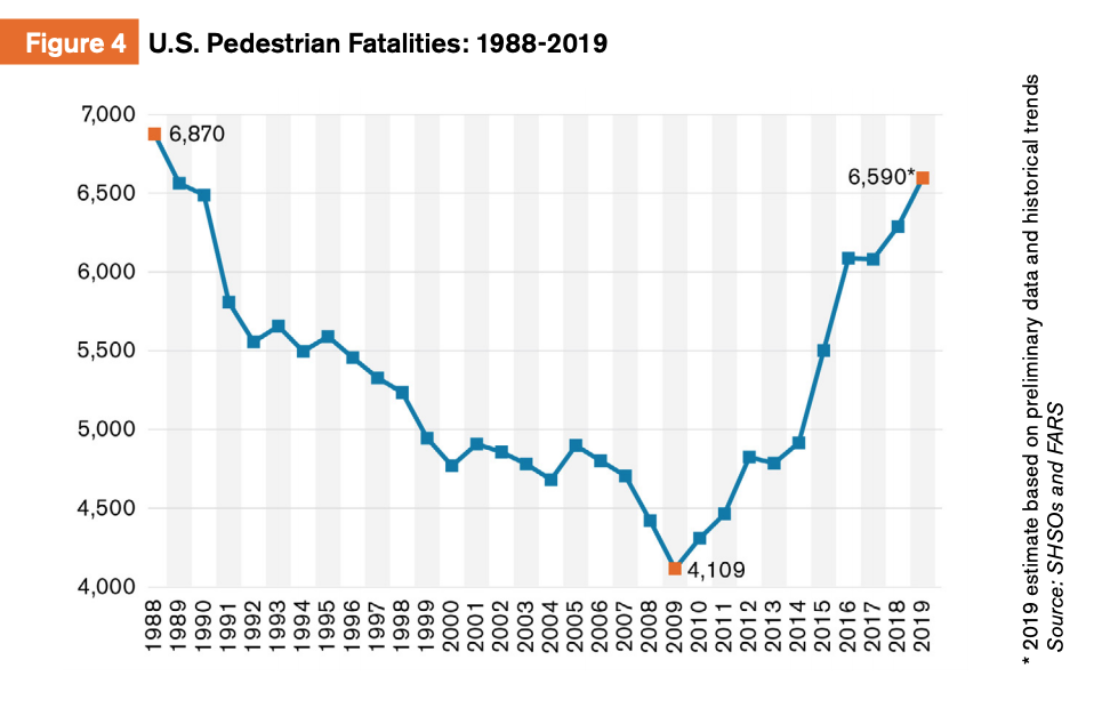 "Walking is the most basic, inexpensive and environmentally friendly form of human transportation," head author Richard Retting said. "Walking provides essential connections between residential, retail and commercial land uses as well as access to public transit, especially in urban and suburban areas. But unfortunately, walking has become increasingly risky in recent years, whether walking the dog, traveling to work or school, exercising or simply taking a stroll."
In perhaps one of its most alarming findings, the type of vehicle people contribute toward a pedestrian's potential death: Not only are pedestrians struck by a SUV/light truck twice as likely to die as those struck by car, the number of pedestrian fatalities involving SUVs/light trucks increased at a faster rate (81%) from 2009 to 2018 compared to passenger cars, which increased by 53%. All other traffic deaths, outside of pedestrian deaths, have increased by 2%.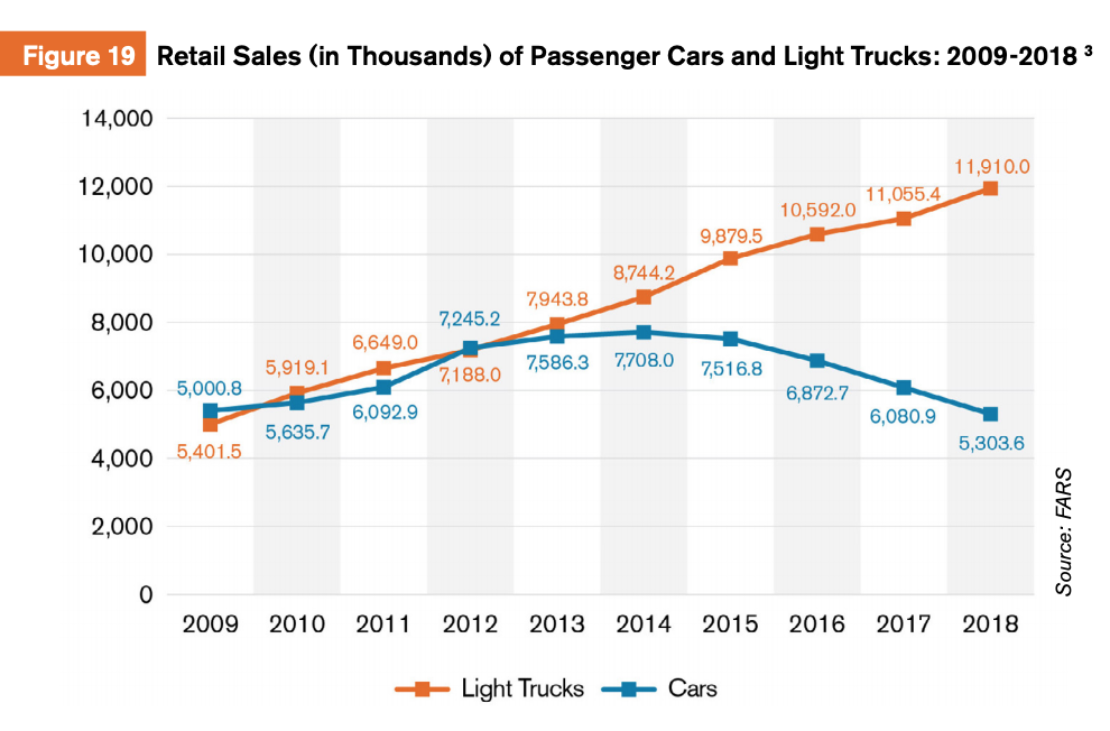 That discrepancy, according to Retting, is likely due to the fact that vehicular protection has largely increased for drivers while pedestrians have faced little infrastructural protection from civil engineers and public works departments across municipalities.
"The fact that pedestrian deaths have increased steadily is in part, due to the fact that passenger vehicles have become increasingly safer for vehicle occupants through design changes and supplemental safety equipment, thereby decreasing the chance of fatal injuries," Retting said. "Pedestrians, on the other hand, do not benefit from occupant-oriented vehicle crashworthiness improvements—they depend on street design or the car being equipped with technology that senses their presence—and thus could account for an increasingly larger share of total traffic fatalities."
The association has led studies that predict the overall number of pedestrian deaths before full reporting has come in: Using preliminary data reported by State Highway Safety Offices in the first half of last year, the current study used preliminary data from all 50 states and found statistical similarities to the increase in pedestrian deaths that occured between 2015 and 2016 to the increase being seen between 2018 and 2019.
Opinion: 29 people died in traffic violence in Long Beach; we need to change how we talk about it
"Yes, the reported state data used for this analysis are preliminary and, in some cases, incomplete," Retting said. "We adjusted preliminary data for each state based on its past three years of experience comparing preliminary and final data."
California was one of 30 other states that saw an increase in pedestrian deaths year-over-year.
California, Arizona, Texas, Georgia, and Florida accounted for nearly half—47%—of all pedestrian traffic deaths nationwide.
If we were to break down deaths by every group of 100,000 residents, California is the eighth most deadly state in the nation, followed by Nevada, Louisiana, Arizona, South Carolina, Florida, Hawaii, and the most deadly, New Mexico. Vermont is the safest in the nation.
Brian Addison is a columnist and editor for the Long Beach Post. Reach him at [email protected] or on social media at Facebook, Twitter, Instagram, and LinkedIn.
Support our journalism.
Hyperlocal news is an essential force in our democracy, but it costs money to keep an organization like this one alive, and we can't rely on advertiser support alone. That's why we're asking readers like you to support our independent, fact-based journalism. We know you like it—that's why you're here. Help us keep hyperlocal news alive in Long Beach.