With 710 project moving ahead, more evidence highlights how freeway expansions worsen our situation
It's not about expanding what we have but managing better what already exists: prioritizing existing mass transit options and congestion pricing. Urbanists and transit advocates, myself included, have been constantly singing this from any stage we can—over and over and over and over. And a new report from Bookings' Hamilton Project confirms just that.
When it comes Southern California, the fact that two freeways, the 710 and 405, are facing massive expansions isn't just counterintuitive to future planning but truly head scratching since neither project propose to use the arterials for any form of mass transit.
The 405, for example, could have created a center divide in its expansion project for a rail or bus-only lane that would take people directly from Orange County to Santa Monica and vice versa; alas, there was not even such a proposal on the table. (Fun fact: All those extra cars from the expansion dumping onto Long Beach streets when the Orange County border ends? Long Beach sued and won a whopping $13 million in rewards for a project that will cost $1.7 billion that will exacerbate traffic, congestion, and pollution while negatively impacting the future generations of those who live around the freeways.)
Even more, we are constantly bombarded with the Crumbling Infrastructure rhetoric—they were part of both major political parties' platforms, stirring up this idea that we have absolutely nothing to work with and must build more—and it's a rhetoric that the research of author Matthew Turner rejects with data.
First and foremost, our roads are in a generally good condition and are aging better thanks to technology: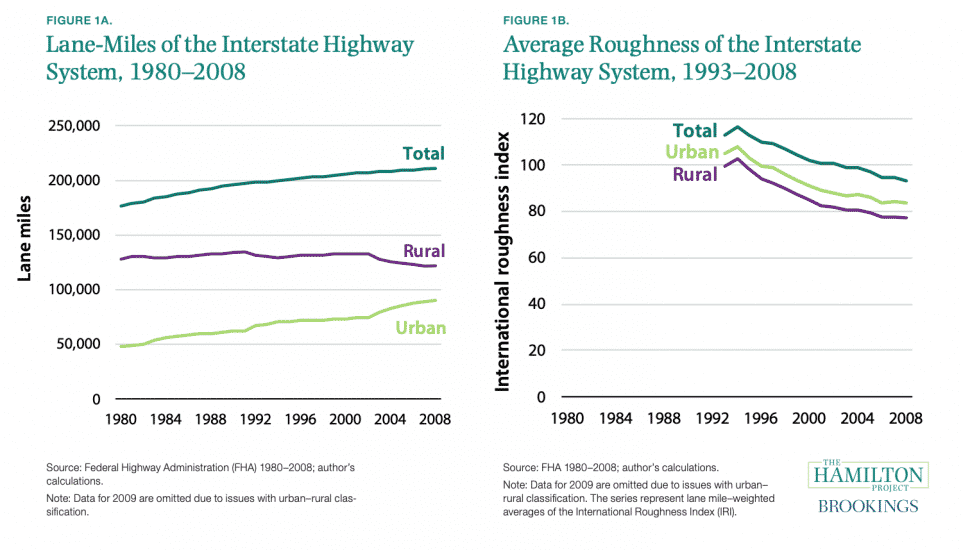 "There does not seem to be a pervasive crisis in infrastructure maintenance," Turner said. "There are surely potholes, old buses, and decrepit rail cars, but this situation is not obviously worse than it was 20 years ago. In fact, there are fewer potholes on the interstate."
There is, however, pushback from the American Society of Civil Engineers and their well-known report cards that repeat time and time again that we have deficient infrastructure—something advocate Angie Schmitt calls "sacrosanct in political discussions." The society has a clear political agenda toward creating more infrastructure (which means more money for them) and has largely led that discussion with its report cards—and, simultaneously, has led to increased scrutiny society and questioning the accuracy of such reports, especially with evidence such as this.
But congestion has worsened: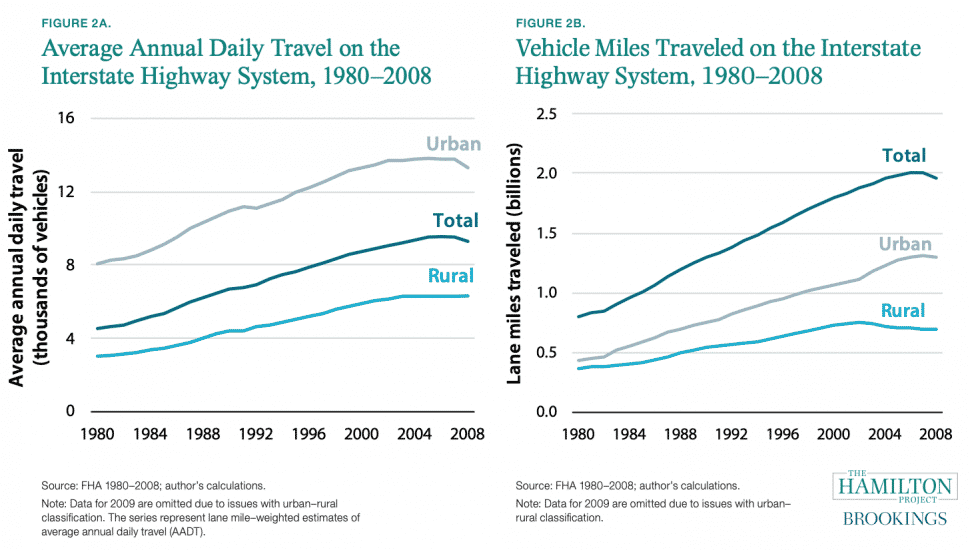 And this congestion will not be solved through the expansion of highways and arterials. At first, that seems counterintuitive—and to those frustrated with their commutes, I get it: "How can expanding roads not help? We need more space." And while I wish it were as simple as that, it's not: Building more roads makes more people drive; it's called induced demand.
Often times, folks think of traffic as a liquid—volume is needed in order to get it to "move"—but traffic is actually like a gas—it will fill up any space it can take. This is a way to look at induced demand.
People shift and move based on what they perceive to be a better route and the more highways that radiate out of city centers, the more people move away from those city centers. In other words, when you create more reasons for people to drive, congestion will heighten; highways generate sprawl while simultaneously increasing everyone's dependence on cars.
"The interstate system today carries about three times as much traffic as it did a generation ago," Turner said. "Given this obvious indicator of success, a natural response to traffic congestion would seem to be more construction. In fact, we have good evidence that such construction elicits more driving in equal proportion to the added capacity and hence does not relieve congestion."
One of the most alarming examples is the Katy Freeway in the Houston metro: Spending $2.8 billion to expand it across three years, the freeway re-opened in 2011 with 26 lanes—the girthiest/most embarrassing freeway in North America. And guess what? It became congested not just as it was before the expansion but worse: Travel times increased by 30 percent during the morning commute and 55 percent during the evening commute between 2011 and 2014.
So how do we solve this? Or at least attempt to solve it if building infrastructure is more detrimental than effective? Congestion pricing and upping our focus on mass transit, according to Turner.
In terms of the latter, the blunt reality is that we aren't trying to improve mass transit, especially the use of buses, in the best way we can. Bus routes should be analyzed periodically to assure their efficiency, including examining route and level-of-service cost-benefit comparisons. Federal subsidies should incentivize municipalities to increase ridership.
In terms of congestion pricing, this one is essential. We have highways that are jam-packed during peak hours and relatively empty otherwise.
"Congestion pricing offers a way to shift demand from congested peak hours to slack off-peak hours," Turner said. "While such programs remain relatively rare, they have been tried in a number of places with good results. That is, modest charges for peak-hour travel redistribute demand sufficiently to cause big improvements in peak-hour mobility without the enormous expense of capacity expansions. Experimentation with congestion pricing programs should be a policy priority."
Until then, enjoy your bigger-but-more-crowded 405 and 710 freeways.
Brian Addison is a columnist and editor for the Long Beach Post. Reach him at [email protected] or on social media at Facebook, Twitter, Instagram, and LinkedIn.
Support our journalism.
Hyperlocal news is an essential force in our democracy, but it costs money to keep an organization like this one alive, and we can't rely on advertiser support alone. That's why we're asking readers like you to support our independent, fact-based journalism. We know you like it—that's why you're here. Help us keep hyperlocal news alive in Long Beach.