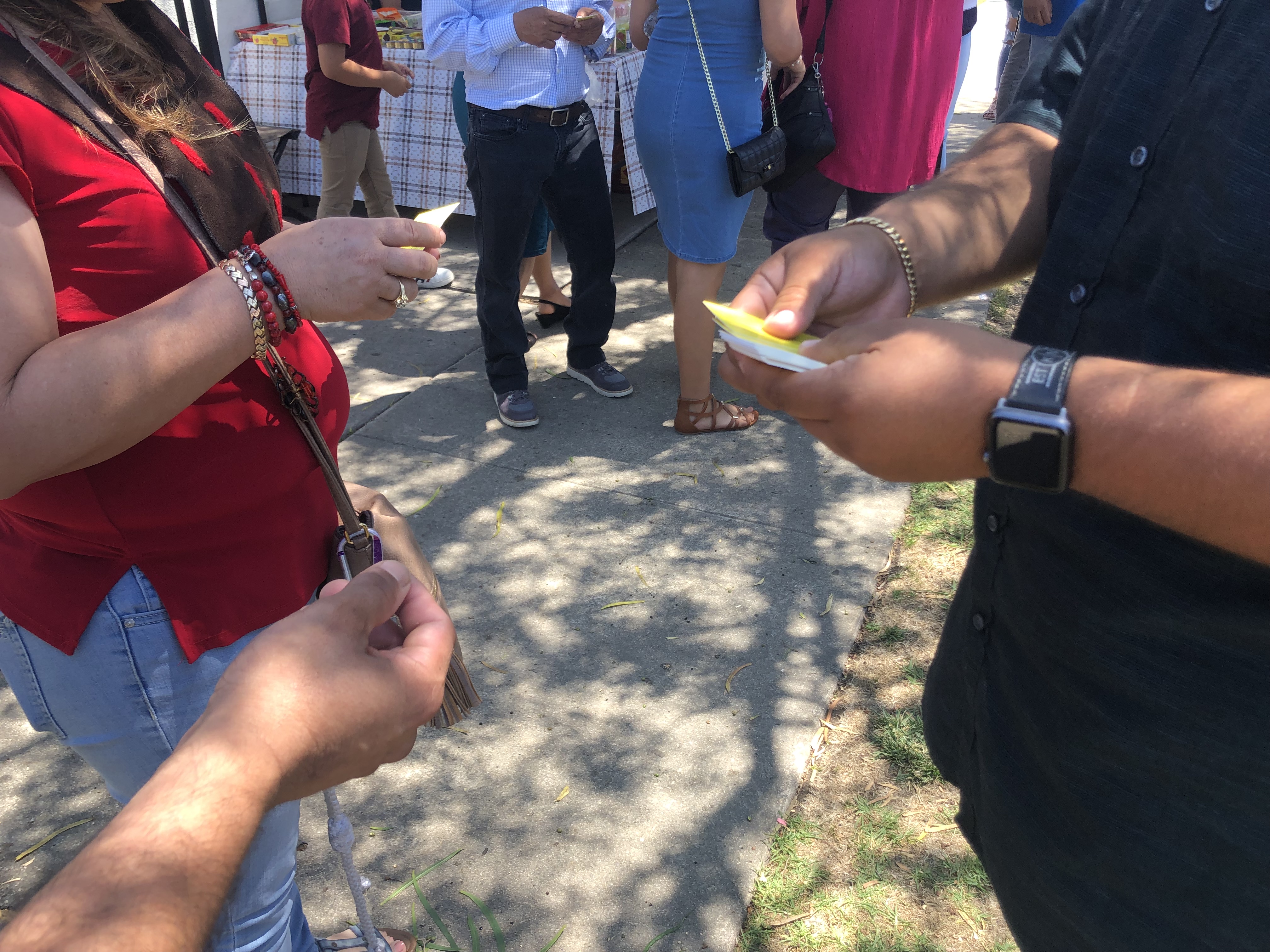 Activists mobilize as fear sweeps through immigrant communities amid threats of ICE raids
While the Trump administration's threat of mass deportations throughout major U.S. cities didn't seem to materialize in Long Beach on Sunday, empty pews at local churches signified fear that appears to be mirrored throughout the country.
A morning mass at a North Long Beach church usually filled with more than 200 Latino parishioners today had only about 40 congregants, immigrant rights activist Norbeto Lopez said.
Lopez, who is a DACA recipient and a member of the Greater Long Beach Interfaith Community Organization, was one of multiple activists who spoke at churches throughout the city as part of an effort to inform immigrant communities of their rights should they encounter U.S. Immigration and Customs Enforcement agents.
After delivering a short speech at the end of mass, Lopez would hand out yellow cards to concerned congregants outside of church.
On one side of the card, which was available in English and Spanish, it said to not open the door, answer any questions, or sign anything. It also provided a hotline number where community members could report ICE sightings.
"Our job is now to keep people calm," he said.
Lopez said ICE agents are known to fool families into opening doors by saying they are looking for others or sweet talk people into signing their own deportation orders.
"A lot of people say, 'I hope it's not me, I hope I'm not next,'" Lopez said of his interactions with the community.
Many others feared getting picked up while at work. Following an afternoon mass, congregants asked Lopez for a handful of cards so they could share them with their coworkers.
Federal immigration agents had been expected to start a coordinated action Sunday targeting roughly 2,000 people, including families, with final deportation orders in 10 major cities, including Los Angeles, Chicago, New York and Miami.
The threatened action was criticized by mostly Democratic politicians, including Long Beach Mayor Robert Garcia.
Lopez and other activists said they hadn't heard of any arrests made in Long Beach on Sunday, but an individual was apparently arrested in Central Long Beach this past Wednesday.
That person was directed to the city's Justice Fund, a newly implemented deportation defense program that provides legal services to residents at risk of being deported.
At St. Luke's Episcopal Church near the city's Downtown area—and one of about a dozen Los Angeles–area congregations that have publicly declared themselves as sanctuary spaces—Pastor Nancy Frausto said she too noticed fewer congregants than usual.
Escaping violence twice, and now in asylum limbo, Honduran immigrant finds refuge in Long Beach church
"There were definitely people missing that I was surprised not to see there," Frausto noted. "I do know people were mentioning they were scared."
Despite the fear among some, Frausto noted a sense of hopefulness at her church.
"A lot of parishioners have vowed to do anything in their power to protect them [undocumented individuals]," Frausto said. "It's beautiful to see. Even though it doesn't take away from the immediate fear, when you know you have someone fighting on your side, it gives you the strength to carry on."
Frausto said she continued to preach today about the importance for the community—especially Latinos with citizenship—to be educated and fight back to help their undocumented neighbors.
For the last several weeks, Frausto said she has focused her efforts on educating the community during Sunday services, religious classes and workshops.
Like Lopez, she too has been passing out those yellow cards. They direct community members to the Long Beach Community Defense Network, which Lopez and Frausto are a part of.
The volunteer-led network has been training community members in becoming active observers and reporters of ICE raids. On Saturday, a record 40 individuals attended a training.
"This has been a conversation that has been going on for a long time, really since the administration took over," Frausto said of the community's preparedness. "We knew this day was going to come."
—Associated Press contributed to this report. 
Support our journalism.
Hyperlocal news is an essential force in our democracy, but it costs money to keep an organization like this one alive, and we can't rely on advertiser support alone. That's why we're asking readers like you to support our independent, fact-based journalism. We know you like it—that's why you're here. Help us keep hyperlocal news alive in Long Beach.