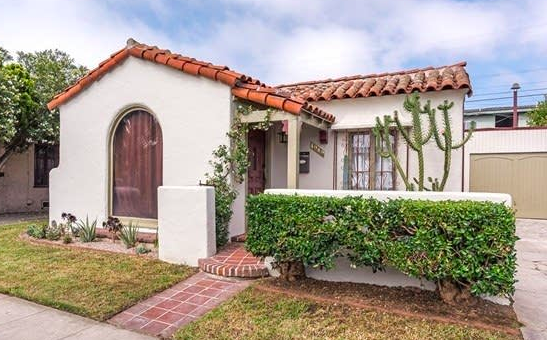 First-time homebuyer? Here are some choices for less than a half-million
WalletHub, the personal finance website that continuously conducts studies on various aspects of life in the United States, released another report last week on the best and worst cities for first-time homebuyers. Long Beach finished a dismal 274th out of 300 cities, and 60th out of 64 large cities, putting it in a bottom-five field with San Francisco, Los Angeles, Oakland and Detroit.
It's not surprising. Any scouring of national real estate sites will show you just how far your money can go in almost every other state and city, compared to Long Beach, where your dollar just sort of crawls into a dark, cool hole and quietly dies.
The term "first-time homebuyer" doesn't mean much on its own. You first home is simply your first home, and there are a number of ways (most having to do with luck, your parents, your race, your incredibly high-paying job) in which one's first home can be a mansion on the ocean.
But for our purposes, we're talking about a young couple scrimping and saving and making ample use of a swear jar or piggy bank to sock enough money away in order to tiptoe into the world of home-ownership. And with that in mind, there are going to be some less-than-luxurious trade-offs involved with escaping your landlord's greedy clutches into the safety of the greedy clutches of a mortgage company or some other lender.
For our search today, we're looking at single-family homes with at least 1,000 square feet of living space and a price tag south of $500,000, which is well below the city's median home price of $595,400, though $480,000 is median for a two-bedroom house, which is a typical size for a starter home.
We're throwing away huge tracts of land in our search. Forget about anything within a rumor of the sea or any waterway. Forget Park Estates or Los Cerritos. In fact, forget, even, the long-ago land of first-time home-buying in Los Altos and the Plaza.
We'll start with our favorite in our house-hunting excursion, a three-bedroom, one-bath Spanish Colonial Revival place at 1049 N. Minerva Park in the tiny Minerva Park Place Historic District. The district is between 10th and 11th streets roughly between Gaviota and Rose avenues. It's a collection of 16 homes all in the Spanish style constructed in the mid 1920s by builder and resident Frank Smith.
Currently, you're not going to find a home in this price range with as much character as this $490,000 (dropped just recently into your price range from $520,000) 1,145 square-foot residence, which comes with the whole Spanish package: a red tile roof, decorative wrought iron grillwork and tons of arches, including the window in the living room and most interior passageways.
I'm actually a little bit in love with this place, so you'd be wise to snap it up before I swoop in.
If you're looking for a turn-key home, there's a fully modernized place at 1170 E. Harding St. in North Long Beach. Though the three-bedroom, two-bath house was built back in 1929, it's got a lot of stuff a lot newer houses lack, including dual-pane windows, a 200-amp electrical panel, a water-softener/filtration system and a tankless water heater. The 1,144-square-foot home is offered at $489,000 and it even includes three wall-mounted TVs.
Also in North Long Beach, over by DeForest Park, $480,000 gets you a relatively spacious 1,309-square-foot house at 145 E. Adair St., with three bedrooms and two baths and a den. The kitchen and bathrooms have been upgraded or remodeled, and for the Schlitz-drinking Steelers fan in the house, there's a man-cave room in the backyard. Or you can just use it for storage if you don't mind your caveman sulking for the next 30 years.
Rolling up your trousers and crossing the creek to the wild west side of town, your price range allows you a lot of choices, including a Kennedy-esque (well, sort of) compound at 2476 Hayes Ave., south of Willow, where $495,000 not only buys you your first home, but your first second house as well. The Big House up front is a three-bedroom, two-bath home, while out back, your lesser relatives or renters who can help you with your payments can live in the one-bedroom, one-bath dollhouse with a kitchen and living room.
North of Willow, with cheerful-sounding address 2573 Seabright Ave., a $485,000 two-bedroom, one bath house on a corner lot, which reminds me of the fact that my grandfather always told me to never buy a house on the corner. I forget why, but a corner lot was a deal-breaker for me when I bought our first house, so purchase this Seabright home at your own peril.
Built in 1943, it comes with a two-car garage that's been converted into a permitted studio room.
If you're saying $400,000-plus is too much money, I'm happy to take it down a notch and show you what $375,000 gets you in Long Beach these days: A place at 6532 Johnson Ave. in North Long Beach's Ramona Park neighborhood that weighs in at 576 square feet and comes with one bedroom and one bath on a 5,909 square-foot lot that you're going to wish was a lot smaller as you're hacking your way through the front and back yards after you purchase a pallet of Weed-Wackers at Costco. So, roll up your sleeves and get to work, cheapskate.
Or if you're a fantastic do-it-yourselfer, you can get a larger (1,567 square foot) Spanish home at 98 E. Louise St. in Northtown's Lindbergh neighborhood. The three-bedroom, one-bath home on a large lot is being sold as-is, which in this case, means fire damage, and the home will not qualify for a loan, so bring a sack with $383,000 and it's all yours.
Support our journalism.
Hyperlocal news is an essential force in our democracy, but it costs money to keep an organization like this one alive, and we can't rely on advertiser support alone. That's why we're asking readers like you to support our independent, fact-based journalism. We know you like it—that's why you're here. Help us keep hyperlocal news alive in Long Beach.