Long Beach leaders are rallying Downtown business owners and others behind a proposal to bring the Los Angeles Angels to the city, urging them to sign a letter of support.
The Long Beach Area Chamber of Commerce and the Downtown Long Beach Alliance are spearheading the campaign to spark excitement about the possibility of the Anaheim baseball team building a waterfront stadium in Downtown. The Post reported Monday that the city is in early talks with the Angels ownership about bringing the team to Long Beach sometime after the 2020 baseball season.
Chamber and DLBA officials penned a letter addressed to the Angels organization touting the benefits of Long Beach, including the city's easy access to Orange County, transportation networks and picturesque setting near the ocean.
A stadium here would "immediately become the most beautiful ballpark in Major League Baseball," according to the letter.
The Chamber also notes that Downtown has been the site of immense development, with "hotels, restaurants and other amenities" that would complement the ballpark.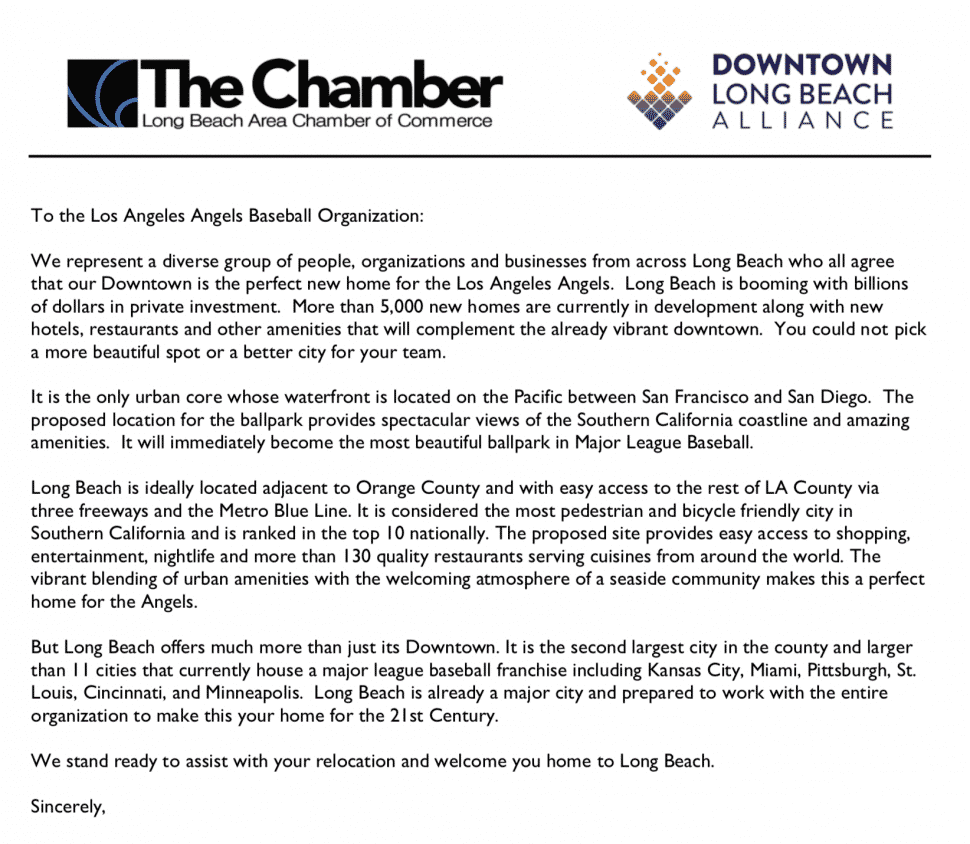 Randy Gordon, CEO of the Chamber, said his organization is in the process of gathering signatures from CEOs of local businesses. He expects to have at least a half dozen signatures before sending the letter Monday.
The potential stadium would be constructed on a roughly 13-acre lot near the Long Beach Arena which is now used for surface parking. The location would be within walking distance to the Long Beach Convention Center, the Pike Outlets, Rainbow Harbor and the Pine Avenue business corridor.
Several restaurant owners in the area said on Friday afternoon they had not been approached yet about signing the letter, but that they are in support of the proposal.
"I talked to a lot of people in the business community, and they're all excited," said Kurt Schneiter, who owns Q Smokehouse in Rainbow Harbor. "They all understand what it would do for the city."
John Sangmeister, who owns Gladstone's, pointed to the example of Petco Park in San Diego, saying the stadium transformed the waterfront of Downtown.
"There will be traffic complaints and fear-mongering, but (development) has got to happen," he said.
Tim Grobaty is a columnist and the Opinions Editor for the Long Beach Post. You can reach him at 562-714-2116, email [email protected], @grobaty on Twitter and Grobaty on Facebook.
Melissa Evans is the managing editor of the Long Beach Post. Reach her at [email protected], @melissaevansLBP or 562-437-5814.
Support our journalism.
It's been one year since the Long Beach Post began asking you, our readers, to contribute to keeping local journalism alive in the city.
Thousands have contributed over the past year giving an average contribution of $12.39 a month.
Please consider what the news and information you get every day from the Post means to you, and start a recurring monthly contribution now. READ MORE.