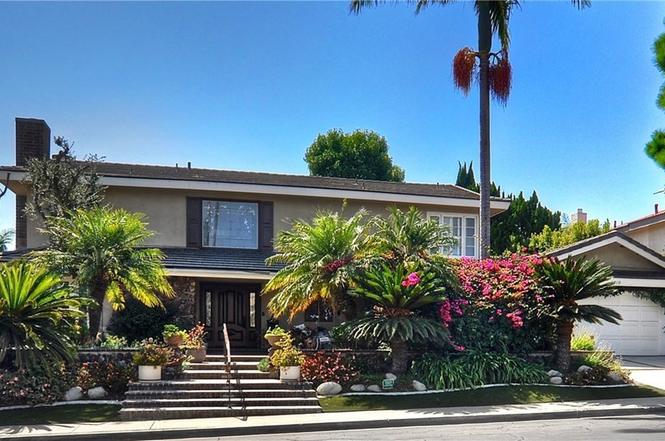 Bixby Hill: Living in the shade of Rancho Los Alamitos
I don't know what your family does on its evening walks in Long Beach, but when Matt Knabe and his wife Brianna and their two young children go for an after-dinner stroll in their Bixby Hill neighborhood, they enjoy stopping to visit sheep and horses. It's a rustic pleasure not afforded too many Long Beach residents these days.
It's a different world up on Bixby Hill, a development that sprang up just east of the historic Rancho Los Alamitos at about the same time that the rancho's last private owners, Fred and Florence Bixby, turned the 7.5-acre rancho over to the city and citizens of Long Beach. The parcel was the last vestige of what had once been the 25,500-acre rancho before it was subdivided into parcels that today include Los Altos, Park Estates, University Park Estates and other neighborhoods in East Long Beach.
There are still several original owners on the hill who bought their homes a half-century ago, but the Knabes are relative newcomers who moved up from Park Estates nearly five years ago.
"I like it a lot," said Matt, a political consultant and son of former L.A. County Supervisor Don Knabe. "It's a neighborhood in transition, moving from old to young. It's nice seeing kids playing outside on our cul-de-sac." It's an old-fashioned suburbia, down to his daughter's lemonade stand that she's opened for business three times in the last few weeks.
It's a remarkably low-crime area, thanks to a 24-hour guarded gate at the entrance on Palo Verde Avenue at Anaheim Road, just east of the Cal State Long Beach campus. The smallest geographical breakdown for reported crimes by Long Beach Police Department, covering the Hill as well as the La Marina neighborhood outside the guarded gates of Bixby Hill, shows that just 36 crimes were reported in 2018, and just four this year through August.
"We feel safe here," said Knabe.
The homes are, more than anything, spacious on Bixby Hill. They might not be ugly, as one resident once complained to a local Realtor, but neither are the sort of residences that might be featured in a great homes tour. The fanciest might be termed Mediterranean post-revival. Certainly the area is a little shy of its early advertising campaign that termed the development  "the Beverly Hills of Long Beach."
But if you're looking for a nice combination of size and security, and you have about a million and a half to spare, you could do worse than living in a house on the hill.
Currently, there are a half-dozen properties for sale in Bixby Hills, just three of which are houses and all within what Realtor Blake Nicolai termed to be about the average cost for a home in the neighborhood.
"The entry-level house might be as low as $900,000," said Nicolai, "and they can go for as much as $2 million, but most are a bit below $1.5 million."
Our prime home this week is a $1.485 million home at the hill's peak at 6370 Bixby Hill Road. It's a massive 3,612-square-foot former model home built in 1966, before construction began in earnest in the development. Since then, it's been thoroughly upgraded with a designer kitchen equipped with a SubZero refrigerator, with two additional refrigerator drawers, and a Thermador double oven.
Additional upgrades include a newer tile roof, newer windows and doors, a tankless water heater, solar panels and a 220-volt car charging outlet.
The home's high point, perhaps, is a serene and meditative English garden the perfectly landscaped and manicured backyard, making beautifully lush use of the rear of the oversized 10,500-square-foot lot.
For a couple bucks less, you can purchase a nicely remodeled Bixby Hills pool home, with five bedrooms and three baths on a quiet cul-de-sac at 6451 E. Surrey Drive.
Listed at $1.45 million, its master bedroom has a large balcony with a view of the surrounding home where you can do some pretty thorough correspondence work for Nextdoor. The home is one of the early top-of-the-line homes that feature an enclosed atrium that brings nice light into the interior.
The backyard is the house's entertainment showcase, with a large pool and patio area on its 9,906-square-foot lot.
Your least-expensive home on the market now is a still-roomy four-bedroom, three-bath 3,412-square-foot residence at 920 North Holly Glen Drive. Priced at $1.35 million, it's as sprawling as any home in the area, with 3,412 square feet of living space on a 6,579-square-foot lot. The home is listed as a mid-century modern, though it's not, other than the fact that it was built sort of near the mid-century mark, in 1968, and it does feature some oversize windows, letting in a nice amount of sunlight to the breakfast nook and living area.
The other three properties for sale in Bixby Hill are townhouses and condominiums priced from the mid-$600,000s to $700,000, with their attendant HOAs.
In fact, homeowners themselves aren't immune from HOA fees, which run about $191 per month, because there are neighborhood expenses for such things as security, upkeep of the common areas, the privately owned streets and more.
And the Homeowners Association hasn't always behaved responsibly in past years. In 2001, the Bixby Hill Community Association, in a horrible-optics move, sued Rancho Los Alamitos to prevent the institution from making improvements that included a 950-square-foot bookstore and classroom, for fear of drawing more people inside the gates of the secluded neighborhood. The association, after years of litigation, lost the case, leaving residents to pay hundreds of thousands in legal bills to the rancho's attorneys as well as the HOA's own legal fees.
Today, however, that's all behind him, and Bixby Hill residents are among those Long Beach residents who happily enjoy the occasional special offerings and programs of the historic rancho, as well as the horses and sheep they stop to visit on evening walks.
Support our journalism.
Hyperlocal news is an essential force in our democracy, but it costs money to keep an organization like this one alive, and we can't rely on advertiser support alone. That's why we're asking readers like you to support our independent, fact-based journalism. We know you like it—that's why you're here. Help us keep hyperlocal news alive in Long Beach.