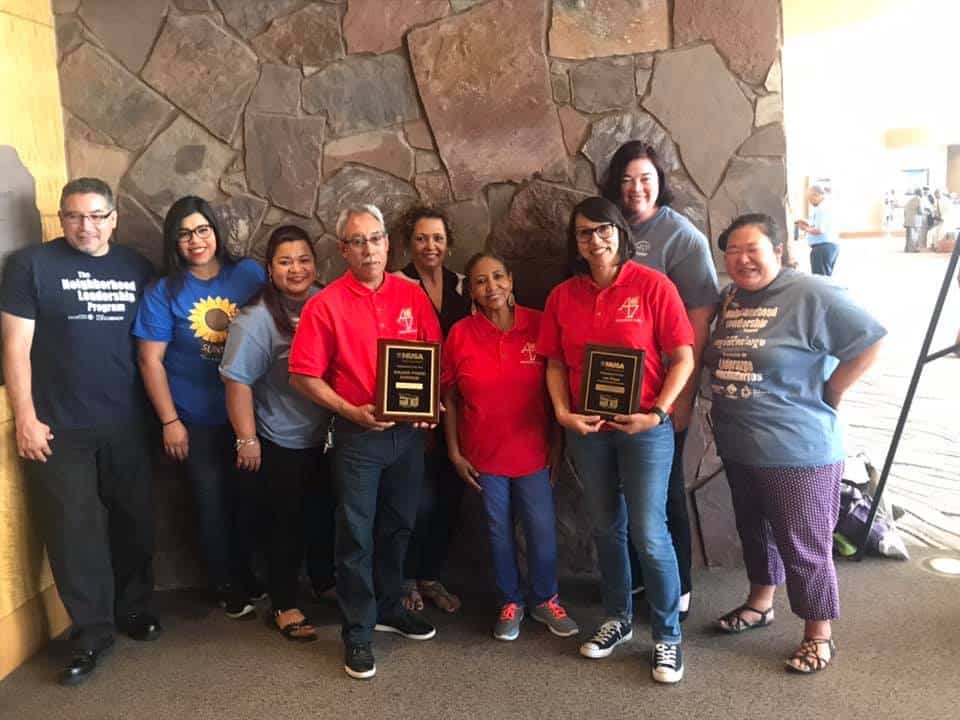 Long Beach neighborhood groups win big in Palm Springs conference
Two Long Beach-based neighborhood groups took home first place prizes over the weekend during a conference in Palm Springs hosted by national nonprofit, Neighborhoods U.S.A.
AOC7 (Anaheim Orange Cherry 7th Neighborhood Association), based in Central Long Beach, won first place for "social revitalization/neighborliness" and received the Neighborhood of the Year grand prize.
"We didn't see it coming," said longtime AOC7 member Mary Simmons.
Simmons said it was the first time the group participated in the annual event, which recognizes the work local organizations are doing and provides space for them to share ideas.
AOC7 was recognized for its literacy fair and book drive, which just finished its 7th annual event on May 11. The group itself is 8 years old.
It competed against top contenders including Palm Springs' own historical Black History Month parade.
"We were over the top," Simmons said.
Much to the group's surprise, first place came with a $500 cash prize while the grand prize awarded $1,000.
The Belmont Heights Community Association took home first place for its neighborhood newsletter in the printed category.
"It was surreal," said BHCA President Will Cullen.
Cullen said the group took home second place when it competed in the same category four years ago but they went to Palm Springs with no expectations.
The newsletter is a 16-page publication created by a volunteer staff of 22 residents and delivered by hand to every resident in the neighborhood by 23 people.
It's paid with 44 local advertisers and creates funding that goes back into the community with donations and grants, Cullen said.
"People like our ability to write about stuff larger publications can't cover," he said of the newsletter's success.
Whether it's breaking down local or statewide policies like the housing bill SB50 or the city's land use element in a nonpartisan format, ultimately "the goal is to educate," Cullen said.
On Friday, though, everyone from Long Beach was focused on AOC7, according to Cullen.
"What they pulled off was miraculous," he said.
BHCA has been around for decades, with its own bylaws and nonprofit status: "It's pretty easy for us," Cullen said. For AOC7, "It's all elbow grease."
Much of the success seen in both neighborhood associations is due in part to the city's Neighborhood Resource Center and it's Neighborhood Leadership Program.
"A lot of neighborhood groups thrive because of Neighborhood Resource Center," Cullen said. "They are part of the city, a conduit to all of the groups like us."
The center's program has trained over 700 Long Beach residents since it started in 1992, according to Margaret Madden, the city's Neighborhood Improvement officer and program alum.
Simmons and Cullen both graduated from the program. It teaches participants how to apply for grants, complete community projects, improve their communication skills and create partnerships. Its success has led to it being replicated in cities around the world, including Long Beach's sister city in Japan, Yokkaichi and most recently in San Bernardino.
The program is free and runs from March to August every year. Madden said the city invests in these residents because they invest in the city and neighborhoods.
"I'm so proud of them," said Madden. "AOC7 is proof that ordinary residents can make an incredible difference in their neighborhood."
Now that NUSA and the literacy fair have passed, Simmons said the group will be working on an application for an $8 million grant due in a couple of months. It would be used toward renovations for MacArthur Park.
They also got some ideas from the conference that they hope to utilize to enhance smaller projects. Ultimately, there's one priority, Simmons said. "We'll continue to build community and that's our focus right now."
For more information on the Neighborhood Leadership Program call (562) 570-1010 or click here. 
Support our journalism.
Hyperlocal news is an essential force in our democracy, but it costs money to keep an organization like this one alive, and we can't rely on advertiser support alone. That's why we're asking readers like you to support our independent, fact-based journalism. We know you like it—that's why you're here. Help us keep hyperlocal news alive in Long Beach.