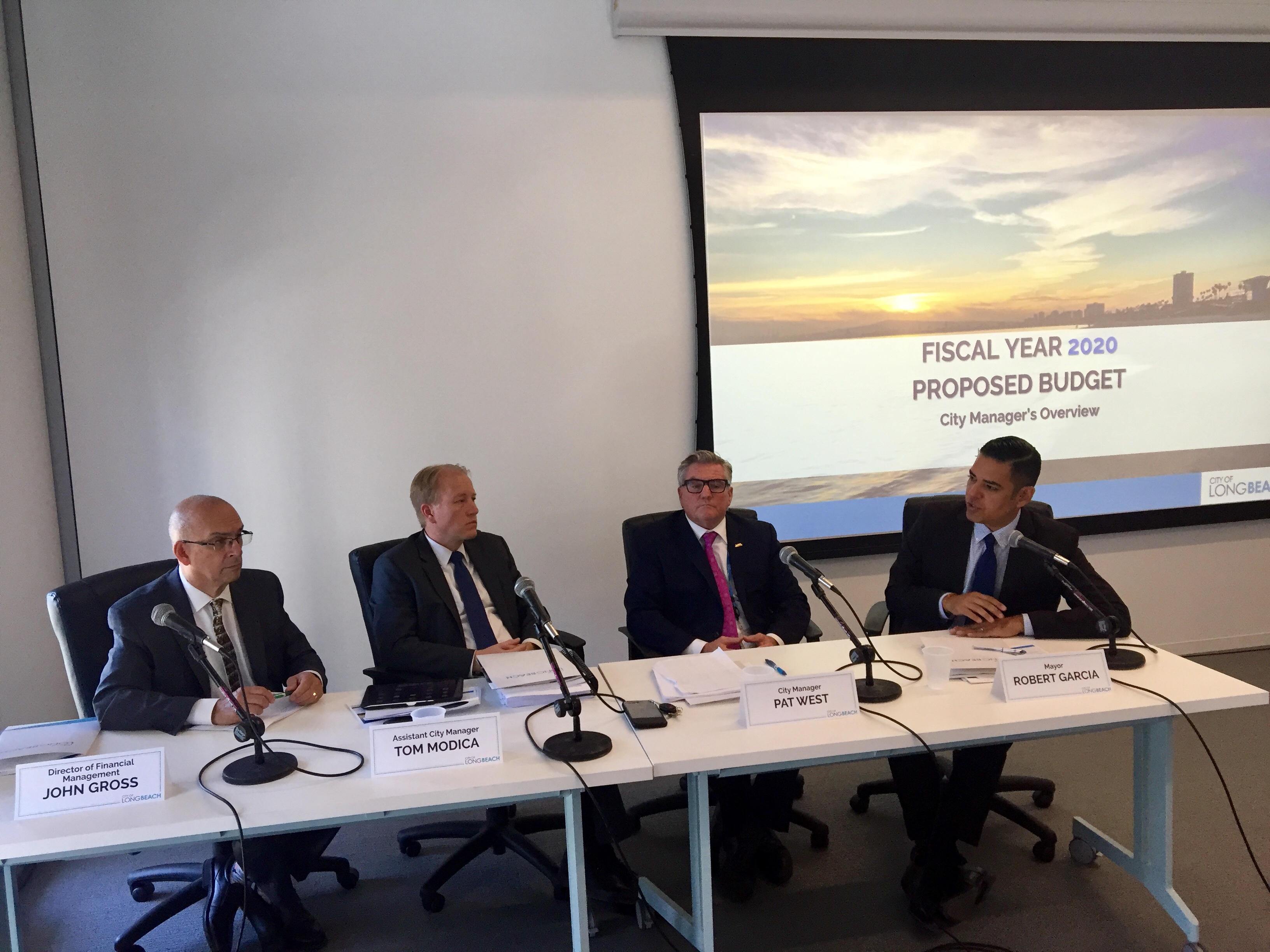 Long Beach unveils 2020 budget with continued funding for public safety and infrastructure
Long Beach city officials on Wednesday unveiled a proposed budget for the 2020 fiscal year that builds on last year's boosts to public safety, infrastructure and other services.
The city had originally projected a $9.3 million shortfall for fiscal year 2020, which begins Oct. 1, but was able to plug the hole in part by increasing parking fines.
"The proposed budget is balanced, responsible and makes key investments in public safety, infrastructure repair and other critical services to make Long Beach better," Mayor Robert Garcia said Wednesday at a press conference.
But while the coming budget is balanced, officials are projecting significant shortfalls between $5 million and $12 million over the next two years due to rising costs and pension obligations. The budget could also be significantly impacted by looming contract negotiations with nearly a dozen city unions, including the police officer and firefighter unions.
Garcia said the city is making process on paying off its unfunded pension liability, which has dropped from $1.8 billion to $1 billion over the past five years.
"It is absolutely moving in the right direction and will continue to go down," he said.
City Manager Pat West noted many highlights for the city, including a new civic center and Main Library and an overall drop in chronic homelessness.
"This budget has a lot to celebrate," West said.
The city's overall proposed budget is $2.8 billion. That includes the taxpayer-funded $554 million general fund, which pays for many city services including public safety and street repairs.
Budget highlights include:
$27 million in grants for homeless services, including the purchase of a year-round homeless shelter to be built in North Long Beach. This and other funding has allowed for 5,000 people to be permanently housed since 2013. Garcia has proposed using additional anticipated state money for the city's new Tenant Relocation Program.
Maintained funding for 121 public safety positions and a $2.2 million boost for the police department's Neighborhood Safe Streets initiative. The public safety funding comes from the Measure A sales tax, which was approved by voters in 2016. The budget also fully funds the police department's body-worn camera program.
A full-time position and an additional $80,000 in one-time funds to support the city's Language Access Program—a service that was requested in the "People's Budget Proposal." 
$100,000 in one-time funds to support donation coordination for Animal Care Services. Animal Care would also get an adoption coordinator and administrative support positions to manage animal adoptions and volunteers.
$600,000 in one-time funds to support an accurate 2020 census count, which will be used to redraw district boundaries.
$117 million in capital improvements, including $19.5 million in Measure A funds. This and previous Measure A funding includes repairs to more than 30 public buildings.
Garcia in his own proposals has recommended funding for additional programs including $680,000 for a four-person Clean Team to enhance city cleanup efforts. The mayor said Long Beach has the goal of becoming one of the cleanest big cities in the country.
"We are now aggressively cleaning corridors and streets throughout the city," Garcia said.
Garcia has also proposed $500,000 for HIV and STD testing and outreach, $100,000 for the planning and design of city's first ADA (Americans with Disabilities Act) accessible playground in El Dorado Park West and $350,000 in funding for Promise Pass, a new program that will provide free and discounted transit passes for Cal State Long Beach and Long Beach City College students.
"I'm especially excited to launch the Promise Pass," Garcia said. "This will ensure that students are able to get to work and school in a way that's not burdensome to them financially."
The city over the next month will hold a series of budget meetings open to the public. The City Council expected to give final approval in September.
Visit the city's budget page for more info.
Support our journalism.
Hyperlocal news is an essential force in our democracy, but it costs money to keep an organization like this one alive, and we can't rely on advertiser support alone. That's why we're asking readers like you to support our independent, fact-based journalism. We know you like it—that's why you're here. Help us keep hyperlocal news alive in Long Beach.