This story is part of a Long Beach Post multi-part series, "Close to Home: How climate change is shaping the future of Long Beach." For the full series, click here.
The slow-moving disaster of sea level rise is a problem that's out of the price range for most residents of Long Beach.
In the 90803 ZIP code—which includes Naples, Belmont Shore and the Peninsula—the median home costs nearly $900,000. But large swaths of the area will soon be underwater, with predictions that a rapidly warming ocean will rise 6 to 22 inches by 2050 and as much 6 feet by 2100.
It will be even worse in the event of a 100-year storm or higher-than-average tides.
"There is a lot of risk for the Belmont Shore area," said Kristina Dahl, a climate scientist for the Union of Concerned Scientists and co-author of the 2018 report, "Underwater: Rising Seas, Chronic Floods, and the Implications for US Coastal Real Estate."
That risk is especially acute on the Peninsula, which is a reclaimed estuary, said Patrick Barnard, a coastal geologist with USGS Pacific Coastal and Marine Science Center in Santa Cruz.
"When I look at the state, that area really stands out: the Peninsula, Belmont Shore, Naples and the cities in Orange County—Seal Beach, Sunset Beach," he said. "They're all very vulnerable to sea level rise."
Those coastal areas sit at an elevation near zero. More elevated places nearby, such as Downtown, Bluff Park and parts of Belmont Heights, enjoy better flood protection. Even areas such as the Belmont Pier, where city officials want to build a $103 million aquatic center, will likely be spared from significant damage due to rising seas.
One reason for this is that the biggest threat isn't the ocean. Homes along or near Alamitos Bay are most in danger, Dahl said.
The Belmont Shore avenues of Bay Shore, Claremont, Pomona and others are at high risk of chronic flooding by 2030, she said.
Chronic flooding or inundation, said Dahl, is flooding on average of every other week, or 26 times a year, based on the high tides that attend new and full moons, when there's an elevated risk of high tides. "Some people are willing to live with that," she said. "Others are not."
The cause of the inundation, Dahl stresses, will not be seasonal storms, but, rather, normal high tides rising higher and reaching farther inland.
Estimates vary on when the damage will come and what its severity will be, and scenarios are based on several factors, including the amount of emissions reductions that nations will make in the coming years, the extent of the melting of glaciers, ice caps and the Greenland and Antarctic ice sheets, along with thermal expansion of the seas' waters.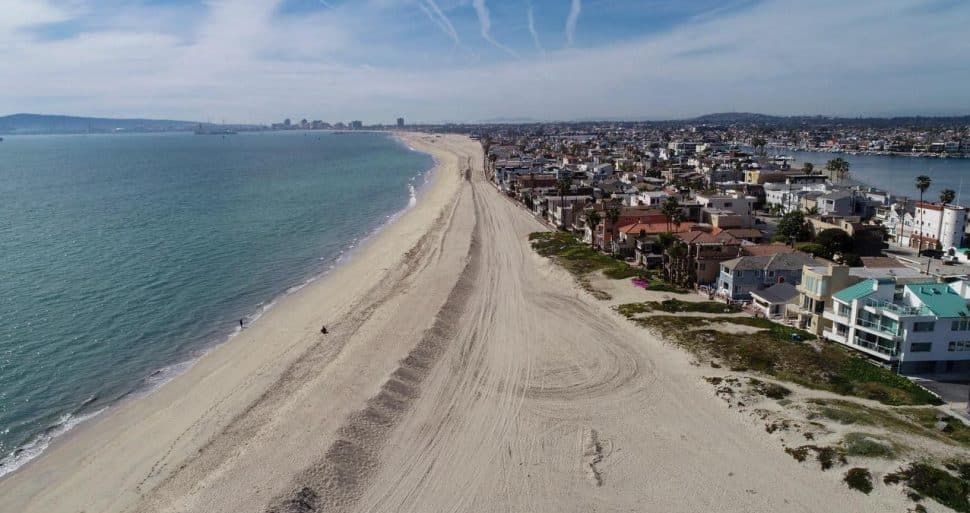 First world problem
Beach properties in the flood zone have a median value of about $300,000 above Long Beach as a whole. Nine of the top 10 priciest residential sales in 2018—ranging from $3.25 million to $7.2 million—were in Naples; the other was on the Peninsula.
There's good reason why the coastal homes are expensive. Each of the three seaside neighborhoods has its own character, charm and beauty. Perhaps the Peninsula most of all. It's the closest thing this city has to a seashore community, with half the residents living on Alamitos Bay and the other half along a beachfront boardwalk with views of the Pacific and even the occasional set of surfable waves, a rarity along most of the city's breakwater-protected strand.
Relatively soon, though—a split second in geological time, but perhaps even before a new homeowner's 30-year-mortgage is paid off—the desirability of all three beach communities could be severely and permanently eroded.
"At the beginning of the last century the sea was rising a millimeter a year," said climatologist Bill Patzert, who retired last year after more than three decades with NASA's Jet Propulsion Laboratory.
"That rise was primarily caused by thermal expansion, and by mid-century the cause of sea level rise was half thermal and half melting. Now it's two-thirds melting and one-third thermal."
The key to sea level rise are the great ice sheets in Greenland and Antarctic, as well as the disappearance of terrestrial ice in the Rockies and "ex-Glacier National Park," as Patzert calls it. "We're seeing a retreat of glaciers across the country," he said.
The Los Angeles Region Report of California's Fourth Climate Change Assessment, which relies on a scenario characterized by increasing greenhouse gas emissions over time, projects a 1- to 2-feet of sea level rise by 2050, and more extreme projections lead to 8 to 10 feet of sea level rise by the end of the century.
"But you only need 2 to 5 feet for it to be a disaster," said Gary Griggs, a distinguished professor of Earth and Planetary Sciences at the University of California at Santa Cruz,  co-author of the 2017 report "Rising Seas in California: An Update on Sea-Level Rise Science."
"Even a 1-foot rise will get a lot of low areas underwater," he said. "And we're on a trajectory of a worst-case scenario rather than a best-case."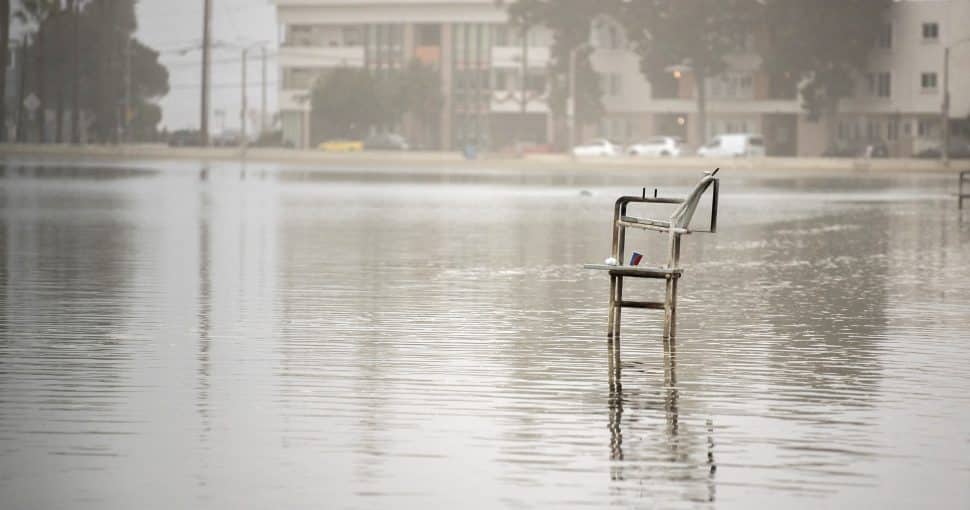 'Major concern'
Long Beach has been working to assemble a report that will serve as a guide for action and adaptation to climate change, beyond just sea level rise. The report is expected in the fall.
But while sea level rise won't directly affect most people in Long Beach, it has commanded the attention of both residents and city leaders. Long Beach stands to lose as much as 8% of its property tax base in the next three decades due to lower home values in the coastal area, officials said.
One of Dahl's reports estimates that 300,000 homes along the nation's coastlines could be lost by 2045, with a collective market value of $117.5 billion.
In Long Beach, some 1,983 homes, valued at $1.3 billion, are at risk, and could result in displacing 5,136 people at a loss of about $15.6 million in property taxes.
"Sea level rise is obviously of major concern for us," said Suzie Price, the councilwoman who represents the 3rd District, which includes Belmont Shore, Naples and the Peninsula. "And it's a concern not just for the Peninsula but the wetlands, the Colorado Lagoon, the Bay, Belmont Shore — they're all vulnerable.
"There are ways to armor the coast, to forestall it, but we do know the impact will be significant."
When it comes to the perils of sea level rise on the Peninsula, Price says it's important to build out the beach on the ocean side to add additional buffer against high tides and storm surges.
Peninsula oldtimers recall when the strand was nearly 100 yards wide. Now it's closer to 20 yards, and is frequently breached by high tides. As ocean currents wrap around the east side of the breakwater, they move sand to the west, requiring the city to continually move it back using trucks and earthmovers. This task costs the city about $580,000 per year.
After the city contracted Anchor QEA Coastal Engineering Consultants to study the problems on the Peninsula, officials made the decision to use a hydraulic pump with a pipeline to move sand from the west to the east beach.
The method requires a crane to secure the pump that moves up and down the beach as needed. The cost is estimated initially be about $690,000, with expenses of $135,000 in subsequent years, to be paid out of Tidelands funds. The project is pending Coastal Commission approval.
Looking the other way
The science may be certain, but there is still some denial about the subject among the residents of the affected areas. People still continue to buy and sell their coveted properties.
Realtor Ricardo Perdomo, who specializes in beach properties, said, "Nobody, if they can afford it, is saying 'I don't want to live on the water because of climate change.'"
And Michael McCarthy, senior vice president of residential lending at Farmers & Merchants Bank, said 30-year loans are still pretty much readily available for properties on the Peninsula. "Rising sea level is a concern," he said, "but it hasn't had an impact on loans yet. To the extent that it becomes more of a problem, the industry will adapt quickly."
While sea level rise has already had catastrophic effects in many parts of the country, including dozens of cities in Florida as well as areas in the southern parts of the Gulf states—Allstate Corp. has dramatically pulled back from coverage in Florida after paying $1 billion in costs last hurricane season—the perils of living on the Peninsula have merely been daunting.
"We haven't really been negatively impacted yet," said Tim Rue, an 18-year resident of the Peninsula. "There is an overwhelming feeling that one day, when high tides, winds, waves, all those elements hit together, we're gonna be in trouble. But surprisingly that hasn't happened. Some of them have come together, but the city has always been able to stem the tide and keep the ocean from coming in."
The most recent assault by the sea came in mid-October. "That time it was mostly the tides," said Rue. "Again, all the elements didn't line up to cause an event that was unmanageable. They protected us by pushing thousands of tons [of sand] up the beach for days."
And, for the moment, that's good enough for Rue, who lives on 65th Place with his wife and young son.
"I don't worry about it because for one thing, the city has managed it really well, and, for another, my home, being two-story, the worst damage would come through the lower level. I have slate floors. It wouldn't damage too much for me, personally—some drywall, some carpet, some appliances. It's not something I want to experience, but it's not like what you see on TV where hurricanes come in and rip up houses.
"I love living down here," said Rue. "There's a charm and lifestyle that can't be replicated anywhere else in Long Beach."
However, extraordinary and painful decisions will eventually have to be made. The term for that is "managed retreat," and it pertains not only to residences, but to roads, public buildings and other structures in the path of the sea's incursion.
"Right now, most managed retreat happens in the weeks after a disaster," said Dahl.
In the weeks after Hurricane Sandy hit New York, for example, there were buyouts offered, and some people took them—but many didn't, Dahl said.
"You can imagine if you had to leave the place you've been living and rebuild your life," she said. "It's emotionally difficult."