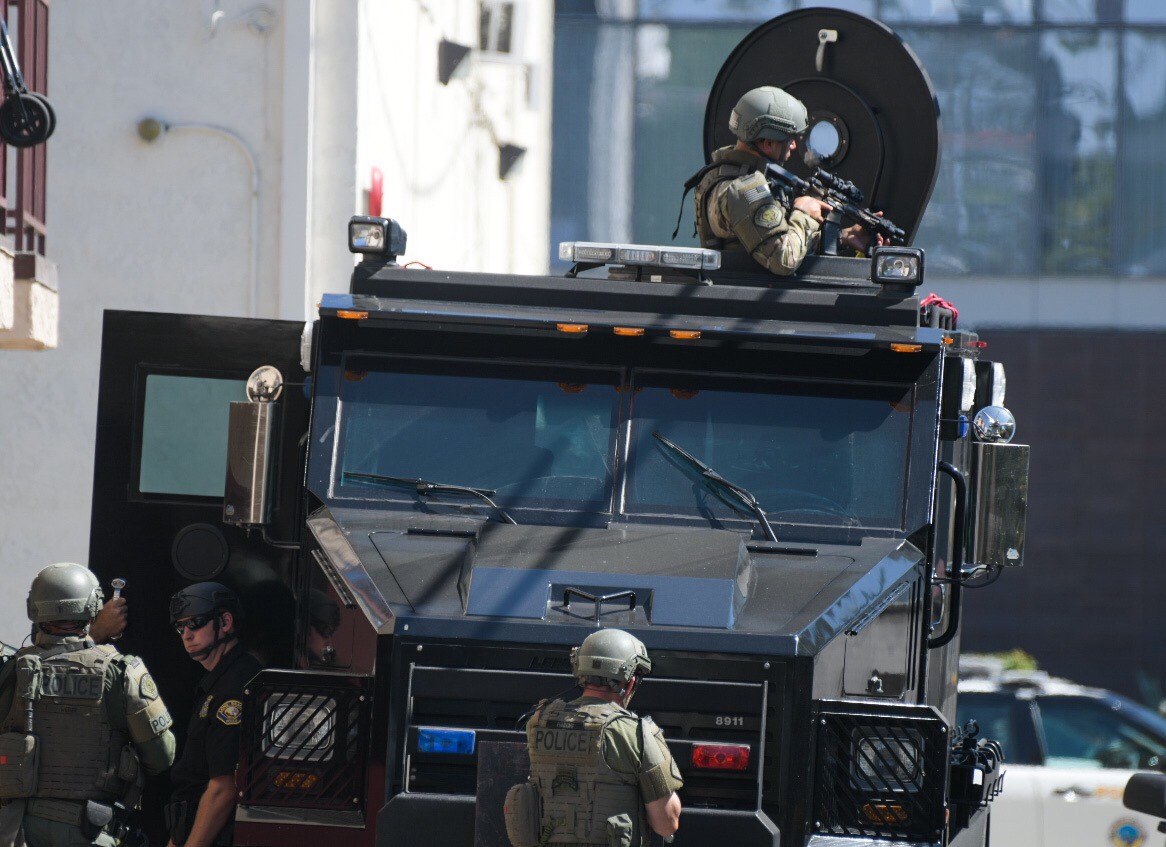 UPDATE: SWAT officers find no one home after locking down neighborhood where woman was found shot to death
Police found no one inside a Downtown Long Beach home they surrounded for hours, Thursday afternoon, after finishing a search of the residence, police said.
Officers locked down the neighborhood next to the Long Beach Superior Court while looking for a suspect in the death of a woman found with a gunshot wound on a sidewalk about a block away, earlier that morning.
The woman died shortly after being taken to the hospital, authorities said.
Hours later, officers swarmed Daisy Avenue near Third Street. Police officials said they were serving a search warrant related to the killing after evidence led investigators to that location.
SWAT officers arrived and police were evacuating nearby buildings around 2:30 p.m. The home officers appeared to be targeting was near Daisy Avenue and Roble Way, directly north of the nearby courthouse.
Residents in the area were either evacuated by police or told to stay in their homes. Some residents, who weren't home when the incident started, were not able to get back inside the perimeter until the search was over shortly before 7 p.m.
Police officers repeatedly called out on intercoms for the suspect, who ended up not being there, to come out.
Onlookers jumped when they heard a loud boom and several pops coming from the home officers had swarmed.
The wounded woman had been found hours earlier just before 8 a.m. on Magnolia Avenue near Third Street, which is less than a block from the courthouse in the heart of Downtown.
It wasn't immediately clear who found her. A fire official said firefighters were called there for a medical emergency.
The woman was lying face down at the curb between two diagonally parked cars, according to a passerby, who was pulled away by detectives before she could give her name to a reporter. The passerby thought the woman was just sleeping before authorities arrived and started giving her medical attention.
"They were trying to bring her back to life," according to Jonny Sin, who said he and his girlfriend had been sitting in their car for a few minutes when they saw the commotion. They hadn't noticed the woman lying several parking spaces away before firefighters arrived.
The woman was in critical condition when medics rushed her to the hospital where she died, police said. She'd been shot in the upper body, according to authorities.
"Homicide detectives are on scene and are actively investigating to determine possible suspect information and motive," Long Beach police spokeswoman Jennifer De Prez said.
The only information available on the suspect is that he is a man who was last seen leaving the area on foot. Police are withholding the identity of the woman pending notification of her next of kin, police spokeswoman Shaunna Dandoy said.
"At this time, there is no indication that the incident is related to courthouse operations," Dandoy said.
Investigators asked anyone with information about what happened to contact police dispatch at 562-435-6711.
Editor's note: This story has been updated with more information from police.
Support our journalism.
Hyperlocal news is an essential force in our democracy, but it costs money to keep an organization like this one alive, and we can't rely on advertiser support alone. That's why we're asking readers like you to support our independent, fact-based journalism. We know you like it—that's why you're here. Help us keep hyperlocal news alive in Long Beach.