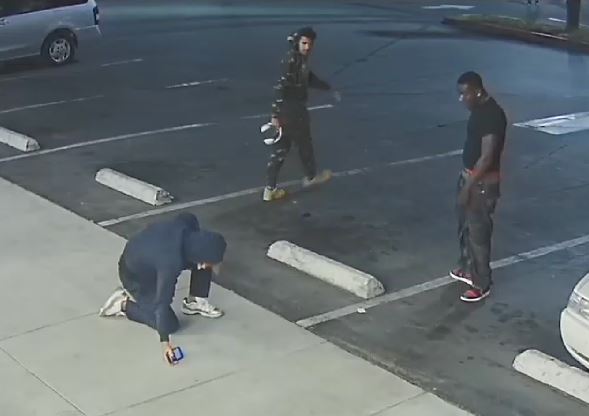 Police release video in string of robberies where at least 1 victim was beaten
Long Beach police are asking for help identifying three men suspected in a string of robberies last month, including one attack caught on camera where the victim is brutally punched and kicked in the face.
Detectives believe the men are involved in four robberies that happened between May 14 and May 23 at different times between 5 p.m. and 1 a.m. in different areas including the Traffic Circle, Belmont Heights and Zaferia.
The incidents include:
May 14 in the 4400 block of East PCH
May 15 in the 3200 block of East Anaheim Street
May 17 in the 400 block of Roswell Avenue
May 23 in the 2200 block of Lakewood Boulevard
"Throughout their investigation, detectives uncovered similarities in the above robberies," police said in a news release. "In each of the incidents, the suspects forcibly took the unsuspecting victims' property."
In the Anaheim Street incident captured on a security camera, one man attacked the victim from behind, punching him repeatedly in the head and face and then kicking him when he fell to the ground.
The suspect is shown taking the victim's white headphones, and as the victim is walking away, another suspect attacks him, taking the victims shoes. A third suspect is seen in the video on his phone, possibly taking video of the attack.
According to the release, none of the victims had severe injuries as a result of the robberies.
Detectives hope by releasing the video footage, someone will recognize the suspects and call Detective Gonzalez at 562-570-7068.
Valerie Osier is a breaking news reporter for the Long Beach Post. Reach her at [email protected] or on Twitter @ValerieOsier
Support our journalism.
It's been one year since the Long Beach Post began asking you, our readers, to contribute to keeping local journalism alive in the city.
Thousands have contributed over the past year giving an average contribution of $12.39 a month.
Please consider what the news and information you get every day from the Post means to you, and start a recurring monthly contribution now. READ MORE.