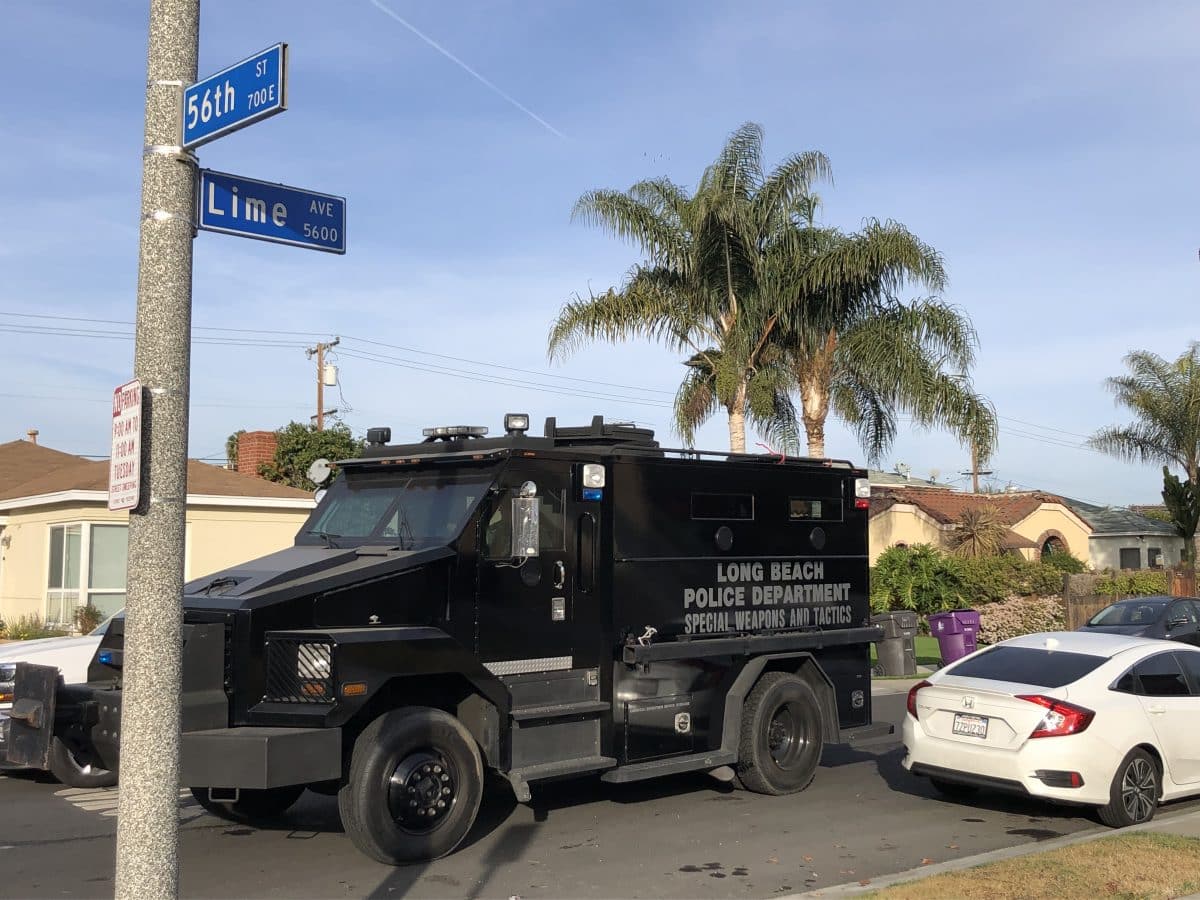 SWAT searches for man who dropped gun, fled from officers in North Long Beach
Long Beach SWAT teams took two people into custody after an hours-long search Tuesday morning that was sparked when a man ran from officers and disappeared into someone's backyard following a short chase in North Long Beach, police said.
The incident started around 1 a.m. when police tried to pull over a driver for a traffic violation, according to police. Lt. James Richardson said he believed the car didn't have its headlights on.
The driver wouldn't stop and led police on a short, low-speed pursuit to 56th Street and Lime Avenue, according to police. That's where he crashed into a parked car and a gate, according to a neighbor.
After the car came to a stop, the driver ran and disappeared into a backyard, according to police.
"When the suspect fled he dropped a gun," Richardson said.
Officers were able to identify the driver and found out he had a felony warrant out for his arrest, according to Richardson, who didn't know what the warrant was for.
Because of the warrant and because the suspect had dropped a gun, police called in SWAT officers for the search. They swarmed the area around South Street and Olive Avenue, shutting down multiple blocks.
Neighbors said they were awoken by helicopters or officers at their doors asking them to evacuate while the search went on for hours.
A man who lives in the neighborhood said his wife recognized the suspect, who'd recently moved into a relative's home in the area.
"He's been a handful since he moved over here," said the neighbor, who asked not to be named because he lives nearby. "He just didn't kind of fit into the neighborhood so to speak."
Around 8:40 a.m., officers detained two people, a man and a woman who they loaded into the backs of squad cars near 56th Street and Lime Avenue.
Authorities couldn't immediately provide details on either person, but SWAT personnel quickly packed up and left after the two were taken into custody.
Police were still investigating, LBPD spokesman Carlos Sandoval said.
Support our journalism.
Hyperlocal news is an essential force in our democracy, but it costs money to keep an organization like this one alive, and we can't rely on advertiser support alone. That's why we're asking readers like you to support our independent, fact-based journalism. We know you like it—that's why you're here. Help us keep hyperlocal news alive in Long Beach.