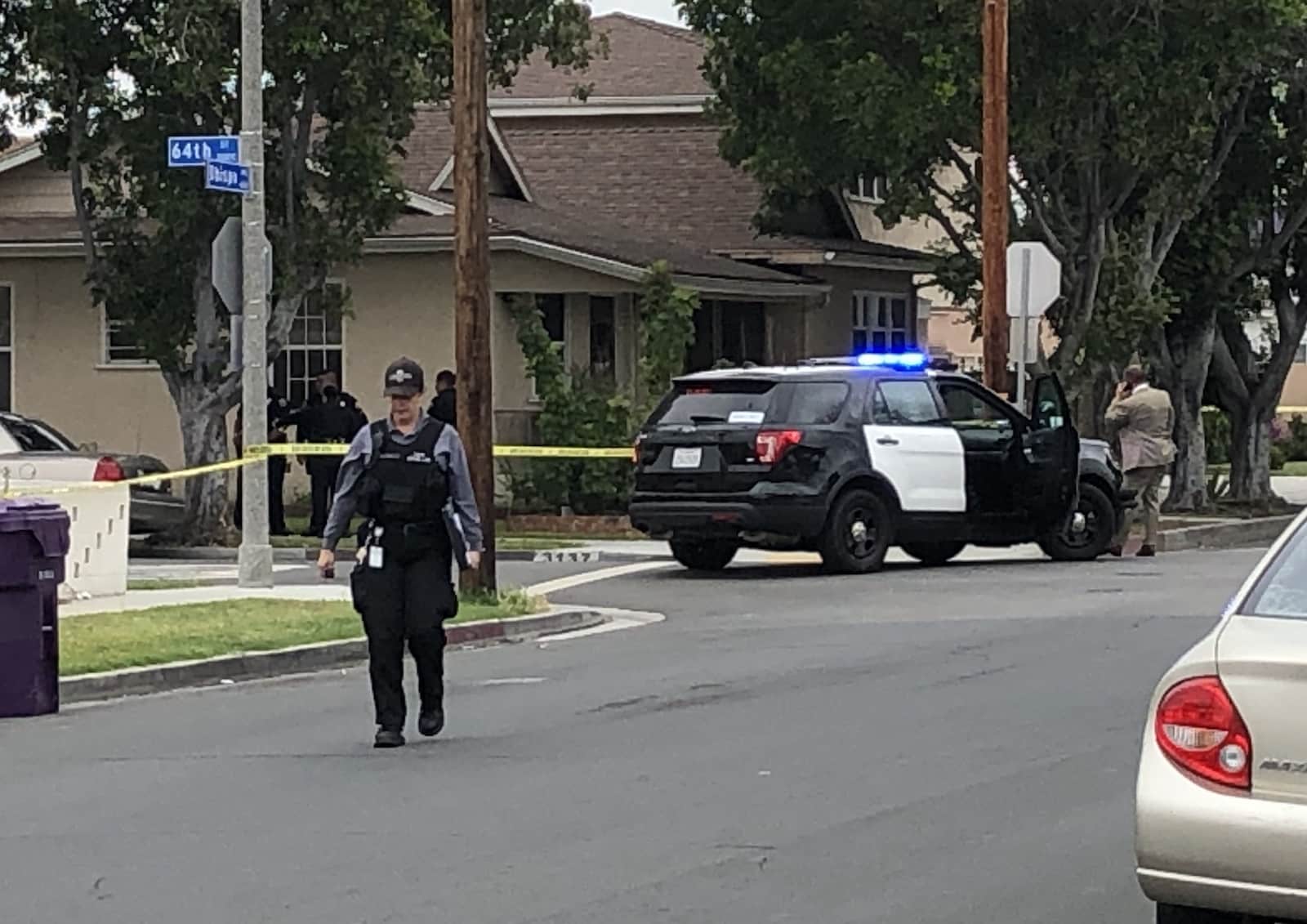 UPDATE: Man arrested on suspicion of using scooter to murder woman in North Long Beach
Police have arrested a man suspected of beating a 63-year-old woman to death with a scooter as she walked near Ramona Park Monday afternoon, authorities said.
The woman was walking eastbound on Obispo Avenue toward 64th Street when the man ran up and started assaulting her, Long Beach police spokeswoman Arantxa Chavarria said. The killer then grabbed a nearby motorized scooter and hit her with it, police said.
Police originally said a witness who called them also tried to intervene and stop the attack, but they later said only the woman and the killer were involved.
After assaulting the woman with the scooter, the attacker took off westbound, police said, running through the quiet, single-family-home neighborhood around 12:30 p.m.
Around 5 p.m., police arrested the suspected attacker at a convenience store near Downey Avenue and Artesia Boulevard, which is a few blocks from the scene of the attack.
They identified the suspect as 27-year-old Amad Rashad Redding of Long Beach. According to arrest records, Redding is a transient. Authorities said the victim was Rosa Elena Hernandez, a Long Beach resident.
Long Beach homicide sergeant briefs the media on today's scooter homicide. pic.twitter.com/C3oU0ECjDS

— Jeremiah Dobruck (@jeremiahdobruck) May 14, 2019
Neighbors said her body was left in the street by the curb. She had "significant injuries," Long Beach Homicide Sgt. John Magallanes said.
An electric scooter broken into two pieces was visible atop her body, according to NBC Los Angeles, whose helicopter flew over the scene.
The lone scooter had been sitting at the intersection for days, neighbors said.
Police said they don't know yet whether the attack was random. They're also unsure what prompted the killer to use the scooter as a weapon.
"The motivation for the assault is still under investigation," Magallanes said.
Neighbors were surprised to hear about the midday violence.
Lyn Griffith said she heard a loud sound, like someone dropping a trash can, but she didn't think anything of it until the sirens came blaring by her home, which was two-houses down from the crime scene.
"I just heard a bang," she said.
One neighbor said she and a relative checked to see if they could find anything useful for police on their security cameras but came up empty.
Griffith said people often walk through the neighborhood to get to nearby Ramona Park, but there's usually not much foot traffic around noon.
The suspected attacker is being held on $2 million bail, police said.
Staff Writer Stephanie Rivera contributed to this report.
Editor's note: This story was updated Tuesday morning with details of the arrest.
Support our journalism.
Hyperlocal news is an essential force in our democracy, but it costs money to keep an organization like this one alive, and we can't rely on advertiser support alone. That's why we're asking readers like you to support our independent, fact-based journalism. We know you like it—that's why you're here. Help us keep hyperlocal news alive in Long Beach.