Cal State Long Beach has been moving dirt from a nearby construction project onto a sacred Native American site, sparking protests even though school officials said they sought advice about whether the idea was appropriate.
Dump trucks have been leaving soil at the site, called Puvungna, along Bellflower Boulevard at the edge of campus for weeks, according to Michelle Castillo, a Native American community leader who said she felt ill when she saw what was going on.
"There's ancestors buried here and the university knows that," she said. She and about 20 other people were protesting at Puvungna Friday morning. The situation was first reported by the Daily 49er campus newspaper.
Castillo said she and others have recently been cleaning the land as they prepare for an annual ceremony that last year drew 300 people.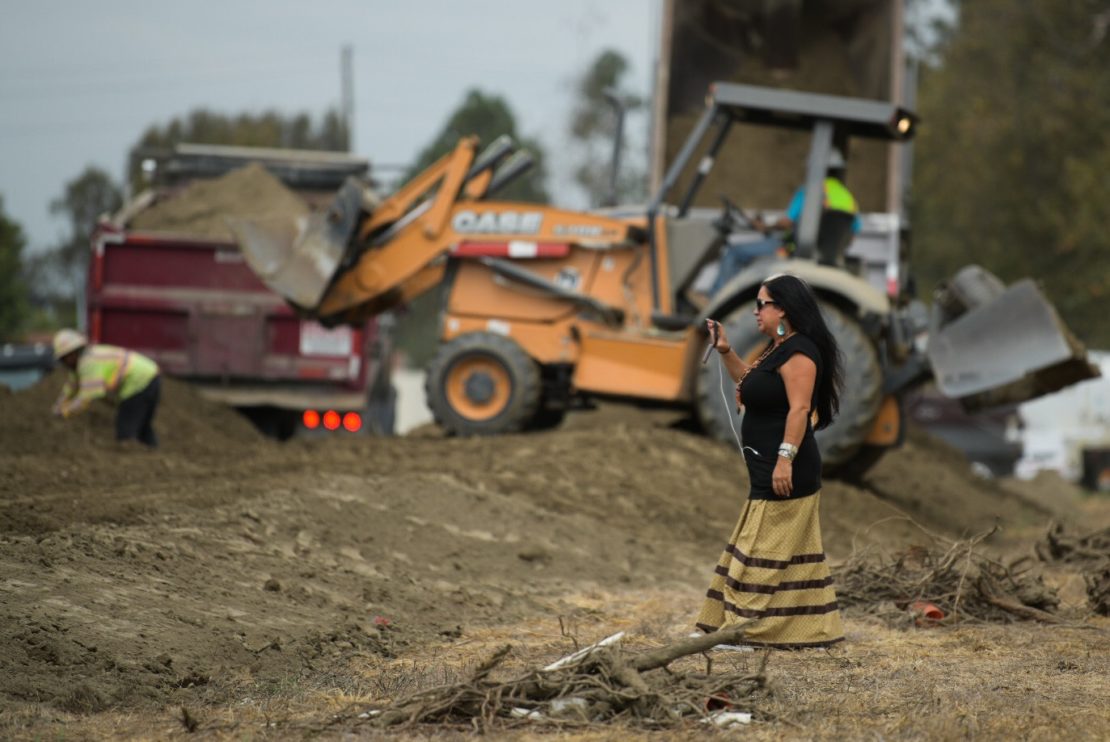 Puvungna was a village and place of creation for the indigenous people who lived at the site CSULB now occupies.
"Puvunga is like our Jerusalem," said Jimi Castillo, a prominent member of the Tongva nation.
However, Jimi Castillo said the protest is not necessary. He and others advised CSULB that keeping the topsoil at Puvungna would be OK as long as there was no digging at the site. In fact, he said, the extra dirt could protect the burial sites from any projects that could disturb the land in the future.
The dirt was moved as part of construction for a nearby student-housing project, according to a statement from Dhushy Sathianathan, the vice provost for academic planning.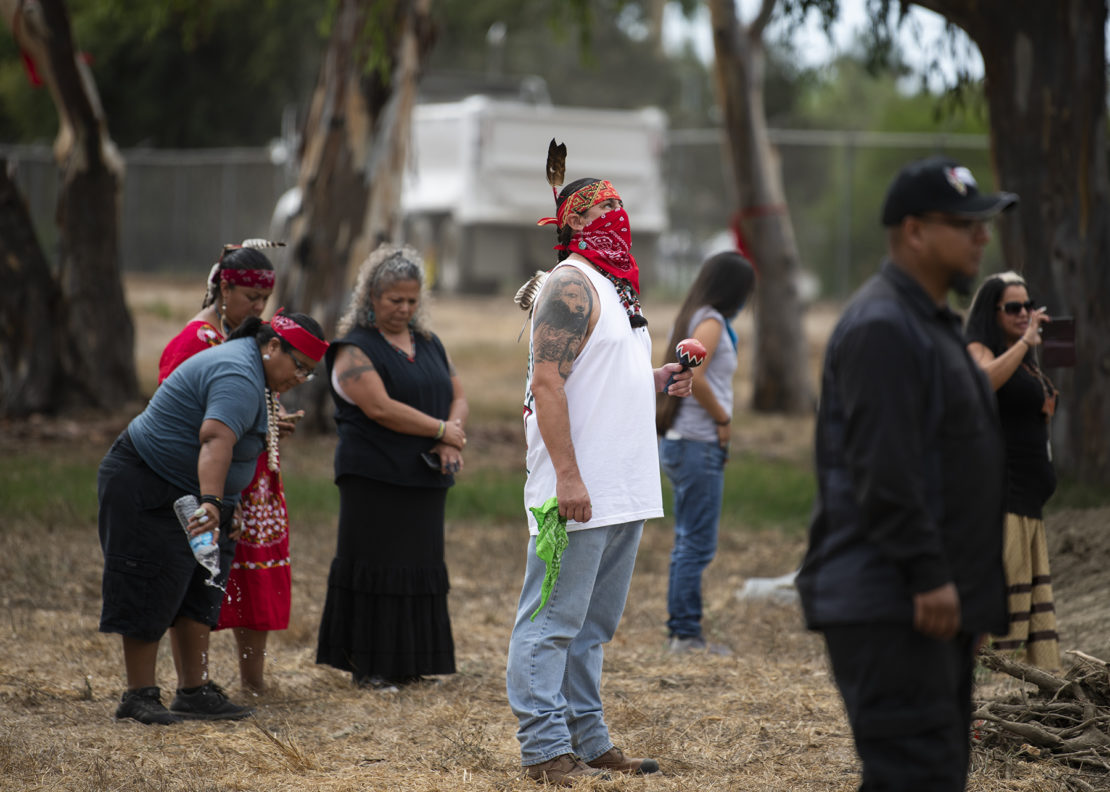 "This method of managing surplus earth is preferred for both financial and environmental considerations, and is consistent with interest by some constituencies to keep excavated dirt from campus here on site," he said.
Moving the soil was preferable to taking it to a landfill, which was the other option, said CSULB spokesman Jeff Cook.
The college has assigned an extra person to monitor the site and officials will continue talking with Native American advisors and other stakeholders, according to the statement.
Jimi Castillo said he remembers a meeting about a year ago where he and other Native American leaders came to the conclusion that surface work would be acceptable as long as there was nothing that could could disturb burial sites or burial artifacts.
"Not all parties always know the consultation that's going on," said Cook.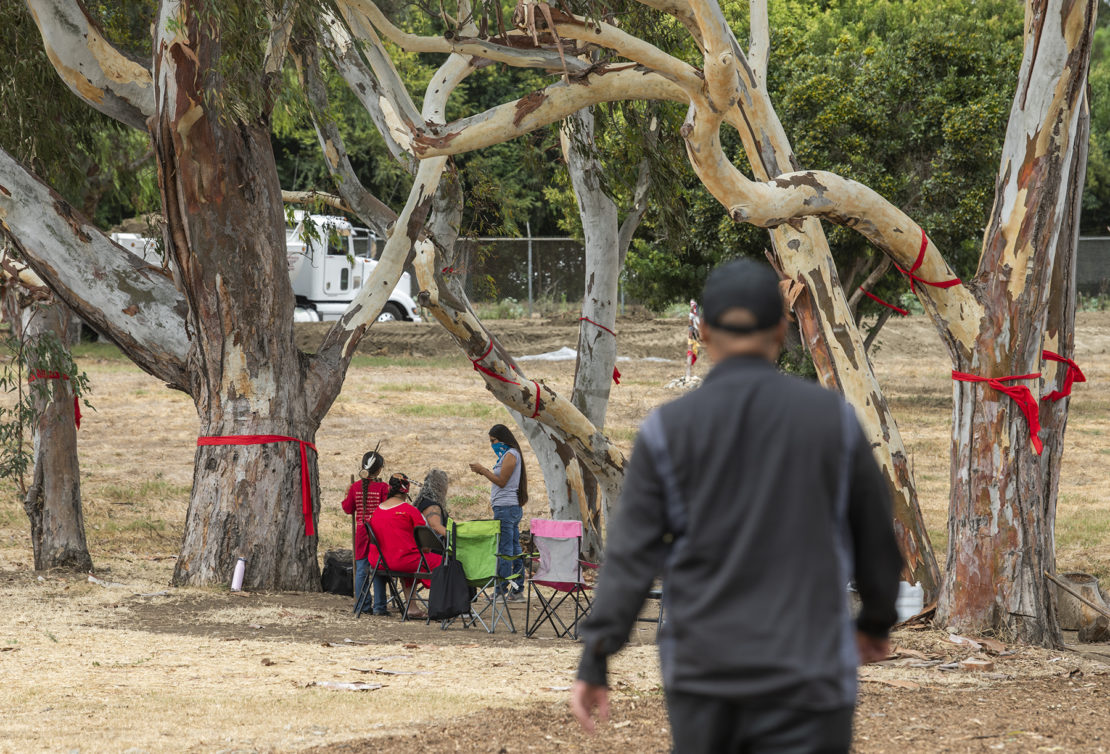 He emphasized there was no actual construction going on at the site despite the presence of the heavy machinery.
Michelle Castillo said she and others, nevertheless, plan to continue protesting.
"There is a handful of people who were sold on what the university sold them on, but there's a mountain of people who are not in favor of this," she said.
Editor's note: this story was updated to clarify that CSULB intends to keep the dirt at the site, not temporarily store it there.