UPDATE: Zendejas increases victory lead for Council seat
UPDATE | Updated election results released by the Los Angeles County Registrar-Recorder/County Clerk's office Friday showed Mary Zendejas increasing her lead as the next representative for the 1st Council District.
With 733 new ballots counted, Zendejas captured nearly 250 more votes, growing from 608 votes on election night to 851 votes Friday afternoon.
Runner-up Mariela Salgado picked up nearly 200 additional votes, increasing from 491 to 685, and third-place finisher Misi Tagaloa secured over 100 additional votes, rising from 367 votes to 494 as of Friday's update.
Los Angeles County is tentatively scheduled to certify the election results on Friday, Nov. 15.
PREVIOUSLY: First District special election results: Mary Zendejas wins Council seat
11/5/19 at 8:41 p.m. | Final election night results showed healthcare director Mary Zendejas leading a crowded field of candidates seeking to represent the 1st Council District as the last update of the semi-official tally was released by county officials Tuesday night.
Zendejas received 31% of the vote, followed by small business owner Mariela Salgado with 25% of the vote; and pastor Misi Tagaloa with 19%.
"I'm super excited," Zendejas said at her election party at Portuguese Bend. "I am beyond words right now. I just think that Long Beach was ready for a campaign like this that focused on compassion, positivity, and most of all inclusion for everyone so I'm very very excited."
The final election night results from the county, updated about 11:30 p.m.: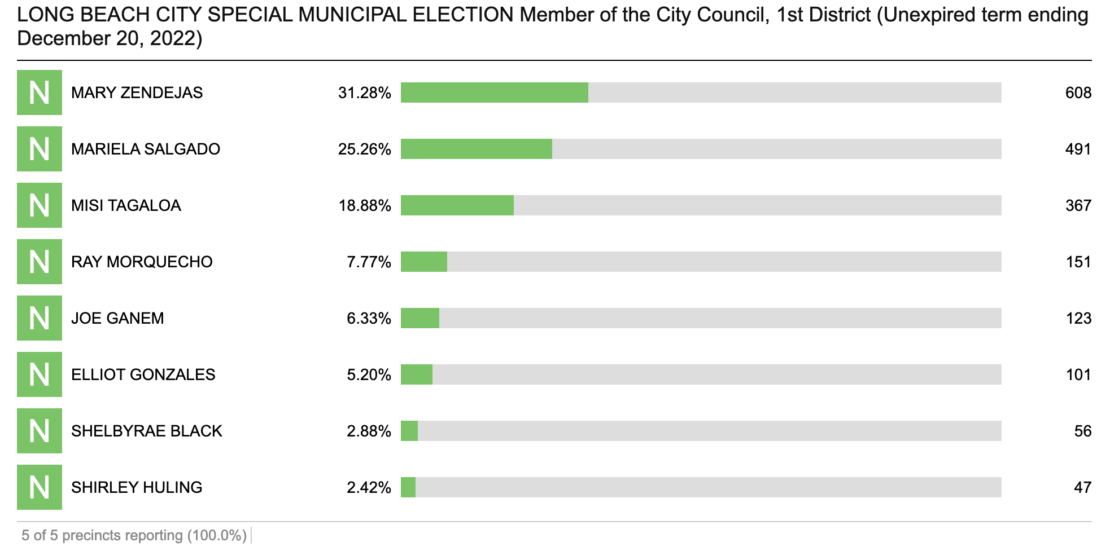 Zendejas, currently a member of the Transit Board, was pegged as the "establishment pick" after capturing most major endorsements and monetary contributions from elected officials and union leaders.
She came under fire for receiving a $500 campaign contribution from AES, a Marina area power plant, that caused anger from the surrounding community for emitting smoke, noise and odor during the commissioning of a new steam system.
She has since returned the money.
The 1st District, which includes Downtown Long Beach and parts of the Westside, has 20,801 registered voters but has historically a low voter turnout. Just under 2,000 people had voted Tuesday.
The area also suffers higher pollution rates than other parts of the city because of the nearby twin ports complex, refineries and freeways.
The district became vacant in June when incumbent Lena Gonzalez was elected during a runoff special election to the state Senate, representing the 33rd district, which includes parts of Long Beach and most of Southeast Los Angeles.
The candidates with the most votes will assume their seat on Dec. 17 in winner-take-all election, according to the city clerk. They will carry out Gonzalez's unfinished term through Dec. 20, 2022.
Support our journalism.
Hyperlocal news is an essential force in our democracy, but it costs money to keep an organization like this one alive, and we can't rely on advertiser support alone. That's why we're asking readers like you to support our independent, fact-based journalism. We know you like it—that's why you're here. Help us keep hyperlocal news alive in Long Beach.