"Pack walking is the most rewarding job I've ever had," Trots Dogs owner Kristin LaRose said. "We get to watch our pack dogs grow in confidence and then help each other through their issues—there's really nothing like it."
Trots is one of the runners-up in Best of Long Beach 2023's pets section—a compendium of residents' favorite things for their animals, from packages of pet food tied up with string to whiskers on kittens, with kittens attached. Trots is one of the runners-up in the dog walkers section, and the pack walkers and dogs stepping in unison is one of my own favorite things to see on my way to the Coffee Cup café. Going for a walk with one or more doggies gives people a mood boost, relaxes the mind, and is a great way to spend time with your best buddy.
Speaking of the Coffee Cup, one of its employees knows that walking and caring for multiple dogs can also help with recovery from trauma. Carol Bryan works at the popular breakfast spot on weekends, seating patrons and trouble-shooting behind the counter and on the floor. She spends nearly every other minute of her life walking and playing with dogs. Bryan is proprietor and sole employee of Broadway Dogz, a dog-walking/pet-sitting business that's exclusive in the sense that she only accepts pets of residents in her building or ones who have been referred by her clients.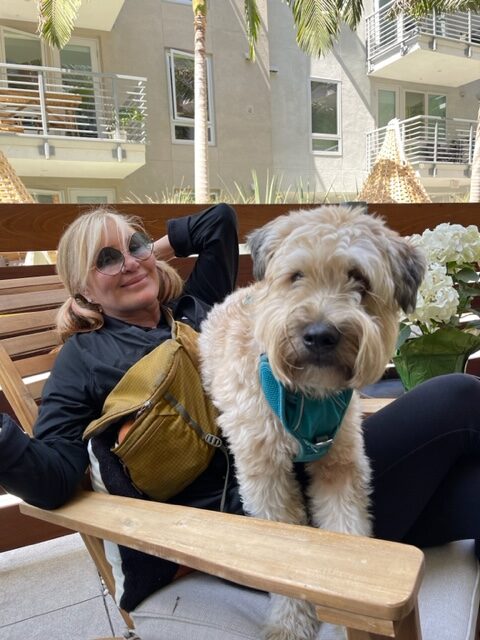 Bryan moved to Long Beach for life-saving surgery after a devastating incident left her with severe medical issues, blindness in one eye and mistrust of people. After treatment and surgeries, she decided to work purposely at moving forward and also to pay forward what her doctors had done for her. One day, an epiphany trotted toward her on four little feet.
"I was looking at my dog—a little, tiny Pomeranian—and I thought, 'I have to walk this little fellow,'" Bryan said. "Let me see if someone else wants me to walk their pup, too."
Bryan created clever cards with her contact information and handed them out to people in her building. She called her little project Broadway Dogz, and with her daughter's help, she developed an Instagram page for it. Pretty soon, she was walking, babysitting and boarding dogs.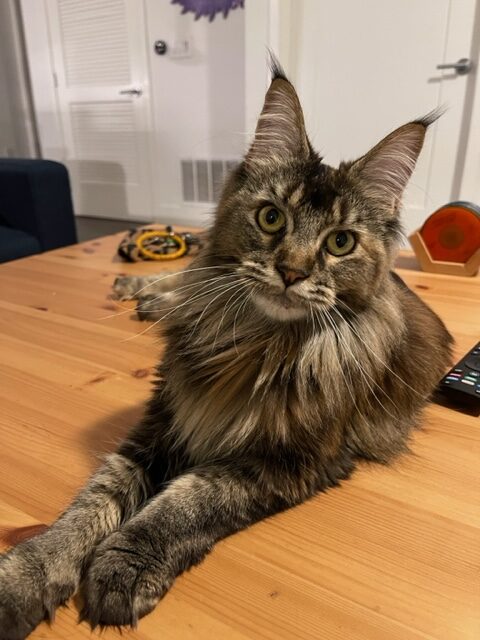 Bryan keeps Broadway Dogz's client base relatively small—"I know how much I can handle!" she said. She is careful in accepting clients—each referral has to fit in with the other dogs in the play dates and daily walks. Everyone must be housebroken and current on shots. Puppies are iffy because puppies are puppies.
"It depends on how well they respond to behavior," Bryan said.
Once you're in—if you're a dog—it's off to a full day of pooch playtime and pampering, which Bryan gets as much enjoyment from as the dogs do. She romps with them in her building's courtyard and lavishes them with lavender-scented French baths, as she calls them.
"During puppy playtime, they go on Downtown walks and socialize with all my friends who have businesses," Bryan said. "Then, we play in the dog park and come back for a puppuccino party, with pet pies from the Pie Bar and classical music. Sometimes, I cook for them myself. Then, I just sit down and let them lick my face."
Possibly because of her determination to put her pain behind her, Bryan has empathy for and sensitivity to the needs of anyone canine or otherwise. One of her charges, Bender, is completely blind and wears a special harness. Lexie has three legs and needs chemo for her cancer. Because Broadway Dogz isn't Bryan's main source of income, she donates the money earned during the puppy playtime to a young woman who fled Ukraine with her child.
Working with dogs and at the Coffee Cup, Bryan said, have rapidly moved her therapy along, and she hopes she can inspire other people living with and in pain to move forward as she is.
"There is hope, and there are many good humans that want to help make you smile even through things that are catastrophic," she said. "As for me, I'm in some kind of heaven now. I feel completely safe here. These animals make me feel safe."
Virtually pets
Walking is good exercise, and walking a dog is great not only for a workout for both you and the dog but also for bonding for both of you. Live Love Animal Rescue is legendary in Long Beach for its rescues, fostering and training, which results in great dogs to walk, whether you do it yourself or hire one of the fantastic Best of Long Beach winners. To adopt a dog or to see the others waiting in Live Love's foster homes, access this page and fill out an application.
"He's a rock star on a leash!" Riley's fosters proclaim. Riley is a mix of terrier, American pit bull and lab, and he's only 1 year old. He was saved at the last minute from an overcrowded shelter. He left the kennel behind for good, but he was very emotionally shut down from the whole shelter ordeal. In his foster home, while he was still unsure what was going on, his genuine good-boy personality began shining through his fear. Riley has been crate trained since Day One from his exiting the shelter. This is a big deal because he had no baseline for crating from his previous home. He nailed "sit" in the first week, is well versed with his other basic obedience—he's a smarty pants—and oh, how he loves his walks. His goofiness, clumsiness and the way he snorts like a piglet when he's curious just add to the charm bag. While Riley can be shy for the first minute upon meeting you, he warms up incredibly quickly, especially when there's treats and praise. He's Live Love's ultimate crush, and we know he'll be a special person's, too.
Meet Olaf and his great, fluffy puppy ears. Olaf is a 3-year-old adorable mix of great Pyrenees and white German shepherd—how much better can it get? He's yet another shelter rescue, where he made a lot of friends. He's making new ones in the comfy foster home where he gets lots of warm hugs. Olaf's rescue family is helping him feel confident so he can shake off any new-life jitters and fully embrace a positive future. The family says he has the cutest ears because they bounce when he walks! Olaf's a perfect combo of playfulness, activeness and snuggling and has learned to wait at the door before walks, to be comfortable in his crate, and basic commands. He loves walking on a leash. Olaf will be perfect in a home where the humans understand that he's a lap dog too big for a lap!
Great furballs of fun!
Zazzy Cats Kitty Rescue Spring Yard Sale: Friday–Monday, May 19–21, 8 a.m.–5 p.m., 1205 Umatilla Ave., Long Beach, item prices vary.
Clean out your castle and bring the stuff that has worn out its welcome—gently used furniture, clothing, household items, crafts you made by knitting cat fur. All of the proceeds from selling them will go directly to Zazzy Cats' efforts to help homeless kittens and cats and find them good homes from where they'll spend their entire lives. All donations are tax deductible—they will be accepted May 18, 8 a.m.–5 p.m. at the yard sale address. What's no longer zazzy to one person will surely be zazzy to another.
El Dorado Nature Center Mini-Show, featuring tortoises and turtles: Saturday, May 20, 10 a.m.—2 p.m., El Dorado Nature Center entry plaza, 7550 E. Spring St., Long Beach, free event, $8 parking fee.
World Turtle Day falls on May 23—unlike its leathery laureate, it's approaching rapidly. In honor of the holiday, The California Turtle and Tortoise Club and the El Dorado Nature Center are snapping in to educate participants about the Nature Center's most popular residents, our turtles. Club members will bring their aquatic turtles, box turtles and land tortoises—both adults, and hatchlings—and teach guests what these animals need in the wild and as pets to survive. There will be adoptable turtles as well. Have a slow and steady day with the shellbacks!
Cats & Mats Yoga: Friday, May 26, 11 a.m.—noon, Feline Good Social Club, 301 Atlantic Ave., Long Beach, $25.
Inhale. Streeetch. Exhale. Streeetch. Cats know how to relax, and you'll know how, too. Feline Good's Cats & Mats sessions are back with a highly paw-sitive experience shared by a certified yoga instructor and about a dozen cats. Dress comfortably, bring your mat, and arrive about 10 minutes early to set up. The class provides a gentle, relaxing and restorative yoga session for all levels, and you're guaranteed to end up purring. Hang out with the cats before and after the session—maybe you'll want to adopt one! More events are available here.
 If you've always wanted a pet but aren't sure if you're ready for a lifetime (the animal's) commitment, or if you're past the pet-roommate days for any reason, fostering might be a great way to go, especially with one or more of the kittens popping up during kitten season. Every one of the organizations listed below is in desperate need of fosters who'll social them and help save their little lives. Who knows—maybe one of those lives will change your mind about the not-ready-for-roommate thing!
These nonprofits also regularly feature cat, dog and rabbit adoptions. As of now, adoptions are mainly by appointment. Click on the links for each rescue in case of updates or changes. These organizations operate through donations and grants, and anything you can give would be welcome. Please suggest any Long Beach-area rescues to add to the list. Keep in mind that the rescues are self-supporting and need donations and volunteer help. Most of them cannot accept found or unwanted pets. Contact Long Beach Animal Care Services for options.
Rescue list
German Shepherd Rescue of Orange County
Long Beach Animal Care Services
Long Beach Spay and Neuter Foundation
Pet Food Express Cat Adoption Center
Sparky and the Gang Animal Rescue