Mustering a smile and some action where pets are involved
This has been a rotten week all round for everyone in the state and for us in Long Beach in particular. Three people were killed and nine others were wounded in a shooting at a Halloween party; in a hideous incident on Halloween, an SUV slammed into a family, killing one member and critically injuring two others; and we had our own fire, apparently ignited by a downed power line and fanned by winds of the type that no longer evoke a seasonal poetic feeling, but fear. The fire department put the blaze out before it could do more damage.
Usually, I make this column fuzzy and upbeat, but the events this week both near and far made it difficult for me and a lot of us. But there were a couple of bright spots, like the one in Jeremiah Dobruck's article about the North Long Beach brush fire that irreparably damaged someone's house. There was an embedded tweet and photo that described the the lifesaving measures given to a cat that neighborhood kids found. The cat survived thanks to action taken by the firefighters, with equipment that was introduced to the fire department years ago by Friends of Long Beach Animals, and the veterinary staff at the shelter at Long Beach Animal Care Services.
Like the Red Cross and localized disaster-relief funds, there are organizations that help pets displaced by fires reunite with their families and get care. Click on any link to donate:
A fundraiser has been set up by Jellicle Cats Rescue Foundation for the full recovery of Phoenix, the cat rescued in the North Long Beach fire. Details available here.
Shelters frequently serve as temporary refuges for pets displaced by natural disaster. Long Beach Animal Care services has and will in the future. Since Friday's column focuses on adoption, we're asking readers to make some room for the little guys—take home one of these beautiful shelter residents on a permanent basis. Yeah, that was slick.
Be safe, please.
Things to do, pets to support
Please send any Long Beach or Seal Beach pet-related events or projects to [email protected]. Posting subject to approval.

Events
Pet-themed book events: Sunday, Nov. 3, 3 p.m., and Thursday, Nov. 14, 6 p.m., Gatsby Books, 5535 E. Spring St., Long Beach, free to spectate, books may be purchased.
How does an independent bookstore stay in business these days, and for so many years? By appealing to literary tastes of every age and interest; by hosting signings, book clubs, poetry readings and everything else scholarly; by having an eclectic selection of used books with the ability to order you anything else; by categorizing and alphabetizing it all; and being good to Ruby the resident cat. Speaking of Ruby, Gatsby will feature two books about the furry and fuzzy. On Sunday, Nov. 3, author Jessica Renshaw will present her collection of true animal tales (and tails, yes) with peculiar titles like "The Cat Who Rang for Breakfast" and "Revenge of the Great Dane." On Thursday evening, Nov. 14, fans of Rita Mae Brown's Mrs. Murphy mystery series, featuring feline sleuth Sneaky Pie Brown, will have fun clawing through "A Hiss Before Dying." Gatsby also has more copies of Kayla Pallwitz's kids book "How Cats Get Their Colors."
Fix Long Beach Free Spay/Neuter Clinic: Saturday, Nov. 9, 7:30 a.m.–3 p.m., 1500 E. Carson St., Long Beach, free spay/neuter appointments for qualifying people; free microchips, shots, flea-med doses, dewormers and nail trimmings $10 each.
The best way to mitigate shelter euthanasia is to tamp the source, and that's why we're here. Our shelter and rescues are packed with cats and dogs, and everyone doing rescue is chasing their tail trying to get them all adopted. The best way for our community to help out is to turn off the taps at the other end so that more won't be born. Remember: it's the law to fix your pet in Long Beach, and Fix is here to help you do just that. Appointments are available for future clinics—make one at [email protected], or PM us on Facebook. More information is available here.
Sparky and the Gang's Fourth Annual Black Dog Tan Chihuahua event: Saturday, Nov. 16, 4–10 p.m., Elinor, 250 N. Tribune Court, Long Beach, tickets $45.
Dress up in your dapper flappers and raise funds for Sparky and the Gang dog rescue! Enjoy a puppet performance by Rasputin Marionettes and meet quick-change artist go go Amy. Food from Gelson's and cupcakes from Miss Priss will tempt your Prohibition sensibilities. Can we say barkeasy? Al Ca-Bone, maybe? Tickets available at [email protected] at PayPal. Make sure you specify tickets in note. More information available here.
Live Love Animal Rescue Adoption Event:  Saturday, Nov. 23, 11 a.m.–3 p.m. The Circle, 1755 Ximeno Ave., Long Beach, adoption fees apply
See Live Love's wonderful little adoptables, and get a discount on CBD veterinary products.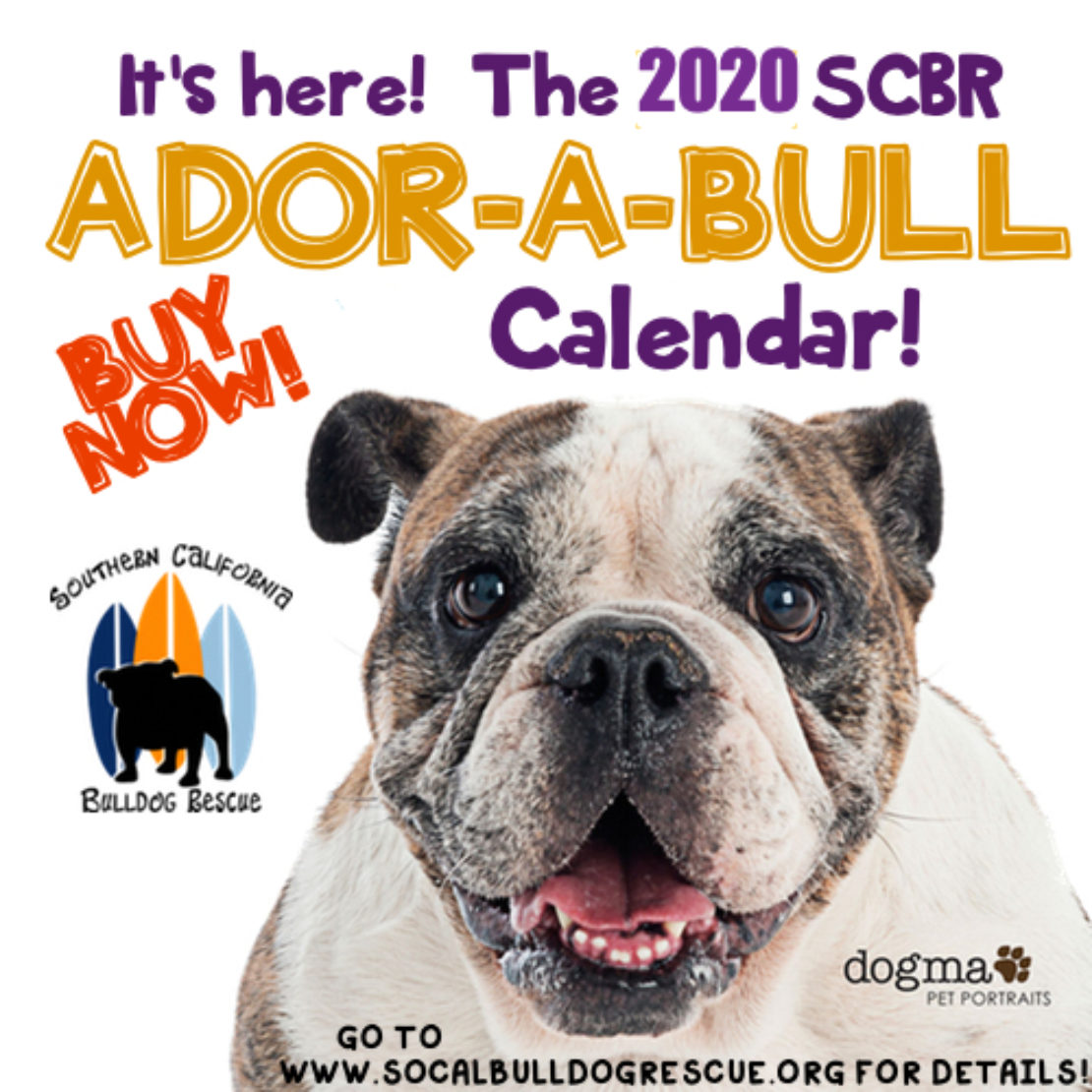 Calendars
The 2020 pet calendars are ready to wag in the new year, with favorite pinups on each month.
Helen Sanders CatPAWS Show Us Your Kitties calendar: $10 each, available here.
Southern California Bulldog Rescue Ador-a-bull Calendar: $25 each, available here.
Seal Beach Animal Care Center 2020 Calendar: available here in mid-November.
Has your dog been waiting for that walk down the runway? Has your cat been waiting to be discovered as the star they know they are?  It is now their time to shine! The 13 cats and 13 dogs with the most votes will become a monthly model, with the top cat and top dog as cover pets. Whether you're a winner or a beloved entrant, the pets at Seal Beach Animal Care Center will profit from your entry—all funds will go to their care. Details available here.
Shelter Shenanigans
Pick Your Price Adoption Promo at the shelter continues through Oct. 31, where you can bring home a new best buddy and cuddle during the cooling days of autumn. Cats, dogs, rabbits—and if your kid has been pestering you for a horse, don't worry. We haven't any.
Have an overnight with a kitty with Foster Fridays! The shelter has kittens coming out of the walls—literally. The shelter manager constantly has a few in her office! The shelter is at capacity, especially where cats are concerned, so fosters are sorely needed. Every Friday from 2-5 p.m., shelter staff is inviting residents who have the necessary accommodations—a safe space, time to feed them and play with them, and a propensity to say "Awwww!" every 15 minutes—to take a healthy, weaned kitten home for a while. Shelter will provide food, litter and a carrier and will cover any offsite medical. Time commitment is two weeks, with an option to adopt—of course! Foster fail! Have questions? Contact the shelter director at [email protected].
Other/ongoing
Feline Good Social Club: 301 Atlantic Ave., Long Beach, open daily 10 a.m.–7 p.m., $15 for an hour session, $8 for a "quickie" half-hour
There's just too much stuff going on in this wonderland for moggies! Bring your lunch and socialize with the friendliest and most entertaining group of cats you'll ever meet (especially Fancy Feet and his giant hamster wheel), or sign up here for one of the many activities: Cats and Mats yoga, Sound Healing, Kids Club—all of it. Fill out an application to adopt! All proceeds go to maintaining the Lounge and, of course, the cats!
Instructional Pack Walk: First Saturday of the month, 10–11 a.m., Bixby Park, 130 Cherry Ave., Long Beach, free, donations accepted
The public is invited to take part in a walk sponsored by Trot's Dog Walking and Training that will help you and your best buddy learn proper leash manners and focus on each other instead of the distractions of the "real world." Trot's experienced pack leaders are there to guide you through the process. Meet at the park at the corner of Ocean and Junipero at 10 a.m.
Donations accepted for Pets of the Homeless
Pets of the Homeless' home page gives a self-description as the only organization focusing only on providing food and care for pets belonging to homeless people. Businesses and other organizations across the country receive in-kind donations of food and other needs that the dogs and cats' human families can pick up at outreach locations. The following Long Beach businesses will accept your donations:
Trendi Pawz, 255 Redondo Ave., Long Beach
Belmont Heights Animal Hospital, 255 Redondo Ave., Long Beach
Paw Shoppe Pet Center, Inc., 6416 E. Spring St., Long Beach
Food and supplies are available at Beacon for Him Ministries, 1535 Gundry Ave. Long Beach, Mondays from 9 a.m. to noon and Saturdays from noon to 3 p.m.; and at Christian Outreach in Action, 515 E. Third St., Long Beach, Thursday from 9 to 11 a.m. Donations will be gratefully accepted at these locations as well.
Adopt, adopt, adopt
The following pet-related businesses regularly feature cat, dog and rabbit adoptions. If you're a Long Beach-area rescue and don't see your adoption event listed here, please email [email protected]. Click on the links for each rescue in case of updates or changes.
Chase Bank, 5200 E. Second St., Long Beach
The Farmer's Marketplace of Long Beach, 5000 E. Spring St. (Spring and Clark), Long Beach
Gelson's Market, 6255 E. Second St.
Kahoots Pet Store, 18681 Main St. #102, Huntington Beach
Pet Food Express, 4220 Long Beach Blvd., Long Beach:
PetSmart Cerritos, 12741 Towne Center Drive, Cerritos
PetSmart Compton, 1775 South Alameda St., Compton
PetSmart Garden Grove, 9835 Chapman Ave., Garden Grove
PetSmart, Long Beach Exchange, 3871 N. Lakewood Blvd., Long Beach
PetSmart Seal Beach, 12341 Seal Beach Blvd., Seal Beach.
PetSmart Signal Hill, 2550 Cherry Ave., Signal Hill
PetSmart Towne Center, 7631 Carson Blvd., Long Beach
Unleashed by Petco, 600 Redondo Ave.
Support our journalism.
Hyperlocal news is an essential force in our democracy, but it costs money to keep an organization like this one alive, and we can't rely on advertiser support alone. That's why we're asking readers like you to support our independent, fact-based journalism. We know you like it—that's why you're here. Help us keep hyperlocal news alive in Long Beach.