In a conference room on Capitol Hill in Washington D.C., Long Beach's Rep. Alan Lowenthal slammed a gavel, signaling the start of the first subcommittee hearing on Energy and Mineral Resources.
"This is great," he said, holding the gavel. "I haven't done this yet."
The meeting was supposed to be about climate change and energy transition, but the Green New Deal, an ambitious plan to address the problem, took center stage as Republicans from fossil fuel states like Texas and Wyoming clashed with green-minded Democrats.
Rep. Liz Cheney, R-Wyoming, the daughter of former vice president Dick Cheney, seized the chance to grill panelists on suggestions that the Green New Deal would eliminate air travel to reduce carbon emissions.
"Tell me exactly how the government should prioritize air travel?" she asked. "We could have a situation where the FAA could tell people, 'You know what? Vacation travel, that's not essential.'"
Rep. Jared Huffman, D-California, quickly shot back.
"We're not going to eliminate air travel," he said. "That's crazy."
Just to get ahead of the Cheney/FoxNews fabrications, the GND resolution also does not: ban baseball, kill babies, or mandate tofu in school lunches. In fact, most of what they're saying about GND is about as accurate as, let's say, lying about WMD's as a pretext for war.

— Rep. Jared Huffman (@JaredHuffman) February 12, 2019
As he stepped out in the hallway after the hearing, Lowenthal said those exchanges are typical.
"That's Congress," he said. "Everyone's trying to get their message out."
For Lowenthal, a longtime Long Beach politician and representative of California's 47th Congressional District, Tuesday's hearing marked a series of firsts.
It's the first time he's chaired a subcommittee since joining Congress in 2013. It's the first time in six years that his subcommittee on energy and mineral resources met to address climate change.
And for the first time, he's experiencing what it's like to be in a majority since Democrats took power after the November elections.
The new House of Representatives is now the most racially diverse and most female group ever elected. And the energy, he said, is palpable.
"There's a change you can feel in the building," he said. "It's an exciting time be in Congress."
A New Majority
In the bustling maze of hallways underneath the nation's capital this week, Lowenthal bounced from one meeting to the next.
One day he was holding a news conference on a bill to stop oil drilling in the Arctic National Wildlife Refuge. Another day he was meeting with the National Transportation Safety Board to chat about the connection between railway crashes and fatigue from sleep apnea.
He also met with locals, like Long Beach resident Dan Tran, who traveled to the capital with the Small Business Development Center at Long Beach City College to talk about supporting small businesses.
"My door is open to anyone who wants to come," Lowenthal said.
The 77-year-old congressman said most days are long and jammed-packed with meetings. He typically flies back to Long Beach three weekends a month. On Monday afternoon, he was bleary-eyed from a red-eye flight from Long Beach after attending a Cambodian dinner.
As he chatted in his first-floor office in the historic Cannon Building, an aide stepped in with the latest briefing on a spending bill that would provide $1.375 billion in funding for the president's border wall.
"I would have liked no additional money for the wall, but I'm willing to consider it," he said, examining a list.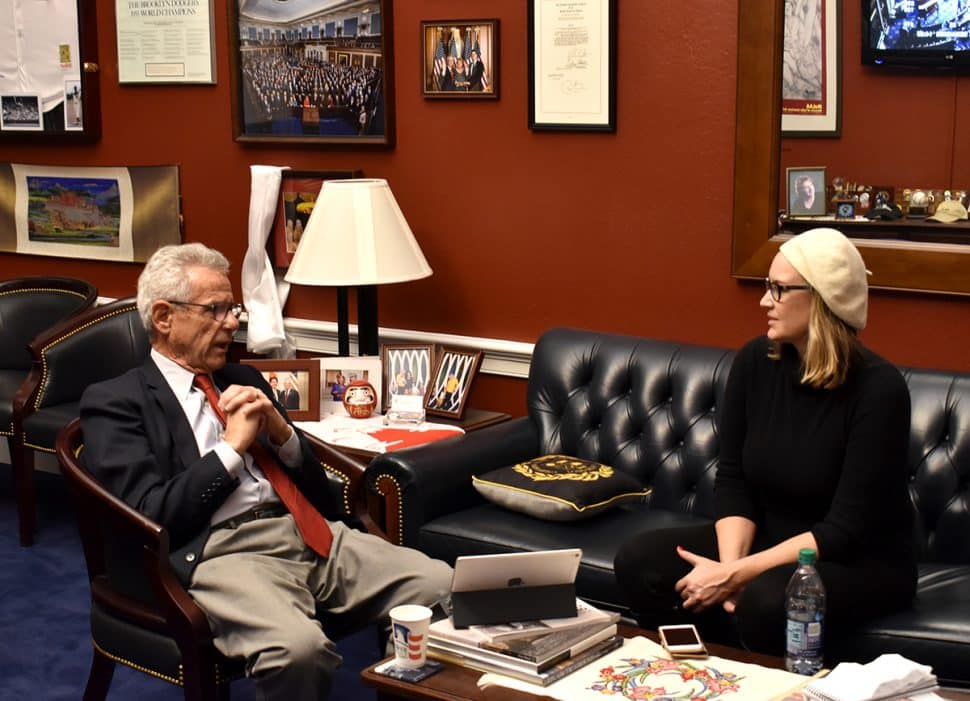 Lowenthal is feeling the high energy, but a big question remains: What can he pass through a Republican-led Senate?
Since 2013, he's authored 28 bills, with one bill—to rename the Long Beach VA Hospital after Medal of Honor recipient Tibor Rubin—becoming law. He's also cosponsored 146 bills and 32 resolutions, of which 70 became law.
Trying to pass legislation in a House minority over the last several years has been tough, Lowenthal said, but now he's hoping to make waves.
"I'm gonna get more bills out, but the issue is going to be our overall national policy on energy development, which I'm gonna play a part in," he said.
With a larger role this year on the House Committee on Natural Resources, Lowenthal plans to be vitally involved in climate change legislation with a focus on transportation and infrastructure.
He's a co-sponsor for the Green New Deal, which he says will be part of the country's inevitable move toward "freeing itself" from carbon. And, as an environmentalist, Lowenthal said he wants to focus on protecting lands, oceans and endangered species—on Thursday he joined in a bipartisan bill to protect seabirds from international fishing threats.
He's also working on a bill with Sen. Ted Cruz, R-Texas, to sanction the Cambodian government for human rights violations, an area where Republicans and Democrats often work together.
Lowenthal said some people might be surprised to see "Liberal Lowenthal" working with conservative Ted Cruz, but that type of bipartisanship isn't uncommon.
"I know, I know, but you don't look a gift horse in the mouth," he said.
A Long Beach politician
Lowenthal still carries a New York accent from his days growing up in Queens, but he's been a fixture in California politics for the past three decades, working his way up from the Long Beach City Council, to assemblyman, to state senator and on to Congress.
A former Cal State Long Beach psychology professor, he's the patriarch of a local political dynasty known as the "Kennedys of Long Beach." His ex-wife, Bonnie Lowenthal, is a former Long Beach councilwoman and assemblywoman. His son, Josh, lost a bid for the statehouse in the November elections.
These days he splits his time between Long Beach and Washington, D.C. His wife, Deborah Malumed, spends most of her time in the capital area working as a physician.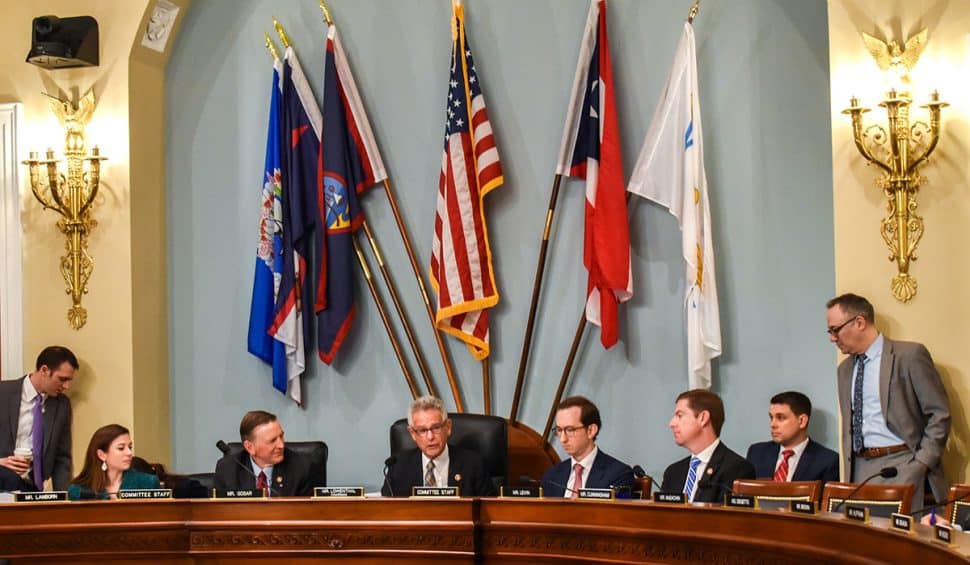 As far as his plans for Long Beach, Lowenthal said his big goal is to build a greener, better infrastructure in the ports of Long Beach and Los Angeles. The future, he said, is an electric rail system in the ports and zero carbon emissions.
"We're gonna move that way anyway," he said. "It might take us 20, 30 maybe 50 years, but if you push hard enough the technology will come."
Lowenthal said it is possible to add green jobs and grow business. The ports, for example, have seen their busiest years yet while still investing in green technology, he added.
"In California, we don't want the congestion and we don't want the pollution, but we want the jobs," he said. "It's a balancing act."
It's no secret that he's big on transportation and infrastructure. More than 60 percent of his 2018 campaign donations came from Political Action Committees, and largely transportation unions.
But while Lowenthal said he does take money from PACs, he also supports the package known as HR1, which would reform campaign finance.
He said he votes his conscience regardless of donations.
"If you look at my record you'll see I have one of the most liberal anti-PAC voting records in the Congress," he said, with a smile.
He'll be nearly 80 when he's up for re-election in 2020, but Lowenthal said he doesn't plan to retire any time soon.
"I'll be here as long as I feel I can still add value," he said.
When he was first elected, he was one of the oldest freshmen. He's now in a time where Congress is seeing its youngest freshmen ever, and many of them are women.
The changing face of Congress
Sitting in her Capitol office on Wednesday, Rep. Katie Hill, D-Agua Dulce, said she also feels an exciting energy.
Hill, a 31-year-old freshman, is the third youngest member of Congress who focused her grassroots campaign on health care and affordable housing.
"The energy really is amazing, even though we started in a very strange time with the shutdown," she said. "You can tell that people are expecting something different."
So this happened – went to interview @RepKatieHill (D-Agua Dulce) and mistook her for a staff member because she's so young😳😅(she was awesome). Hill, 31, is the 3rd youngest freshman. She says the energy here is electrifying. "The face of politics is changing." @LongBeachPost pic.twitter.com/wJzycfzK1q

— Kelly Puente (@KellyPuenteLB) February 13, 2019
Hill said she plans to work across party lines and find common ground, but she recognizes that she'll only be able to "get so much done in this environment."
"This will be a good Congress to lay out our priorities as Democrats and hopefully get the buy-in from the public that if you elect Democrats, this is what we're going to do," she said.
Rep. Nanette Barragán, who represents the state's 44th congressional district, which includes North Long Beach, was the only new Latina Democrat to join Congress when she was first elected in 2015.
In a district with one of the region's highest rates of air pollution, Barragán said she plans to focus on clean air and water initiatives, as well as infrastructure. Barragán said she also hopes to find more federal funding to address homelessness in the North Long Beach area.
"We've got to push aggressive ideas and hopefully we can come out common ground," she said.
As for Lowenthal, he said climate change will take front and center in the coming months and years. And the push isn't necessarily coming from lawmakers.
"It's coming from the ground up because the technology is forcing us to change and the climate is forcing us to deal with these changes," he said.
But things won't exactly happen quickly, he added.
"We're living in a fast-moving world," he said. "Congress moves very slow."